Homeschooling in NJ Can Cultivate Your Kids in the Garden State
The decision to homeschool your children is one not to be taken lightly.
You need to make sure you have a curriculum in place, the resources you need, and the motivation required to give your child a better education than they would receive in the school system.
This being said, homeschooled kids benefit in many ways versus those in traditional schools.
DoNotPay has all the info you need to start homeschooling in NJ, including tips, watch-outs, and must-haves!
Why Choose To Homeschool in NJ?
The choice to homeschool your kids can be based on:
Whatever your reasons for deciding to homeschool, New Jersey is a relatively easy state to start homeschooling in.
How Does Homeschooling in New Jersey Work?
New Jersey homeschool laws are fairly easy to understand and don't place great demands on you as a homeschooling parent.
The basics are as follows:
| NJ Homeschooling Requirements | Explanation |
| --- | --- |
| Your qualifications | New Jersey does not require you to have any formal certification as a homeschool teacher, but you should be clear about your qualifications and be prepared to enlist outside help if your knowledge of any subject is not sufficient |
| Curriculum | NJ state law insists that children have a right to receive equivalent instruction elsewhere than at school. This means that you can choose the subjects you want to include in your child's curriculum, but you should be aware of the requirements of the standardized tests your child may have to take |
| Reporting | New Jersey doesn't require any formal reporting of your homeschooling activities, progress reports, or educational milestones reached. It is a good idea to keep records, though, as your child might have to provide evidence of subjects learned at a later stage |
| Attendance tracking | You don't have to keep formal attendance records in New Jersey, but it is a good idea to do so anyway as a monitoring tool for your child's learning speed |
Homeschooling in NJ—Where To Start
Getting started in homeschooling in New Jersey is fairly easy, with no formal notification required on your part.
The most important steps in beginning your homeschooling journey are:
Setting up a curriculum
Gathering the necessary resources
Removing your child from school
Setting Up a Curriculum
You have two options for setting up your child's learning curriculum, namely:
Curriculum Options
Explanation
Building your own curriculum
If you feel competent and qualified to do so, you can design your own learning curriculum. This allows you to:

Take account of your child's preferred learning style
Work within your available timeframes
Mix teaching and learning styles
Respect any religious considerations

Buying a pre-designed package
Pre-designed packages are available from a range of reputable suppliers and include all the core curriculum elements your child would receive in a public or private school. Pre-designed packages are:

Convenient
Trackable
Aligned to the correct educational standards

The cost of curriculum packages varies, so you should be able to find a product that meets your budget
Gathering the Necessary Resources
To make your homeschooling as successful as possible right from the outset, you should make sure you have everything you need before you embark on your journey.
This can include:
A designated learning area in the home
Computers, internet access, and teaching materials
Stationery and any books you need
Access to any external resources you may need, such as museums, learning centers, or libraries
Removing Your Child From School
You can take your child out of school at any time in the school year in New Jersey.
You don't have to inform the school of your intent to homeschool, but it may be advisable if you want to avoid potential truancy issues.
DoNotPay is here to help you start down the homeschooling road by !
How Can DoNotPay Help You With Homeschooling?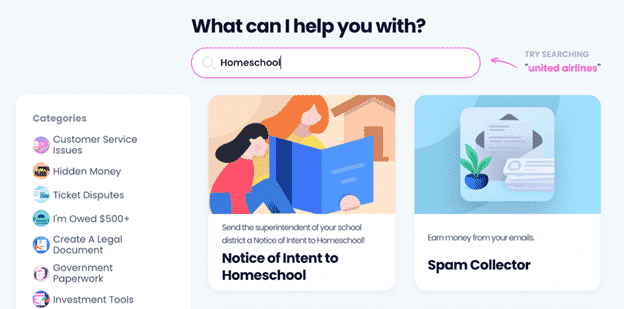 DoNotPay is committed to making your life simpler—helping you with homeschooling is no exception!
Although New Jersey doesn't require a formal letter of intent to homeschool, it is a good idea to send one to your school to avoid them declaring your child a truant.
Your letter should include:
The name of the school
Your child's name, date of birth, address, and school year
A statement that you intend to remove your child from school to begin homeschooling
The good news is that DoNotPay can do this for you in a few seconds—our Notice of Intent to Homeschool product can generate your letter with all the elements you need and either deliver it automatically to your child's school or let you print it out to send yourself!
Here's how to get your letter ready:
Click on our Notice of Intent to Homeschool feature
Fill out the required details
Your letter will be ready in a flash, and DoNotPay can get it notarized online if your state requires it—no need to hunt for a notary in your area!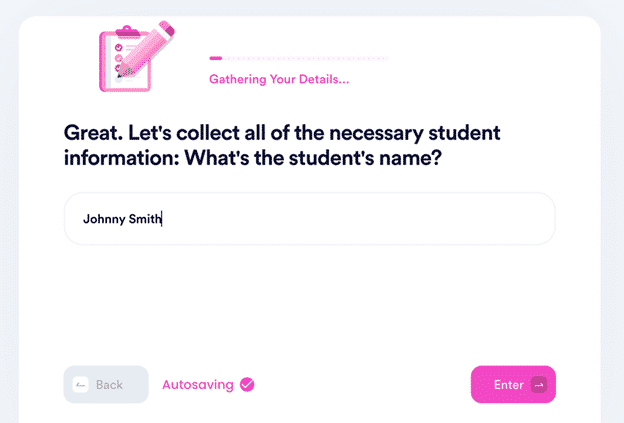 Don't Let Admin or Legal Issues Wear You Down—Hand Them Over to DoNotPay
Do you believe you may have some missing assets? Use DoNotPay's nifty product before the government claims them! Have you ever wanted to enter sweepstakes without purchasing anything? Our app will sign you up for them quickly! Trying to figure out how to reduce your property taxes or utility bills? DoNotPay can show you the way. Want to avoid getting charged for free trials that never fail to auto-renew into paid subscriptions? We'll help you cancel them before they expire.
Anything else you may need? Check out how our app can:
Check Out Our Other Robust Products
It doesn't stop there—DoNotPay can help you send a defamation demand letter, create passport photos, get gift card cash back, get any document notarized, request access to public records, claim insurance and warranty, request a college application fee waiver, appeal parking tickets, and much more.
Sign up now to get access to any of our products for one low monthly fee!