Do You Need To Draft a Letter of Intent To Homeschool?
If you—like many other parents—wish to start homeschooling your child due to religion, health preservation during COVID-19, or other reasons, you'll need to know how the process goes.
In most states, one of the requirements is to file a letter of intent to homeschool with the school district to inform them about your decision. Writing this document can be tricky and time-consuming, which is why you should rely on DoNotPay.
We can:
Fill out the letter with the info you provide us
Get the notary stamp for it remotely
Send the letter in your stead
Sign up for DoNotPay and make use of our all-inclusive service!
Is Homeschooling State-Regulated?
Before you decide to homeschool your child, you should get familiar with the basics of the process in your area. Some states don't have strict regulations on how to homeschool your child, but most of them do require you to follow certain rules regarding obligatory subjects, the curriculum, homeschooling hours, teaching material, and similar.
One of the crucial pieces of info that you should find out is whether a notice of intent to homeschool is necessary in your state.
What Is the Notice of Intent To Homeschool?
Notice of intent to homeschool is a document that should inform the local school department or district of your intentions to homeschool your child. This document is also known as a:
Letter
Affidavit
Notification
Declaration to homeschool
If you have more than one kid that you wish to homeschool, you'll need to submit a letter for every child individually.
Which States Require a Homeschool Letter of Intent?
Here is a list of states that require a letter of intent to homeschool your children:
| Arizona | Maine | Mississippi |
| --- | --- | --- |
| Arkansas | Maryland | Rhode Island |
| California | Missouri | North Dakota |
| Florida | Montana | South Dakota |
| Illinois | New York | Tennessee |
| Georgia | Pennsylvania | Utah |
| Kentucky | Texas | Wisconsin |
| Ohio | Virginia | Washington |
| Nevada | West Virginia | Connecticut |
| New Mexico | New Hampshire | Louisiana |
What Should Be Included in an Intent To Homeschool Letter?
If you wish to write a letter of intent to homeschool on your own, you should know which info is required. Consult the table for more details:
What To Include
Explanation
Student details

Name
Gender
Birthdate
Address

Parent information

Name
Address
Contact info

The homeschool teacher info
The school district info

Name and number of the school district
The name of the executive of the school district

Other details

The intro about explaining your decision to homeschool
Date of submission
Signatures
Notary signature
Writing a letter of intent to homeschool can be challenging because:
The whole process takes a while
It's human to make mistakes, and you'll likely have a few hiccups
The coronavirus pandemic makes filing the letter and getting a notary stamp much harder than it previously was
Should You Use Templates for Intent To Homeschool Letters?
Third-party templates for intent to homeschool letters are often wrong or overly expensive, but they are easy to find online and often free. Note that such samples usually omit important parts of the letter, so use our table above to fill in the gaps if you decide to do it yourself.
DoNotPay offers the most convenient solution. Our Notice of Intent To Homeschool feature can help you draft the perfect letter and get it notarized in no time.
DoNotPay Is a One-Stop-Shop for Sending Letters of Intent To Homeschool
Our Notice of Intent To Homeschool product will help you prepare your letter hassle-free. You don't have to worry about the legwork—let us handle it! Follow the prompts to draft and file a letter of intent to homeschool in under five minutes:
Give us information about the student and yourself
Provide details about the school district the student belongs to
DoNotPay will draw up the letter in no time, and you can even choose to get it notarized through our app.
Another perk of our app is that you can decide whether you want to send the letter to the school in question. If not, we can send you a PDF file that you can print and mail on your own.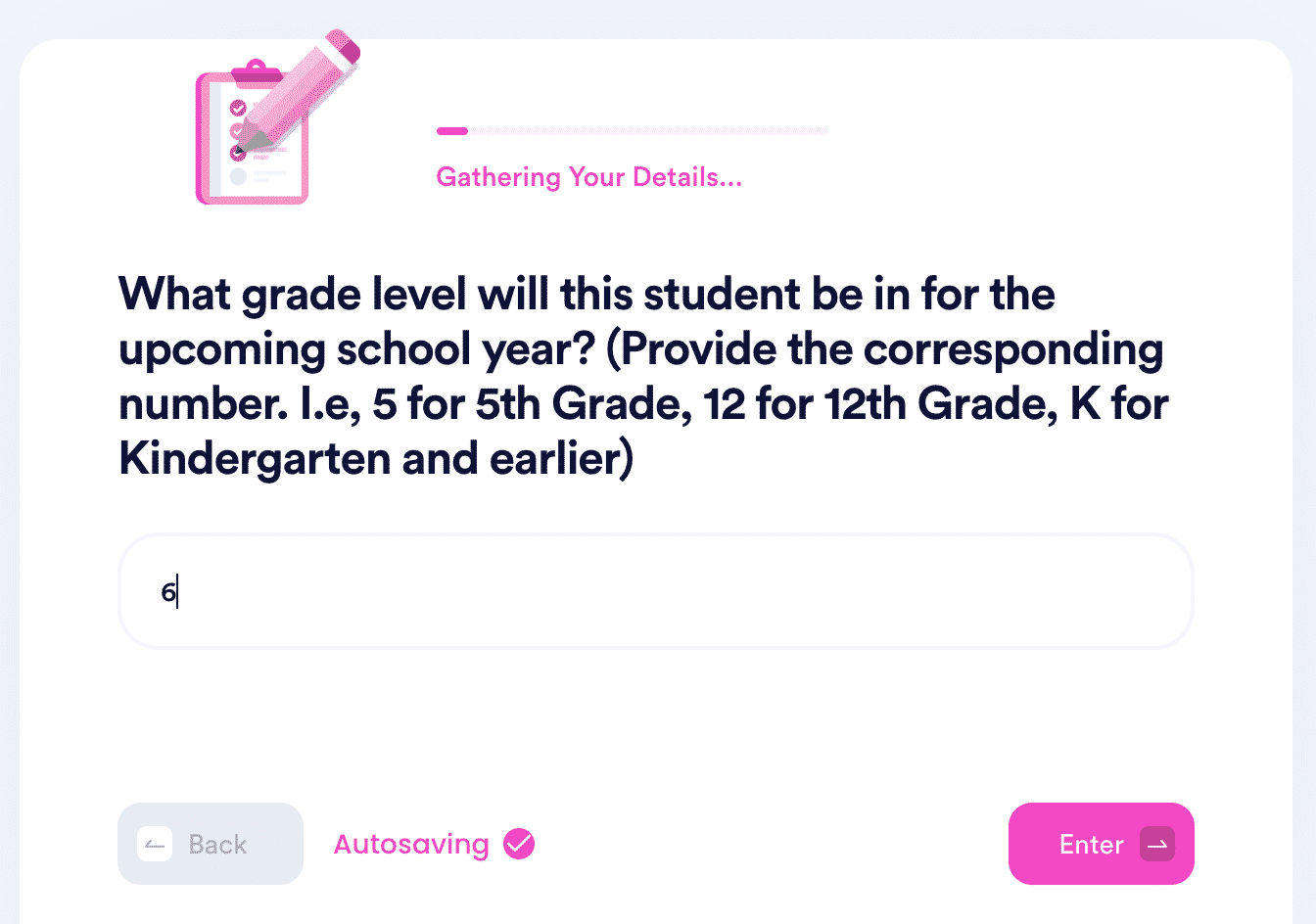 Need answers to various issues related to homeschooling? DoNotPay's learning center is here to provide the info you need! Some of the questions we can answer for you are:
DoNotPay Can Help You With Letter of Intent To Homeschool Guides for Many States
While, by law, residents of some states are not required to file a letter of intent to homeschool their children, sending one cannot hurt. DoNotPay offers assistance in any state!
Inspect the table below and click on the link to the letter guide for your area: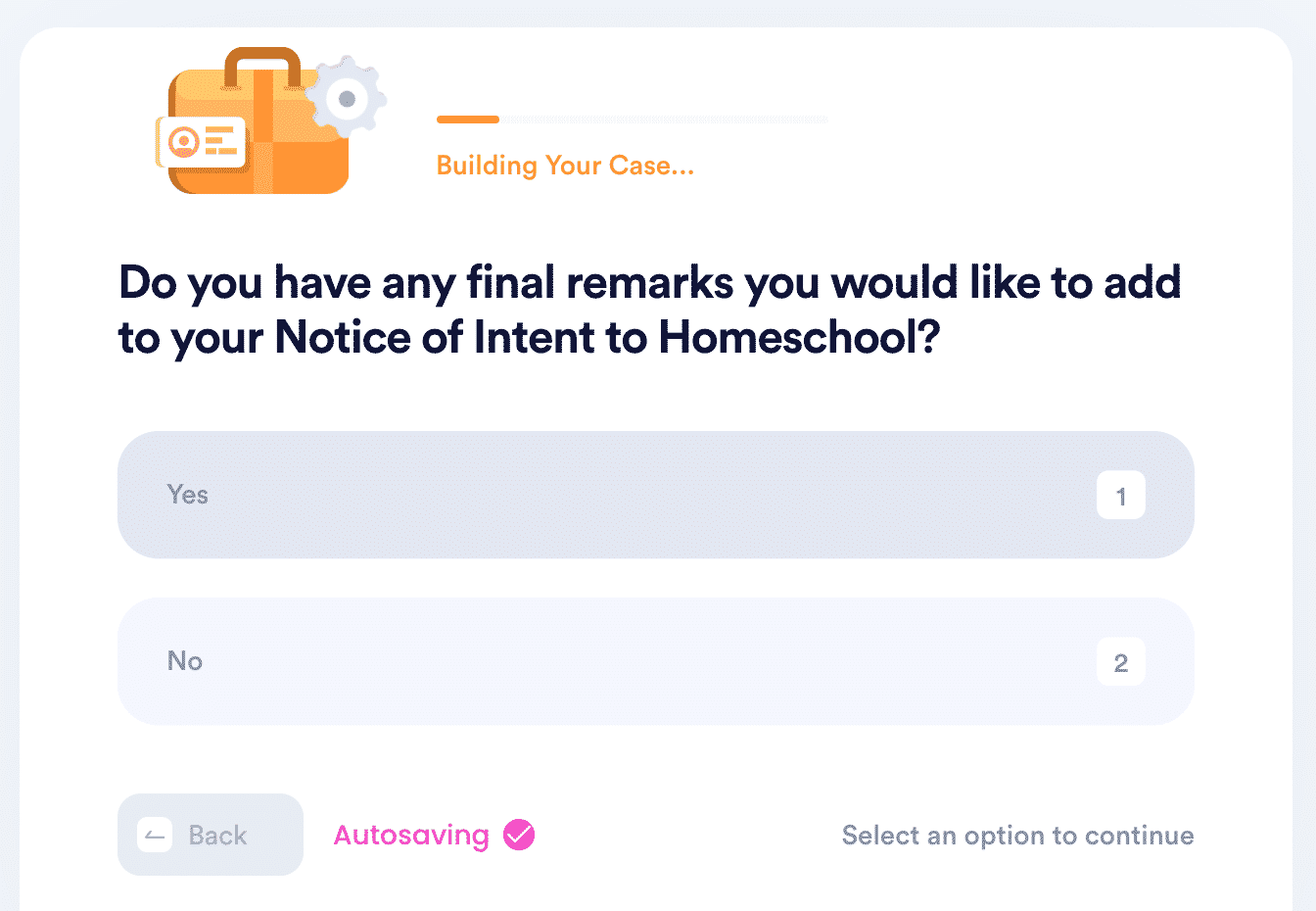 Who Should Teach Your Children if You Decide To Homeschool Them?
Deciding to homeschool your child is not easy, and one of the most difficult decisions to make is choosing whether you should be the teacher or let someone else do it. Some states require teaching certification from parents, so if you aren't certified, you might have to hire a professional.
The states that require certification are:
Vermont
New York
Pennsylvania
Rhode Island
Massachusetts
Ohio
Washington
Florida
Oregon
DoNotPay's Features Are Here To Make Your Life Easier
To simplify confusing bureaucratic procedures, we developed a number of features you may find super useful. Sign up for our app and let us assist you in:
DoNotPay Doesn't Stop There!
Assisting you with bureaucratic tasks is only a fragment of what DoNotPay can do—we have a lot more nifty features to offer! We can show you how to:
Struggling to draw up a financial aid appeal letter, an HR complaint, or a child travel consent form? DoNotPay is here to do it in minutes!