Nature-Based Homeschool Curriculum Explained in Detail
Picking the right homeschool curriculum is all about what fits your child's learning needs and capabilities, as well as your schedule. You should have a clear idea in your mind of what you want to achieve when homeschooling your child and clearly define your ultimate goals.
If you want to know more about a nature-based homeschool curriculum, you can count on DoNotPay to present all the relevant info. You can also to send a notice of intent to homeschool to your superintendent and get rid of a portion of the extensive paperwork teaching at home entails.
What You Should Know About the Nature-Based Homeschool Curriculum
The nature-based approach to teaching at home focuses on children spending a lot of time outside and exploring the world around them. Parents usually opt for it because they don't want their children sitting behind a desk for several hours a day for every subject.
That's why homeschooling and nature-based learning are a great match—parents can tailor lessons for their children as they see fit. When deciding to use a nature-based curriculum, you can be creative and come up with lessons and activities to make the teaching and learning process interactive and fun.
Nature-Based Homeschool Curriculum Examples
If you want your child to be mostly focused on studying in and about nature, check out some of the sources in the table below:
Options
Details
Audubon Adventures

Is an environmental education curriculum created by professional environmental educators
Is suitable for grades 3–5
Presents standard-based science content about wildlife, birds, and their habitats
Includes guidelines for optimal use of the resources

Cornell Lab of Ornithology K-12 Education program
Encyclopedia of Life (EOL)

Has lesson plans divided into three grades and age ranges
Offers digital access to information on all known species
Is led by the Smithsonian Institution's National Museum of Natural History

National Wildlife Federation

Includes more than 1,000 lesson plans designed to teach children about:

Science
Ecology
Wildlife biology
Scientific identification
Observation

Has lesson plans categorized by type of species and grade level

Kids Gardening

Includes lesson plans focused on garden activities
Is arranged according to the grade level
What Learning Method Matches Best With Nature-Based Curriculums?
The Charlotte Mason learning method is the best match for nature-based curriculums. This learning approach emphasizes the importance of nature and time spent outdoors exploring. You can find numerous Charlotte Mason homeschool curriculums to use as examples and for inspiration.
Many parents decide to mix and match learning methods to offer their children the best possible learning experience.
Some Activities for Fun Nature-Based Learning
If you are wondering about your options for learning in nature, we will present some ideas to incorporate in your lessons:
Take a walk in nature and explore the world around you
Practice photography and capture the wildlife around you
Plant a small garden if you have space
Read while outside in a park
Set up a birdfeeder and observe birds
Go camping
Should You Send a Letter of Intent To Homeschool Before You Decide on a Curriculum?
Once you decide that you want to homeschool your child, you should send a notice of intent to homeschool to the superintendent of your school district. This is a mandatory step in most states, but you must check local homeschool laws and requirements to understand the procedure.
If you need help creating the letter of intent, you can turn to DoNotPay for help!
Use DoNotPay To Write a Letter of Intent To Homeschool in a Matter of Minutes
DoNotPay offers a straightforward way to generate a letter of intent in a few easy steps. To get this legal document without trouble, you only need to:
Select our Notice of Intent to Homeschool product
Enter the necessary info about your school district
Answer a few questions about your family
Once you get your letter of intent, you can download the file and send it to the superintendent or let us handle the task for you. You can also have the legal document notarized with DoNotPay's help!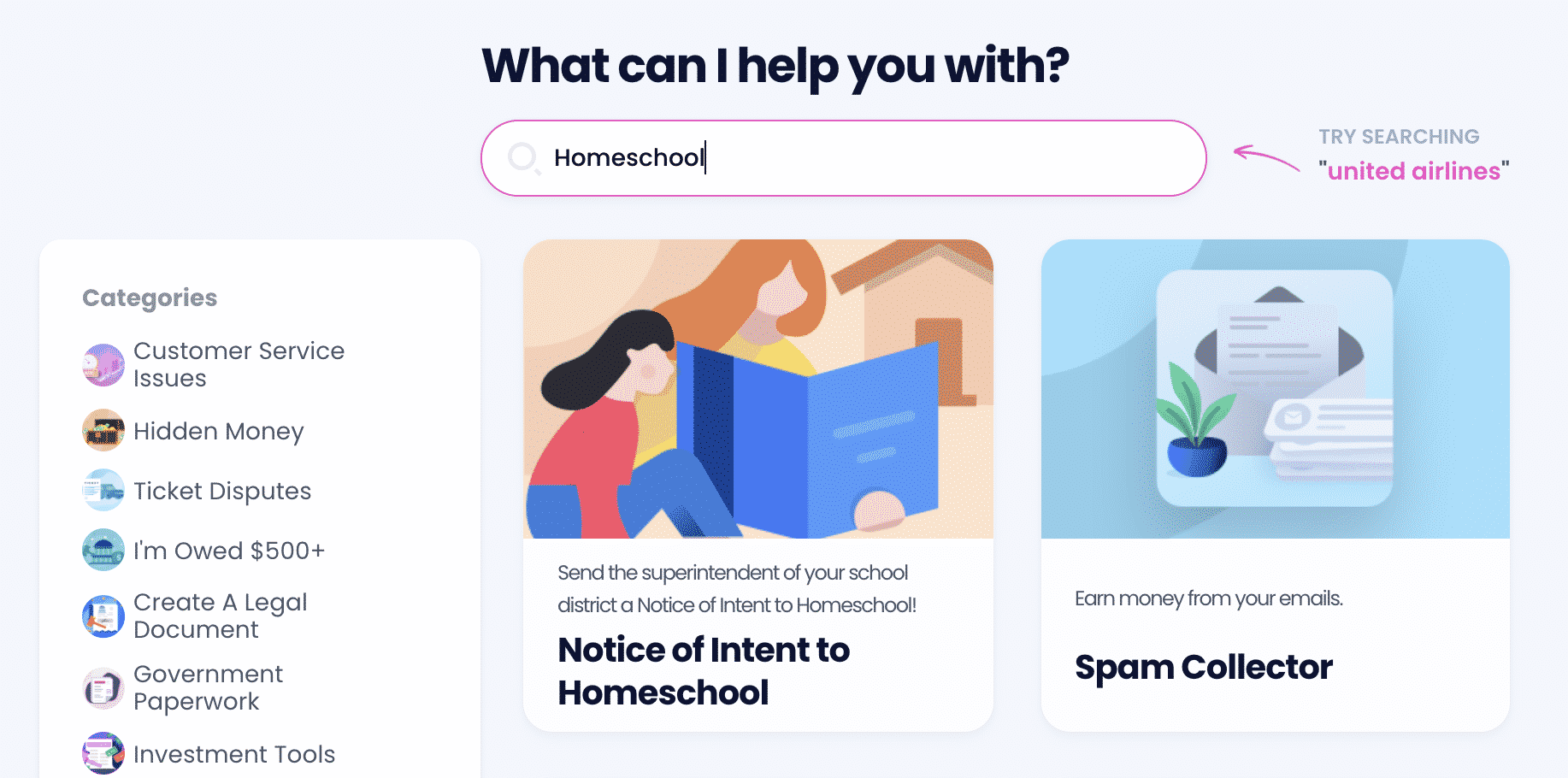 In case you want to learn more about homeschooling, you can check out DoNotPay's comprehensive articles on:
Can DoNotPay Help Me With Any Other Admin or Legal Issue? You Bet It Can!
DoNotPay's robust products can assist you in fighting companies, individuals, and institutions that have wronged you in any way. Once you subscribe to our platform, we'll ensure that you never have to deal with any of the following again:
Our Product Range Offers So Much More
Subscribing to DoNotPay will bring you peace of mind as you won't have to go through tedious task completion on your own anymore. With our AI-powered app, you can get what's rightfully yours in the blink of an eye.
If you want to claim warranty or insurance, find your missing assets, get compensated for a canceled flight or a violent crime that you were a victim of, track your missing parcel, or draw up a child travel consent form, divorce settlement agreement, power of attorney, or any other legal document, you can count on us to lend you a helping hand.
Sign up today to get access to the entirety of our product range and forget about dealing with time-consuming and energy-draining chores!