South Dakota Homeschool Laws You Should Know About
Are you thinking of homeschooling your child, but the laws are giving you a headache? If so, don't worry because DoNotPay has got your back!
We will tell you all about South Dakota homeschool laws and help you start homeschooling, even if it's the middle of the year! Aside from showing you how to teach your child in the Rushmore State, DoNotPay is also offering helpful guides to help you on your homeschool journey, such as:
SD Homeschool Laws
South Dakota is one of the easiest states to homeschool in, as you will only need to meet several requirements to get started. Check out the table below for details:
Requirement
Details
File a letter of intent to homeschool
You have to file a letter notifying your local school district superintendent that you want to homeschool your child. The form must contain:

Your child's name and birth date
Resident district
Open enrolled district (if applicable)

If you , we'll generate the letter of intent to homeschool and forward it in your stead

Teach the permitted number of children
In South Dakota, you are allowed to teach no more than 22 children
Keep records
You must keep records of your child's attendance and academic details and progress the homeschooled student
Teach the required subjects
The curriculum you choose for your homeschooler must include subjects that will help them master language arts and mathematics, primarily
Provide the set number of homeschool hours
You are required to provide the number of homeschool hours equivalent to teaching hours at public schools. This equals to:

437 hours per year for kindergarten students
875 hours per year for students from grade one to five
962 hours per year for students from grade six to twelve

Assess your child
South Dakota laws require all children to take standardized tests used in public schools in second, fourth, eighth, and 11th grade
How Old Does My Child Have To Be for Homeschooling?
To attend homeschool classes, your child must be at least six years old but not older than 18.
Where Do I Get a South Dakota Homeschool Curriculum?
You've several options of obtaining a curriculum for your child in South Dakota, including:
Creating the curriculum yourself—This option is for you if you have the time and energy needed, as writing a curriculum isn't an easy task. A benefit of this solution is that it enables you to choose exactly which subjects your child will be taught
Finding one on the internet—There are numerous homeschool curriculums online, from Christian-based ones to curriculums for gifted children
Asking around in a support group—If you join a homeschool support group in South Dakota, you can ask other parents for a curriculum recommendation
Is Having an Accredited Homeschool Curriculum Important?
Picking an accredited curriculum is important if your child wishes to attend college as it will help them:
Meet the national standards
Transfer coursework between accredited schools
Be accepted to colleges across the states
Keep in mind that homeschooling has a positive effect on homeschoolers, as many of them in the United States proceed to college, and a solid percentage of them excel.
Which South Dakota Homeschool Support Groups Can I Join?
The Mount Rushmore State has various homeschool groups across the state. We've selected a few to help you with the choice:
Support groups encourage group learning, socializing, extracurricular activities, and various other activities. Their purpose is to give homeschool parents, teachers, and students a chance to share experiences, ideas, and activities and help each other in homeschooling.
How To Start Homeschooling Your Child in South Dakota
To begin your homeschooling journey in South Dakota, you will need to withdraw your child from public school and file a letter of intent to homeschool. Once you're done, you'll have to meet the requirements we've listed above, and you can get started.
Use DoNotPay and Start Homeschooling in No Time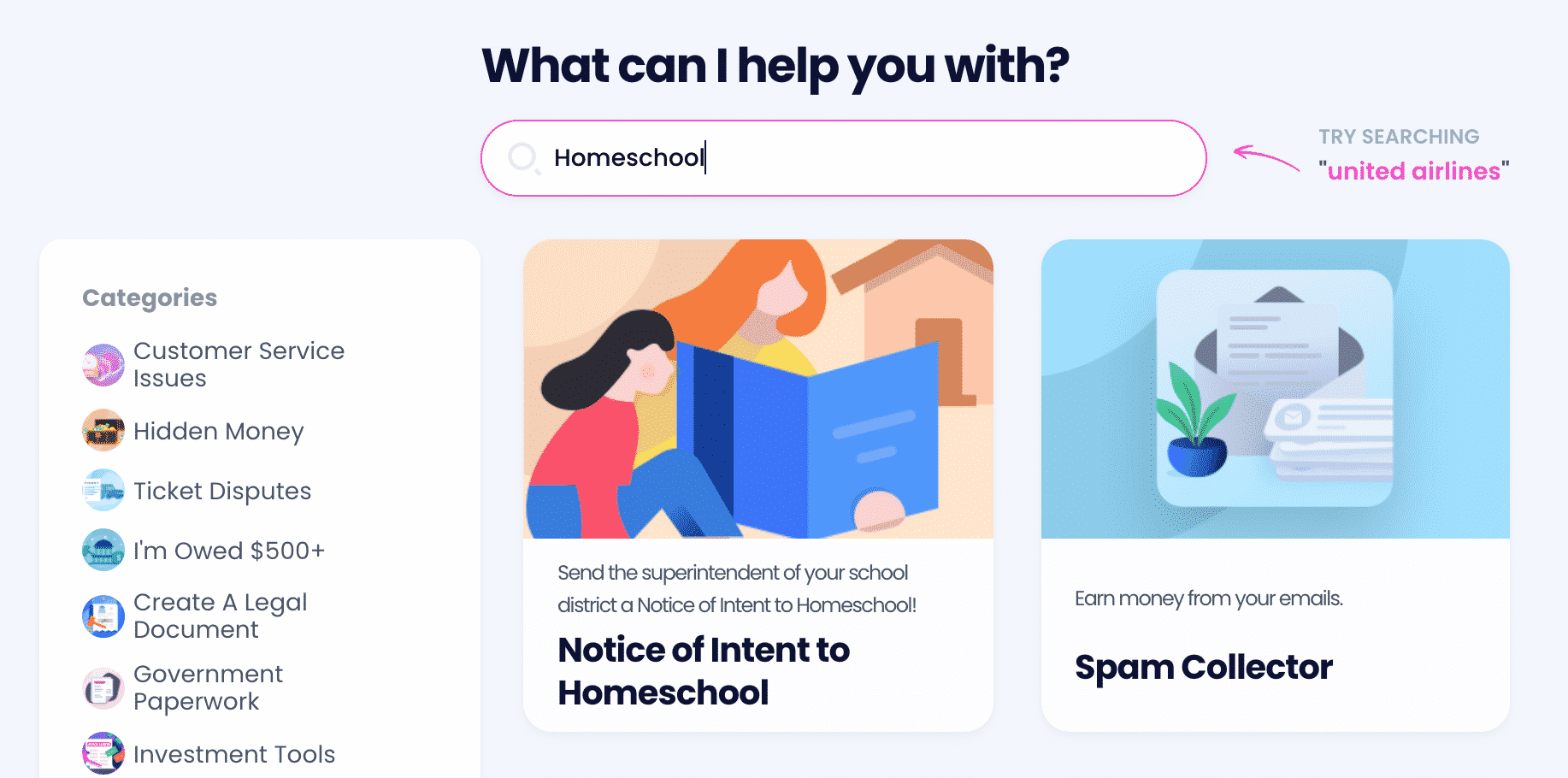 Whether you want someone else to homeschool your child or you'll do it yourself, you can count on our app to provide you with a professional letter of intent to homeschool.
Here's all you need to do once you :
Select our Letter of Intent to Homeschool product
Answer our chatbot's simple questions about your homeschooling plans
Hit Submit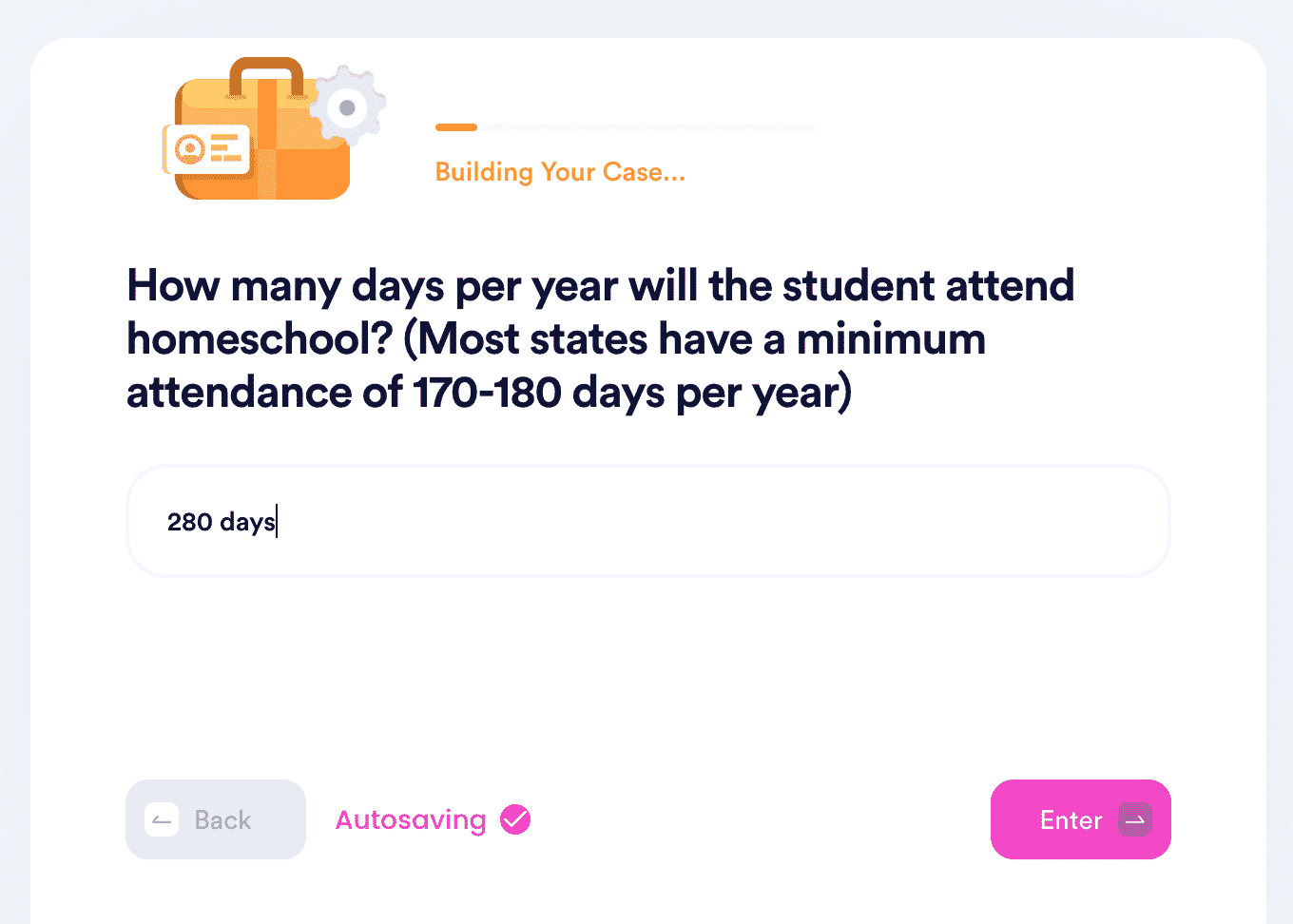 We will generate the letter for you quickly, and you'll be able to choose whether we:
Send it to you in PDF form via email
Forward it in your stead to the required address
Discover DoNotPay's Solutions to Mundane Tasks
Our product range doesn't end there—we can also help you sue anyone in small claims court, cancel any subscription, start a free trial risk-free with our virtual credit card, get refunds and chargebacks, send anything through online fax, pay your utility bills, demand airline compensation, and deal with your annoying neighbors.
As soon as you sign up, we can also put an end to robocalls, copyright infringement, email and text spam, and stalkers and harassers. Our app's abilities don't stop there either—get perfect passport photos, free raffle tickets, compensation for victims of crime, or insurance or warranty quickly!
There's So Much More We Can Assist You With
Check out how else we can help—DoNotPay can:
Sign up now to take advantage of our nifty products!