What You Need To Know About the Christian Homeschool Curriculum
For Christian parents planning to start homeschooling this year, one of the most difficult aspects is choosing an effective Christian homeschool curriculum that doesn't cost a fortune.
Sorting through a mountain of reviews is a tedious and time-consuming task. Not to worry—you can find some of the best and most popular Christian homeschool curriculums in this easy-to-read guide.
How To Start Homeschooling
You already know you want to teach your children from a Christian standpoint, but what about other decisions important for a beginner in homeschooling? Answering the following questions can help you decide on your goals:
Do I want my child to meet higher academic standards?
Can I set aside two to four hours each day for teaching?
Am I skilled enough to teach certain subjects?
What homeschooling method do I want to use?
Do I want to join a homeschool group in my area?
Take note that if you lack knowledge in certain subjects or don't have time to homeschool your child each day, you can leave it to someone else in most states. You can either hire a tutor or join a co-op Christian homeschool group.
There's no right age or right time to start homeschooling your children, but your journey will look completely different if you start homeschooling a four-year-old child and if you take a ninth-grader out of public school to homeschool.
In case your kid is of school age, you can start homeschooling even in the middle of the school year.
Joining a religious homeschool group is also an option and often an excellent idea because you'll probably need some assistance and guidance as a beginner.
Homeschooling Laws in the U.S.
It is crucial to get informed about your state's homeschool laws before making any moves. Homeschooling isn't illegal in any state, but some states have much stricter rules than the others:
States With the Strictest Homeschool Laws
States With the Most Lenient Homeschool Laws

Georgia
Massachusetts
New York
North Dakota
Rhode Island
Vermont

Mississippi
Montana
Nebraska
Nevada
Utah
Wisconsin
Wyoming
You don't need to be a certified teacher to be able to homeschool your child, but many states require that you have a high school diploma or GED. In some states, you'll have to be overseen by a certified teacher.
How To Choose the Best Christian-Based Homeschool Curriculum
Because there are so many options, finding a good homeschooling curriculum—especially a Christian one—can be difficult. A good Christian homeschool curriculum should focus on a Biblical worldview while being tailored to children's abilities and learning styles. Here are some tips on finding the right curriculum:
Reading about different curriculums on their websites
Checking out parent's reviews on different forums
Speaking to other homeschooling families who use Christian curriculums
Searching for blogs or YouTube videos related to this topic
Top Rated Christian Homeschool Curriculums
Take a look at the table below to find out what are some of the best Bible-based homeschool curriculums:
Curriculums
Description
The Good and the Beautiful
The emphasis in this Christian curriculum is placed on God, family, nature, high character, and good literature. It doesn't require daily prep time, and it's not expensive
Abeka
This well-respected Christian-based curriculum adopts a very strict approach to learning. You can expect academic quality as well as a biblical perspective
Sonlight
Sonlight is one of the most popular homeschool Christian curriculums of all time.

It is literature-based and offers easy-to-use materials, lesson plans, and schedules

My Father's World
Combining Charlotte Mason's ideas and classical education with a biblical worldview, this curriculum keeps God's Word central
Apologia
This award-winning homeschool curriculum strives to help homeschooling students and families learn and live in a Christian spirit. It offers print and digital curriculums along with online classes
Do You Need To Send a Letter of Intent To Homeschool?
Once you are sure you want to homeschool and have completed all the legal requirements, you can begin your homeschool year.
One of the legal requirements in most U.S. states is sending a letter of intent to homeschool to your school district's office.
You can check if the notice of intent is mandatory in your state by clicking on the name of your state in the table below:
If it turns out that submitting this letter is required in your state, we can create one for you. All you need to do is sign up for our service and fill out our online form.
DoNotPay Can Draft a Letter of Intent for You
Drafting an intent letter is not the most exciting task ever. Why not let DoNotPay take care of it? There's no need to waste hours of your time when our app can do it in minutes!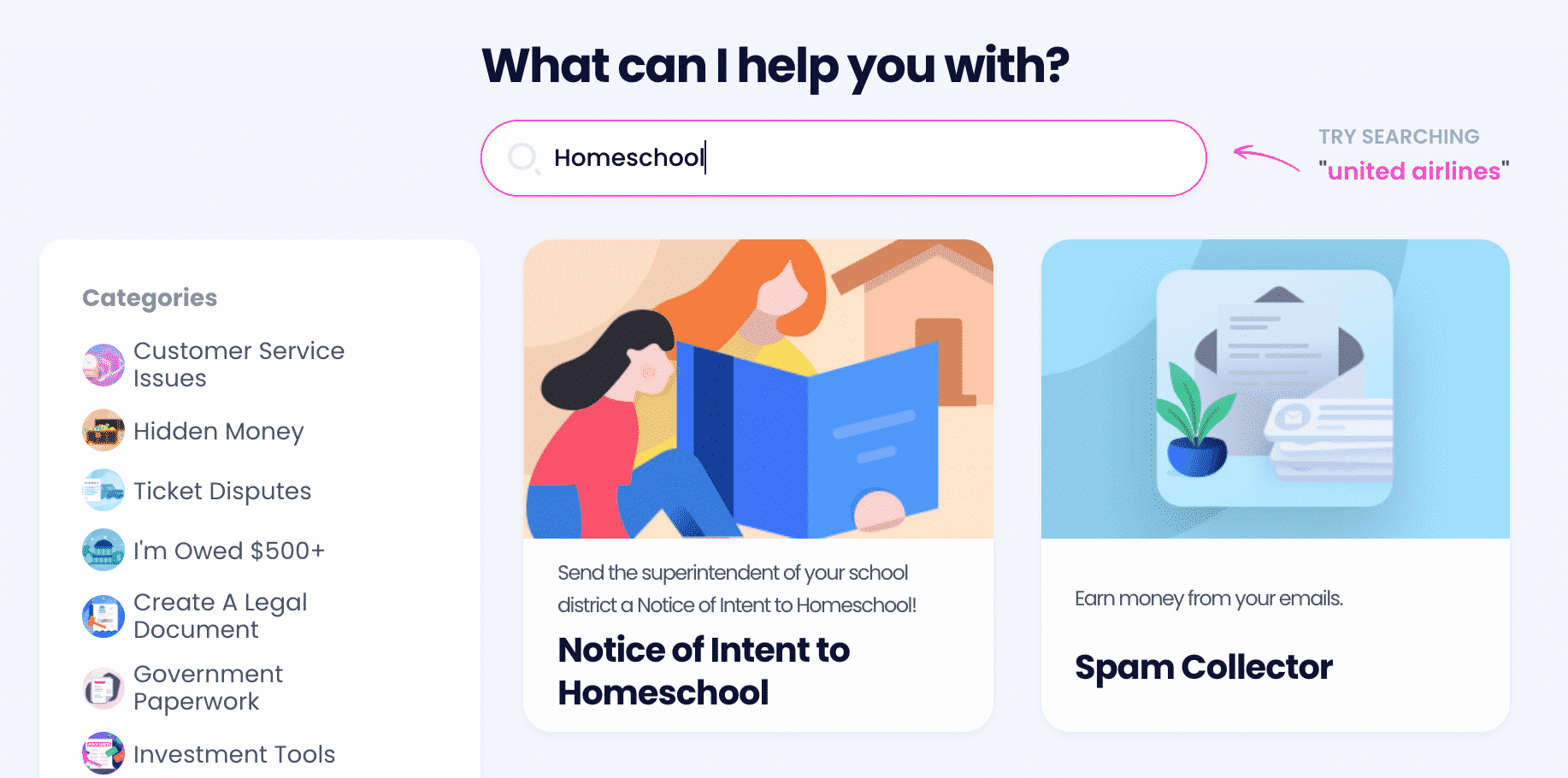 To initiate the process of drafting the letter, follow these three simple steps:
Access your DoNotPay account from any web browser
Look for the Notice of Intent to Homeschool product
Answer a few simple questions from our chatbot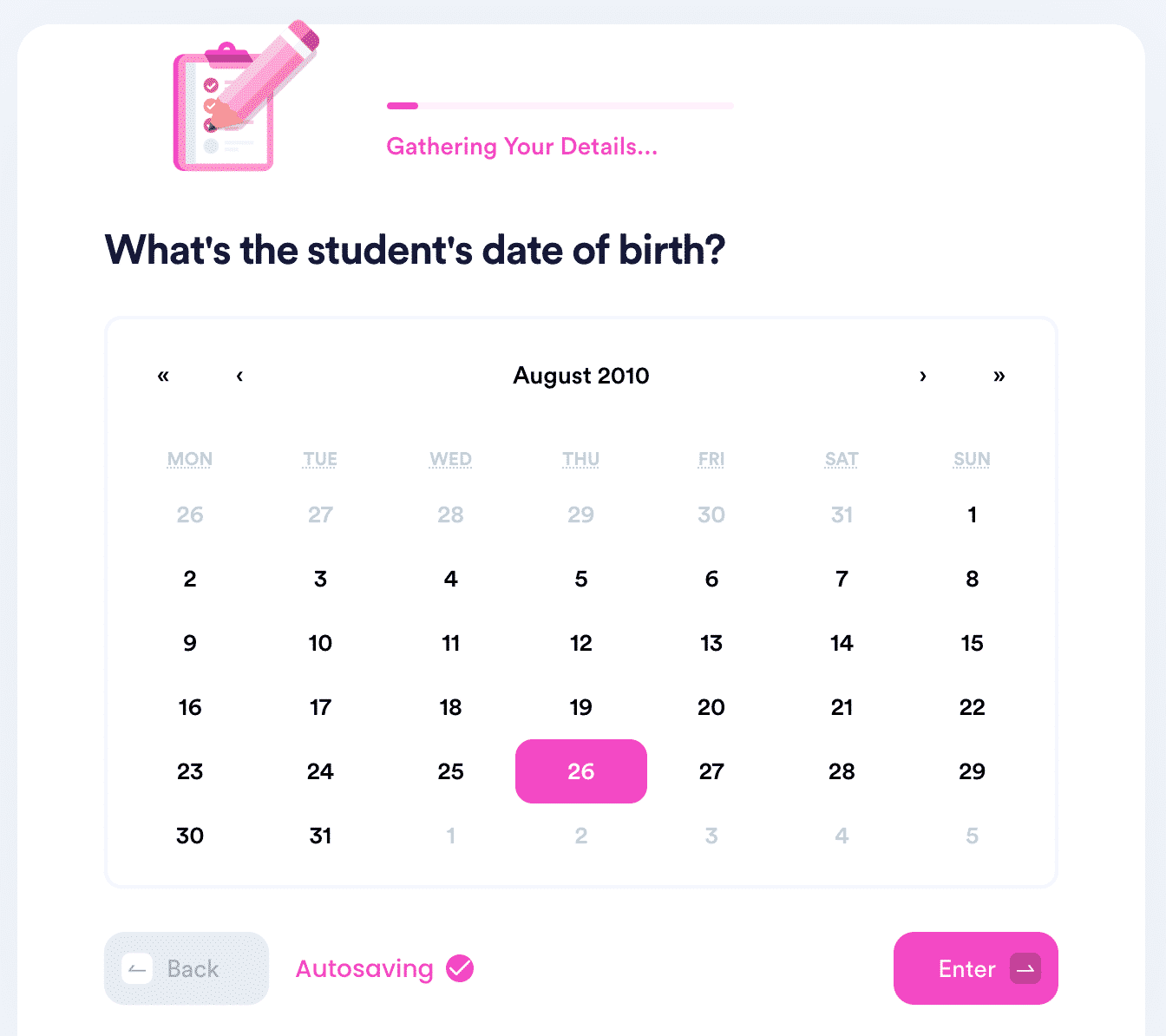 You also have the option to notarize the document virtually. We can send it in your stead, or you can download it and send it yourself.
Resolve Any Other Issue You Have Swiftly With Our Assistance
The world's first robot lawyer is capable of tackling any legal or administrative task in your stead. We can draw up any legal document for you—including a power of attorney, child travel consent form, and divorce settlement agreement, to name just a few—help you sue any company or individual in small claims court, send a letter of warning to your noisy neighbors, help you reduce your property taxes and utility bills, and a lot more.
Sign up now if you want to stop email and text spam, claim any insurance or warranty, appeal parking tickets, schedule a DMV appointment in a flash, mail anything worry-free, find your missing assets, create passport photos, or contact embassies and consulates effortlessly.
Let DoNotPay Guide You Through Any Obstacle
Are you tired of corporations not taking their customers seriously? So are we, and that's why our nifty product will assist you in suing any company or individual in small claims court!
If you don't want to have any online service take advantage of you, you can sign up for any free trial completely risk-free with our virtual credit card's help, cancel any membership on time, and demand a refund or chargeback in a split second. DoNotPay can also draw up an airtight return request and send it to a company of your choice instantly.