Thinking About Joining the Christian Homeschool Association of Pennsylvania? Get the Scoop!
As a Christian parent who plans to homeschool their child in Pennsylvania, you've probably heard about the Christian Homeschool Association of Pennsylvania (CHAP).
Don't know much about this religious home education organization? Read this guide and find all the information you need, including how and why you should join the CHAP.
to avoid the tedious task of writing a letter of intent before you start homeschooling. We can draft it in minutes and send it to your school district in your stead.
What Is the Christian Homeschool Association of PA?
The Christian Homeschool Association of Pennsylvania is a non-profit organization dedicated to encouraging and assisting families who wish to educate their children at home. It assists homeschooling parents in:
CHAP also provides:
Monthly eNewsletter
Magazines
A list of certified home education evaluators and testers
Information about events for homeschoolers all over Pennsylvania
How To Join the Christian Homeschool Association of Pennsylvania
The easiest way to join the CHAP is to register on their website. Once you are registered, you'll get access to members-only parts of the site.
All subscriptions are valid for the entire calendar year, ending on December 31st.
Benefits of Joining the Christian Homeschool Association of Pennsylvania
If you join the Christian Homeschool Association of Pennsylvania, you'll get a variety of perks. Some of them are:
Pennsylvania Homeschool Laws
Children aged 8–16 are required to attend school under Pennsylvania's state law. Homeschooled students must be Interviewed and evaluated by a home education evaluator each year. They also need to take a state-approved standardized test in the third, fifth, and eighth grade.
What makes homeschooling in Pennsylvania unique is that it is one of the few states that has established a road toward state-recognized homeschool diplomas.
Homeschooling parents must meet the following requirements:
Some requirements, such as the number of instruction hours and mandatory subjects, are different for elementary and secondary levels of study. Check them out in the table below:
Levels of Study
Days of Instruction
Hours of instruction
Mandatory Subjects
Elementary
180
900

English (spelling, reading, and writing)
Arithmetic
Science
Geography
History of the United States and Pennsylvania
Civics
Safety education
Health and psychology
Physical education
Music
Art

Secondary
180
990

English (language, literature, speech, and composition)
Science
Geography
Social studies (civics, world history, history of the United States and Pennsylvania)
Mathematics (general mathematics, algebra, and geometry)
Art
Music
Physical education
Health
Safety education
Remember, you don't need to be a certified teacher to provide home instruction, but if you want someone else to homeschool your child, this person must be a certified tutor.
How To Write a Letter of Intent To Homeschool
Submitting a notarized letter of affidavit to homeschool is the first step after deciding to take your child out of public school to homeschool.
You can do it whenever you want, even in the middle of the school year.
The letter must be submitted for any child age eight or older. If your kid was previously enrolled in kindergarten or first grade, you have to submit the letter regardless of age.
It should include:
The name of the homeschool teacher and a statement about possessing at least a high school diploma
Name and age of the homeschooled student
Homeschool address and phone number
Affirmation that all homeschooling training would be conducted in English
Evidence of child receiving requisite health and medical services and immunizations
Affirmation that the student will be taught in all the required courses for their grade level
Affirmation that the homeschooling parent or guardian hasn't been convicted of any major criminal offenses in the past five years
An attachment of educational goals by subject matter
Use DoNotPay To Generate a Letter of Intent in No Time
Save time on the time-consuming task of writing a letter of intent to homeschool and leave it to DoNotPay.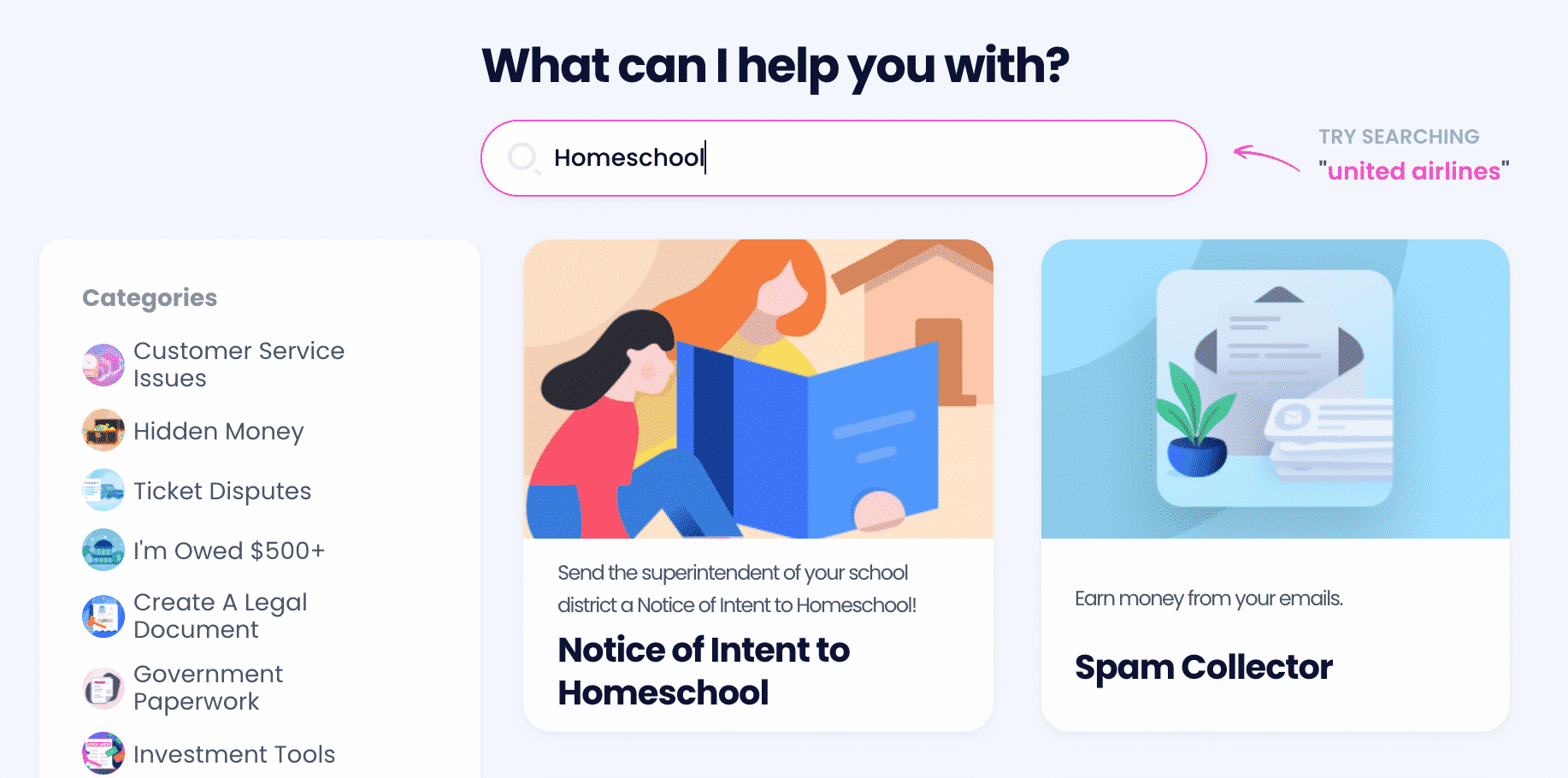 All you need to do is:
Select our Letter of Intent to Homeschool product
Answer a few questions from our chatbot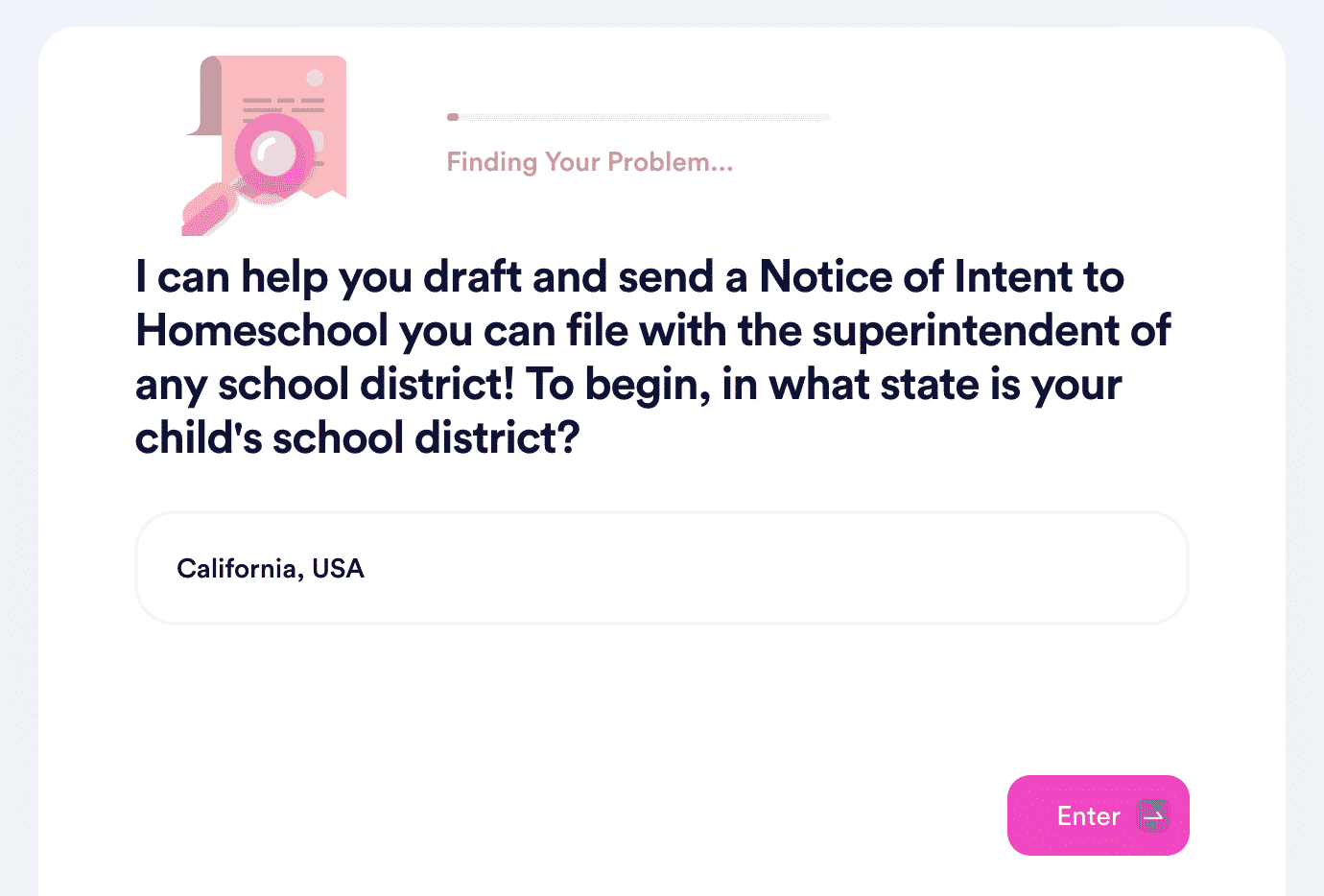 You can also get the letter notarized virtually and send it directly to your school district using our app. Another option is to download it and send it yourself.
Make sure you check out our knowledge base if you want to get answers to the following questions:
Resolve Any Other Issue You Have Swiftly With Our Assistance
The world's first robot lawyer is capable of tackling any legal or administrative task in your stead. We can draw up any legal document for you—including a power of attorney, child travel consent form, and divorce settlement agreement, to name just a few—help you sue any company or individual in small claims court, send a letter of warning to your noisy neighbors, help you reduce your property taxes and utility bills, and a lot more.
Sign up now if you want to stop email and text spam, claim any insurance or warranty, appeal parking tickets, schedule a DMV appointment in a flash, mail anything worry-free, find your missing assets, create passport photos, or contact embassies and consulates effortlessly.
Let DoNotPay Guide You Through Any Obstacle
Are you tired of corporations not taking their customers seriously? So are we, and that's why our nifty product will assist you in suing any company or individual in small claims court!
If you don't want to have any online service take advantage of you, you can sign up for any free trial completely risk-free with our virtual credit card's help, cancel any membership on time, and demand a refund or chargeback in a split second. DoNotPay can also draw up an airtight return request and send it to a company of your choice quickly.