Intent To Homeschool Form—Maryland Homeschool Rules and Regulations
To homeschool their children in Maryland, homeschooling parents must file an intent to homeschool form.
Maryland is one of the U.S. states with moderate regulation regarding homeschooling, which is great news for homeschooling beginners.
Read this quick guide to find out all there is to know about requirements for homeschoolers in Maryland and learn when to file a notice of intent to homeschool.
Maryland Homeschool Laws
Homeschooling parents must meet the following requirements:
Providing regular and thorough lessons in subjects usually taught in public schools to children of the same age
Teaching English, science, mathematics, social studies, music, art, health, and physical education
Maintaining a portfolio that:

Proves that the parent is providing regular classes in mandatory subjects
Includes instructional and reading materials as well as examples of child's writings, tests, worksheets, etc.
The portfolio will be reviewed by the local superintendent at the end of each semester. There are no more than three reviews during a school year, and their purpose is to ensure that the child is getting a meticulous and regular education.
If a parent or guardian fails to meet these requirements, a child shall be enrolled in a public or private school as soon as possible.
Parents can also provide home education under the supervision of a nonpublic school or institution. The supervision includes:
This option doesn't require maintaining a portfolio. Keep in mind that parents in Maryland can also hire tutors and teachers to help them with homeschooling.
When To File a Notice of Intent To Homeschool in Maryland
Parents or guardians must file a notice of intent to homeschool form to the local superintendent at least 15 days before they start homeschooling their kids—whether it's at the beginning, middle, or end of a school year.
This form does not seek permission from the state or local government for a family to teach their children at home. This notice only informs the school district of a family's decision.
A parent or guardian must verify the continuance of homeschooling for their child annually before the start of each school year.
Filling Out the Intent To Homeschool Form
Once you decide on taking your kid out of school to homeschool, you should prepare your intent to homeschool form or letter. You can download the form from different government websites, ask your child's current school for one, or draft it yourself.
Regardless of the method, certain info should be included in this document. Check out the table below to find out the details:
| Information | Mandatory/Optional |
| --- | --- |
| Student's name, sex, date of birth, and grade | Mandatory |
| Parent/guardian name, address, and contact | Mandatory |
| Previous schools attended | Optional |
| Homeschool curriculum choices | Optional |
You should also indicate which of the two homeschooling options you have chosen
Independent homeschooling
Homeschooling under the supervision of a nonpublic school or institution
This document isn't valid without a signature, and your child will be considered truant from school if your local county does not have a signed form on file for you.
In case you need some extra help, , and we'll take over.
DoNotPay Can Draft a Notice of Intent To Homeschool in Minutes!
DoNotPay specializes in drafting all kinds of legal documents, including letters of intent to homeschool. Don't waste hours on such a tedious task—we can do it for you in minutes.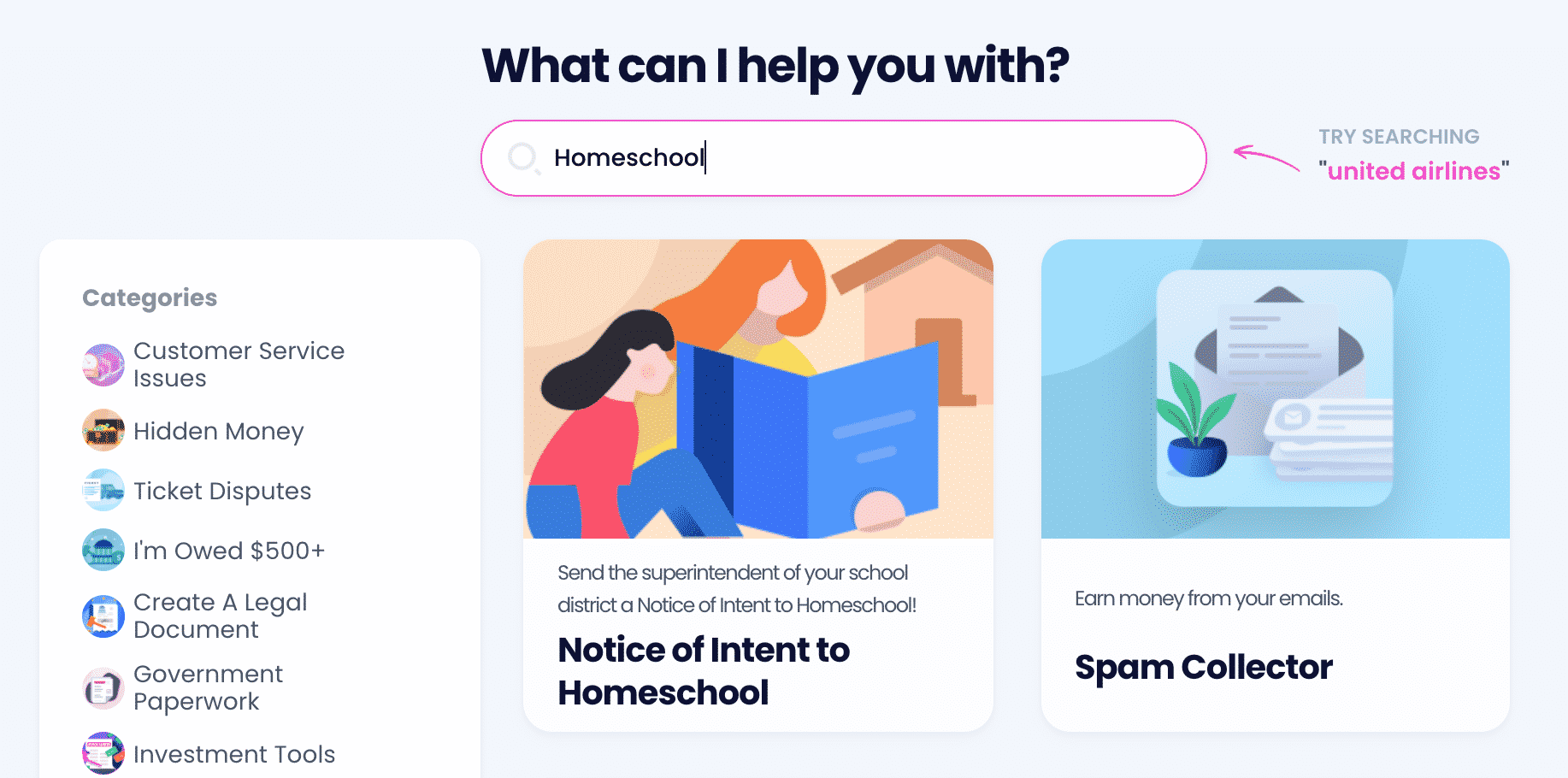 All you need to do is:
from any web browser
Look for the Notice of Intent to Homeschool feature
Answer a few questions about your homeschool plan
Click on the Submit button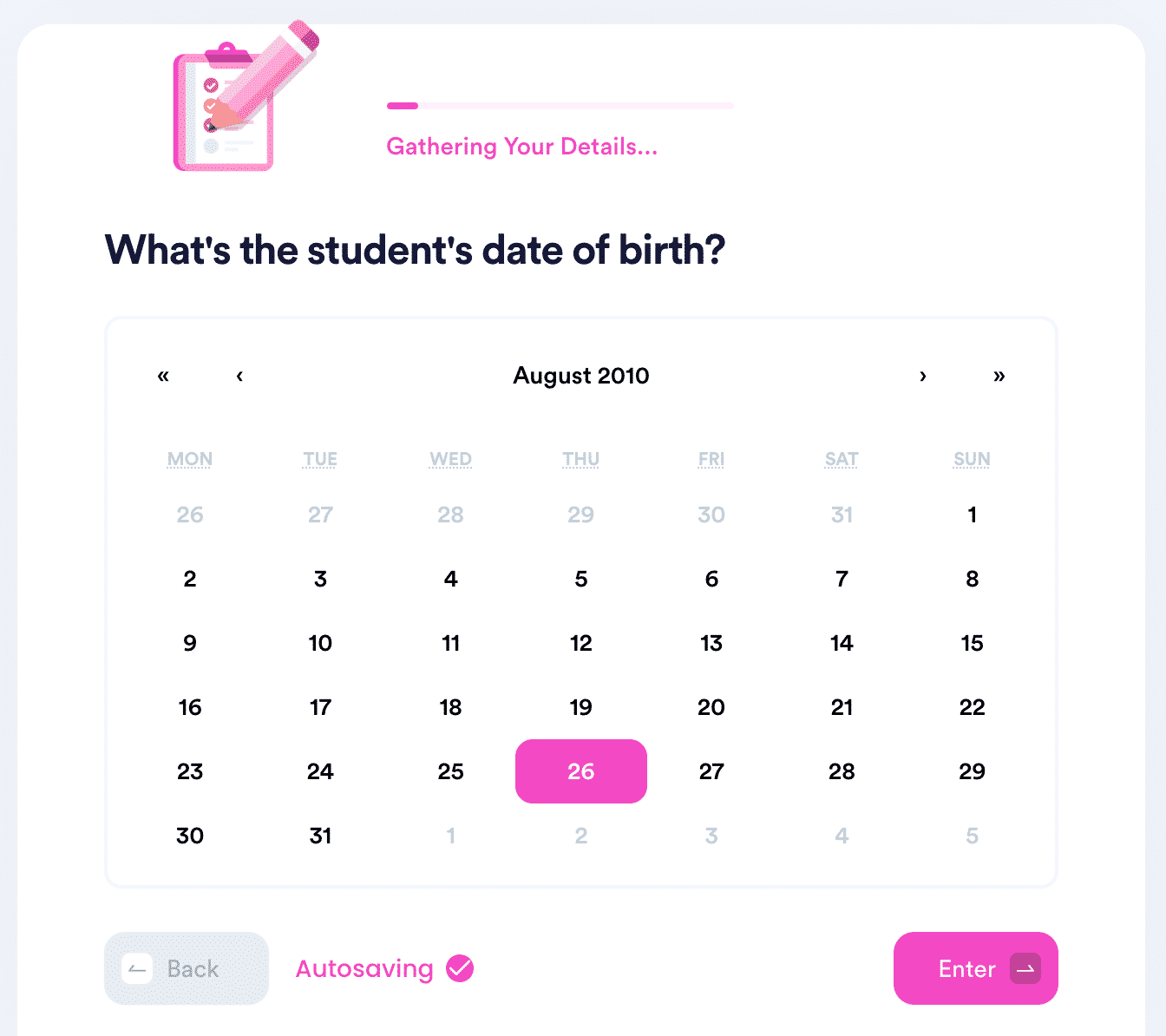 Once you've completed all four steps, we will generate a personalized letter of intent to homeschool and send it to your school district superintendent.
If you want to submit the letter on your own, you can download it in PDF format.
Make sure to check our knowledge base to find answers to the following questions:
Starting Homeschooling—What You Need To Know
It's not enough to focus solely on state homeschool laws to be successful at homeschooling. You'll need to invest your time in learning about homeschool curriculums, teaching methods, and homeschooling in general.
Numerous resources can help homeschooling parents get started in homeschooling and learn how to homeschool their children successfully. Some of them are:
Handbooks
YouTube videos
Facebook groups
Blogs
Forums
Websites
Some of the tips you can try are:
Follow a daily schedule—one to four hours of homeschooling a day is optimal
Set learning goals together with your child
Create a designated learning space
Collaborate with other homeschoolers
Join a homeschool support group
Why You Should Join a Homeschool Support Group
Some of the most compelling reasons to join a homeschool support group are:
Advice and assistance in teaching
Optional extracurricular activities
Socialization opportunities with other students and parents
Events like prom and graduation
Keep in mind that some homeschool support groups may charge a membership fee and have membership requirements.
Resolve Any Other Issue You Have Swiftly With Our Assistance
The world's first robot lawyer is capable of tackling any legal or administrative task in your stead. We can draw up any legal document for you—including a power of attorney, child travel consent form, and divorce settlement agreement, to name just a few—help you sue any company or individual in small claims court, send a letter of warning to your noisy neighbors, help you reduce your property taxes and utility bills, and a lot more.
Sign up now if you want to stop email and text spam, claim any insurance or warranty, appeal parking tickets, schedule a DMV appointment in a flash, mail anything worry-free, find your missing assets, create passport photos, or contact embassies and consulates effortlessly.
Let DoNotPay Guide You Through Any Obstacle
Are you tired of corporations not taking their customers seriously? So are we, and that's why our nifty product will assist you in suing any company or individual in small claims court!
If you don't want to have any online service take advantage of you, you can sign up for any free trial completely risk-free with our virtual credit card's help, cancel any membership on time, and demand a refund or chargeback in a split second. DoNotPay can also draw up an airtight return request and send it to a company of your choice quickly.