What Are the Easiest States To Homeschool Children? Find Out With DoNotPay!
Homeschooling can be a bumpy road, at least in the beginning. Home-based education is heavily influenced by your local homeschooling laws. While some states try to make it easy for parents to teach their children, others turn the process into an ordeal.
What are the easiest states to homeschool in? Use DoNotPay to find out whether this is the wise option for you and your child.
Is Homeschooling Legal in All 50 States?
Homeschooling became pretty popular during the COVID-19 pandemic in 2020, when many parents began homeschooling in the middle of the year. According to federal law, you can homeschool your child no matter what part of the country you live in.
Even though this is excellent news for many parents who intend to homeschool their children, not all state laws make it easy or convenient.
Some states are homeschooling-friendly because parents can be autonomous and monitor their child's education as they find fit, and the law is not too strict about:
Record-keeping
Testing
Reporting
What Are Homeschool-Friendly States?
If you are taking the entire homeschooling agenda seriously and would consider moving to give your child the best experience, it's crucial to learn about specific rules and regulations. Parents typically favor the least restrictive legislation. Take a look at the table below to see the list of states that meet that qualification according to the Home School Legal Defense Association (HSLDA):
State
Essential Info
Texas

You must use a written curriculum
Mandatory subjects are

Math
Reading
Spelling and grammar
Good citizenship

Oklahoma

There is no requirement to test or report
You need to teach for at least 180 days each school year

New Jersey

You must teach the same subjects offered by local public schools

Missouri

You must keep records for all children under 16
You should have at least 1,000 hours of teaching during each school term

Michigan

There are no regulations about grade levels or the frequency of courses
You can choose to homeschool as a nonpublic school, under the state's homeschooling law, or both

Indiana

Homeschooling is equivalent to private schools and must comply with the state's private school statute
You need to teach for the same number of days as public schools (usually 180)
You must keep attendance records

Illinois

Homeschools don't need to register with or be recognized by the state
Homeschooling is treated as education at private schools

Idaho

You don't have to:

Possess specific qualifications
Obtain district approvals
Do testing
Provide information about the homeschool program

You need to select an instructor for your children (it can be anybody)

Alaska

You don't have to:

Notify the state
Get approval
Give tests
Be a certified teacher
Maintain contact with the government
The listed states do not require you to give the school district notice of intent to homeschool.
What Is the Homeschooling Situation in Other States?
You should also learn about the states that are not so lenient with homeschooling. If you are determined to educate your child at home, avoid the following:
States not mentioned on the worst and best lists fall somewhere in between. You can check out DoNotPay's detailed guides on their homeschooling policies in the table below:
| States With Low Regulation | States With Moderate Regulation |
| --- | --- |
| | |
If you decide to homeschool your child in any of these states, you'll need to provide a letter of intent to homeschool, and DoNotPay can help you with this task!
Use DoNotPay To Write a Letter of Intent to Homeschool
You don't have to bother writing a letter of intent yourself. DoNotPay is here to handle the tedious task for you! We will make sure to include all the essential information this legal document needs to contain. Here's how it works:
Choose the Notice of Intent To Homeschool product
Enter some information about your school district
Provide us with some info about you and your child
Once you answer the chatbot's questions, you can:
Have your letter notarized
Have the letter sent on your behalf
Receive a PDF version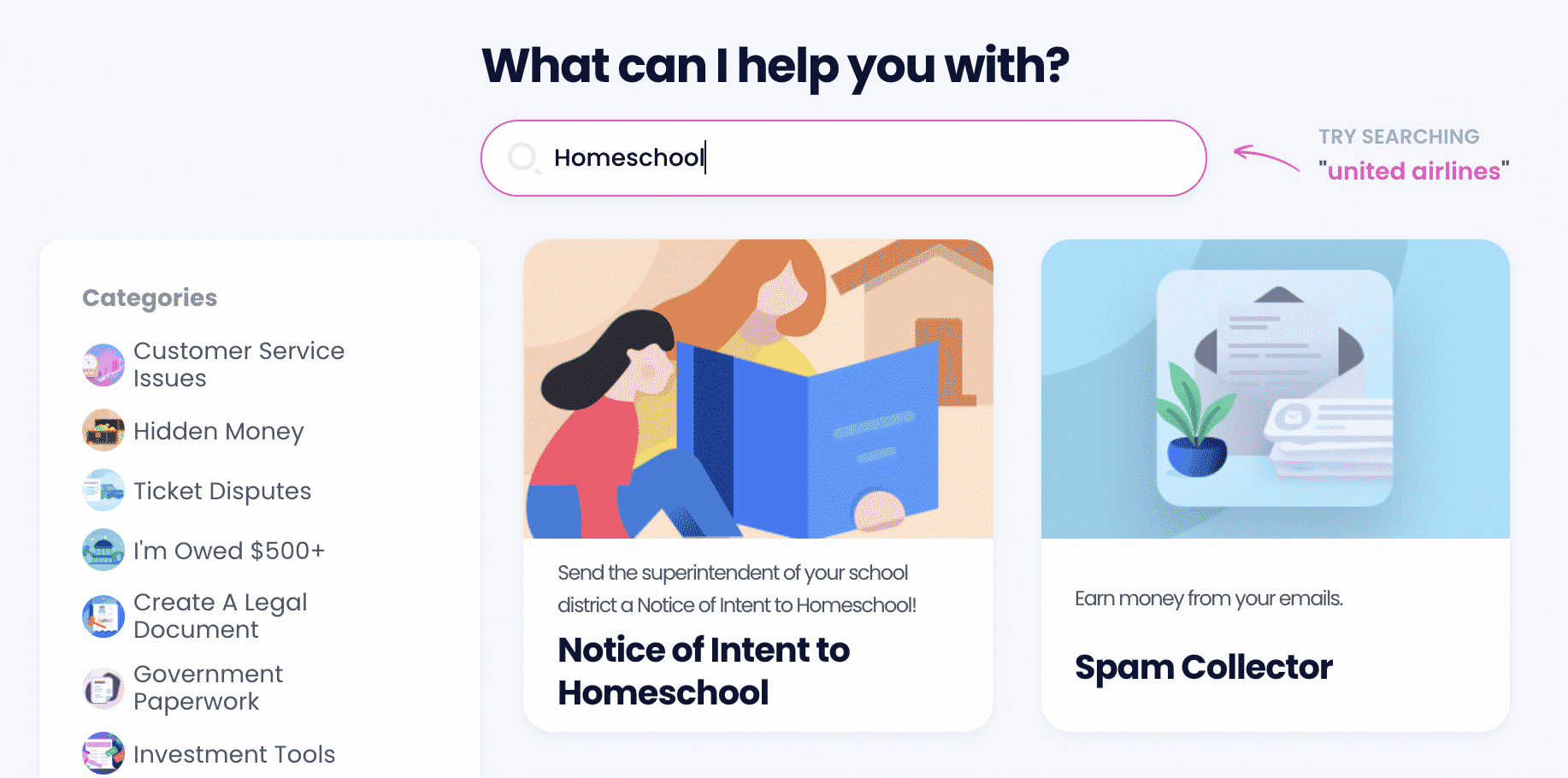 DoNotPay can also answer other homeschooling questions you might have, such as:
DoNotPay Offers Quick Solutions to Tedious Problems
Are you overwhelmed by your never-ending to-do list? We're happy to jump in with a perfect solution to deal with everyday tasks the easy way!
Once you subscribe to DoNotPay, you'll be able to schedule DMV appointments, lower your monthly bills, and contest parking tickets without breaking a sweat!
If you are looking for further assistance, our app will show you how to deal with the following tasks effortlessly:
Rely on DoNotPay's Legal Assistance Any Time!
If a company refuses to cooperate, use DoNotPay—the world's first robot lawyer—to sue it in small claims court! Getting the justice you deserve is only a few clicks away!
You can also use our app's various features to do the following: