A Detailed Guide to Homeschooling in Michigan
If you want to begin teaching your child at home, you should get informed about the local homeschooling requirements. Each state has different homeschooling laws, so you must figure out if you can meet the demands.
Is homeschooling in Michigan easy to organize? is here to explain whether the Great Lake State is homeschooling friendly and what you need to do to get started.
How To Start Homeschooling in Michigan
If you want to start with home-based education in Michigan, you should do the following:
Choose the appropriate homeschool option
Decide what curriculum and materials you want to use
Pick a learning method that suits your child's interests
All the decisions must be made in your child's best interest, so you need to weigh your options and choose carefully.
How to Homeschool in Michigan—Homeschooling Options
Parents in Michigan have two options for homeschooling their children. Take a look at the table below for more information:
Option
Explanation
Homeschooling under Michigan's homeschool statute
Parents and legal guardians who wish to homeschool need to use an organized educational program and teach the required subjects
Homeschooling as a nonpublic school
To homeschool under this option, you must:

Have a certified teacher teach your child
Notify your school district annually that you are homeschooling as a nonpublic school
Teach the required subjects
What You Should Know About Michigan Homeschool Laws
You can find everything about homeschooling in the Great Lake State in the Michigan Compiled Laws. Check out the following table for details:
Michigan Homeschool Requirements
Details
Who can homeschool
Parents and legal guardians can homeschool their children
Attendance age
Children between six and eighteen years of age need to attend school in Michigan
Reporting process
You don't have to report homeschooling to the Michigan Department of Education annually. This is a voluntary action unless the child needs special education services from the local public school
Subjects required
Every homeschooling parent must teach the following subjects in all grades:

Mathematics
Reading
English
Science
Social studies
Health
Physical education

In grades 10, 11, and 12, you must also teach the:

Constitution of the United States
Constitution of Michigan
History and present form of the civil government of the United States, the State of Michigan, and the political subdivisions and municipalities of the State of Michigan

Curriculum
You are responsible for choosing the curriculum and purchasing textbooks and other materials
Record keeping
Parents teaching at home are encouraged to maintain student records throughout the year. This will be useful in case the child enrolls in a public or nonpublic school at some point
Required testing
Homeschooled students are not required to do any tests. You should test your child based on the curriculum you use. If you wish, you can have your child participate in state testing at no cost
Teacher requirements
You are not required to hold a teaching permit, certificate, or occupational authorization to homeschool your child in Michigan
Ideas for Homeschooling Trips in Michigan
If you want to make the homeschooling experience fun and full of adventure, you should organize trips around the Great Lake State. There are numerous places you should visit, and here are some ideas:
Northern Peninsula
Northern Lower Peninsula
West Michigan
Central Michigan
Southeast Michigan
Note that homeschooling shouldn't be expensive and push your budget over the limits. Your child can learn a lot even within your hometown.
Do You Need To Submit a Notice of Intent To Homeschool in Michigan?
Michigan does not require parents to file a notice of intent when they decide to start homeschooling. It is still an advised step when you take your child out of school and don't want them to be marked as absent. If you need help creating this legal document, DoNotPay is the way to go!
Let DoNotPay Create a Letter of Intent for You
The easiest way to create a letter of intent to homeschool is by using DoNotPay. Our app can generate it for you in a matter of minutes. The letter will contain all the necessary information, and we can even mail it on your behalf. If you prefer, you can download the PDF version and file the letter yourself.
Here are the only steps you should take:
Choose our Notice of Intent To Homeschool product
Provide the relevant information about your school district and family
Once you complete the short questionnaire, you can have your letter of intent notarized with DoNotPay's help.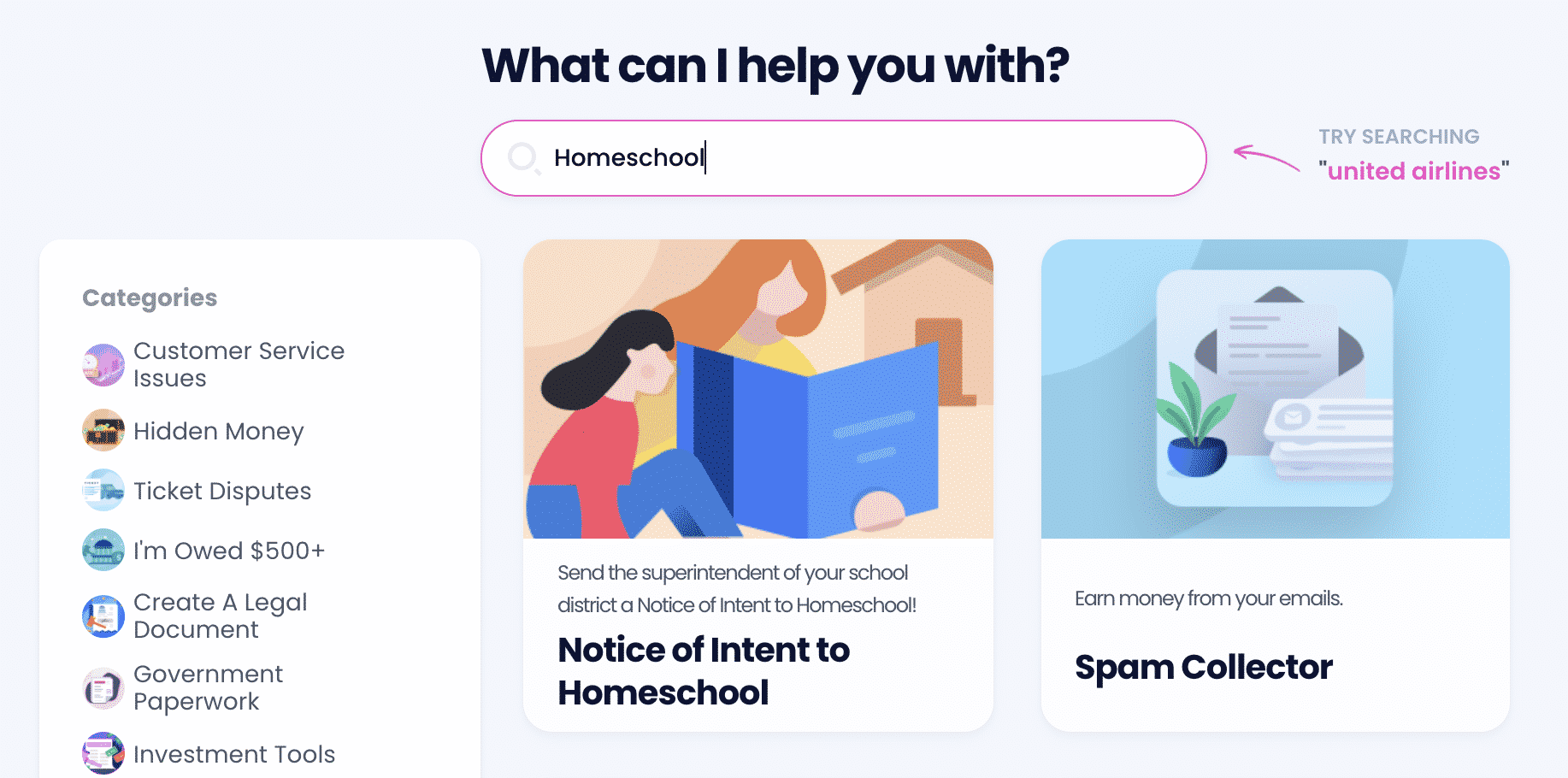 DoNotPay tackles all essential homeschooling questions, including:
Can DoNotPay Help Me With Any Other Admin or Legal Issue? You Bet It Can!
DoNotPay's robust products can assist you in fighting companies, individuals, and institutions that have wronged you in any way. Once you subscribe to our platform, we'll ensure that you never have to deal with any of the following again:
Our Product Range Offers So Much More
Subscribing to DoNotPay will bring you peace of mind as you won't have to go through tedious task completion on your own anymore. With our AI-powered app, you can get what's rightfully yours in the blink of an eye.
If you want to claim warranty or insurance, find your missing assets, get compensated for a canceled flight or a violent crime that you were a victim of, track your missing parcel, or draw up a child travel consent form, divorce settlement agreement, power of attorney, or any other legal document, you can count on us to lend you a helping hand.
Sign up today to get access to the entirety of our product range and forget about dealing with time-consuming and energy-draining chores!