How Much Does Homeschooling Cost—Find Out Fast in Our Guide!
Should you decide to homeschool your child, one of your first concerns will probably be the homeschooling budget. Getting the answer to your "how much does homeschooling cost?" question can help you plan ahead and set aside enough money for the semester, school year, or your kid's entire education. The answer to this question depends on multiple factors, and DoNotPay will help you learn more about the specifics.
Read our guide to find out more about homeschooling in general and sign up for our service to let us write and send a letter of intent to homeschool in your stead and get it notarized if necessary!
Should You Choose Homeschooling Over a Public School?
Anyone who wishes to homeschool their child has to consider the pros and cons of both homeschool and public school education. Refer to the table below for more info:
Schooling Method
Pros
Cons
Homeschooling

The curriculum, subjects, and school hours can be more flexible and beneficial for your child
Your kid could progress more quickly in a homeschool setting
If you're a parent of a special needs kid, homeschool offers a more specialized approach and education that can help your kid thrive
Should you choose to be the one teaching, this method will allow you to get closer to your kid
Homeschooling saves time as you don't have to drive your kid to school

Every state has homeschool laws that need to be followed if you want your child's education to be formally recognized
Public schooling has been the norm for so many years that many people still consider homeschooling "weird"
This option can be more expensive than public school education

Public school

Attending a public school is the best way for your kid to connect with their peers and develop social skills
Sometimes, public schools are an easier way to higher education because they follow the standard curriculum
Public schools are usually more affordable

The curriculum can be "wrong" for your kid. They might not enjoy what they're learning or find it useful
Bullying and peer pressure are frequent in public schools and might make your kid feel uncomfortable
If your child has special needs, the public school system could make the situation more challenging
The Real Cost of Homeschooling—All Potential Expenses Pointed Out
Homeschooling could be the best choice for your kid, but you might need to set aside more money than you would when choosing a public school.
The overall annual cost of homeschooling is around $2,000 per student, but it can be as low as $1,000 if you are creative and avoid unnecessary expenses. If you start homeschooling in the middle of the year, expect the costs to be even lower.
It's crucial to know which costs to expect so that you can think about where to cut corners to make homeschooling as affordable as possible. Here are some major expenses that you should take into account when preparing a budget for your homeschooled student:
Curriculum
Field trips
Extracurricular activities
Teaching supplies, materials, and resources
Teacher salary
Letter of intent to homeschool
Other expenses
Curriculum
Curriculum costs are potentially the highest ones, depending on where you buy them. If you write your own curriculum, you can save loads of money since the average curriculum costs are between $300 and $600 per year.
Field Trips
Field trips are often overlooked for homeschooled students, but children need to have some fun and learn interactively from time to time. The travel expenses, museum, zoo, and theater tickets cost around $350 annually.
Extracurricular Activities
Extracurriculars can also be fun and engaging, and all children need them. These activities include dance, sports, martial arts, art, and other classes. Remember that they shouldn't overshadow the regular school.
Teaching Supplies, Materials, and Resources
Every parent or teacher homeschools differently, but nobody should skimp on teaching resources. They include books, guides, lesson plans, and similar.
Teacher Salary
If you decide to hire a homeschool teacher, you will pay between $26 and $40 per hour for their fee. To save money, you can choose to homeschool your kid yourself, provided that your state allows it.
Letter of Intent To Homeschool
Filing a document called a notice of intent to homeschool with your kid's school district to inform them about your decision is a mandatory first step in most states. If you choose to use online templates to draft your letter, you might have to pay their service fee. While convenient, these templates won't be personalized to your case, which can be an issue.
The most affordable, error-free solution is to rely on DoNotPay and get a customized notice of intent to homeschool.
Other Expenses
Homeschooling association fees, other membership expenses, tutoring, and assessment costs in total amount to nearly $250 every year.
DoNotPay Is Here To Help You Take the First Steps in Homeschooling Your Children
Worrying about the cost of homeschooling is enough—you don't have to stress about letting the school district know about your intentions—you can leave that to us! Our Notice of Intent To Homeschool feature is the perfect tool for anyone that wishes to start homeschooling their children but isn't sure how to inform the school district.
Using our feature is easy—you only need to follow these prompts:
Select the Notice of Intent To Homeschool product
Give us the info about your school district
Enter your and your child's details
After you have followed these instructions, you can further customize our solution based on your needs. We can:
Help you get the letter notarized
Send you a PDF file of the letter so you can send it to the school district
File the letter in your stead and help you save more time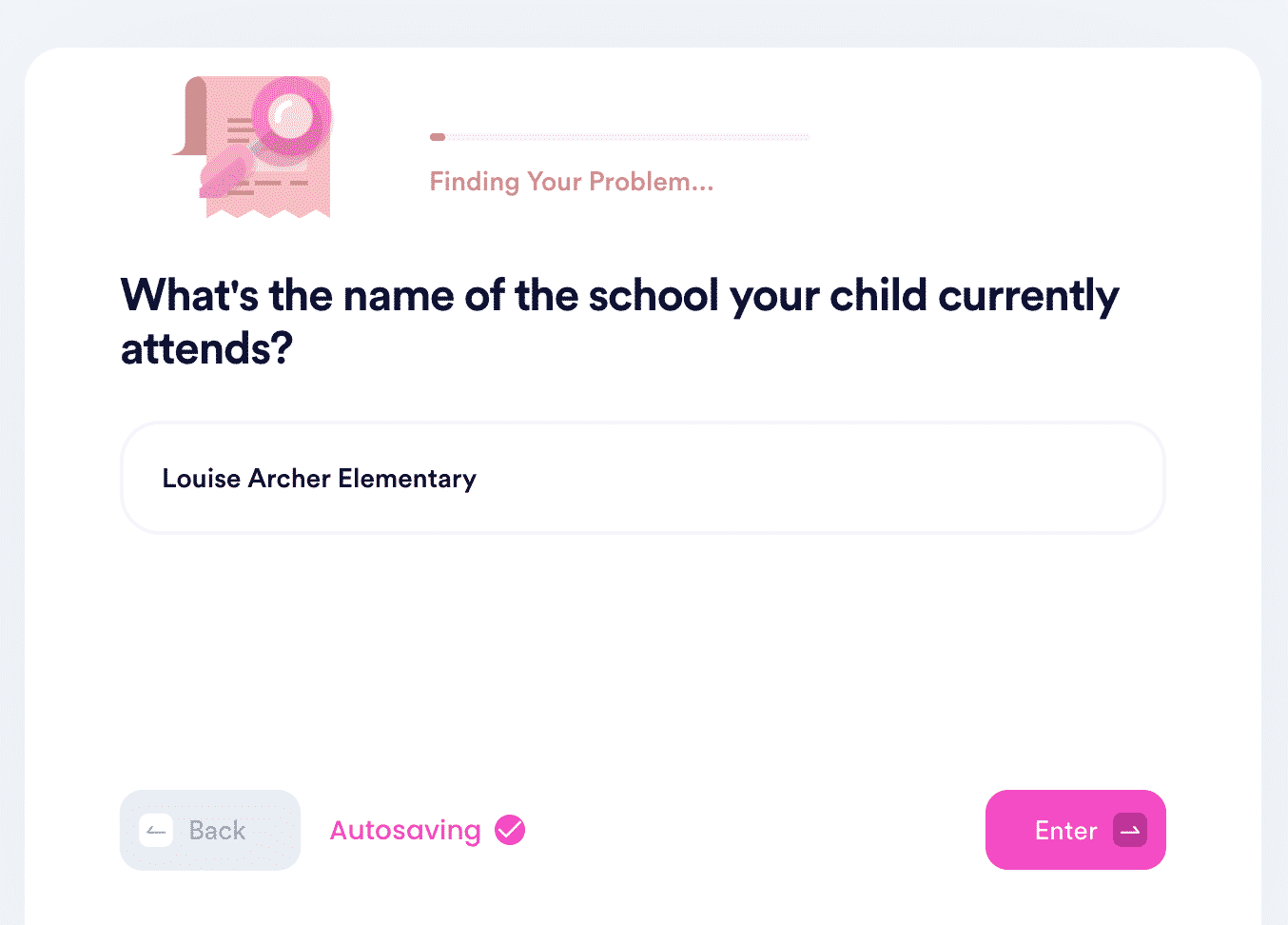 What To Know Before You Start Homeschooling
Learning how to homeschool your child is a process that takes practice. Here are some of the aspects you should decide on before you start homeschooling:
What will be your homeschool curriculum?
What will be your homeschool hours?
Which homeschool subjects will your child study?
What Is a Homeschool Association, and What Are the Benefits of Joining One?
Teaming up with other homeschool parents can potentially help you in the following ways:
It reduces the cost of homeschooling by sharing the expenses on materials, field trips, etc.
Your child won't be alone as they will have peers to play with and study together
It will take the edge off you if managing work and other responsibilities take too much time from homeschooling
Nobody outside educational institutions can make you a homeschooling expert, but sharing your experiences with other parents helps a lot. You can ask them about how taking their child out of school to homeschool went for them and what advice they are willing to share.
DoNotPay's Features Are Here To Make Your Life Easier
To simplify confusing bureaucratic procedures, we developed a number of features you may find super useful. Sign up for our app and let us assist you in:
DoNotPay Doesn't Stop There!
Assisting you with bureaucratic tasks is only a fragment of what DoNotPay can do—we have a lot more nifty features to offer! We can show you how to:
Struggling to draw up a financial aid appeal letter, an HR complaint, or a child travel consent form? DoNotPay is here to do it in minutes!