Get the Gist of Homeschooling in Wisconsin
Thinking of homeschooling in Wisconsin, but the laws are confusing? If you don't know where to start, you've come to the right place!
Our easy-to-follow article will help you get started with homeschooling in Wisconsin and show you how to draw up a letter of intent in a jiffy! DoNotPay can also break down the costs of homeschooling for you and tell you who can teach your child and when you can start!
Wisconsin Homeschool Laws
If you want to homeschool your child in Wisconsin, you will have to meet the following requirements:
Requirement
Explanation
Filing an annual report
Every year before or on October 15, you must file a statement of enrollment (PI-1206) form with the Department of Public Instruction (DPI). To do this, you'll have to visit the DPI's official website.

Your statement must state how many students are enrolled in your homeschool and provide the officials with other basic information

Providing the necessary amount of homeschool hours
The homeschool program parents choose for their children must provide at least 875 hours of instruction each school year (from July 1 to June 30)
Teaching the required subjects
In Wisconsin, you are required to teach the following subjects:

Reading
Language arts
Mathematics
Social studies
Science and health

Having a sequentially progressive curriculum
Your curriculum needs to move from providing simple lessons to more challenging ones progressively
Having a privately controlled homeschool
Your homeschool needs to be privately controlled, meaning that an agency or a public school can't operate a homeschool in Wisconsin
Homeschooling in Wisconsin—How To Start
Wisconsin is one of the easiest states to homeschool in as you'll only need to follow a few steps. To get started, you should withdraw your child from school and file a letter of intent to homeschool. By submitting this letter, you notify the superintendent of your school district that your child will be homeschooled.
If you want an easy way of obtaining this crucial document, . We'll generate it for you in no time and even forward it on your behalf.
DoNotPay Draws Up a Top-Notch Letter of Intent To Homeschool for You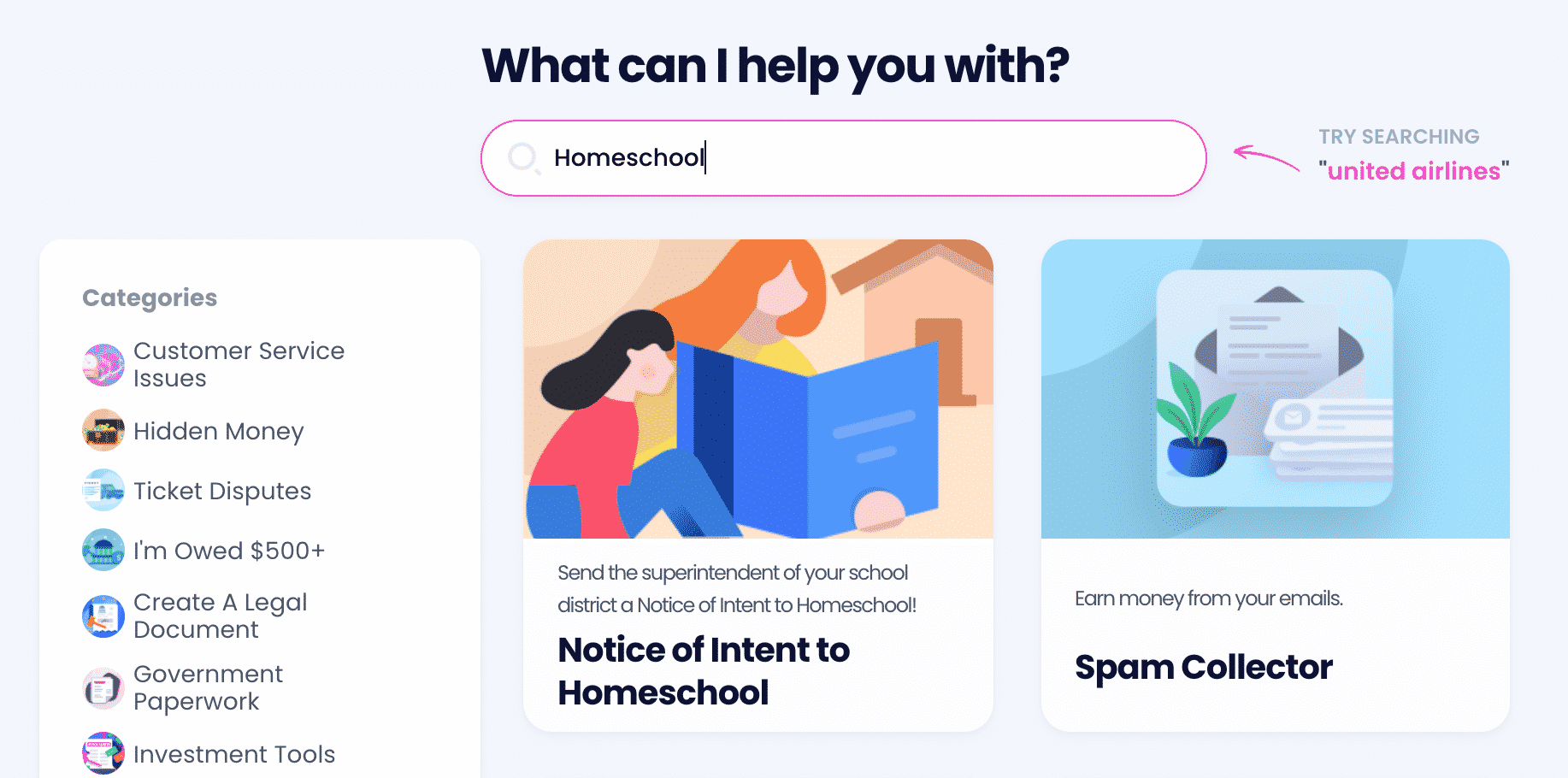 Don't want to write a letter of intent to homeschool on your own? If so, use DoNotPay! Our AI-based app will create this document for you in a snap, and you'll only need to follow a few steps.
Here's what you need to do:
in your preferred browser
Navigate to our Letter of Intent to Homeschool product
Answer our chatbot's questions regarding:

Homeschooling plan
Your child
Yourself

Tap on Submit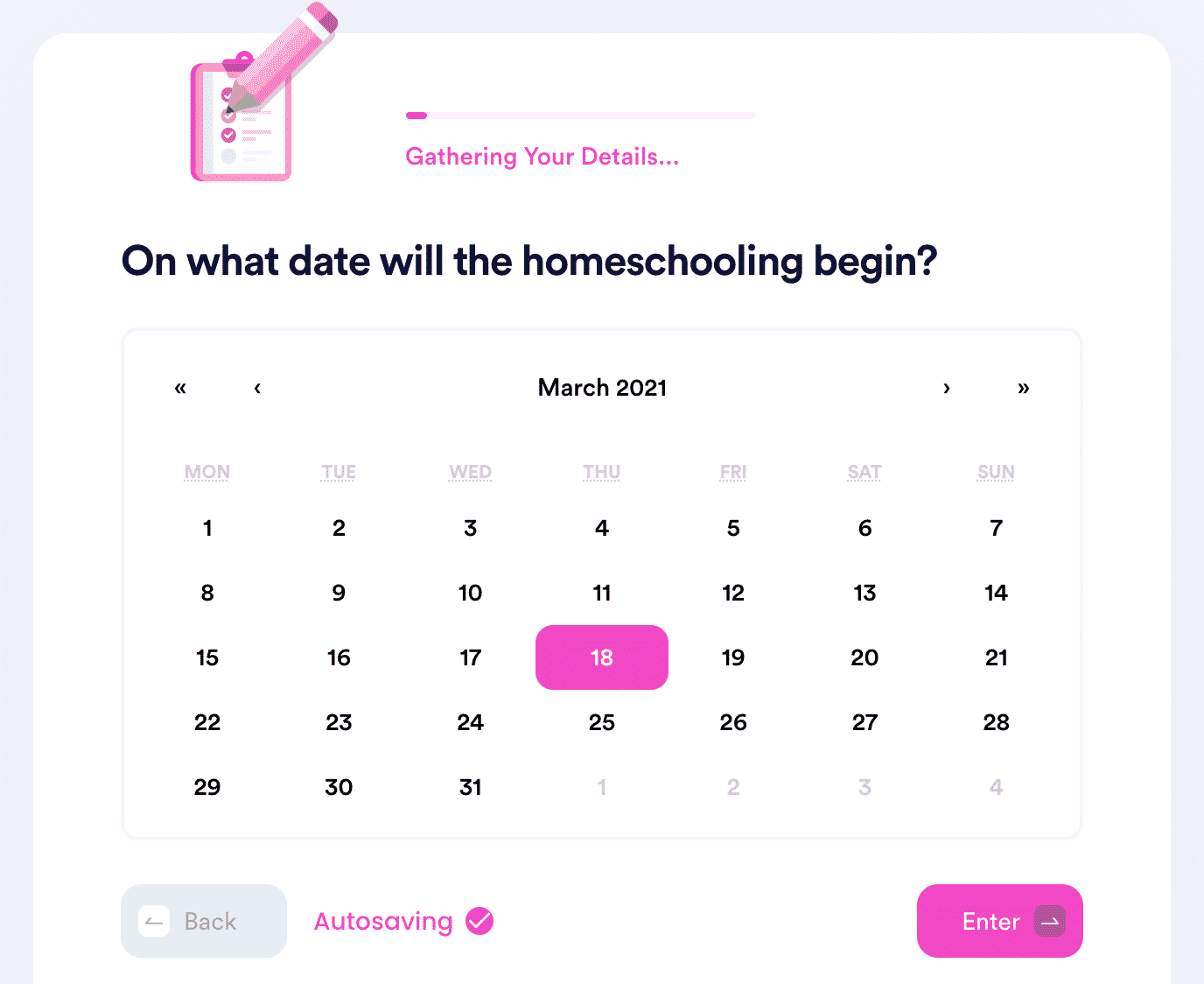 Once we process your request, we will generate the letter, and you can choose whether we:
Send it to you via email in PDF form
Mail it in your stead to the superintendent
If you need answers to popular homeschool-related questions, you can find them in DoNotPay's articles, such as:
Online Homeschooling in Wisconsin
There are several platforms and curriculums in Wisconsin you can use to homeschool your child online. Some are free, and some require a fee, so be sure to check before signing up for one.
The main benefits of online homeschooling platforms in Wisconsin are that:
They're easy to use for students of all ages
Students and teachers can use them anywhere as the platforms are accessible on desktops, tablets, laptops, etc.
They include daily assignments in a user-friendly format
They have the option to go back and forward in assignments and lessons
You can start any time
These platforms also have curriculums that may come in handy. You can even find various helpful tools to assist teachers in tracking a student's progress, attendance, etc.
Is There a Wisconsin Homeschool Association?
In Wisconsin, you can join the Wisconsin Parents Association (WPA). It was created in 1984 by a group of homeschoolers who wanted to fight for their rights and better the legislation. The association promotes the privatization of homeschooling. If you join the WPA, you will receive:
Support and guidance
Guide to homeschooling in your state
Step-by-step guide showing you how to fill out the PI-1206 form
Link to their active Facebook community
Invitation to an annual conference with speakers, workshops, and curriculum vendors
Bi-annual newsletter
Event discounts
Wisconsin Homeschooling Support Groups
If you want to join a support group to have assistance on your homeschool journey, you're in luck because Wisconsin has an abundance of them. To help you with the choice, we've selected a few:
Discover DoNotPay's Solutions to Mundane Tasks
Our product range doesn't end there—we can also help you sue anyone in small claims court, cancel any subscription, start a free trial risk-free with our virtual credit card, get refunds and chargebacks, send anything through online fax, pay your utility bills, demand airline compensation, and deal with your annoying neighbors.
As soon as you sign up, we can also put an end to robocalls, copyright infringement, email and text spam, and stalkers and harassers. Our app's abilities don't stop there either—get perfect passport photos, free raffle tickets, compensation for victims of crime, or insurance or warranty quickly!
There's So Much More We Can Assist You With
Check out how else we can help—DoNotPay can:
Sign up now to take advantage of our nifty products!