Can Someone Else Homeschool My Child? Get Your Answer With DoNotPay!
You might decide to take your child out of school and homeschool them for various reasons—religious, health, or logistical. While home-based education may be an excellent choice, not all parents are competent or have enough time to follow through.
The logical question is, "Can someone else homeschool my child?" DoNotPay explains how to get started with homeschooling and presents your options in a straightforward way.
Is It Possible To Get Someone Else To Homeschool Your Child?
Whether you need to be the one homeschooling your child is not determined by federal law—you will need to find a state-specific answer. Take a look at the table below to see detailed homeschooling guides for all 50 states:
Some states only allow parents to homeschool their children even if they are not certified teachers. In other parts of the country, options are more versatile—you can:
Get a relative to homeschool your child
Hire a certified tutor
Get your child to join another homeschooling family
Join a co-op group
What You Should Know About a Relative Homeschooling Your Child
If getting a relative to homeschool your child is an option in your state, here are some benefits it entails:
Teaching responsibilities won't interfere with your business schedule
The child will spend time with someone they already know and trust
It may be cheaper to hire a relative than a certified tutor
What You Should Know About Hiring a Certified Tutor
Certified tutors are skilled professionals, so the quality of education is guaranteed. A third-party educator will probably exude more authority towards the child.
The most significant downside is the price because private tutors are rarely cheap.
The Essential Info About Joining Another Homeschooling Family
In case you already know someone who is successfully homeschooling their children, it might be a good idea to ask whether your child can join. You only need to make sure that the students are around the same age, so the process makes more sense.
The greatest benefit of this option is that the children will keep each other company and have a close-to-the-regular-schooling experience. The price and payment terms are usually negotiable and decent.
What You Should Know About Joining a Co-Op Group
Joining or forming a co-op group is similar to the previous option but allows you to be more involved in your child's education. Families involved in co-ops can teach their children together by dividing responsibilities—each parent can teach a different subject in accordance with their education and experience.
Reversed Roles—Can You Homeschool Someone Else's Child?
Whether you can teach someone elses' child depends on the local laws, but you should think twice before accepting the job. Homeschooling should be taken seriously since it is a huge responsibility.
Numerous parents decided to sue the person who homeschooled their child because the results were not satisfactory. To avoid misunderstandings, you should create a rock-solid contract with the parents listing the following:
Your teaching experience
The methods you are going to use
The way you'll report the child's progress to the parents
A clear statement that the parents can end the arrangement at any point if they are dissatisfied
A clause stating they may not sue you for any reason other than criminal behavior
Do You Need To Write a Letter of Intent to Homeschool Your Child?
Once you decide that homeschooling is the right choice for you and find a suitable teacher, you might need to create a letter of intent. The step is mandatory in most states as you must inform the superintendent of your school district that you are taking your child out of school.
Creating this document is complex and time-consuming, so DoNotPay jumps in to help!
DoNotPay Generates a Letter of Intent To Homeschool in a Flash
DoNotPay helps you write a letter of intent to homeschool in a few minutes. You only need to follow these instructions:
Choose the Notice of Intent To Homeschool product
Provide relevant information about your school district
Answer a few questions about yourself and your child
When you complete the short questionnaire, you can choose to:
Have your letter notarized
Have the letter sent on your behalf
Generate a PDF and file the document yourself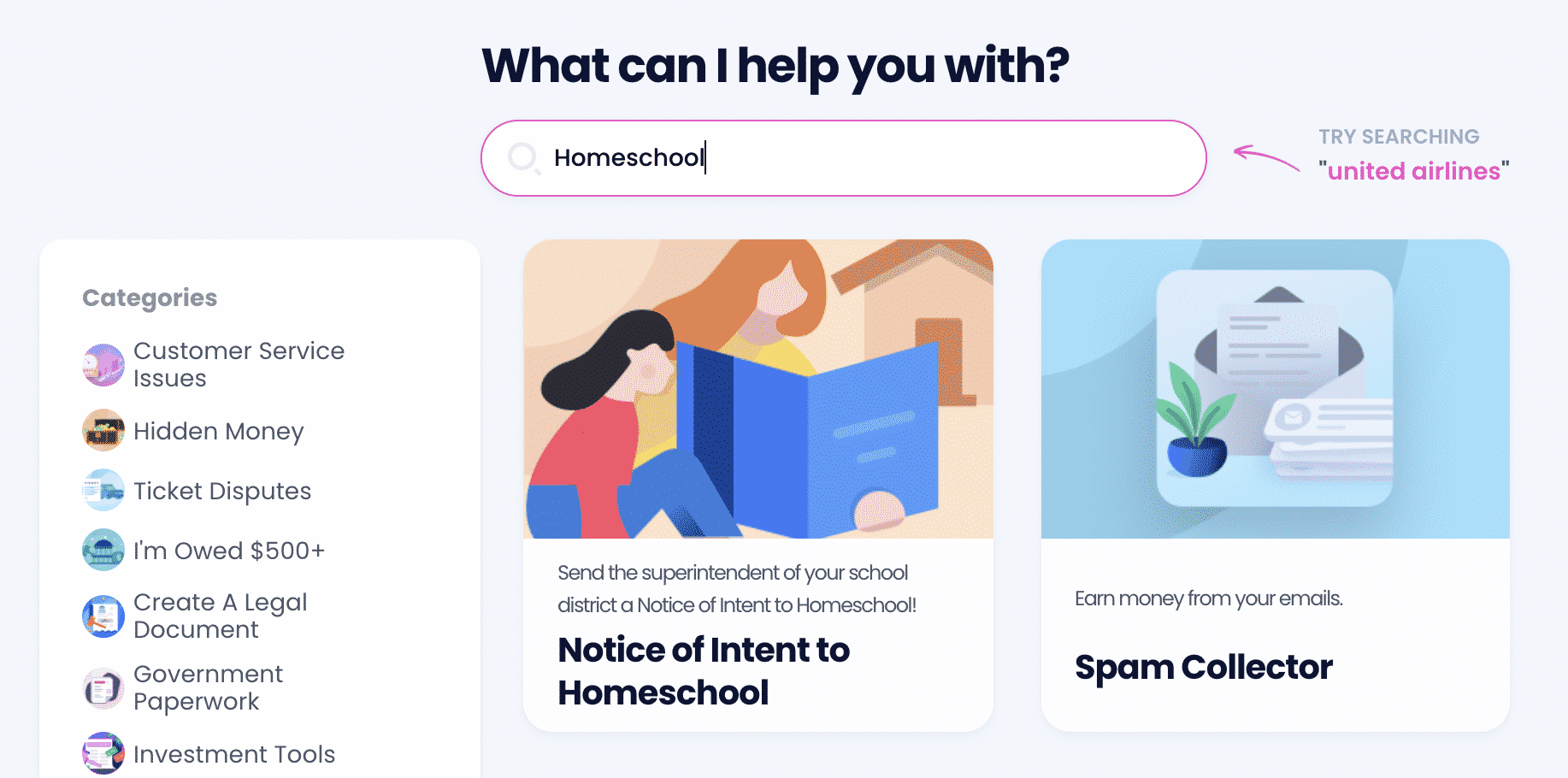 If you'd like to learn more about homeschooling, check out the following articles:
DoNotPay Helps You Run Errands Without Leaving the Comfort of Your Home!
If you're on a tight schedule and you can't afford to spend hours running errands, DoNotPay steps in with a perfect solution! You can skip going to the post office to request an item return or visiting a notary public to get your documents notarized—Our app will help you get it all done without going anywhere!
Visiting your local Walmart to have your passport photo taken is unnecessary since DoNotPay can help you get it at home!
Consult the list below to see what other tasks you can complete using our app:
Unsubscribe From Unwanted Services at Any Time
Companies tend to keep charging their clients monthly subscription fees automatically if they don't end their subscriptions. Stop wasting money on forgotten memberships—DoNotPay will show you how to terminate your subscription in a few clicks!
You can also learn how to sign up for a free trial without getting charged, create a burner phone number or a virtual credit card hassle-free!