Can You Start Homeschooling in the Middle of the Year? Learn About Your Options!
Even parents who never thought about homeschooling might consider taking their child out of school, as the COVID-19 pandemic showed us. Can you start homeschooling in the middle of the year if the public school environment is no longer safe for your child?
to get the answer and tips on starting homeschooling without trouble.
So, Can You Start Homeschooling in the Middle of the Year?
It is possible to start homeschooling whenever you want during the school year in all U.S. states. Keep in mind that specific dates are better than others for the transition from school to homeschooling (the end of the semester, for example).
If unpredictable circumstances, such as illness, bullying, anxiety, or some family problems occur, you should not wait for the perfect timing to get your kid out of school. Nothing is more important than the wellbeing of your child, and that should be your focus.
Tips for Making the Transition to Homeschooling Easier
If switching to homeschooling your child during the school year seems like an inevitable option, you should prepare adequately. Here are some tips for handling the transition smoothly:
Contact your local homeschool support group
Choose the right curriculum
Explain the situation to your child and future

student

Research your state's homeschool laws
Why You Should Contact Your Local Homeschool Support Group
Deciding whether homeschooling is the right choice is easier if you have assistance. A local homeschool support group can help by:
Providing you with necessary forms
Informing you how to request school records
Offering practical curriculum advice
What You Should Know About Choosing the Right Curriculum
Finding the right curriculum for your child is not easy and takes some time. There is no need to rush because making the best choice requires:
Researching your options
Using your library and online resources for

teaching

at the beginning
Figuring out about your preferences as a homeschool teacher
Understanding your children's learning style
Considering your family's situation
Why It Is Important To Explain the New Situation to Your Child
Once you've mastered the basics of homeschooling, you need to discuss the new lifestyle with your child. If they are used to traditional education, the switch to homeschooling won't be easy.
In case the child has any issues at school, they may welcome leaving the toxic environment.
If homeschooling is your choice due to exposure to potentially dangerous situations (school shootings or diseases, for example), the child might protest. They could worry about losing their friends or missing out on school sports activities.
You should present all options and benefits of home-based education, including the opportunity to join co-ops and available sports leagues.
Why Researching Your State's Homeschool Laws Is Important
Since education is not regulated by federal law, you need to be familiar with the state-specific homeschooling law. You can check out the current rules for each state in the table below:
Some states are more homeschooling-friendly, and no action is needed to commence the process, but most mandate the following:
Notifying the school that you are withdrawing your child
Submitting a notice of intent to homeschool to the state superintendent
Teaching your child at home entails some administration, so get ready to handle the paperwork. The good news is that you don't have to write a letter of intent to homeschool yourself because DoNotPay can take over this task!
DoNotPay Can Draft a Letter of Intent To Homeschool Quickly for You
If the state you reside in requires sending a letter of intent to homeschool to the superintendent, turn to DoNot to help you with the task. We can generate the legal document for you in a matter of minutes and let you choose between:
Downloading the PDF and sending it yourself
Having us mail the letter in your stead
Notarizing the letter if necessary
To access this neat feature, you only need to:
Choose the Notice of Intent To Homeschool product
Provide us with the information about your school district
Answer some questions about you and your child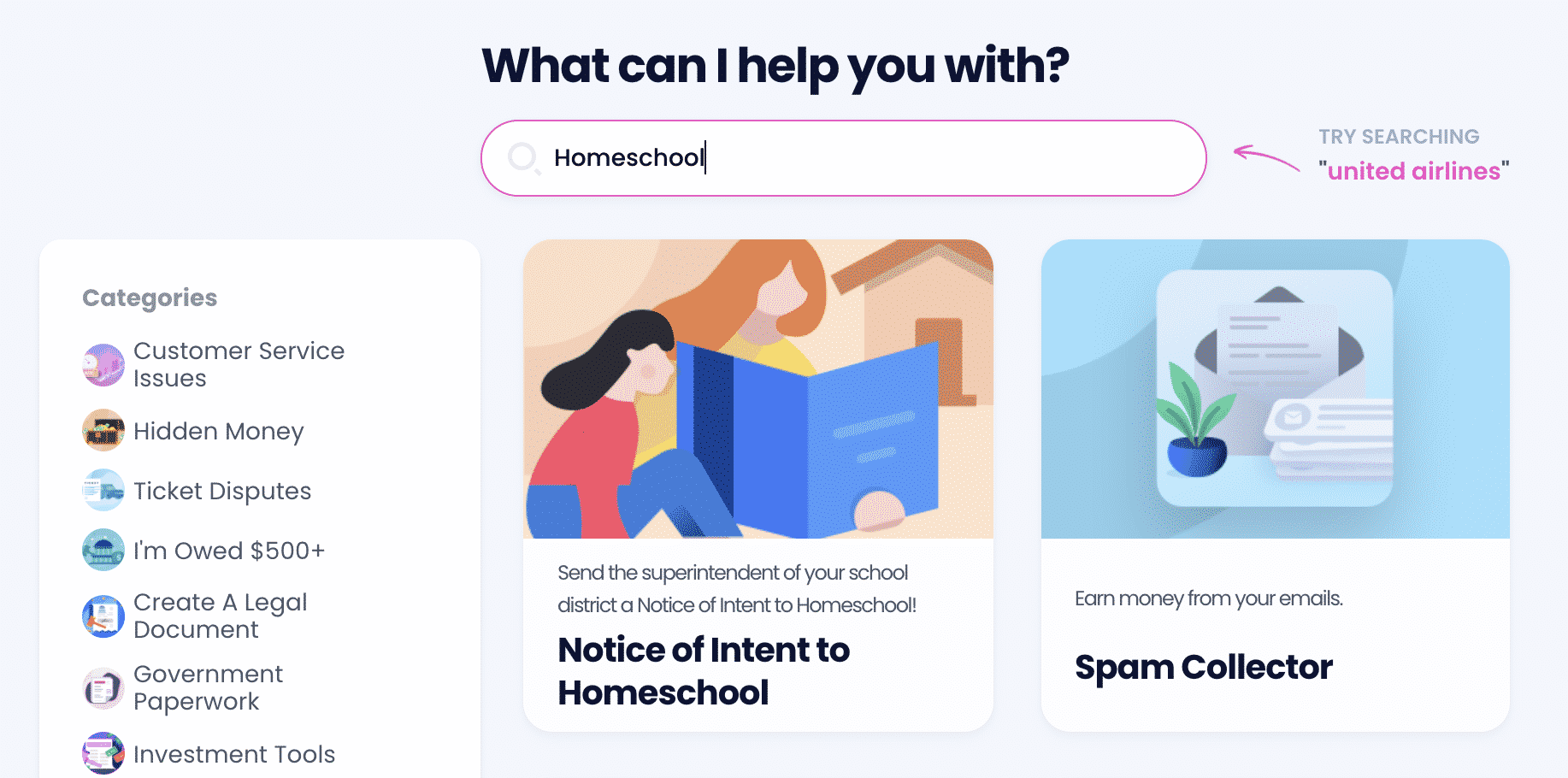 Got More Homeschooling Questions? DoNotPay Has the Answers
If you are still confused about specific homeschooling requirements, DoNotPay offers concise answers to the following questions:
Does homeschooling disadvantage students?

How many students are homeschooled in the United States?
DoNotPay Offers Quick Solutions to Tedious Problems
Are you overwhelmed by your never-ending to-do list? We're happy to jump in with a perfect solution to deal with everyday tasks the easy way!
Once you subscribe to DoNotPay, you'll be able to schedule DMV appointments, lower your monthly bills, and contest parking tickets without breaking a sweat!
If you are looking for further assistance, our app will show you how to deal with the following tasks effortlessly:
Rely on DoNotPay's Legal Assistance Any Time!
If a company refuses to cooperate, use DoNotPay—the world's first robot lawyer—to sue it in small claims court! Getting the justice you deserve is only a few clicks away!
You can also use our app's various features to do the following:
Demand refunds

Reduce your property taxes