Can Homeschooled Students Play Sports? DoNotPay Has the Answers
Do you want to homeschool your child, but you still have some unanswered questions, such as 'can homeschooled students play sports?' The answer isn't definite, so that's why DoNotPay has prepared a guide for you to help you get the gist of it!
We will help you excel at homeschooling and tell you when you can start and who can teach your child. Our AI-powered app will also generate a letter of intent to homeschool so that you can get a head start by taking your kid from school to homeschool in no time.
Can Homeschooled Students Participate in School Sports?
Whether homeschoolers can participate in school sports depends on the laws in each state. Some states allow homeschoolers to be team players for public schools, while others don't. In some cases, school boards determine whether the homeschooled student can play sports for their schools.
If the state has passed the Tim Tebow law, also known as the Equal Educational Opportunities Act (EEOA) or the Equal Access Act, homeschoolers will be eligible to play sports at public schools. This law was named after an NFL player, Tim Tebow, who was the first homeschooler who played sports at a public school.
What States Have Passed the Equal Access Law?
At the moment, these are the states that allow homeschoolers to play team sports at public schools:
What happens if you don't live in one of these states? If you want your homeschooler to participate in sports, there are ways you can go about it.
Can Homeschool Students Play Sports at a Public School Without the Equal Access Law?
If you live in a state that hasn't passed the Tim Tebow bill, your homeschooler will be able to participate in public school sports if:
You comply with your state's homeschool requirements—In most states, you'll have to:

Teach a specified number of homeschool hours
Provide your child with a proper curriculum
Instruct your student in specific subjects
Submit a letter of intent to homeschool

They meet the same eligibility requirements—Your child has to meet the residency, age, and similar requirements as their public school peers
You submit verification that your child is progressing accordingly—The verification needs to prove that your student is passing their core subjects and is not falling behind. It needs to be a grading card or portfolio of your child's activities and progress
What Are Some Alternatives to School Sports?
Want to activate your homeschooler in PE activities? You can try:
Running
Walking
Yoga
Tennis
Basketball
Soccer
There are also other places you can involve your student in sports and fitness, such as your local YMCA or similar community sports complexes. You can also ask your local school if they offer sports classes. For example, some schools have homeschool swim classes when the pool isn't used by the school team.
Some churches also organize physical education classes once a week with coaches and teachers.
If you join a co-op or a homeschool organization, you can organize some activities yourself, like football or basketball matches.
Why Homeschooling Is Great for Kids Who Are Good at Sports
While they may not be allowed to participate in team sports at public schools, homeschoolers enjoy various benefits of being taught at home. Due to having a flexible schedule, they have more time to try new sports, compete, and train.
If you're a parent and want to get started with homeschooling your child, ! We'll draw up a letter of intent to homeschool and kickstart your homeschooling journey hassle-free.
DoNotPay Draws Up a Top-Notch Letter of Intent To Homeschool for You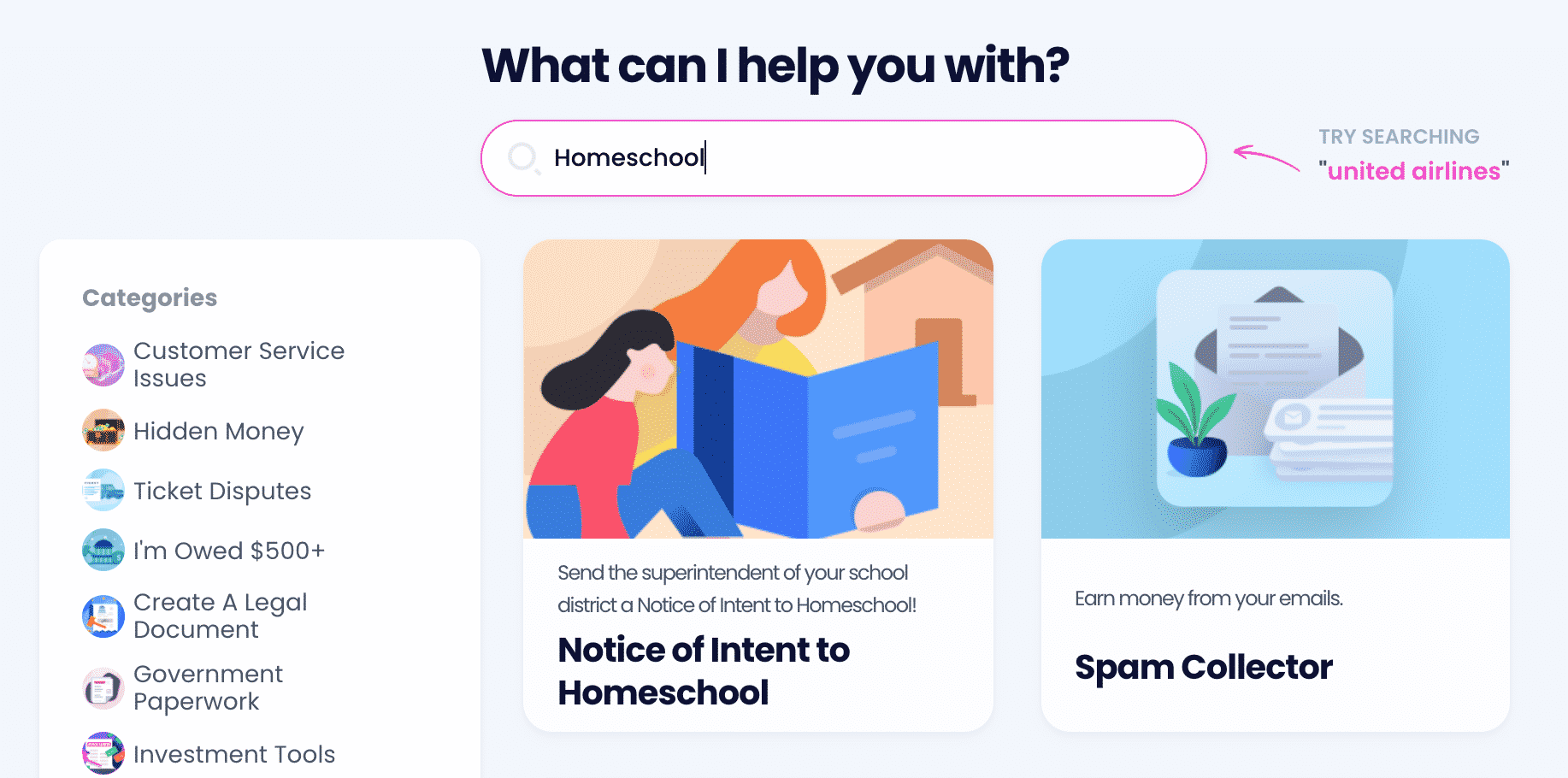 Getting a letter of intent to homeschool may require you to hire a lawyer, which will cost you a ton, or write one yourself, which is time-consuming. and get this important document in a few clicks.
Here's how our AI-driven app works:
Select the Letter of Intent to Homeschool tool
Answer our chatbot's questions regarding your child, homeschool plan, and yourself
Click on Submit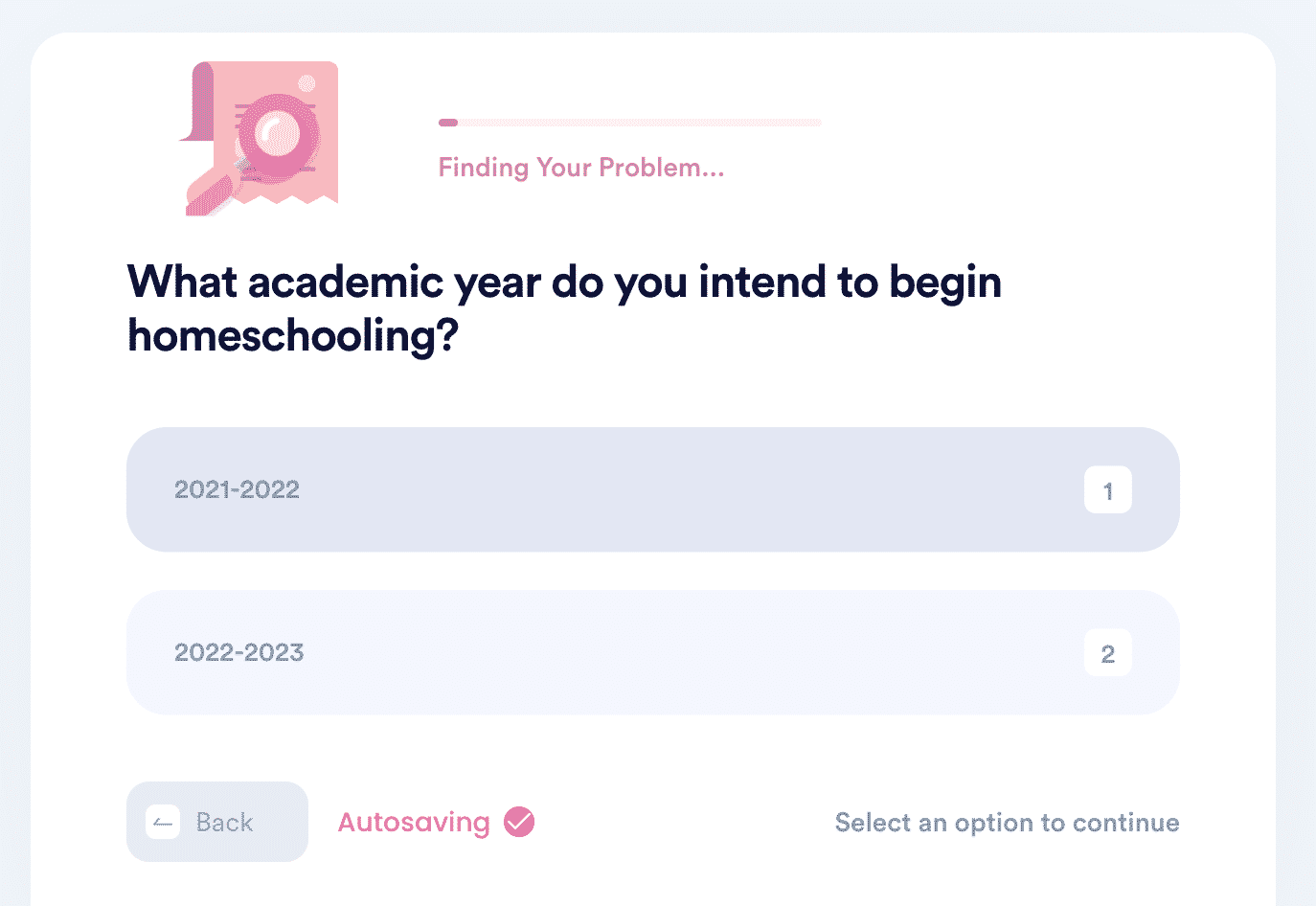 We'll process your request quickly and generate the letter for you. Our app will:
Send the document to you in PDF form
Forward the letter to your school district
Connect you with an online notary if your state requires you to have the letter notarized
We can also break down the homeschooling costs for you and bust the popular myths about homeschooling, such as whether you need a certificate to teach or not. We'll tell you all about the effects of homeschooling later in homeschoolers' lives, how many of them attend college, and whether you can get financial assistance as a homeschooling parent.
Discover DoNotPay's Solutions to Mundane Tasks
Our product range doesn't end there—we can also help you sue anyone in small claims court, cancel any subscription, start a free trial risk-free with our virtual credit card, get refunds and chargebacks, send anything through online fax, pay your utility bills, demand airline compensation, and deal with your annoying neighbors.
As soon as you sign up, we can also put an end to robocalls, copyright infringement, email and text spam, and stalkers and harassers. Our app's abilities don't stop there either—get perfect passport photos, free raffle tickets, compensation for victims of crime, or insurance or warranty quickly!
There's So Much More We Can Assist You With
Check out how else we can help—DoNotPay can:
Sign up now to take advantage of our nifty products!