Homeschool Hours—Will 24 Hours Be Enough?
It's no secret that homeschooling requires time and energy, so you should make sure you have enough of both beforehand. Many parents new to homeschooling ask the same question "How many homeschool hours daily is enough?"
When you better grasp the time management related to homeschooling with this article, and get help with the essential paperwork involved, such as the letter of intent to homeschool.
How Many Hours a Day Do You Need To Homeschool?
There is no single rule when it comes to homeschooling hours. Many factors are involved, but the most important one is your location. Each state has specific rules and regulations related to homeschooling and the time parents must dedicate to teaching.
In certain states, it is mandatory to track your homeschool hours and submit the reports to the state at the end of the year. If this is the case, you can:
Write down how much time you spent on each specific topic or subject during the day
Use a homeschool hours tracker to measure the time spent teaching
Other states are more homeschooling-friendly and do not require parents to follow a strict schedule. You can still use a calendar or homeschool planner to organize your time.
The Average Number of Homeschool Hours per Day
Many would argue that one of the greatest benefits of homeschooling is the option of adjusting the working hours to your needs. If you are new to homeschooling, you'd probably still appreciate having a general idea of the amount of time you should spend teaching.
In March 2020, the Illinois State Board of Education released "remote learning recommendations" due to the COVID-19 pandemic. Numerous families were trying to adjust to a new normal, and as a form of guidance, a table of homeschool hours was created.
It depicts the approximate time students of different ages should spend learning at home:
Grade Level
Maximum Minutes per Day
Minimum Minutes per Day
Recommended Time of Sustained Attention
9–12

Class—45
Time in total—270

Class—20
Time in total—120

One class or subject area
6–8

Class—30
Time in total—180

Class—15
Time in total—90

One class or subject area
3–5
120 min per day
60
10–15
1–2
90
45
5–10
K
90
30
3–5
PreK
60
20
3–5
You don't need to stick to this table religiously, but use it as a rough guide. How many hours a day you'll spend teaching depends on the state rules, your child's attention span, and your schedule.
Why Homeschooling Hours Differ From Regular School Hours?
There is a simple explanation why homeschooling hours take much less time than regular education in public schools. Two factors are crucial:
Class sizes—Teachers in public and private schools have to deal with ten times more students
Catering to your child's personal learning needs—You can figure out what works best for teaching your child. Once you have the relevant info, they will adopt knowledge much faster
What About the Number of Days You Should Homeschool per Year?
The length of the school year is also determined by state laws. The common requirement is 180 days, and many parents believe this is optimal. You should check the rules and regulations in your school district and adjust your schedule accordingly.
The state usually needs to know that the child is transferring to homeschool. You will need to send a letter of intent to homeschool to the superintendent in your district to start teaching at home. DoNoPay is here to assist you with this task!
Use DoNotPay To Write a Letter of Intent To Homeschool
Homeschooling requires a lot of preparation and shouldn't be taken lightly. If you want to avoid dealing with unnecessary paperwork, turn to DoNotPay for help. We can draft the letter of intent to homeschool on your behalf. Our app will include all the necessary information and provide you with an airtight legal document.
You only need to follow these instructions:
Find the Notice of Intent To Homeschool product
Provide necessary information about your school district
Give us some info about you and your child
After answering the questions, you can choose to get the letter notarized. We will also provide a PDF you can file yourself or send the letter in your stead.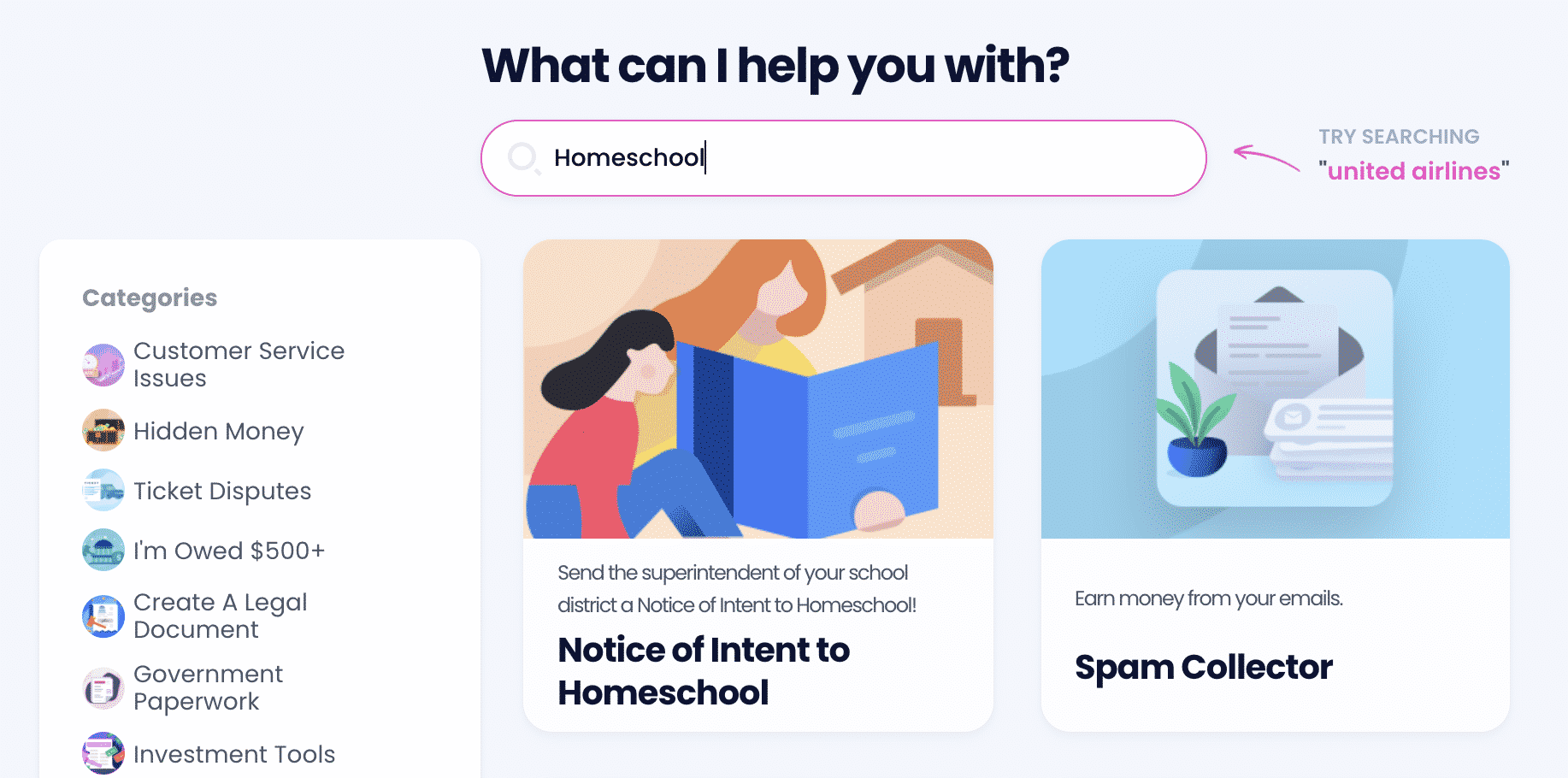 DoNotPay is at your disposal for any other homeschooling-related questions:
Should you homeschool your child?
DoNotPay Helps You Run Errands Without Leaving the Comfort of Your Home!
If you're on a tight schedule and you can't afford to spend hours running errands, DoNotPay steps in with a perfect solution! You can skip going to the post office to request an item return or visiting a notary public to get your documents notarized—Our app will help you get it all done without going anywhere!
Visiting your local Walmart to have your passport photo taken is unnecessary since DoNotPay can help you get it at home!
Consult the list below to see what other tasks you can complete using our app:
Unsubscribe From Unwanted Services at Any Time
Companies tend to keep charging their clients monthly subscription fees automatically if they don't end their subscriptions. Stop wasting money on forgotten memberships—DoNotPay will show you how to terminate your subscription in a few clicks!
You can also learn how to sign up for a free trial without getting charged, create a burner phone number or a virtual credit card hassle-free!