What You Should Know About SC Homeschool Associations
Do you live in South Carolina and are thinking about homeschooling your child in the near future? If so, you can choose between the three options, according to the SC homeschool laws:
Homeschooling under the homeschool statute
Homeschooling with the South Carolina Association of Independent Home Schools (SCAIHS):
Homeschooling with a homeschool association
If you choose the third option, you will need to find a good homeschool association. While some associations are statewide, others are local or regional.
To learn the benefits of joining one of the SC homeschool associations and how to find the best one, read DoNotPay's comprehensive guide. to get the documents you need to start your homeschooling journey in no time.
South Carolina State Homeschooling Laws
To be able to homeschool your child in South Carolina under any of the three options mentioned above, you must:
Have a high school diploma or a certificate of general equivalency development (GED)—you don't have to be a certified teacher to homeschool in any of the U.S. states
Include history, math, science, reading, writing, literature, and composition in your core curriculum
Keep records for each homeschooled student, including:

Lesson plan
Record of subjects and topics taught
Progress report
Student attendance
Samples of student work
Keep in mind that the instructional year must last at least 180 days.
Adoptive parents may homeschool their adopted children, but when it comes to foster children, the possibility of homeschooling will be determined by a caseworker. If you don't have time to homeschool your child for at least two to four hours each day, you are allowed to hire a tutor or join a co-op.
What Are the Benefits of Joining an SC Homeschool Association?
You can choose to homeschool with a homeschool association in South Carolina. The reasons that may prompt you to do so are:
A minimum amount of regulations
The freedom to pick the homeschooling path that best suits your child's requirements
Availability of information and support
Help with record-keeping
How To Choose a South Carolina Homeschool Accountability Association
There are approximately 40 homeschool accountability associations in South Carolina. When comparing homeschool associations in your area, you should consider the following points:
Memberships fees
Enrollment period
Application process
Record-keeping rules
Additional services
Testing requirements
While some associations give you more freedom to figure everything out on your own, others provide a variety of services, such as classes, field trips, graduation, diplomas, high school guidance, and more.
Popular Homeschool Associations in SC
Some of the homeschool associations you can join in South Carolina are listed in the table below:
Homeschool Association
Description
Grace Homeschool Association
A great choice for parents who want to educate their children without having to deal with excessive limitations, requirements, or costs
South Carolina Home Educators Association (SCHEA)
This is a statewide support group for several homeschooling groups available in South Carolina. It encourages homeschooling families to support homeschool-friendly legislation and offers special events throughout the year
Carolina Homeschooler
A statewide support group that provides information and support for SC homeschooling families. It offers different courses, contests, trips, and more
The South Carolina Homeschool Accountability Association (TSCHAA)
This is a third-option homeschool accountability association that offers online support, field trips, transcript services, and diplomas for SC homeschoolers
SC TOP Homeschool Association
Open to all SC homeschoolers, regardless of their religion, political affiliation, educational philosophy, or ethnic background
Christian Homeschoolers' Association of South Carolina (CHASC)
A faith-based statewide third-option homeschool accountability association with minimal restrictions.

Christian SC families who join are free to choose their curriculum and record-keeping methods

Homeward Education Association
This is an excellent choice if you want to legally homeschool in South Carolina with the minimum amount of restrictions placed on your family
Can Homeschooled Students Enroll in Public Schools After Homeschooling?
After a period of homeschooling, students may need to return to school because of:
Changes in their family and finances
Homeschooling not being a good fit for them
The need for an accredited diploma to be able to enroll in a specific college
South Carolina has no specific legal requirements about transferring from home to public school. You should check with your local school district to see how they validate the teaching you've done at home after taking your kid out of a public school.
Generate a Letter of Intent With DoNotPay
You're not required to send a letter of intent to your school district office to start homeschooling in South Carolina (even in the middle of the year), but keep in mind that this is mandatory in most U.S. states.
If you happen to need a notice of intent in the future, the best way of creating one is to use our app—the world's first robot lawyer.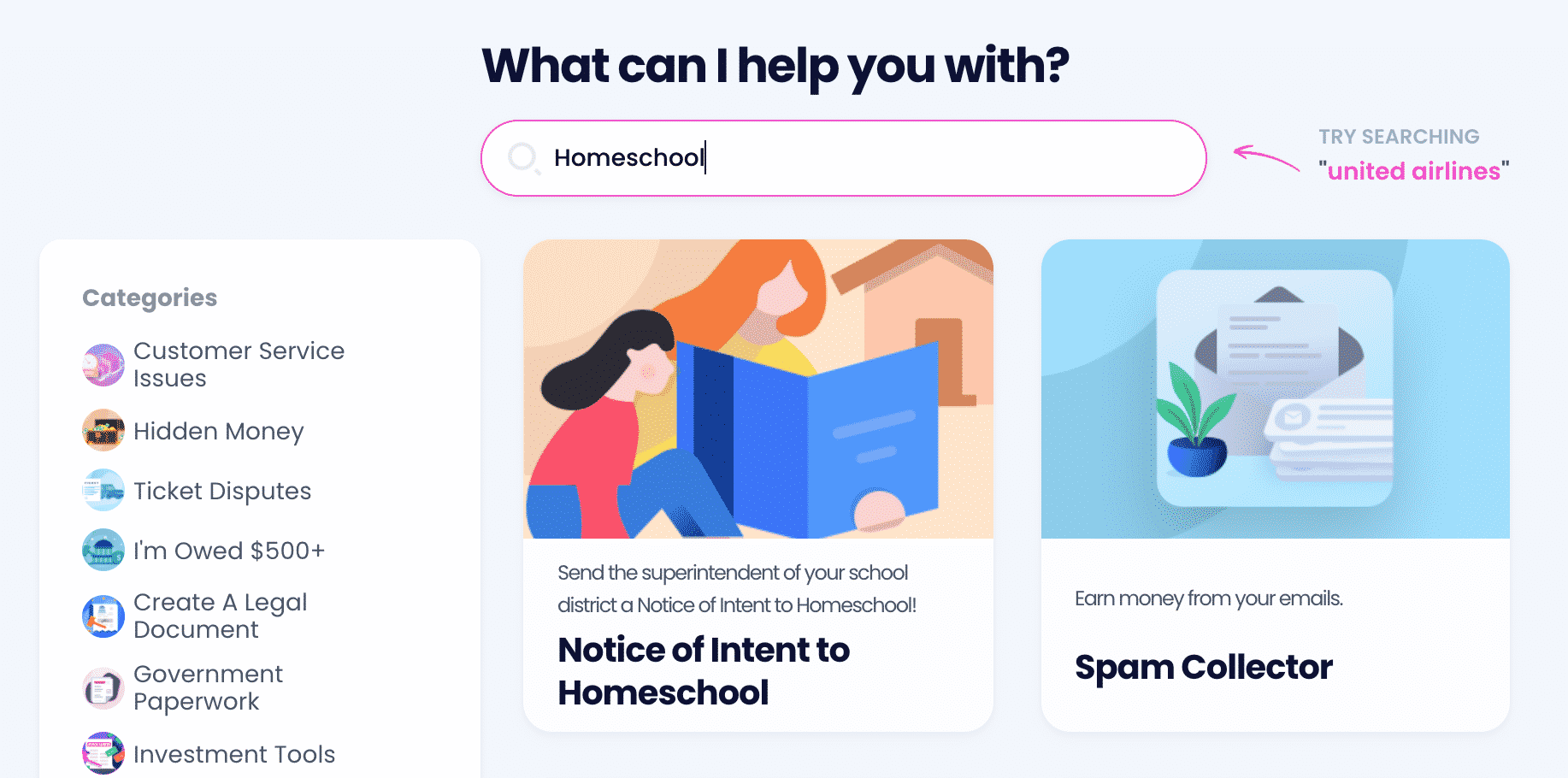 Here is how to get started:
using any web browser
Find the Notice of Intent to Homeschool feature
Provide us with info about yourself and your child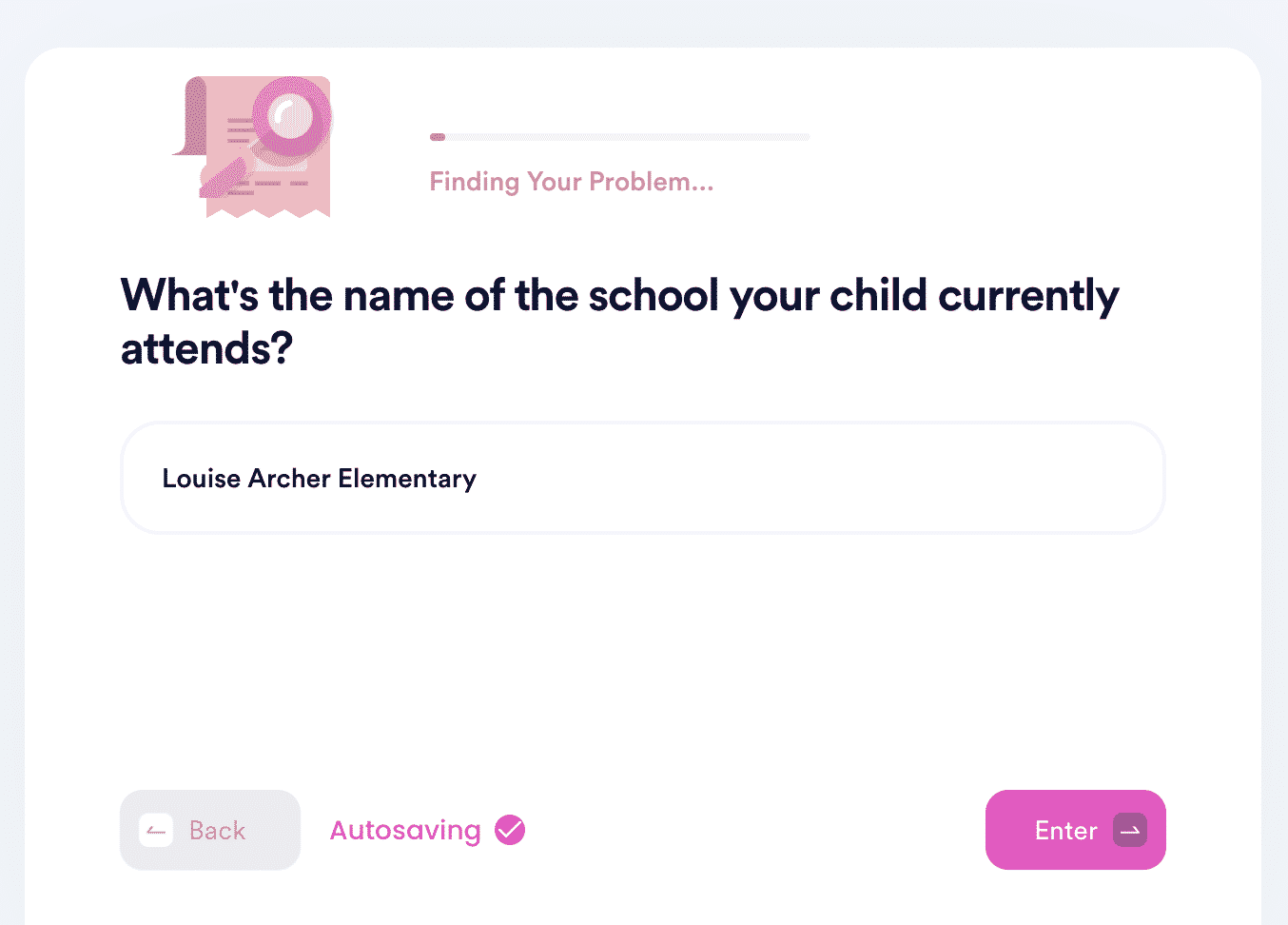 You will also have the option to get the document notarized online if needed. We can send the letter to your school district office on your behalf or prepare a PDF document for download.
Resolve Any Other Issue You Have Swiftly With Our Assistance
The world's first robot lawyer is capable of tackling any legal or administrative task in your stead. We can draw up any legal document for you—including a power of attorney, child travel consent form, and divorce settlement agreement, to name just a few—help you sue any company or individual in small claims court, send a letter of warning to your noisy neighbors, help you reduce your property taxes and utility bills, and a lot more.
Sign up now if you want to stop email and text spam, claim any insurance or warranty, appeal parking tickets, schedule a DMV appointment in a flash, mail anything worry-free, find your missing assets, create passport photos, or contact embassies and consulates effortlessly.
Let DoNotPay Guide You Through Any Obstacle
Are you tired of corporations not taking their customers seriously? So are we, and that's why our nifty product will assist you in suing any company or individual in small claims court!
If you don't want to have any online service take advantage of you, you can sign up for any free trial completely risk-free with our virtual credit card's help, cancel any membership on time, and demand a refund or chargeback in a split second. DoNotPay can also draw up an airtight return request and send it to a company of your choice quickly.