Tips and Tricks on How To Homeschool in Louisiana With Success
If you want to take your child out of school and homeschool them, you first need to check your local homeschool laws. Education is not under federal jurisdiction, and each state has different requirements when it comes to teaching at home.
If you wish to homeschool in Louisiana, you can count on DoNotPay to get relevant information. We can also help you create a letter of intent to homeschool and send it to the superintendent on your behalf.
Louisiana Homeschool Laws—What Are Your Options for Homeschooling?
To successfully teach your child at home, it is necessary to prepare thoroughly and follow the requirements set by the state. You can legally homeschool under two options in Louisiana:
As a home study program—You will need approval from the LA Board of Secondary and Elementary Education. The application has to be renewed every coming year by October 1 of the academic year or 12 months after initial approval
As a home-based private school—You won't need state approval
Louisiana Homeschool Requirements—What Else You Need To Know
Once you decide to homeschool in Louisiana, you should make sure to understand and comply with all the rules and requirements. Check out the following table for more information:
Louisiana Homeschool Requirements
Explanation
Who can homeschool

Parents

or legal guardians can homeschool their children
Attendance age
Children between seven and 18 must attend school
Immunization requirements
You need to provide evidence of immunization for meningococcal disease to the State Board of Elementary and Secondary Education when your child turns 11. This step can be avoided only if you have a waiver for medical, religious, or personal reasons
Required number of days you should teach
You need to homeschool your child for 180 days each year. There is no specific requirement regarding the number of hours per day
Subjects required
You must teach subjects at the same grade level as in public schools. The

students

should learn about the Declaration of Independence in elementary school and The Federalist Papers in high school
Curriculum
You use a curriculum of equal quality as the one taught in public schools
Teacher requirements
There are no teacher requirements for homeschooling in Louisiana
How To Start Homeschooling in Louisiana
Before you can start homeschooling in Louisiana, you will have to send a notice of intent to homeschool to the superintendent of your school district. With this document, you inform the school officials that your child won't be attending classes and that the teachers shouldn't mark them as absent.
It's not the only tedious bureaucratic task that comes with home-based education, but the good news is you don't have to do it yourself. and get it over with in no time!
Use DoNotPay To Compose a Notice of Intent Without Trouble
If you are looking for a convenient way to create a letter of intent to homeschool, you should look no further than DoNotPay. Our app will include all the necessary details in the legal document and deliver it immediately. You should only:
Opt for the Notice of Intent to Homeschool product
Answer a few questions about your home school district
Give us the necessary info about you and your child
You can download the PDF and mail it to the superintendent personally, or you can have us send the letter for you. We also offer you the option to get your letter of intent notarized with our help!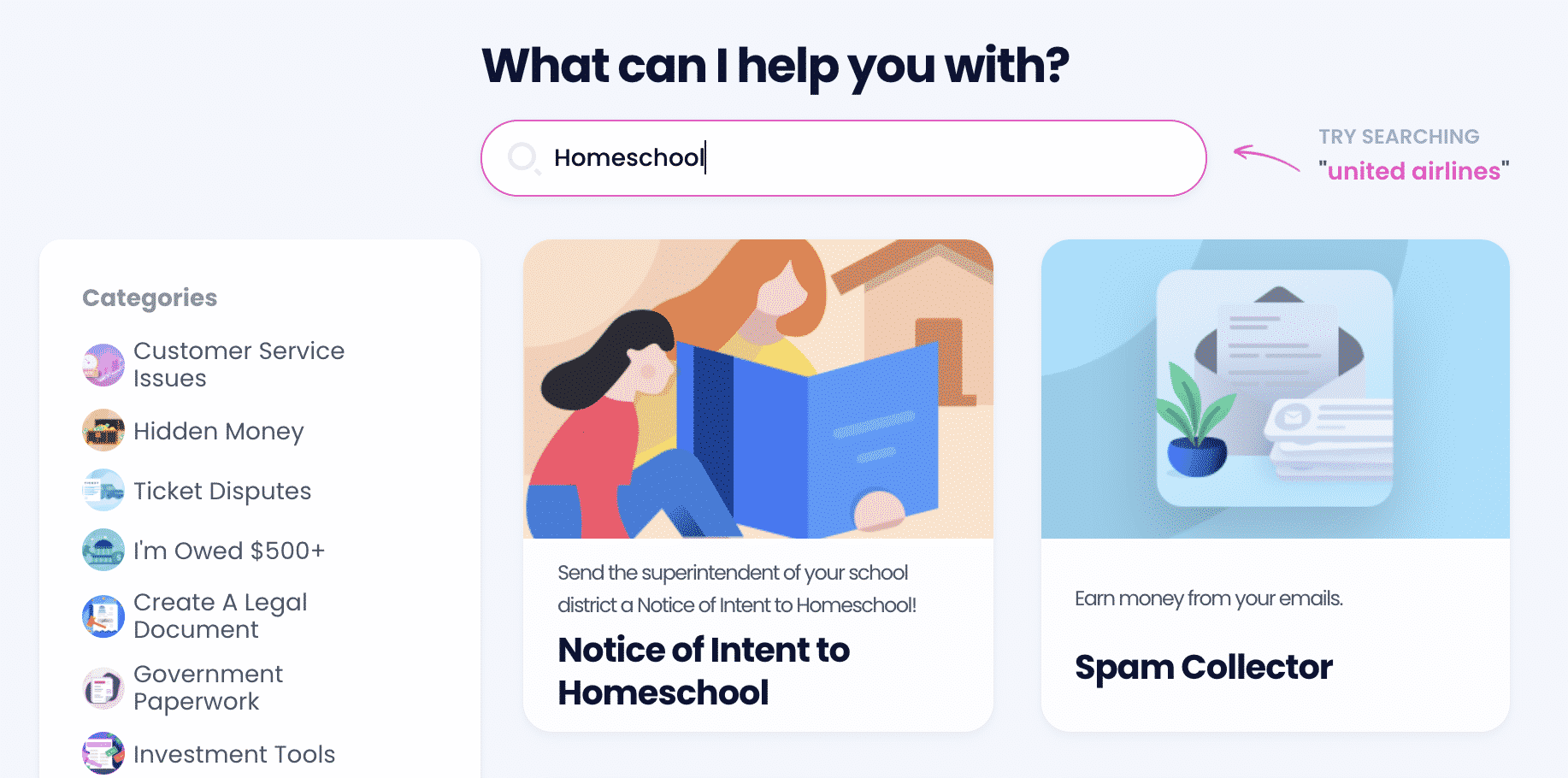 You can use DoNotPay to find out more about homeschooling, including the answers to the following questions:
Does homeschooling disadvantage students?
Wondering How To Make Homeschooling More Fun? Check Out Some Louisiana Field Trips Ideas
The great part about homeschooling is that you can organize your time and lesson types as you see fit. Field trips are an excellent opportunity for fun lessons that involve exploring and family bonding. Here are some ideas for places you can visit with your child in Louisiana:
North Louisiana
Central Louisiana
Acadiana
Florida Parishes and Greater New Orleans
Can DoNotPay Help Me With Any Other Admin or Legal Issue? You Bet It Can!
DoNotPay's robust products can assist you in fighting companies, individuals, and institutions that have wronged you in any way. Once you subscribe to our platform, we'll ensure that you never have to deal with any of the following again:
Our Product Range Offers So Much More
Subscribing to DoNotPay will bring you peace of mind as you won't have to go through tedious task completion on your own anymore. With our AI-powered app, you can get what's rightfully yours in the blink of an eye.
If you want to claim warranty or insurance, find your missing assets, get compensated for a canceled flight or a violent crime that you were a victim of, track your missing parcel, or draw up a child travel consent form, divorce settlement agreement, power of attorney, or any other legal document, you can count on us to lend you a helping hand.
Sign up today to get access to the entirety of our product range and forget about dealing with time-consuming and energy-draining chores!