How To Notarize a Document in a Few Clicks
If you need to get your legal documents notarized for the first time, you might be confused by the whole process. While the current notarization process is outdated and usually lengthy, you have a few other options to get your contracts notarized. 
DoNotPay is here to explain how to notarize documents in under five minutes. With our help, you'll create professional contracts and have them notarized without having to go to a notary's office.
How To Get Your Documents Notarized
The traditional process of notarizing documents goes like this—you need to:
Find a notary public

close to you

Schedule an appointment

Prepare the documents you want to get notarized (such as

wills

, trusts,

affidavits

, and real estate deeds)

Go to the notary's office 

Provide the notary with your ID so that he or she can verify your identity

Confirm that you understand the content of the document and that you're signing it of your own free will

Pay for the

notary service

Sign the contract in the notary's presence

Wait for the notary to write a certificate, sign it, and mark it with a stamp
The entire process can be rather time-consuming. Should you make a minor error, the notary will reject notarizing your contract, and you'll have to set up another appointment.
Another option is to hire a mobile notary to come to your home. This method can be expensive considering that you'll have to cover the notary's travel expenses. 
Most people prefer having their documents notarized remotely by using one of the online notary services. While these platforms are convenient, they usually charge high fees for every notarized document.
Where To Find a Notary?
Some of the places that deal with documents that require notarization employ their own notaries. That's why—besides visiting a separate notary's office—you can find a notary public in multiple places, such as: 
Banks

, credit unions, and other financial institutions

Law offices

Money transfer stores

AAA

stores 
Most places that employ notaries—usually major banks such as Wells Fargo and Bank of America—provide free notary services to their clients.  
DoNotPay Will Help You Get Your Documents Notarized Effortlessly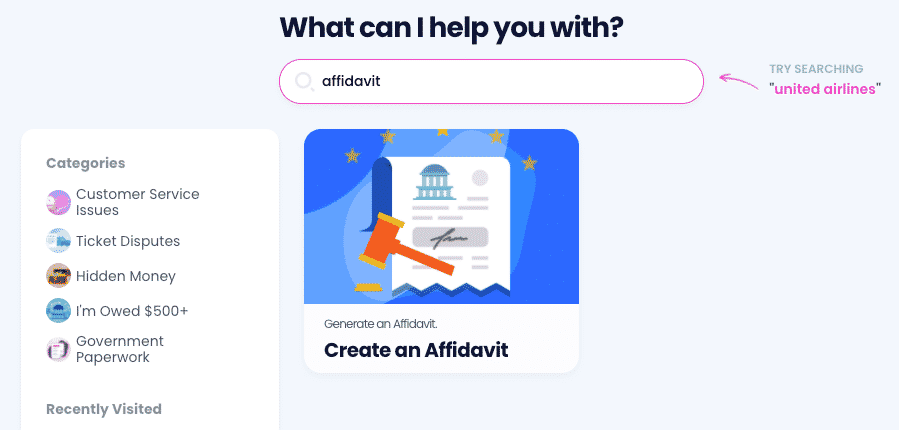 DoNotPay has decided to make everyone's lives easier and develop a feature that can get your documents notarized in a few clicks. Our feature provides the convenience of other online notary services while being much more affordable. By paying a low monthly fee, you can get an unlimited number of contracts notarized and have access to all of our other features. 
To get your documents notarized in a matter of minutes, do the following:
Open

DoNotPay

Pick the

Notarize Any Document

feature

Upload your document

Open the email we send you and click on the link
The link will take you to a webpage where you can schedule an online appointment with a notary. During the appointment, the notary will witness your signature and verify it with a notarial certificate. 
Our convenient feature can make the notarization process super easy for residents of any American state, such as:
Create Your Legal Documents Hassle-Free With DoNotPay
DoNotPay has come up with another feature that will help you deal with bureaucratic problems hassle-free. If you can't afford to hire a lawyer to draw up your contracts, our Legal Documents feature is for you. We will help you create an unlimited number of contracts in less than five minutes. 
To make the process even easier, we have integrated our Notarize Any Document service with the Legal Documents one. Now you can both draw up your contracts and get them notarized in the same app.
These are some of the documents you can create with DoNotPay's help:
Real Estate Documents
Business Agreements 
Other Contracts

Quitclaim Deed

Intent to Purchase Real Estate

Estoppel Certificate

General Business Contract

General Affidavit

Promissory Note

Child Care Authorization Form
How Much Do Notaries Charge for Notarization?
Notary fees are different in every county. While most states determine the maximum amount notaries can charge, some—such as Iowa, Maine, and Kentucky—allow notaries to decide how much to charge.
The state's law should also define whether the notaries should charge the fee per certificate or each signature. The notary costs usually range from $0.25 to $20 unless you hire a mobile notary and need to pay for their transportation fees. 
The notary you go to should inform you about the fees before the notarization process. 
What Does a Notarized Document Look Like?
Once you get your document notarized, it will include:
The content of the original contract 

The type of the performed notarial act—such as oath, jurat, and

acknowledgment

A notarial certificate
The notary's certificate should record the following info:
Date and location of notarization

Statement of the signatures' appearance

Names of the signing parties

The notary's name,

signature

, and stamp
DoNotPay Can Do Your Paperwork for You! 
Feeling like you're in bureaucratic hell? Our app will draft the paperwork you need and get you out of any hurdle before you know it! 
We can compose most of the documents that you require for any administrative purpose in your jurisdiction, most notably:
More of What We Can Do for You 
Our multifaceted app can call and record the conversation with the customer service of the company that just won't let you go! If you are having trouble canceling an unwanted service via the traditional channels, use DoNotPay to get it over and done with!
We can help you stop the persistent robocalls and robo texts from the nagging company and request a refund for unused services in a matter of minutes.
We'll also lend a helping hand in stopping spam mail—whether it's electronic or paper. Our Spam Collector product unsubscribes you from unwanted emails and cleans up your physical mailbox too!