Homeschooling in New Mexico—DoNotPay's Handbook for Homeschooling Parents
Are you interested in home education but don't know your way around local laws? Learn everything there is to know about homeschooling in New Mexico with DoNotPay. We've covered the steps from enrollment to graduation to help you decide if homeschooling is the right choice for you.
An Overview of the NM Homeschool Laws
When compared to the neighboring states, New Mexico isn't the easiest place to homeschool in. The so-called Land of Enchantment imposes strict regulations on homeschooling families and holds homeschooled students to high standards.
Before you start homeschooling, you should study the NM homeschool laws to avoid any bumps in the road. Here's an overview of the local legislation:
Homeschool is regulated as a non-accredited program, meaning your child won't be eligible for a state-issued high school diploma
Home education is the sole responsibility of the parent/legal guardian. You need to acquire the learning materials, organize school activities, cover the costs of homeschooling, etc.
You can't appoint someone else as the homeschool operator (e.g., a homeschool teacher)
Children in New Mexico must attend school between the ages of five to 18. If you fail to homeschool your child within that period, you'll receive a penalty
Since homeschooling in New Mexico isn't covered by the same regulations as public or private schooling, different graduation requirements apply. After completing a homeschool program (online or in-person), homeschooled children can:
Receive a homeschool diploma (the credentials are decided by the parent/legal guardian)
Take a GED (General Education) or HiSET (High School Equivalency) test
Acquire an equivalence certificate/diploma from an accredited homeschool program
If you want to increase your child's chances of getting into college, make sure to do your research before choosing a curriculum. Not all homeschool high school programs are recognized by postsecondary educational institutions.
What Are the New Mexico Homeschool Requirements for Parents
The person in charge of homeschooling must meet all the New Mexico homeschool requirements. Take a look at the table below for a full summary:
Homeschooling Requirement
Description
Parental qualifications
Parents who plan on homeschooling in New Mexico should have the following qualifications:

A high school diploma
A GED

Filing a notice of intent to homeschool
You must alert the competent authorities (school district superintendent, the principal, etc.) by filing a declaration of intent to homeschool
Teaching mandatory homeschool subjects
According to the New Mexico homeschool requirements, you need to include the following subject in the curriculum:

Reading
Writing
Spelling
Math
Science
Social studies

Accumulating homeschool hours
Homeschooled students should spend approximately 180 days per year in homeschool to keep up with their peers
Keeping records
You're required to keep a thorough homeschool transcript that includes your child's immunization records. It's also mandatory to enclose your qualifications in the portfolio
The New Mexico Homeschool Registration Explained
To start teaching at home, you'll have to formally register with the competent authorities. The enrollment procedure is as follows:
Compose a letter of intent to homeschool
Submit the document to the school district superintendent 30 days before taking your child out of school
Re-submit the notice of intent each year you continue homeschooling before August 1
You can send the declaration of intent at any point during the school year in one of three ways:
Electronically
Via mail to the following address: New Mexico Public Education Department. Attention: Home School Notification. 300 Don Gaspar Avenue. Santa Fe, NM 87501-2786
Create a Notice of Intent To Homeschool With DoNotPay and Get Started Today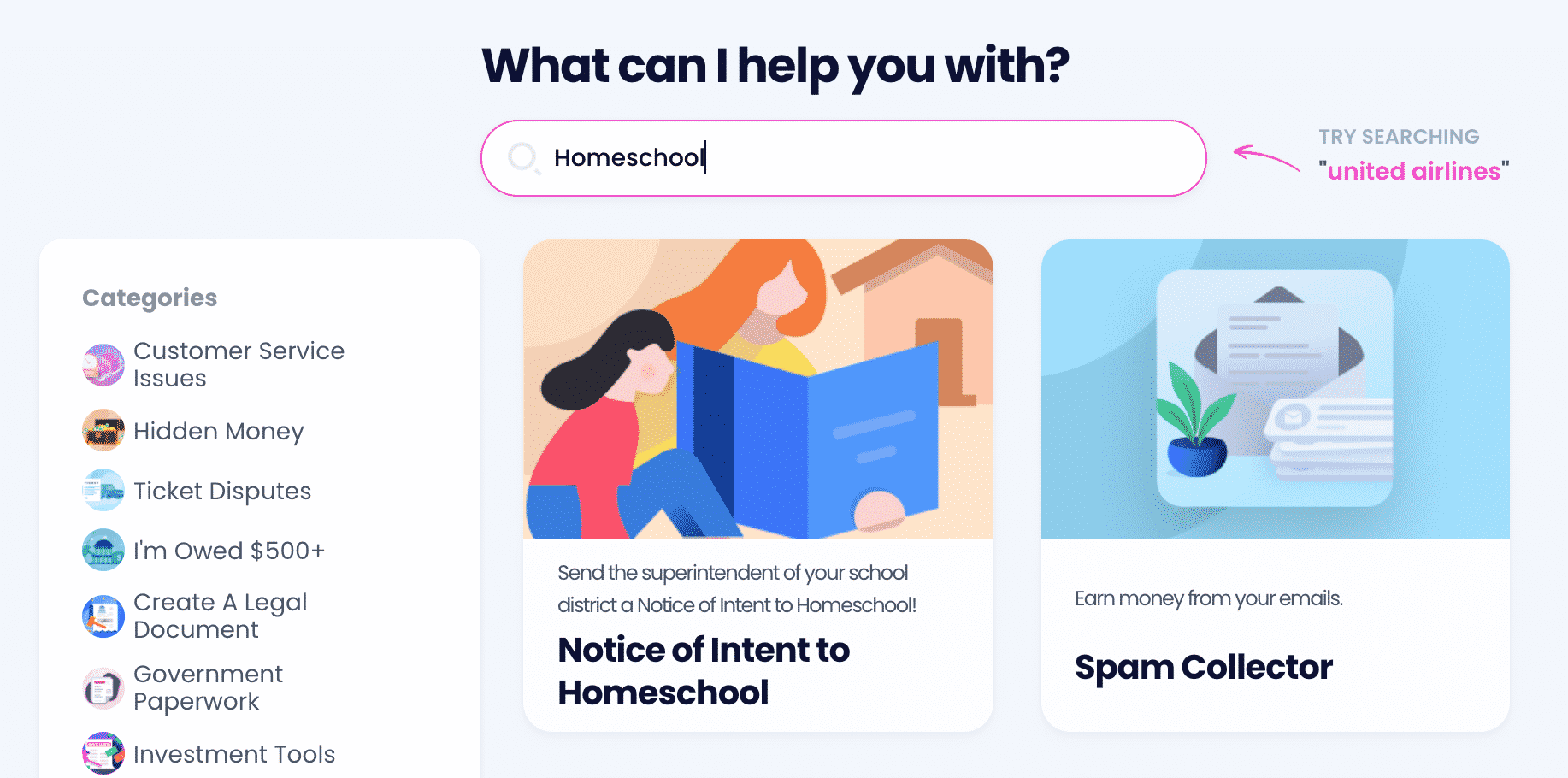 DoNotPay offers a certified way of generating important legal documents. If you want to create a homeschool affidavit without breaking a sweat, try our Notice of Intent to Homeschool product. All you have to do is:
using your preferred browser
Access the Notice of Intent to Homeschool feature
Provide information about your current school district
Answer a few on-screen questions from our chatbot about yourself and the student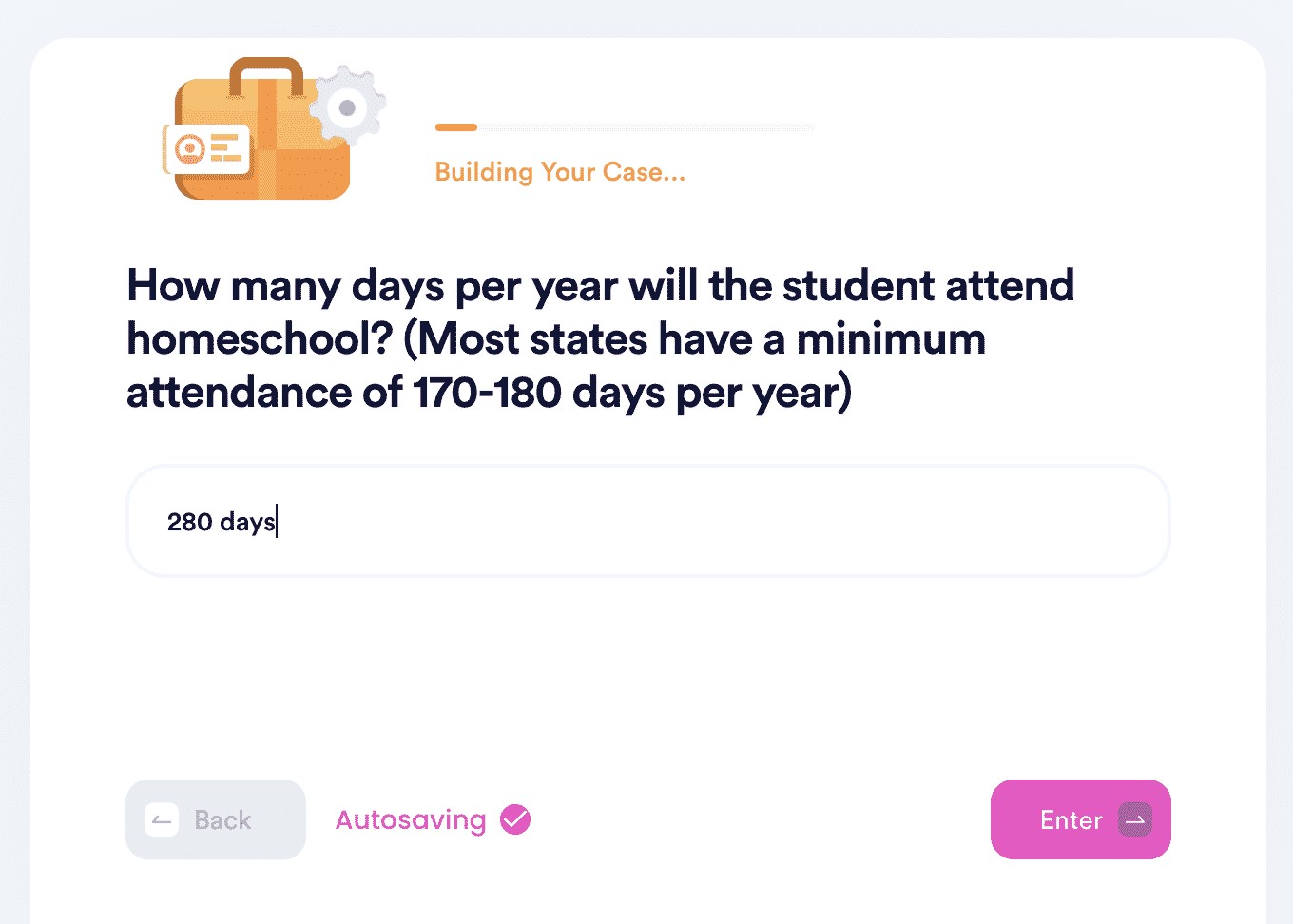 The streamlined algorithm will then use the data to compose an impeccable letter of intent. You can download the PDF version or forward the affidavit to the school district office using DoNotPay.
If you'd also like to have the notice of intent notarized, count on our help. Have the world's first pocket lawyer handle the registration process and focus on the more important aspects of homeschooling.
New Mexico Support Groups for Homeschooling Parents
Since homeschool in New Mexico is so heavily regulated, parents who are new to the lifestyle can quickly become overwhelmed. You and your family could benefit from joining a homeschool co-op or association in many ways, for example:
Don't Stop There—Check Out DoNotPay's Product Range
DoNotPay has many tricks up its sleeve—no matter the admin or legal issue at hand, our AI-enabled app can power through it in a split second. Look into our product range to find out how you can:
What Else Do You Need? DoNotPay Will Provide!
If you want to cancel a subscription before your free trial expires so that you don't get charged, you can count on our virtual credit card to do it in your stead! We can also make sure that you get what's rightfully yours—be it a refund, insurance, warranty, unclaimed money, flight refund, raffle ticket, or gift card cash back.
You no longer have to go through legal or administrative hurdles on your own—as soon as you sign up for DoNotPay, you'll get access to our app's assistance and will be able to use it to fight injustice.