The Ins and Outs of Kentucky Homeschool Laws
If you plan on homeschooling your child, you need to get acquainted with Kentucky homeschool laws. Don't know where to start? Our article will provide you with all the information you need!
We'll explain all the legal technicalities and show you how to start homeschooling your child in the Bluegrass State. DoNotPay can also tell you about homeschooling costs, how many homeschoolers attend college, and who can teach them.
Kentucky Homeschool Requirements
Kentucky is one of the easiest states to homeschool in as there is no homeschool statute. Instead, homeschooling falls under private school statute, which requires you to:
Kentucky Homeschooling Laws—Compulsory School Age
All children in Kentucky must be enrolled in school between the ages of six and 18. The earliest children can begin school is at age five, but you can start homeschooling before the compulsory age.
How To Start Homeschooling in KY
If you want to homeschool your child in Kentucky, you will need to meet the following requirements:
| Step | Details |
| --- | --- |
| Withdraw your child from public school | In case your child is attending a public or private school, you must first take them out of school before starting to homeschool them |
| File a letter of intent to homeschool | Send a notice of intent to homeschool to your local county's school superintendent. If you want to obtain the letter without breaking the bank or writing it on your own, and get one in no time |
| Choose a homeschool curriculum | In Kentucky, the parents are free to choose the curriculum they want to use to instruct their children. The curriculum needs to be compliant with Kentucky state laws |
DoNotPay Helps You Start Homeschooling in Kentucky With a Perfect Letter of Intent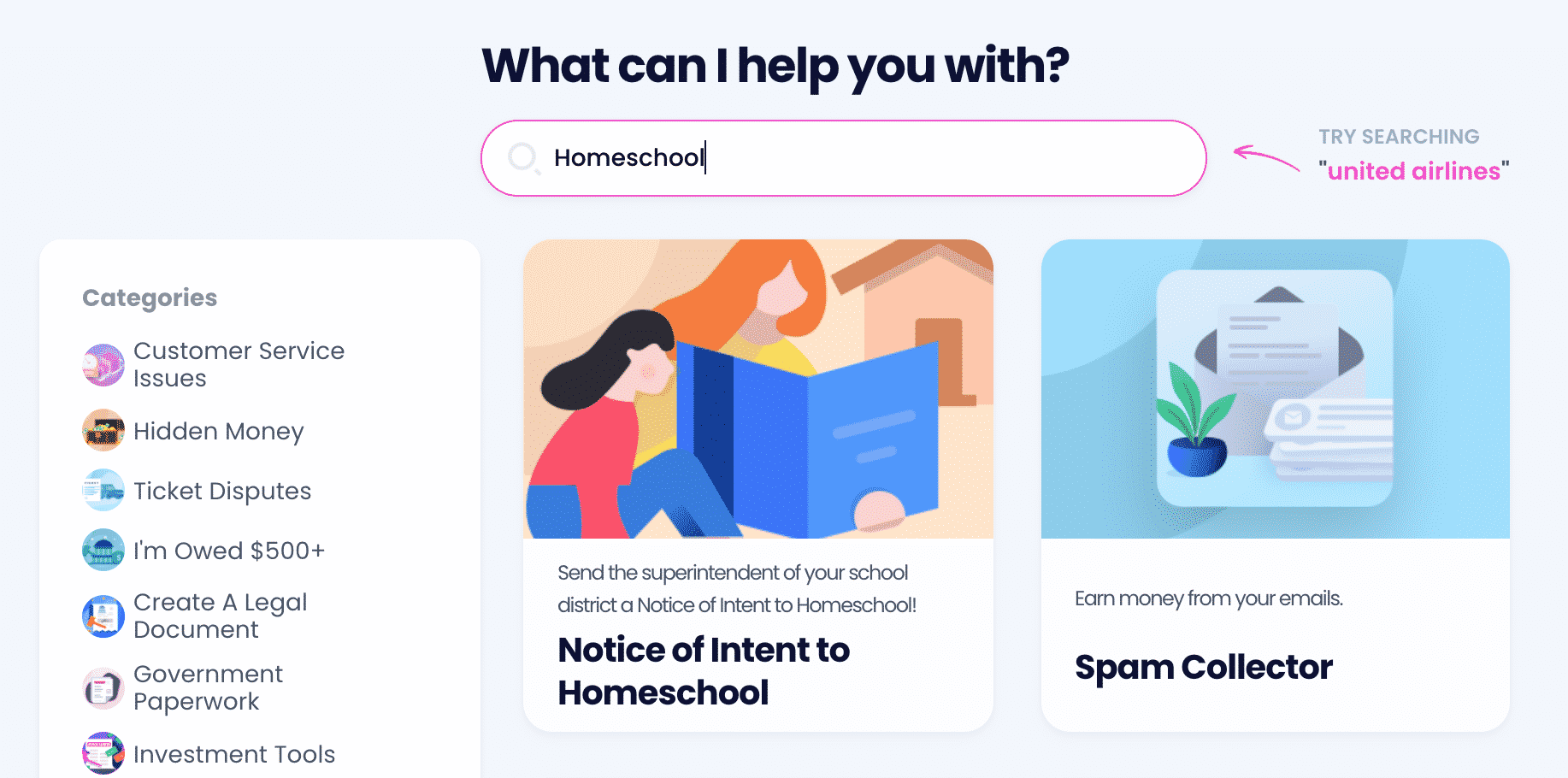 A letter of intent to homeschool is the most important document you need to file if you plan on homeschooling your child. You can either write it yourself or hire a lawyer to draw one up for you. If you want to save your time and money, and get the notice drawn up in a matter of clicks!
Here's what you need to do:
Navigate to the Notice of Intent to Homeschool product
Provide us with the details about:

Date you want to begin homeschooling
Curriculum you plan on using
Homeschool teacher and your child

Click on Submit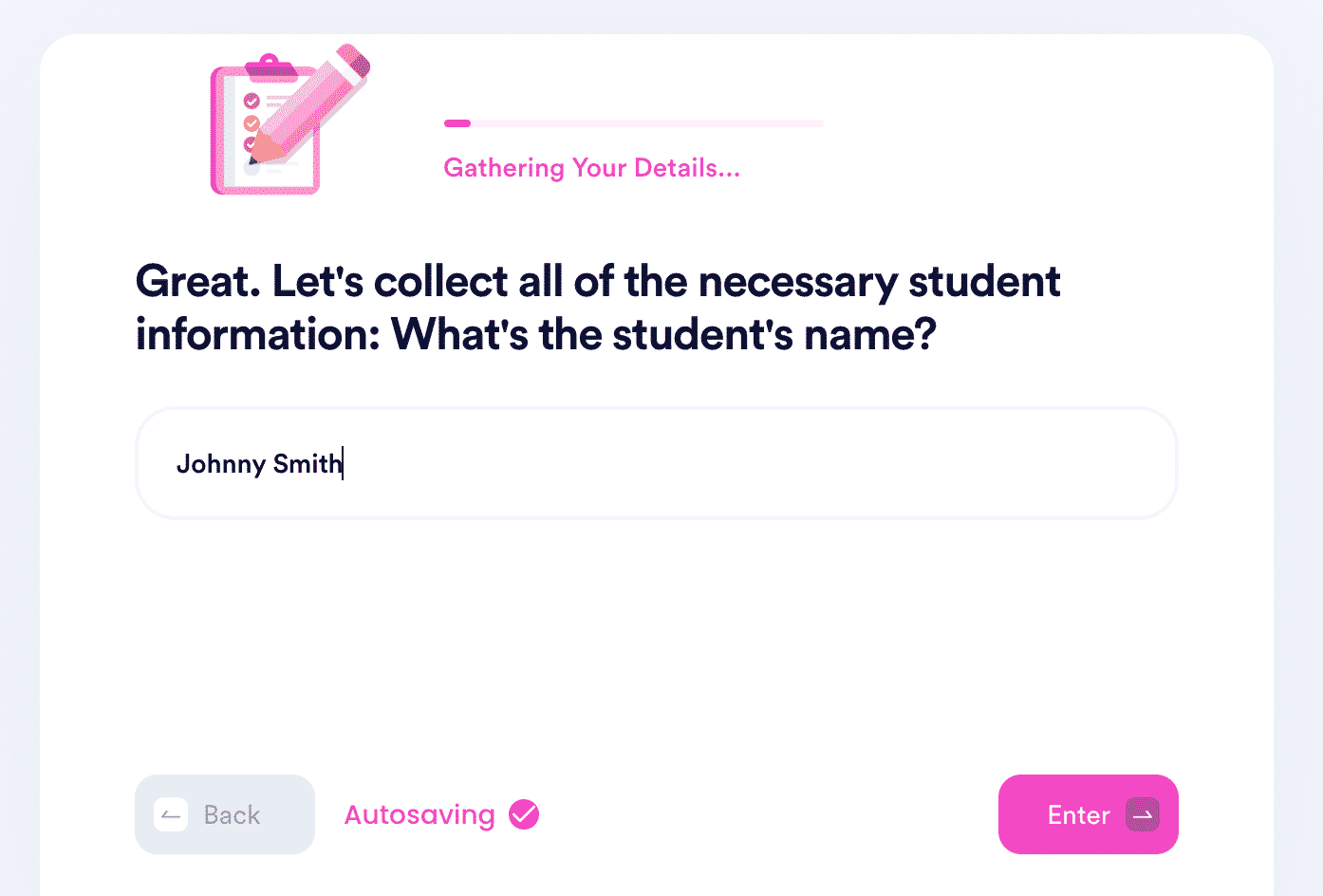 Once we process your request, we will generate the letter for you in a snap. You can then choose whether you want to receive it in PDF form or have us forward it in your name.
Need more help? Our guides have got you covered! We'll answer all your homeschooling questions, such as:
Does Kentucky Have a Homeschool Association?
When you withdraw your child from school to homeschool, you might feel overwhelmed by all the rules and the task itself. That's why there's an organization to bring parents together and turn homeschooling into a breeze. In Kentucky, you can join Christian Home Educators of Kentucky (CHEK)—an association that helps families who have decided educate their kids at home.
The association is oriented toward Christian homeschooling families and is the only of its sort in the state. CHEK offers to:
Provide information for new homeschoolers and teachers to help them get started
Help by connecting homeschoolers across the state
Give updated news and information regarding homeschooling changes in the Bluegrass State
Organize events for homeschoolers (e.g., conferences, curriculum trades, and workshops)
Suggest helpful resources, such as:

Local support groups
Curriculum providers
Special needs materials
Discover DoNotPay's Solutions to Mundane Tasks
Our product range doesn't end there—we can also help you sue anyone in small claims court, cancel any subscription, start a free trial risk-free with our virtual credit card, get refunds and chargebacks, send anything through online fax, pay your utility bills, demand airline compensation, and deal with your annoying neighbors.
As soon as you sign up, we can also put an end to robocalls, copyright infringement, email and text spam, and stalkers and harassers. Our app's abilities don't stop there either—get perfect passport photos, free raffle tickets, compensation for victims of crime, or insurance or warranty quickly!
There's So Much More We Can Assist You With
Check out how else we can help—DoNotPay can:
Sign up now to take advantage of our nifty products!