The Ins and Outs of Homeschooling in Kansas
Starting to homeschool your child is not complicated if you have the right information. If you don't know where to look, turn to DoNotPay! We'll provide you with details about the homeschooling transition process, homeschool laws, and the requirements for homeschooling in Kansas and any other state.
We can even help you draw up a letter of intent to begin your homeschooling journey—all you have to do is .
Homeschool Laws in Kansas
If you aren't sure what the requirements for homeschooling in Kansas are, you should get acquainted with the homeschooling laws in this state. Check the table below for a detailed breakdown:
Kansas Homeschooling Requirements
Details
Teaching certificate
Homeschool parents don't need to be certified to homeschool their children in Kansas
Homeschool hours
Kansas laws require you to homeschool your child six hours a day, at least 186 days per year
Homeschool curriculum
Kansas allows you to choose a homeschool curriculum, subjects, and materials that suit your teaching style and your child's interests
Graduation requirements
For a homeschooled student to graduate in Kansas, they need to complete the following courses:

One unit of fine arts
One unit of physical education
Three units of history and government
Three units of mathematics
Three units of science
Four units of English language arts
Six units of electives
How To Homeschool in Kansas—Getting Started
To start homeschooling your child in Kansas, you will have to do the following:
Register your homeschool as a non-accredited private school with the Kansas Department of Education
Notify the school your child attends or the school district of your intent to homeschool your child
Determine the cost of homeschooling
Decide whether you'll teach your child or hire someone else
Find homeschool resources and choose the right homeschool program
Homeschool in Kansas—Recordkeeping
Kansas doesn't specify the requirements regarding recordkeeping. It is recommended that you create a homeschool portfolio that includes:
Grade
Sample lessons
Attendance records
Assessments or report cards
High school transcripts
Recordkeeping will be beneficial if your child:
Wants to return to a public school at some point
Decides to attend college
Do Homeschoolers in Kansas Have To Take Standardized Tests?
The state law in Kansas doesn't require homeschooled students to take standardized tests. Occasional testing is recommended to homeschooling parents because it:
Reveals possible learning gaps
Helps you set your educational goals for the year ahead
Provides insight into your child's progress from one school year to the other
Shows where your child stands in comparison to other students of the same grade
How To Write a Letter of Intent To Homeschool Your Child in Kansas
Before you withdraw your child from the school and start homeschooling them, you will have to notify the officials of your intent to homeschool. In Kansas, this is required for the first year of homeschooling only.
No need to bother writing the letter of intent to homeschool yourself. Let DoNotPay take care of it!
The notification letter of intent usually includes:
Start date
Statement that you've decided to homeschool your child
Your child's info—age, date of birth, gender, grade, etc.
Subjects your child will be taught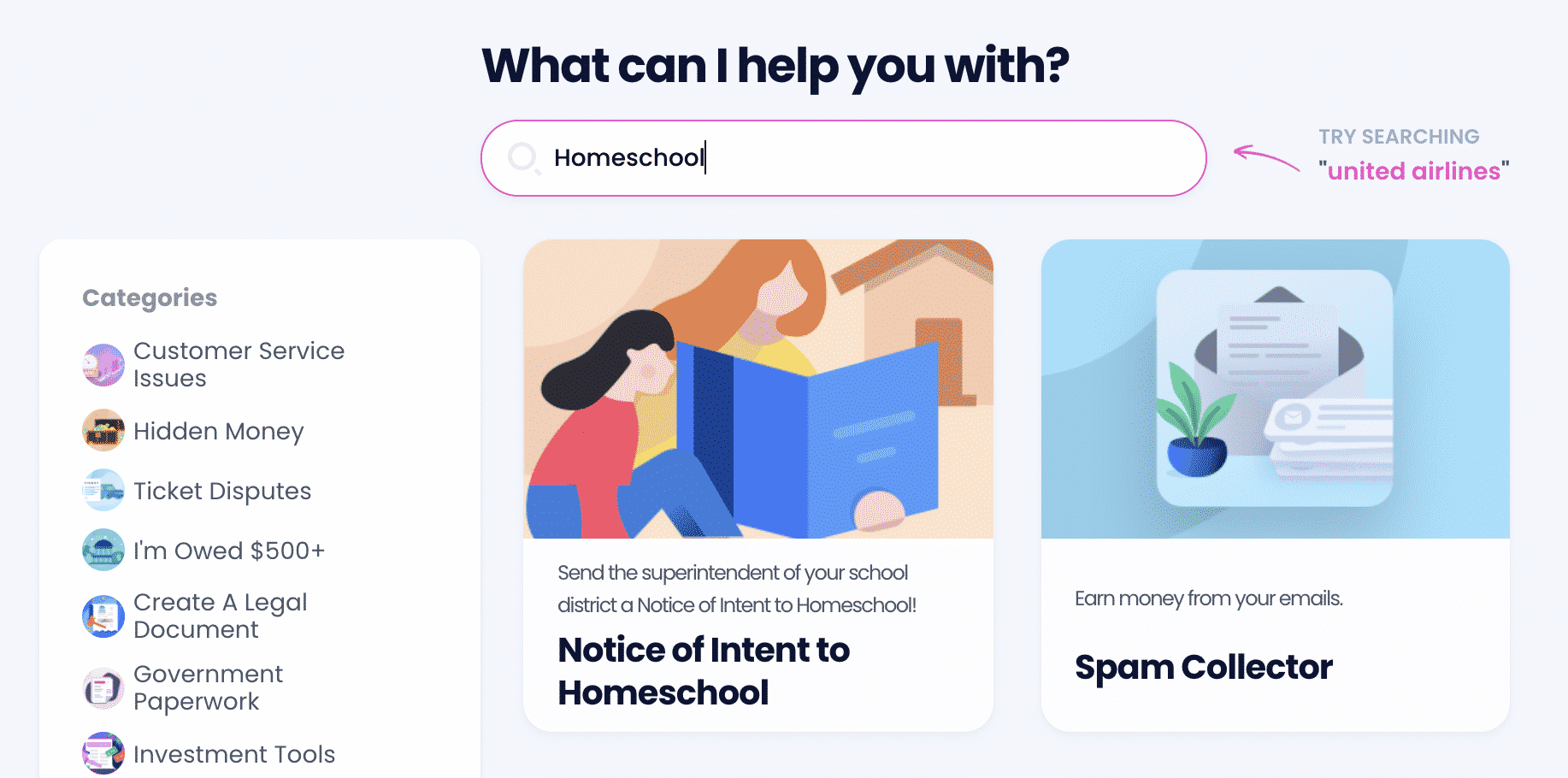 Draft a Letter of Intent To Homeschool in No Time Using DoNotPay
To save the time and energy you'd spend while writing the letter of intent, turn to DoNotPay. Our app will draft it instead of you, making sure that this document includes all information necessary to start homeschooling your child.
Here's all you need to do:
Navigate to the Notice of Intent to Homeschool tool
Type in the information about your child and homeschool plan
Tap on Sign and Submit
You can choose to receive your letter in printable format and mail it yourself or let us do it on your behalf.
We are not done helping you! Our AI-powered app can also connect you with an online notary to get your letter notarized from the comfort of your home.
DoNotPay Can Answer All Your Homeschooling Questions
In case you need further assistance while homeschooling your child, you can rely on our help. We will share all the information necessary to become a successful homeschool parent.
Whether you are wondering if you could start homeschooling in the middle of a school year or what the easiest states where you can homeschool are, we can provide you with everything you need to know.
To learn more about homeschooling in the U.S., check out these and many more articles from our learning base:
Discover DoNotPay's Solutions to Mundane Tasks
Our product range doesn't end there—we can also help you sue anyone in small claims court, cancel any subscription, start a free trial risk-free with our virtual credit card, get refunds and chargebacks, send anything through online fax, pay your utility bills, demand airline compensation, and deal with your annoying neighbors.
As soon as you sign up, we can also put an end to robocalls, copyright infringement, email and text spam, and stalkers and harassers. Our app's abilities don't stop there either—get perfect passport photos, free raffle tickets, compensation for victims of crime, or insurance or warranty quickly!
There's So Much More We Can Assist You With
Check out how else we can help—DoNotPay can:
Sign up now to take advantage of our nifty products!