Get the Scoop on Homeschooling in Indiana
Homeschooling your child can be easy if you've got the right information about the process, state laws you must meet, steps you should take, and other necessary homeschool requirements you need to fulfill.
If you're not sure whether you should homeschool your child, this guide provides the deets about homeschooling in Indiana to simplify the process for you. DoNotPay can also help you get started by offering assistance with the required documentation.
Indiana Homeschool Laws
You need to fulfill the following criteria to start homeschooling in Indiana:
Homeschooling Requirements in Indiana
Details
Compulsory attendance
The compulsory school attendance law mandates that all children must attend school in the English language from the age of seven to:

18 years of age
16 years of age (only with parental consent)

Teacher certification
You don't have to be certified to homeschool in Indiana
Homeschool curriculum
Indiana laws let you choose a homeschool curriculum, materials, and subjects that best suit your child's and your own needs and style
Homeschool hours
This criterion has to be equal to that of public schools—i.e., your child must have 180 days of instruction per year
Attendance records
A homeschool teacher or you—as the child's parent—must:

Keep attendance records
Present these records to state or local schools upon request
How To Homeschool in Indiana—Recordkeeping
While the law only requires you to keep attendance records—making Indiana one of the easiest states to homeschool your child in—you should also keep track of other homeschool aspects.
This way, you'll have proof of what your child has accomplished if they:
Here's a list of items a homeschool parent should include in their student's portfolio:
Do Indiana Homeschool Programs Have To Cover Standardized Tests?
While students who attend schools in Indiana have to take standardized tests, state laws don't require homeschoolers to do them.
You— as a homeschool parent—or another person who teaches your child could use the standardized tests to measure your kid's performance. These assessments are instrumental when trying to evaluate how well your child is progressing compared to their peers.
How Much Does It Cost To Homeschool in Indiana?
The cost of homeschooling in Indiana depends on different factors, including:
On average, the cost can go from $700 to $1,800 per child for a school year.
How To Start Homeschooling in Indiana
If your kid already attends school, you can begin teaching your child at home by:
Reporting homeschooling to the Department of Education—You can register your kid with the Department of Education, but don't have to as it's not mandatory
While you don't have to register with the state to start homeschooling in Indiana, it's a good idea to:
Submit a HomeSchool Enrollment Form to the:

Indiana Department of Education and provide information about your homeschooled student
State Superintendent of schools (upon request only)

Send a formal letter to your child's school and notify the principal of your intent to homeschool your kid
to create a reliable letter of intent to homeschool in a few minutes!
Preparing a Letter of Intent To Homeschool Is a Breeze With DoNotPay
Our AI-powered app can draw up a polite letter to inform your child's school principal or your school district's superintendent of your child switching to homeschooling.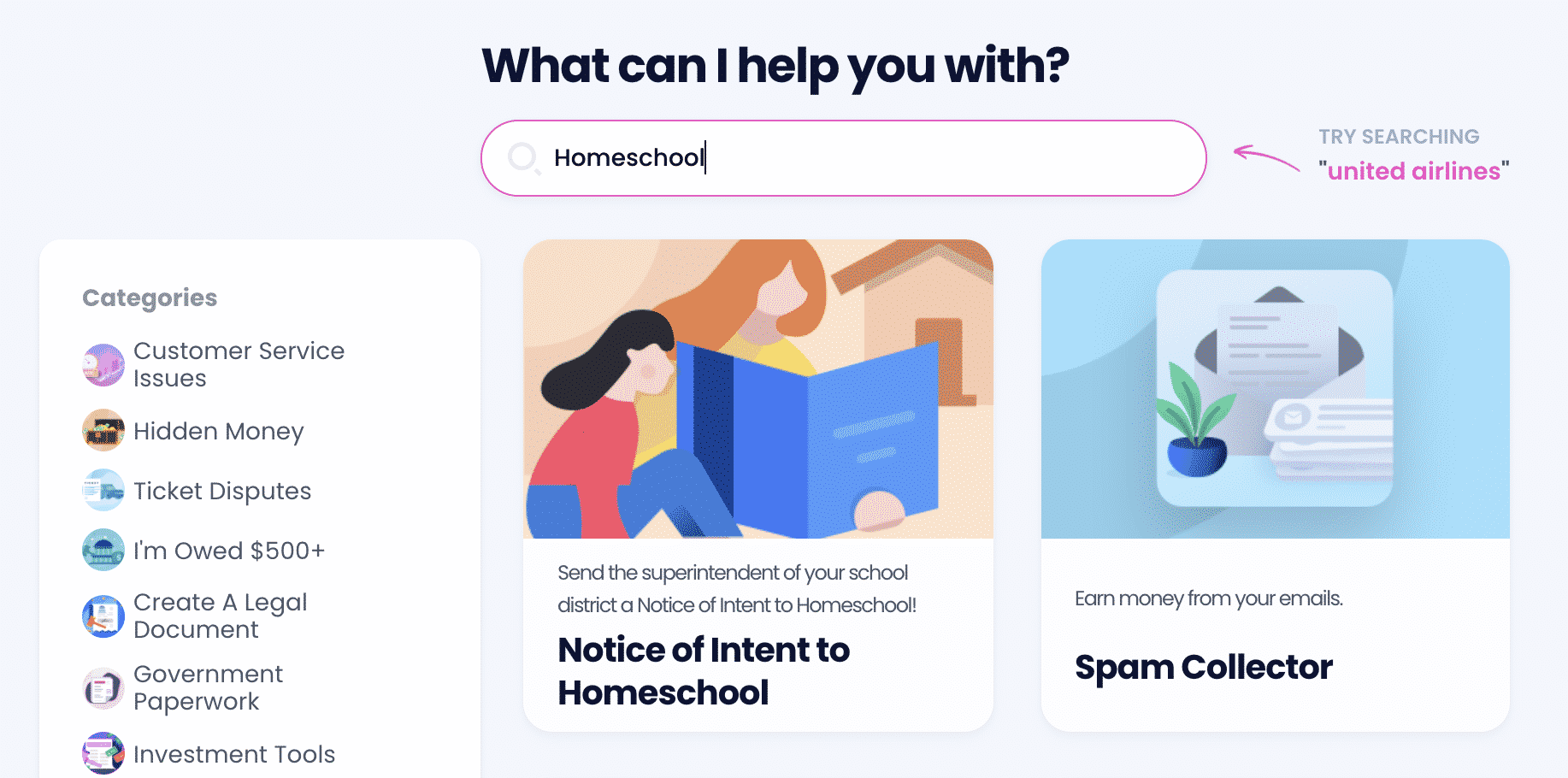 To receive this document super fast, you should and follow these steps:
Access our Notice of Intent to Homeschool product
Enter information about your child's school district
Provide details about your child and yourself as the homeschool teacher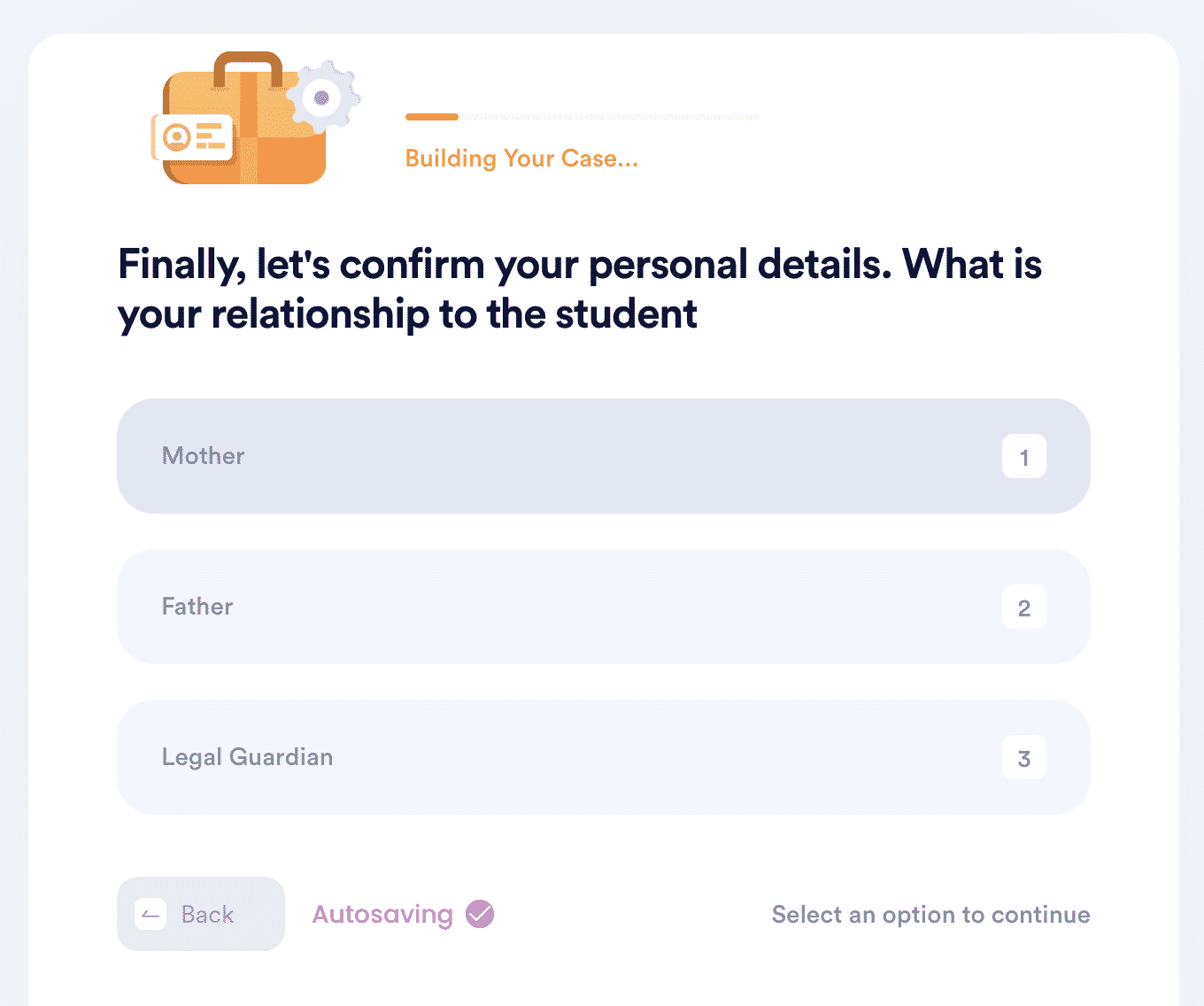 That's not all! With DoNotPay, you can choose to:
Get the document notarized online
Let our app send the letter on your behalf
Receive the document in PDF format to file it yourself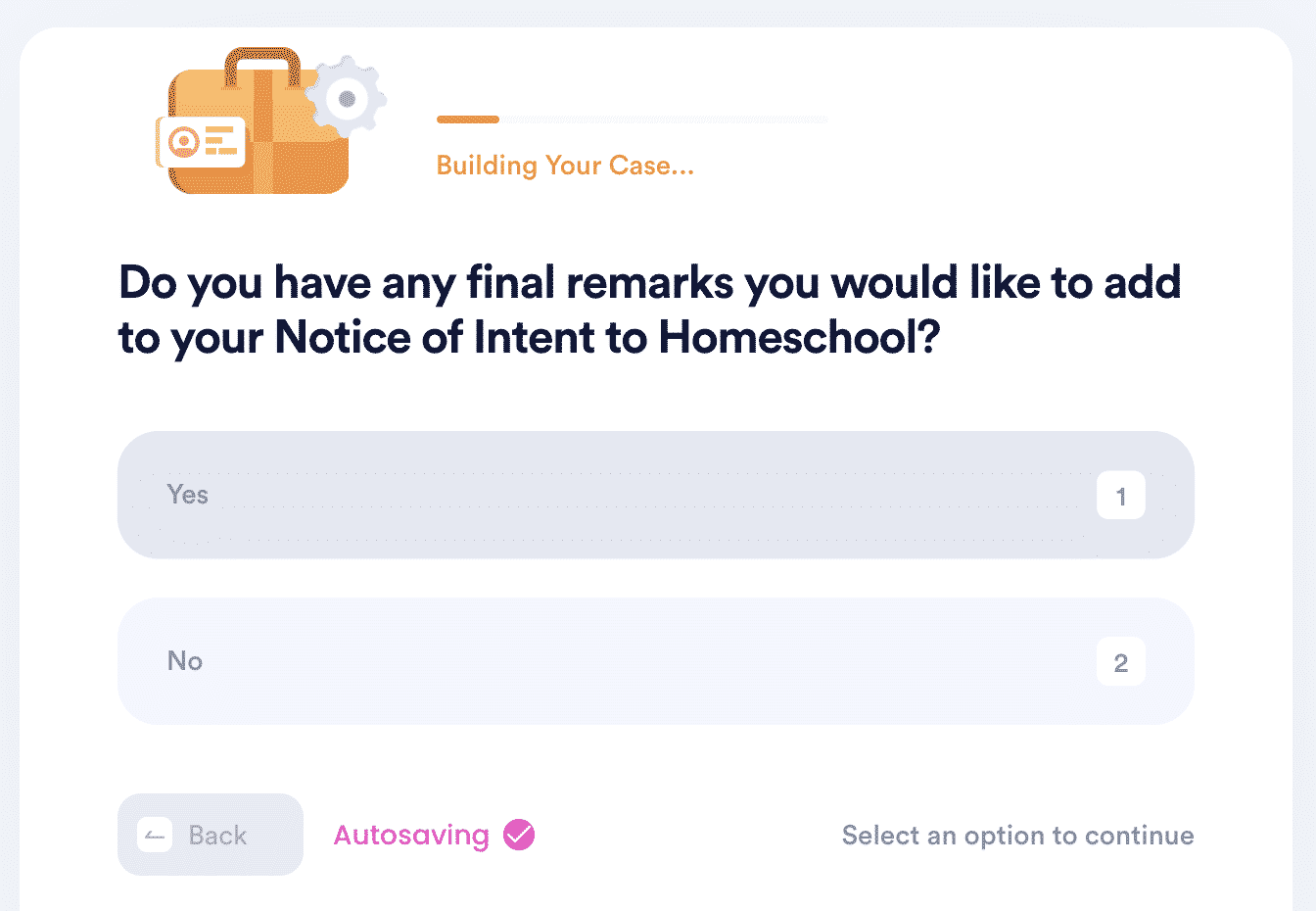 What else can you use DoNotPay for? Explore homeschool-related topics in our ever-growing learning center to find out how to homeschool your child best.
Here are a few common questions we answer:
Stuck in a Bureaucratic Mess? DoNotPay Is Here To Help!
Since handling dull administrative tasks is a burden and no one likes doing them, DoNotPay developed a variety of neat features to ease many processes! With our nifty app, you can:
Deal With Companies Like a Pro
We all love shopping, but it's no secret that companies sometimes turn a fun experience into a nightmare, especially when they refuse to cooperate. DoNotPay is here to help you reach customer support without the hour-long wait and sue an uncooperative merchant in small claims court if necessary!
Need a refund? We can show you how to get your money back from any company in a snap!
Should you need to file an insurance or warranty claim and request gift card cash back or an item return, you can count on our app to assist you! DoNotPay can also show you how to discover any unclaimed funds under your name so that you can continue shopping like a pro.