Literature-Based Homeschool Curriculum Facts and Advice From DoNotPay
When you are deciding whether to homeschool your child, one of your most important considerations will be around the curriculum you want to teach.
Homeschooling is growing in popularity, and the range of curriculums on offer can be baffling—not to mention the choice of teaching approaches, methodologies, and philosophies that are available to homeschool your child.
A literature-based homeschool curriculum is one approach that may work for you—DoNotPay has all the info you need to decide whether it is the right choice for your child!
What Are the Rules Around Your Choice of Curriculum?
Each state sets its own rules on which subjects must be taught to which grades.
Within the state framework, though, there are varying degrees of leeway in:
What topics you should cover
How much time you should devote to each subject
What methods you should use
The leveling factor in each state is usually the fact that your child may have to:
Demonstrate progress every year
Take standard tests to obtain qualifications or diplomas
The laws by state are as follows:
The way you teach is considerably more open to your—and your child's—personal preference.
Popular teaching approaches include:
Traditional
Active
Project-based learning
Traditional
A traditional curriculum involves a high proportion of desk work and is a good choice for parents who work from home.
Active
Active learning combines traditional teaching methods with frequent visits to museums, parks, historical sites, and places where classroom learning can be seen in action in the real world.
Project-Based Learning
This is a more holistic approach and marries numerous subjects through projects—as an example, a study of a work of literature can cover history, sociology, geography, economics, psychology, and the language aspects of the text itself.
Literature-based homeschool curriculums use elements of all three teaching approaches to educating a child holistically.
What Is a Literature-Based Curriculum?
A homeschool literature curriculum uses books and stories as the springboard for learning.
It is designed to excite a child's imagination and create an emotional bond to the subjects being taught.
Literature-based learning uses stories—from various sources, including the classics—to foster inquisitiveness and engagement with the subject the stories introduce.
Advocates of literature-based learning say that a child can learn all the core disciplines through the use of stories.
Homeschooled students who have experienced the literature-based approach are often strong in areas like:
Critical thinking
Finding overarching connections between subjects
Insight and perception
Most importantly, literature homeschool curriculums aim to develop a love of learning that lasts a lifetime.
How Can You Choose Your Curriculum?
Regardless of which approach you want to use as a homeschool teacher or parent, you have two choices for building your curriculum within the framework of your state legislation:
Curriculum Options
Explanation
Develop your own curriculum
If you feel comfortable with your subject knowledge and teaching abilities, you can develop a bespoke curriculum for your child. This gives you the advantages of:

Flexible teaching hours
Great variation in teaching methods
More room to factor in your child's learning preferences

If you can't teach or plan all the subjects yourself, you can always get help from someone else

Buy a pre-designed curriculum
Pre-packaged curriculums cover all the subject requirements with tried and tested material. You can choose curriculums based on various teaching methods, and your voice should be based on:

Your child's age
The teaching approach your child prefers
Your budget
What Specialized Curriculums Are Available?
If you need a curriculum to teach in special circumstances, DoNotPay has information on:
How Do You Get Started With Homeschooling?
Whichever curriculum choice you make, you will need to follow the correct steps and fulfill all the requirements to start homeschooling your child to:
Maximize the success of your teaching
Avoid falling foul of your school district
Before you take your child out of school, you should check your local legislation.
Depending on which state you live in, you may only be able to start homeschooling at certain times in the year, and in most states, you will have to let the school authorities know that you intend to start homeschooling.
DoNotPay can handle the last point for you—we can in a few clicks!
DoNotPay Writes the Book on Help With Homeschooling!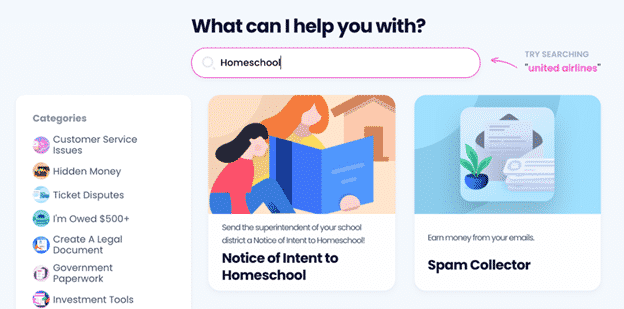 DoNotPay wants your homeschooling journey to be exciting and fruitful, not fraught with the administrative hassle!
Our Notice of Intent to Homeschool product takes one of the major headaches away and makes sure your school district is informed of your plans.
You will get a letter of intent that contains all the required information in the correct format, and you can choose to have it sent automatically or print it out and deliver it yourself.
We can even have it notarized in a flash with our online notarization service.
Here's how to get your letter prepared:
in your web browser
Click on our Notice of Intent to Homeschool feature
Answer a few questions to give us your required details
Your letter will be ready in a few seconds, and your homeschooling adventure can begin!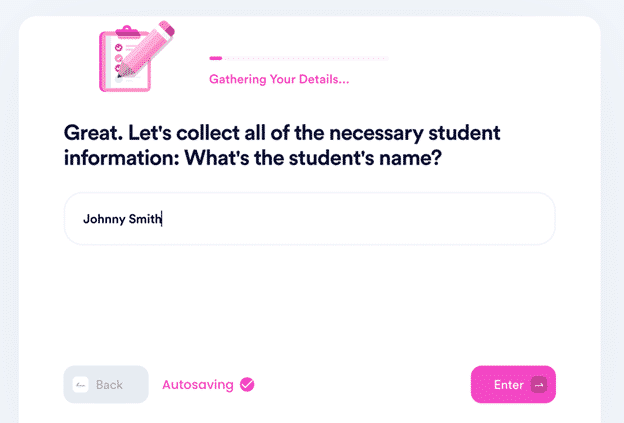 Don't Let Admin or Legal Issues Wear You Down—Hand Them Over to DoNotPay
Do you believe you may have some missing assets? Use DoNotPay's nifty product before the government claims them! Have you ever wanted to enter sweepstakes without purchasing anything? Our app will sign you up for them quickly! Trying to figure out how to reduce your property taxes or utility bills? DoNotPay can show you the way. Want to avoid getting charged for free trials that never fail to auto-renew into paid subscriptions? We'll help you cancel them before they expire.
Anything else you may need? Check out how our app can:
Check Out Our Other Robust Products
It doesn't stop there—DoNotPay can help you send a defamation demand letter, create passport photos, get gift card cash back, get any document notarized, request access to public records, claim insurance and warranty, request a college application fee waiver, appeal parking tickets, and much more.
Sign up now to get access to any of our products for one low monthly fee!