How To Start a Homeschool Co-Op Quickly and Without Breaking a Sweat
Taking your kid out of school to homeschool them is hard, but you don't have to do it alone. If you learn how to start a homeschool co-op, you'll turn the tide and share the difficulties with like-minded people.
We can help you in the process if you ! DoNotPay has guides on nearly any homeschooling topic and a specialized product called Notice of Intent to Homeschool that informs the school district of your decision. That's one of the most important homeschooling requirements you'll need to fulfill—read on to get the full scoop!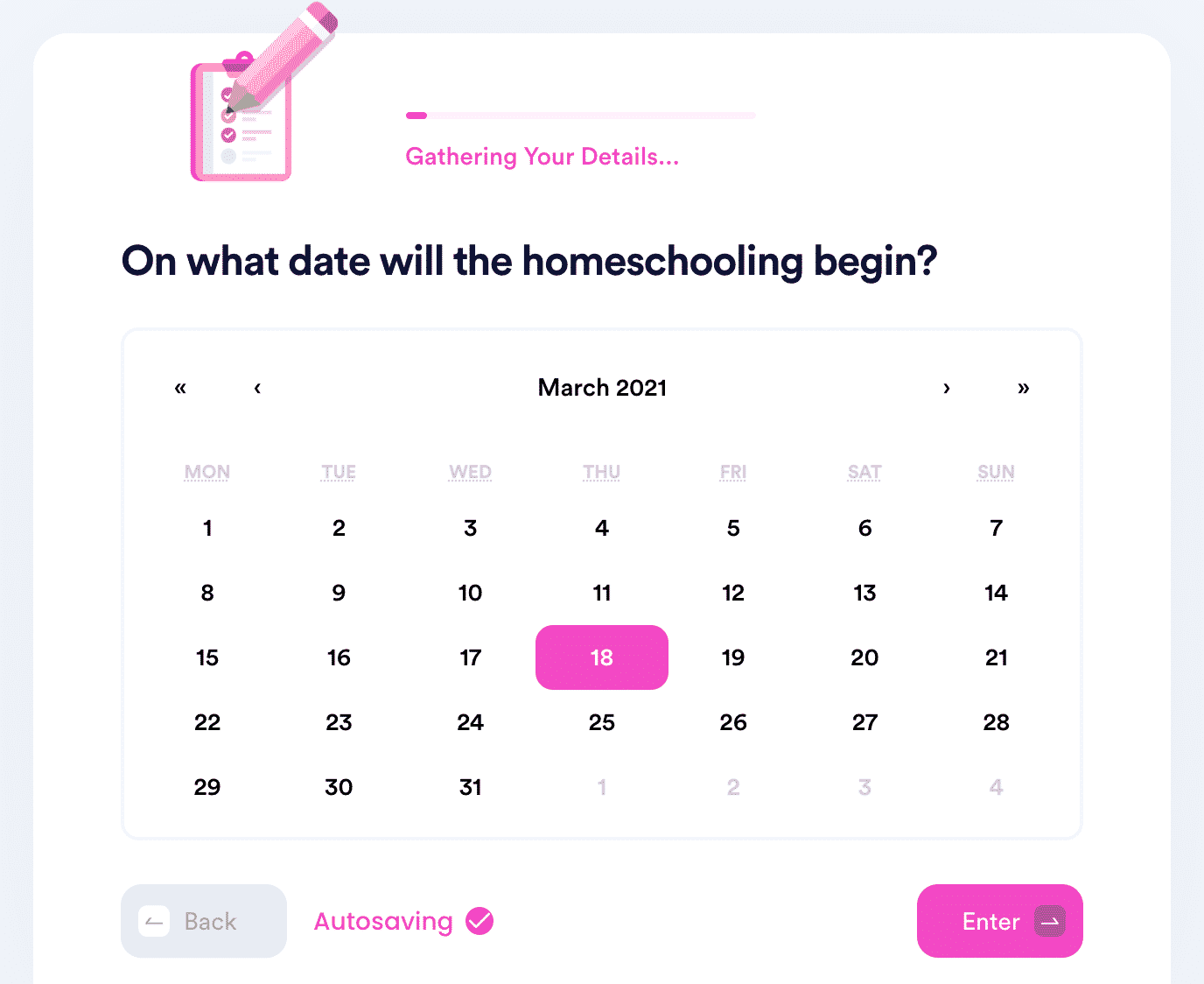 What Is a Homeschool Co-Op?
Even though homeschooling is rapidly gaining in popularity, the general public is still not fully aware of the concept and its perks. The first thoughts most people have when asked about homeschooling are usually related to social isolation and exclusivity.
That doesn't have to be the case, as many homeschooling cooperatives have shown. Homeschool co-ops are the polar opposites to their misconceptions—they are inclusive, welcoming communities that allow homeschooling parents and children to unite and share resources, management, and advice to help everyone grow and prosper.
These co-ops focus on all of the following principles:
Education, which is still the primary goal
Social aspect so homeschooled kids do not become outcasts
Group activities that make learning fun
Are There Different Kinds of Homeschool Co-Ops?
There are many types of homeschool co-ops. Other than following specific state laws on homeschooling, these cooperatives aren't bound by any governing body—they make their own rules.
Homeschooling parents have come up with many great ideas, which are now the foundation of different types of co-ops:
Hiring a certified teacher that will teach all of their children—This type of co-op saves time and cuts down homeschooling costs for everyone involved. Parents ensure that their children are getting a solid education, and this is a form of homeschooling closest to a private or public school
Sharing the teaching workload among the parents so that everyone gets some time off—All parents are responsible for some portion of the children's education, e.g., the homeschool curriculum can be planned and executed based on the expertise or interests of parents
Emphasizing the importance of socializing—A co-op based on this idea tries to fulfill the basic need of every child to be surrounded by peers. The focus is not entirely on the homeschool subjects but rather on group work, field trips, and other fun learning experiences
How To Start a Homeschool Co-Op—Spread the Word
Bearing all the preparations and considerations in mind, how do you start homeschooling your child in a co-op? The group won't form itself or grow unless you put some effort in spreading the word around by:
Posting information about your co-op online
Sharing the details at your local churches, libraries, or community hubs
Distributing flyers or pamphlets
Speaking with everyone who seems like-minded or open to the idea of homeschooling
Once you've gathered the people, you need to think about the formal requirements, and a major one is sending a letter of intent to homeschool to the school district. The best solution for creating a letter that ticks all the boxes is DoNotPay—the world's first robot-lawyer app that deals with bureaucracy so that you don't have to.
DoNotPay Can Help Any Homeschool Co-Op Start Its Operation
Starting to homeschool, whether at the start or in the middle of the school year, isn't possible without expressing your intent to homeschool to the designated officials. DoNotPay is here to help you do that without a hassle by following a few steps:
Select our Notice of Intent to Homeschool product
Provide the necessary student and parent (or legal guardian) info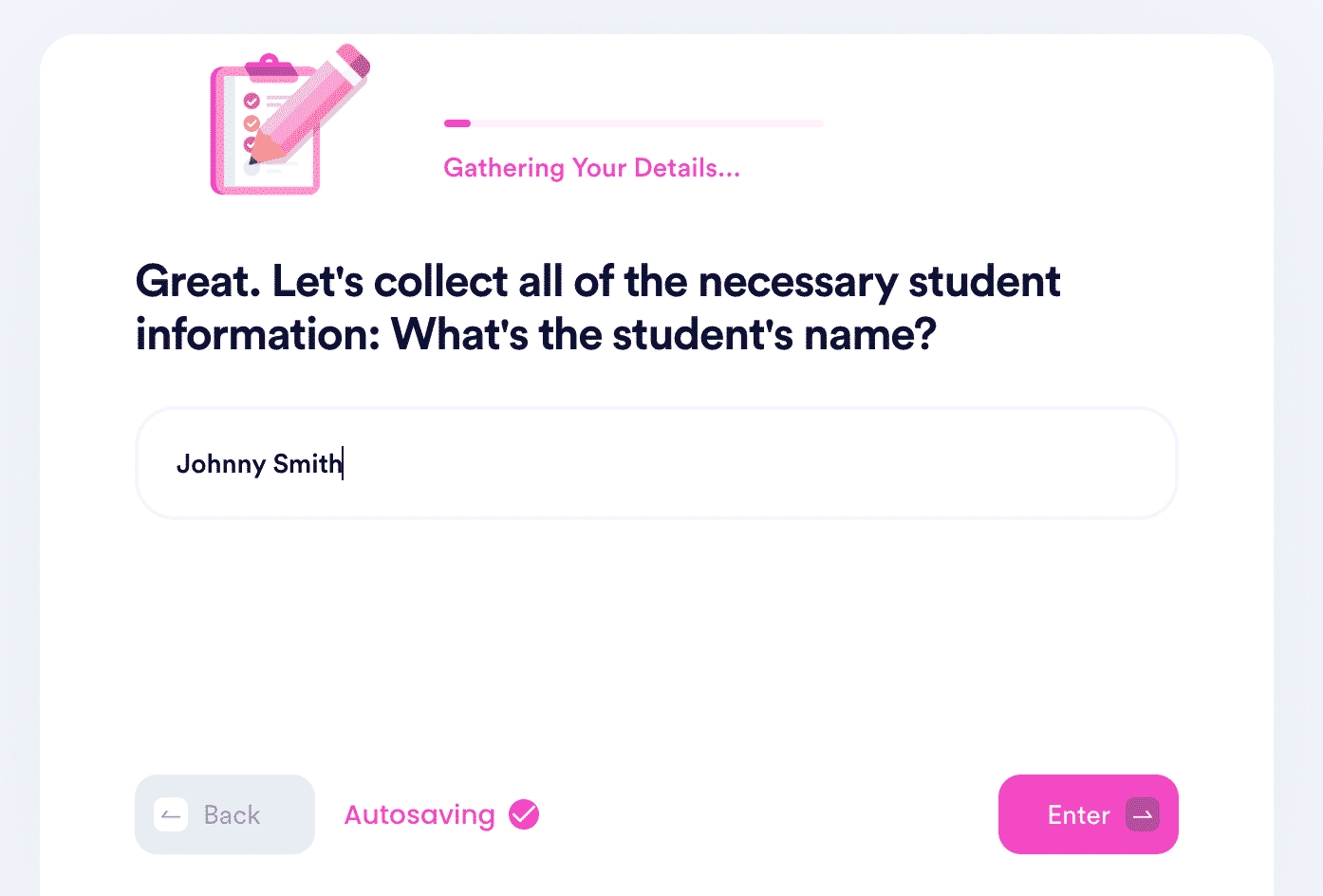 After you do that, we will create a PDF notice, which we can send to you or the school district—it's up to you to decide. We can also assist you with remote document notarization if you need to sign the document in front of a notary public.
Everything You Need To Prepare Before Starting a Homeschool Co-Op
Co-oping is great, but you need to build a solid foundation to make it work. Here are the basic necessities you'll need to cover to get started in homeschooling in groups:
| Co-Op Requirement | Brief Description |
| --- | --- |
| Location | Once you figure out the location, other factors won't be so challenging. One of the parents could provide the space and pay less for other co-op-related expenses, or you can rent a public or private space. Some churches, libraries, and community centers offer cheap or even free rooms for teaching purposes |
| Homeschool hours | Making a schedule that fits everyone's preferences can be tough, but it needs to be planned in advance. The actual hours of homeschooling per subject or curriculum are often state-mandated, and you should bear in mind that some subjects take longer to set up or teach |
| Teachers | Should you teach your child, or are you willing to let someone else do it? If the parents agree to hire a professional, you should discuss the details of the teacher's rates, obligations, etc. |
| Teaching resources | Everything—from markers, books, whiteboards, and projectors to chairs and tables—needs to be discussed and prepared in advance. Sharing these expenses is partly the reason people sign up for these co-ops |
Explore DoNotPay's Vast Database To Handle Administrative Issues Head-On
Dealing with administrative issues is never a fun experience, but you can save yourself from unnecessary hassle with our app! Once you sign up for DoNotPay, there is little you can't do. Aside from helping you deal with everyday tasks, such as reaching customer services, you can also use our app to:
Make Your Legal Troubles Disappear
Is a company giving you a hard time? Don't fret! DoNotPay can walk you through the process of suing it in small claims court and help you get the justice you deserve!
The best part is that assisting you take companies to court isn't all our app can do! We can also help you with: