Missouri Homeschool Laws Explained in Detail
Determining whether you should start homeschooling can be complicated and stressful, but understanding the rules and requirements can help you make a decision and homeschool your child with ease.
Homeschooling is regulated by state laws which are different from one state to the other. In this guide, you'll find all the important details about Missouri homeschool laws and learn how to begin homeschooling successfully.
Missouri Homeschooling Requirements
Check out the requirements for homeschooling in Missouri in the table below:
How Does Graduation Work for Homeschooled Students in Missouri?
Another important aspect of homeschooling is graduation. This is the homeschool graduation process in Missouri:
Parent or teacher determine when the student is eligible for a homeschool diploma
Graduation testing is not required, but students can take part in this type of assessment if they want
Homeschool parents or teachers can create high school transcripts for their students
Students can take the HiSET exam with the written permission and declaration that they comply with Missouri homeschool laws
Homeschool Portfolio in Missouri
Though it is not required by law, many homeschool parents and teachers in Missouri create a homeschool portfolio. Here is what it has to include:
Samples of lessons, activities, and quizzes throughout the year
Curriculum
Extracurricular activities
Homeschooling Support Groups in Missouri
Homeschool groups and co-ops are some of the most valuable resources when it comes to home education. Though nowadays you can find most homeschooling materials online, the internet doesn't have all the answers.
That is why joining a support group is a good idea. Doing so will be beneficial for the following reasons:
Participating in group activities and special events
Getting information whenever something changes in homeschool legislation
Socializing
Organizing field trips
Learning how to homeschool your child at a lower cost
Receiving guidance
How To Start Homeschooling in Missouri
Once you understand and comply with all the homeschool regulations in Missouri, you can begin homeschooling your child. While it's not a requirement, you can notify the superintendent of your school district that you will homeschool your child, especially if you need to withdraw your child from school first. You can do so by sending a letter of intent to homeschool. If you , we will both draft and send this document in your stead.
DoNotPay Offers the Best Way To Prepare Letters of Intent To Homeschool
To make your homeschooling process easier, DoNotPay is here to help you write a letter of intent to homeschool.
To get the help you need, you should take the following steps:
in your preferred browser
Navigate to the Notice of Intent to Homeschool feature
Type in your school district
Answer a few questions regarding:
Your child
Homeschool plan
Yourself or the hired teacher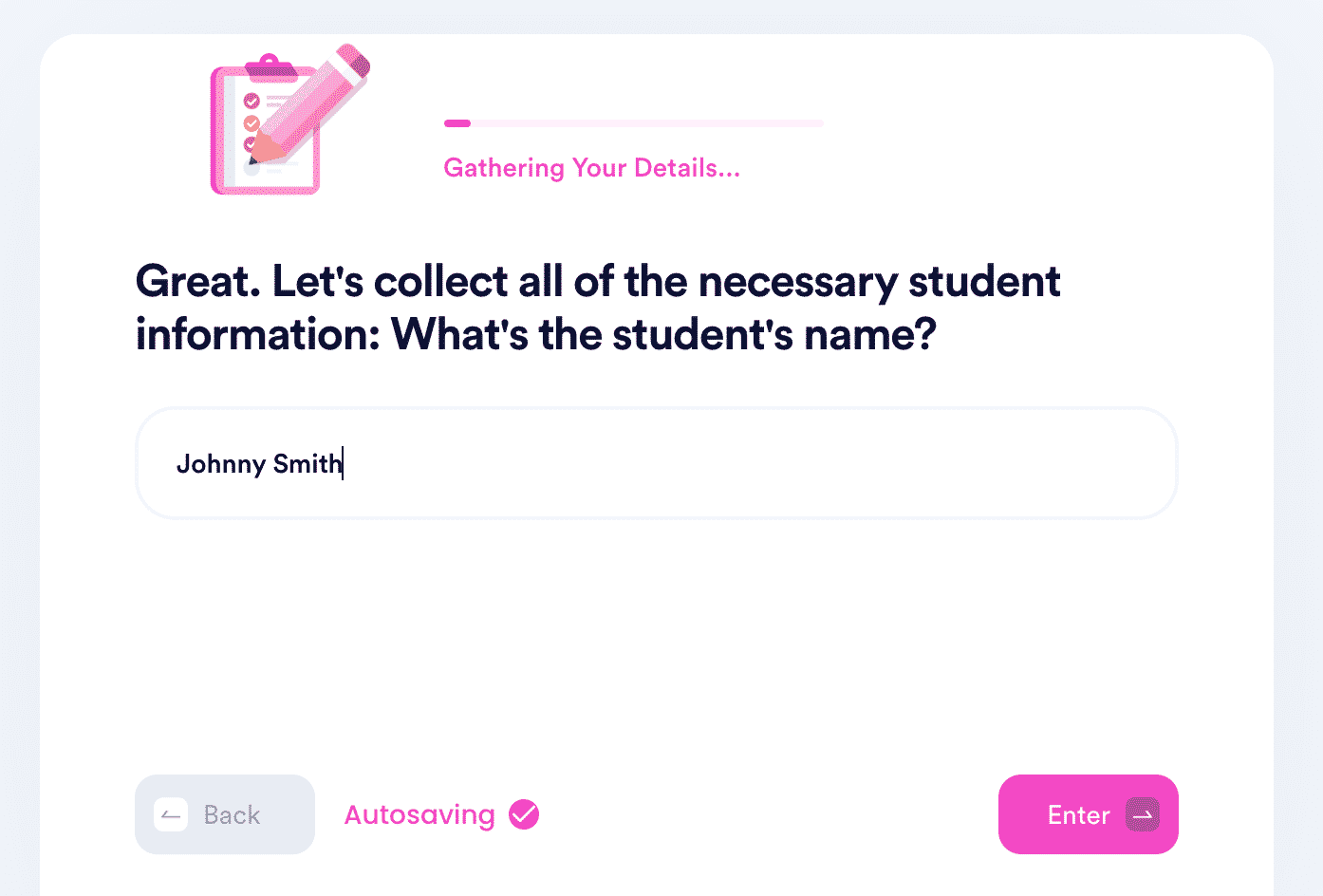 Once you answer the questions from our chatbot, DoNotPay will generate a letter using the info you provided. You can choose whether you'd like to receive the letter in PDF format and mail it yourself or let us send it to your school district instead of you.
That's not all! We can also help you get your letter of intent notarized! While completing our questionnaire, let us know whether you want us to connect you with an online notary. This way, you'll be able to schedule a virtual appointment and get everything done without leaving your house.
Browse DoNotPay's Useful Homeschool Guides
In terms of homeschooling laws, Missouri is not the only state DoNotPay can help you with. In case you decide to move, check out the table below and get to know the homeschooling law in other U.S. states:
Need more assistance? Our learning center is a great source of information. Here are only some of the questions you'll find answers to in our guides:
Discover DoNotPay's Solutions to Mundane Tasks
Our product range doesn't end there—we can also help you sue anyone in small claims court, cancel any subscription, start a free trial risk-free with our virtual credit card, get refunds and chargebacks, send anything through online fax, pay your utility bills, demand airline compensation, and deal with your annoying neighbors.
As soon as you sign up, we can also put an end to robocalls, copyright infringement, email and text spam, and stalkers and harassers. Our app's abilities don't stop there either—get perfect passport photos, free raffle tickets, compensation for victims of crime, or insurance or warranty instantly!
There's So Much More We Can Assist You With
Check out how else we can help—DoNotPay can:
Sign up now to take advantage of our nifty products!