How To Homeschool Your Child—Everything You Need To Know To Begin
Homeschooling is an attractive option for many parents in the U.S. You or your child might choose homeschooling because of your personal beliefs, health concerns, or child's abilities or disabilities. Learning how to homeschool your child is not easy, but we can help you get prepared for it.
You need to meet many requirements to homeschool your kid, and they vary depending on your state's laws.
DoNotPay can help you with one of the most important prerequisites—letting the school district know about your intentions to homeschool. Sign up for our service and get immediate assistance!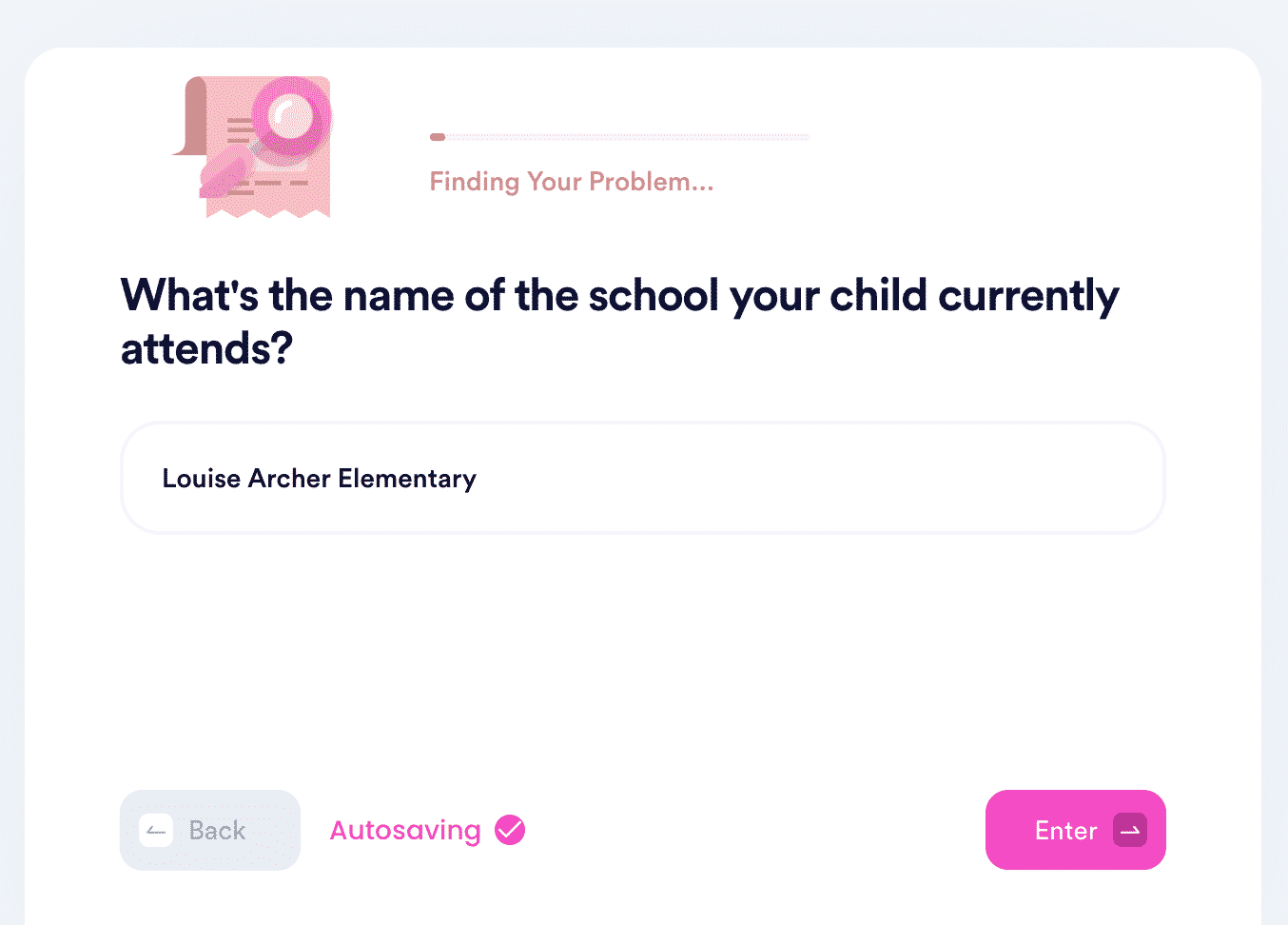 How Do You Start Homeschooling Your Child?
While homeschooling is legal in all 50 states, they have different rules and regulations that have to be followed. One of the hardest parts of getting started in homeschooling is researching the state laws, but we can help you with that! Refer to the table below for detailed homeschooling guides for each state:
Besides knowing your state's laws, you should also:
Find the right homeschool curriculum for your child—There are many free and paid options online, but you should choose one based on your kid's interests and abilities instead of going for the cheaper option. Depending on your state, you may need to adhere to specific standards, but in some states, the curriculum can be flexible
Assess your child's learning style and find the best methods of teaching—Visual and auditory styles are the most prevalent ones, but there are also spatial, kinesthetic, linguistic, social, and solitary learners
Plan out your budget by taking into account all the major homeschooling costs—Teaching materials, resources, supplies, field trips, and other expenses can put a severe financial burden on most people, which is why you should be aware of all the costs in advance
Decide who will teach homeschooling—You have various options when it comes to choosing a homeschool teacher. You can hire a professional tutor or an online teacher, or you can homeschool your kids yourself, provided it complies with your state's laws. If you decide to do it yourself, you will save significant amounts of money since you won't have to pay a teacher's fee
Send a letter of intent to homeschool to your home school district—This is a formal notice (required in most states) that alerts the designated school authority of your decision to take your child out of a public school. While you can write the letter on your own, relying on DoNotPay is a much more reliable solution since we can help you get a mistake-free notice with minimum effort
The Most Common Questions About Homeschooling Answered
Homeschooling is challenging at the beginning, and finding answers to crucial questions isn't always easy. Refer to our table below for the much-needed clarification on the most troublesome issues:
Homeschooling Issue
Answer
How to pick homeschool subjects?
Sometimes, you're forced to follow the state's regulations on homeschool subjects. If not, your choices are limitless, but try to cover a wide area of subjects for a broader education. Ask your homeschooled student about what they want to learn, but also cover the basics like maths, grammar, literature, science, P.E., music, history, etc.
Can you start homeschooling in the middle of the year?
Yes, all states will allow it, but some will make this option more difficult than others
What are the pros and cons of homeschooling
Pros:

Homeschooling enables you to have mostly flexible hours, curriculum, activities
Remote or at-home learning saves time, and you won't have to spend money on gas
Education that suits the child's interests is beneficial in many ways because it's fun and enlightening
Homeschooling is way less expensive than private schools, which is why it's a most common alternative
Flexibility to start or stop homeschooling at any time enables parents to provide education to their children even in difficult situations
The time you spend homeschooling is valuable because you're connecting with your children in ways you wouldn't if they went to public or private school

Possible cons:

Lack of contact with peers might cause underdevelopment of social skills
Your kid might have gaps in knowledge if not taught right
Homeschooled students can have trouble getting into some high education institutions
DoNotPay Is Your Trusty Ally in Starting the Homeschooling Quest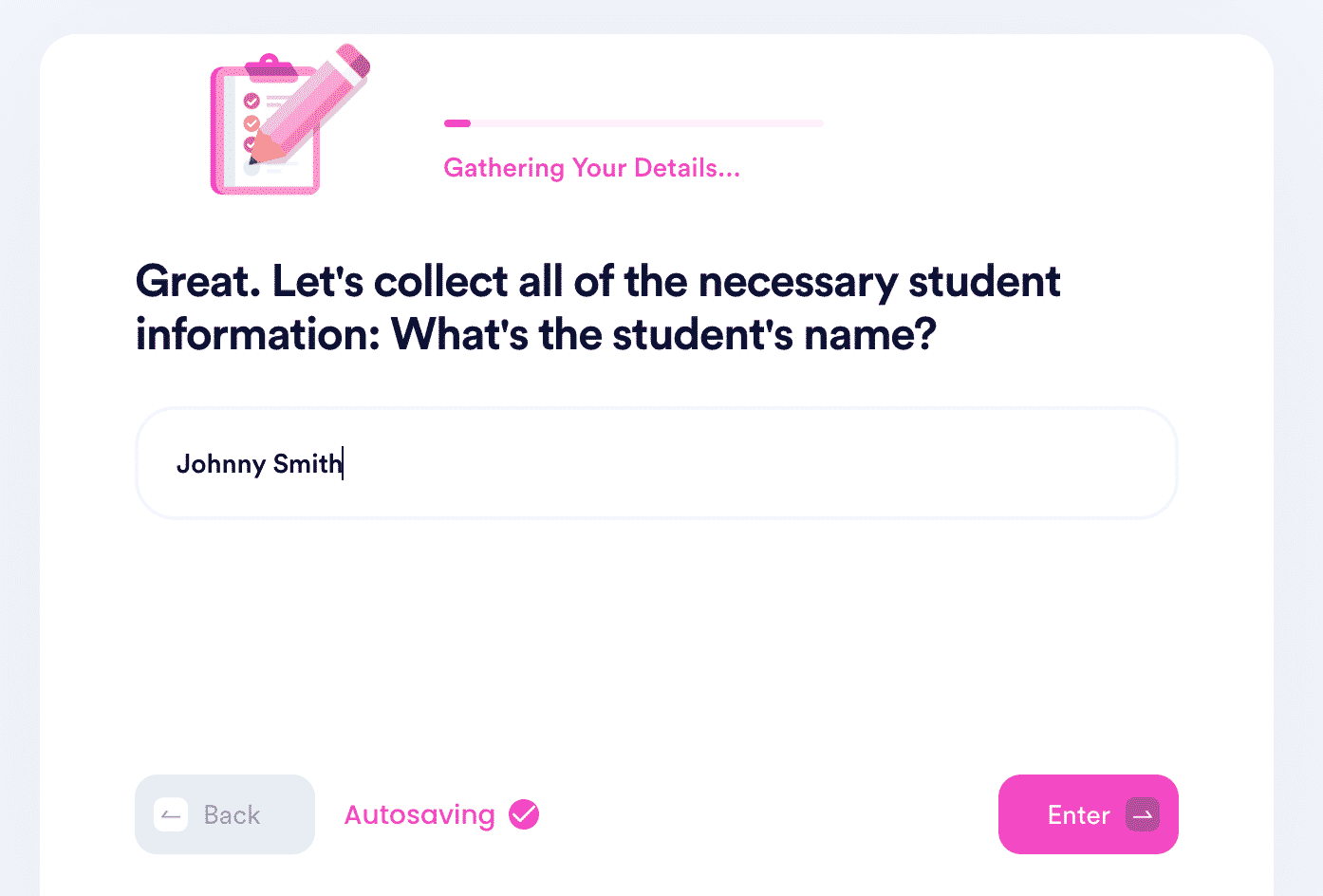 Homeschooling is difficult at first, and this may deter you from your intentions. DoNotPay can help you overcome the initial struggles by assisting you with the most boring bureaucratic process—drafting a notice of intent to homeschool.
Our Notice of Intent To Homeschool product is an all-in-one solution for making your intentions official. The DoNotPay app can do the following:
Daft the document that needs to be sent to the school district
Send the letter in your stead
Connect you with a remote notary so you can handle the notarization of your letter online
To take advantage of this handy tool, follow the prompts below:
Open the Notice of Intent To Homeschool feature
Enter the details about the student
Type in your personal details
DoNotPay's Features Are Here To Make Your Life Easier
To simplify confusing bureaucratic procedures, we developed a number of features you may find super useful. Sign up for our app and let us assist you in:
DoNotPay Doesn't Stop There!
Assisting you with bureaucratic tasks is only a fragment of what DoNotPay can do—we have a lot more nifty features to offer! We can show you how to:
Struggling to draw up a financial aid appeal letter, an HR complaint, or a child travel consent form? DoNotPay is here to do it in minutes!