DoNotPay Breaks Down Homeschooling in Iowa
Do you intend to homeschool your child, but you're confused by Iowa homeschool laws? If so, don't worry—DoNotPay has got your back! We'll tell you all about homeschooling in Iowa and list all the options you have for teaching your child.
Options for Homeschooling in IOWA
There are several homeschool options you can choose in Iowa:
Independent private instruction (IPI)
Competent private instruction (CPI)
Competent private instruction with opt-in reporting
Competent private instruction with a teacher you select
Competent private instruction with home school assistance program (HSAP)
Independent Private Instruction (IPI)
IPI was introduced in 2013, and it:
Is not accredited
Can't enroll more than four students
Doesn't charge tuition
Provides instruction in the following subjects:

Mathematics
Reading
Language arts
Science
Social studies
If you choose to homeschool your child based on IPI, you won't have to provide a report to your school district superintendent. They may request a notice of your intent to homeschool with specifics about:
Homeschool location
Student names
Teacher name
You should also keep in mind that your child won't be allowed to participate in extracurricular activities under IPI.
Competent Private Instruction (CPI)
Introduced in 2013, CPI allows parents to choose not to report to their local school superintendent at the beginning of the school year. They also don't have to submit the annual assessment results of their students.
Under CPI, you will have to teach your child at least 148 days per school year and 37 days per school quarter.
Competent Private Instruction With Opt-In Reporting
Choosing CPI means that you will have to file an annual report form, which needs to show your homeschooled student's adequate progress. The form can be:
Report from standardized test scores
Evaluation results by a licensed Iowa teacher
End-of-the-year report from the accredited correspondence school (in case you decide to enroll your child in one)
Competent Private Instruction With the Teacher You Select
Competent private instruction with the teacher you select option is for parents who want to hire a licensed Iowa teacher to homeschool their child. If the parent has a certification, they can be a teacher as well.
With this option, homeschoolers are allowed to participate in dual enrollment in a local public school and attend public school extracurricular activities.
Competent Private Instruction With Home School Assistance Program (HSAP)
HSAP is a program in which the student is assigned a supervising teacher by the public school. The two must meet at least four times every 45 days during the school year. The teacher must have a valid Iowa certificate or a practitioner license to teach the student.
How To Start Homeschooling in Iowa
Iowa is one of the easiest states to homeschool in because you'll only need to follow these steps to get started:
| Step | Details |
| --- | --- |
| Choose a homeschooling option | Pick one of the five options listed above which work best for you and your child |
| Withdraw your child from school | If your child is currently enrolled in a public school, you'll need to withdraw them before starting your homeschooling journey |
| Meet the homeschooling requirements | You'll have to teach the required number of hours, use the correct curriculums, and meet other requirements of your chosen homeschooling plan |
| File a letter of intent to homeschool | In case the homeschooling option you've chosen requires you to notify the superintendent that you wish to homeschool your child, you'll need to file a letter of intent. An easy way of obtaining and submitting one is to use DoNotPay. Our tool is designed to help both homeschooling teachers and parents |
DoNotPay Draws Up a Letter of Intent To Homeschool for You in a Snap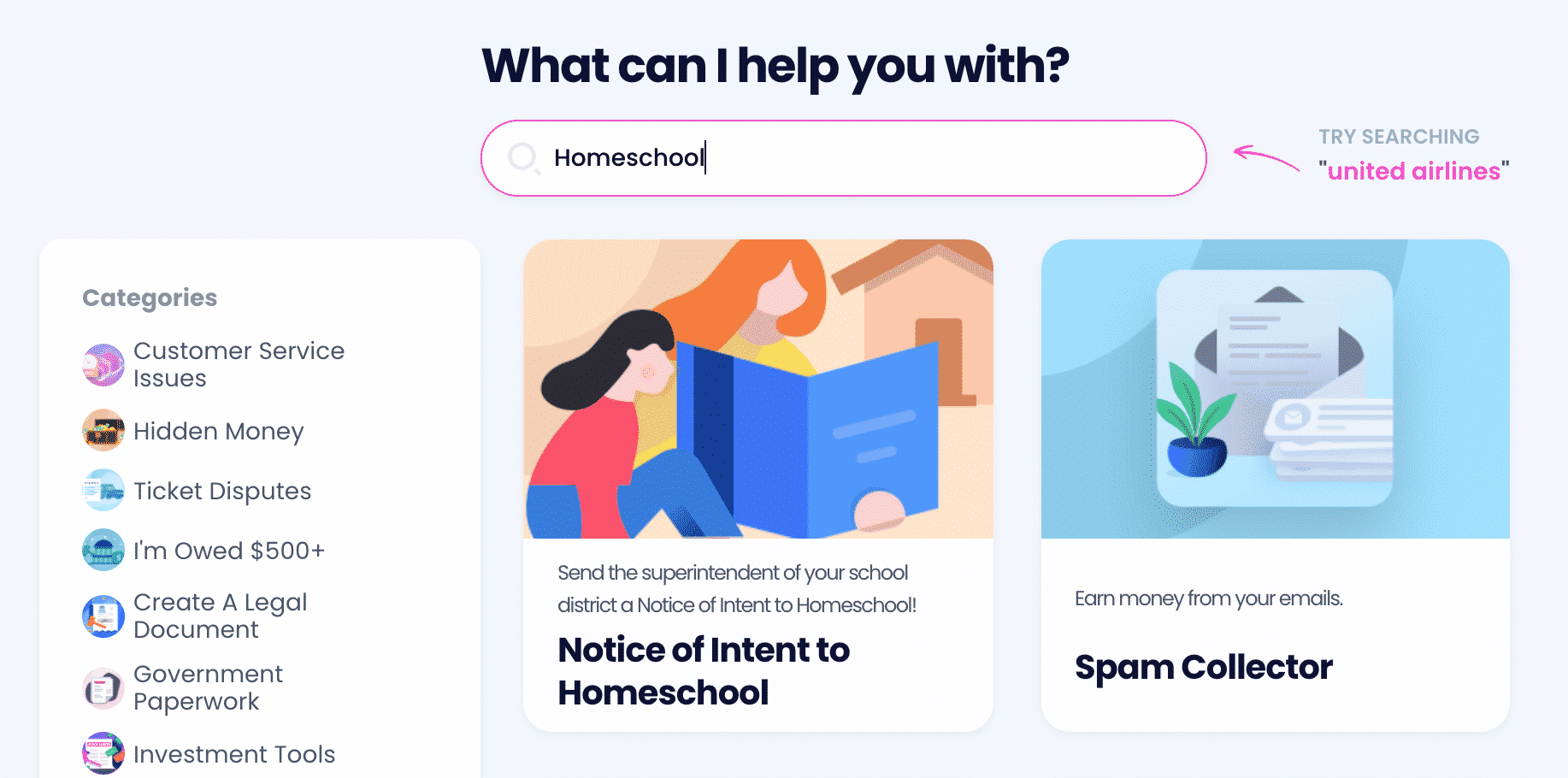 If you've decided to homeschool your child, you might need to file a letter of intent. If you subscribe to DoNotPay, you get one affordably in no time! All you'll have to do is follow a few steps.
Here's how to go about it:
Locate our Letter of Intent to Homeschool product
Enter details about:

Your child
Yourself
Your homeschooling plan

Click on Submit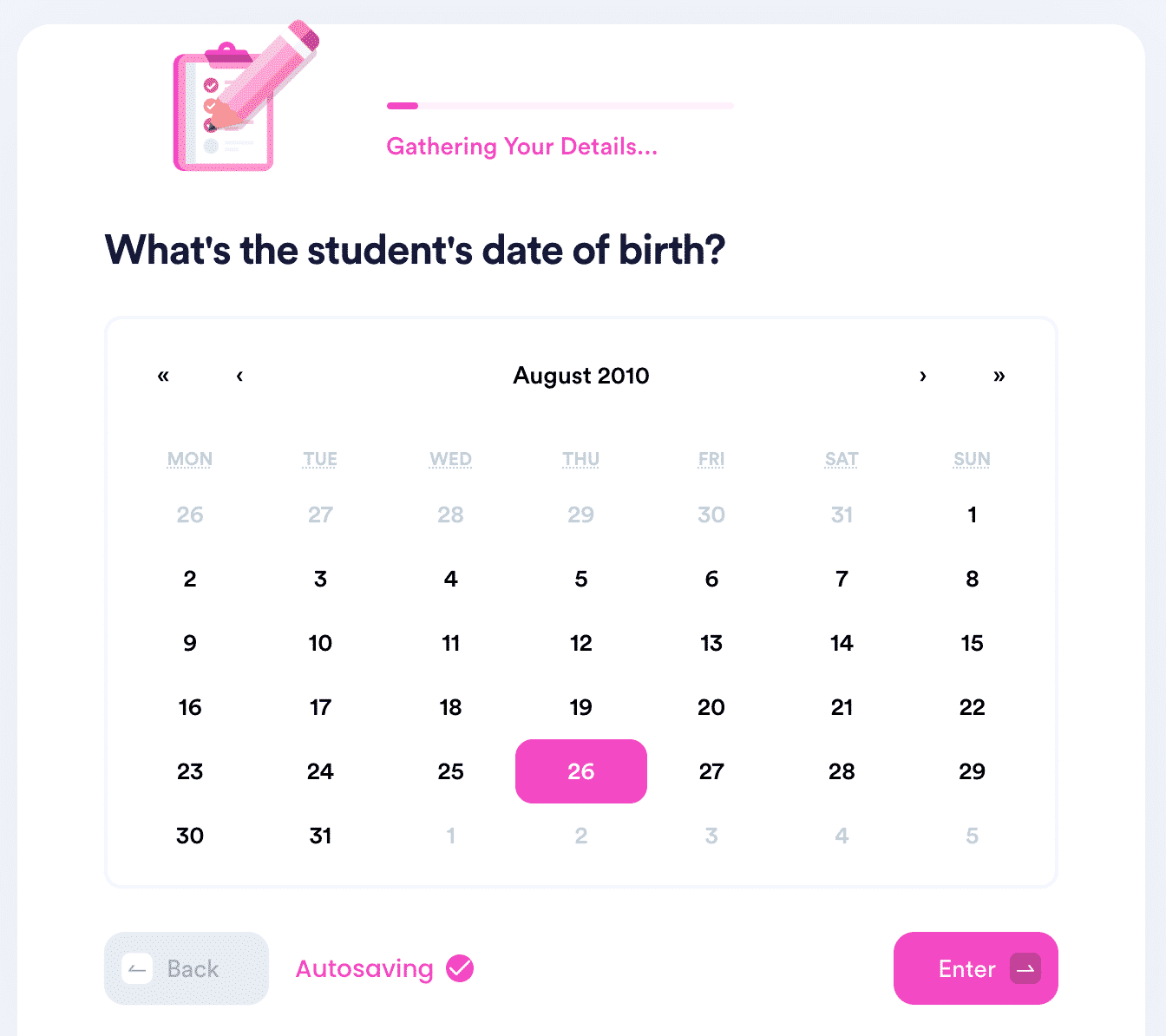 We'll generate the letter for you instantly, and you can then choose whether you want us to forward it in your stead or send it to you in PDF form.
Be sure to check out other homeschool-related articles we have prepared for you, such as:
Are There Any Homeschool Support Groups in Iowa?
Iowa has various homeschool support groups all over the state. Here are some of them:
Discover DoNotPay's Solutions to Mundane Tasks
Our product range doesn't end there—we can also help you sue anyone in small claims court, cancel any subscription, start a free trial risk-free with our virtual credit card, get refunds and chargebacks, send anything through online fax, pay your utility bills, demand airline compensation, and deal with your annoying neighbors.
As soon as you sign up, we can also put an end to robocalls, copyright infringement, email and text spam, and stalkers and harassers. Our app's abilities don't stop there either—get perfect passport photos, free raffle tickets, compensation for victims of crime, or insurance or warranty instantly!
There's So Much More We Can Assist You With
Check out how else we can help—DoNotPay can:
Sign up now to take advantage of our nifty products!