A Lazy Man's Guide to Homeschooling in SC
Withdrawing your child from a public school in South Carolina to homeschool them can turn out to be an excellent decision, but you must arm yourself with dedication and patience. Home-based education has many benefits but requires some serious prep work due to various state laws and regulations you must consider.
To help you get a better understanding of the matter, we created a straightforward guide explaining the basics of homeschooling in SC. You will find out:
SC Homeschool Options
There are three homeschool options for South Carolina parents:
Homeschooling under the homeschool statute—This option includes sending a notice of intent to the board of trustees, notifying them that you want to have your child homeschooled. The board members must approve your request before you set up your homeschool. If you choose this approach, your child must have access to the library and participate in specific state assessment programs, including:

Annual Statewide Testing Program
Basic Skills Assessment Program

Homeschooling through the South Carolina Association of Independent Home Schools (SCAIHS)—Once you become a member of this organization, you can teach your child at home, but the service isn't free—it costs $36 per month. The association will assist you in all situations related to homeschooling and help you get the necessary materials and support
Homeschooling as a part of another homeschool association—You choose this method by joining an organization with 50 or more members. Before doing it, you must ensure you comply with all basic homeschool requirements proposed by the state
South Carolina Homeschool Requirements in Brief
Regardless of the option you choose, complying with South Carolina homeschool laws is mandatory. The following table shows the essential criteria you must meet with brief explanations:
As per South Carolina homeschool laws, students taught from home can also:
Participate in regular or extracurricular activities provided by public schools if they fulfill all state requirements
Get a high school diploma only through an individual organization
Apply for colleges by submitting their homeschool records and transcripts
Get college scholarships if they provide homeschool evidence
The Most Popular SC Homeschooling Groups and Associations
Besides SCAIHS, you can join many other homeschool support groups and organizations, including:
Home-based education is demanding and requires dedication and hard work. If you are new to the process, getting advice and support from more experienced homeschooling families can make it easier and more effective.
From a Blank Page to a Perfect Letter of Intent To Homeschool With DoNotPay
South Carolina isn't the easiest state for homeschooling, and some phases of the transition process are pretty demanding. Home-based education comes with extensive paperwork, and getting some help with basic administration is advisable.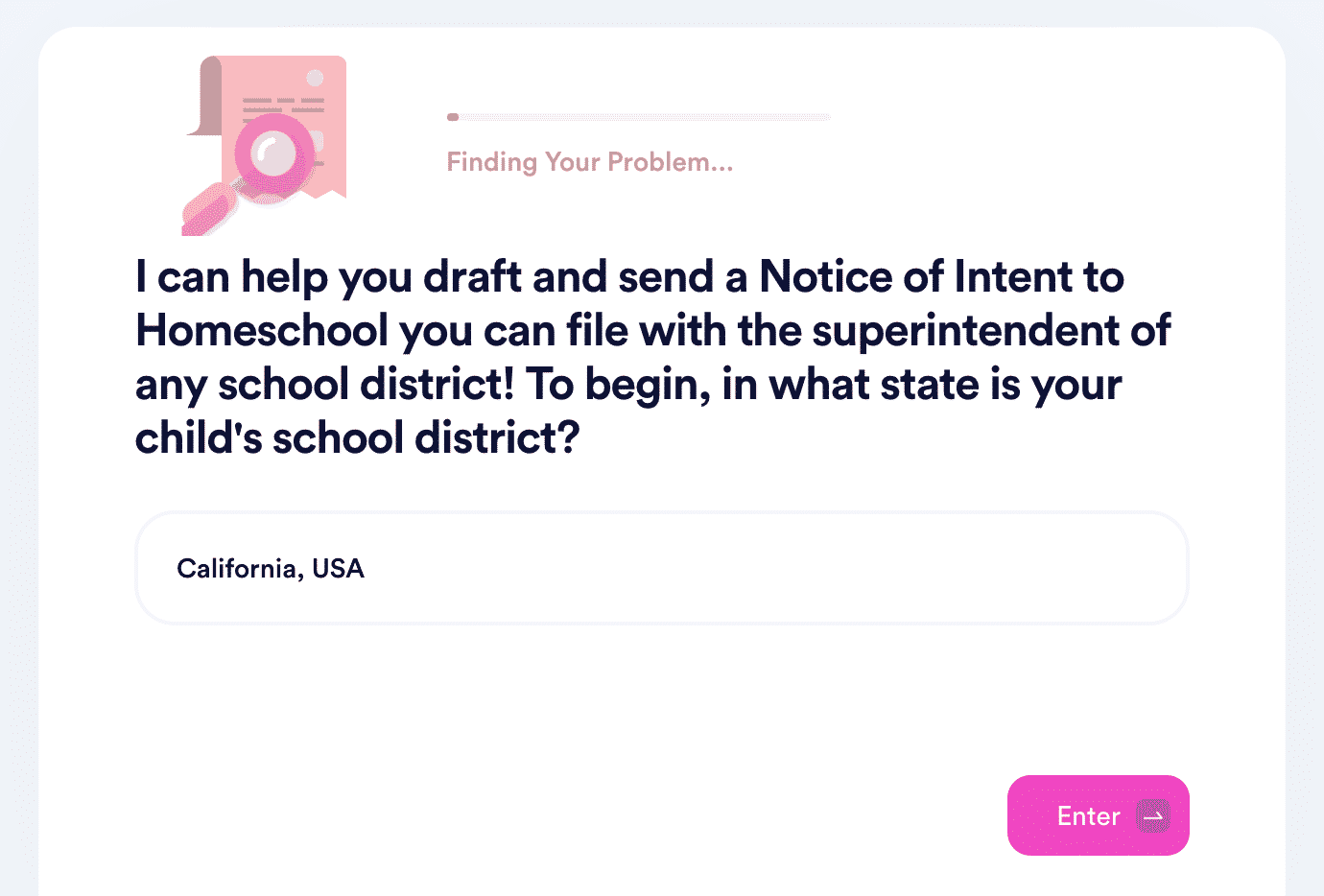 DoNotPay can assist in writing the notice of intent to homeschool, so you can focus on more relevant aspects of teaching at home. After collecting a few essential pieces of information from you, we can:
Process your details right away
Generate a notice of intent with all the necessary details
Provide a PDF version of the document or send it to the school officials on your behalf
Connect you with an online notary and help you get the document notarized if necessary
Here are the steps to follow:
Go to the Notice of Intent to Homeschool section
Choose your district
Answer several questions about your family
Your document will be ready in no time!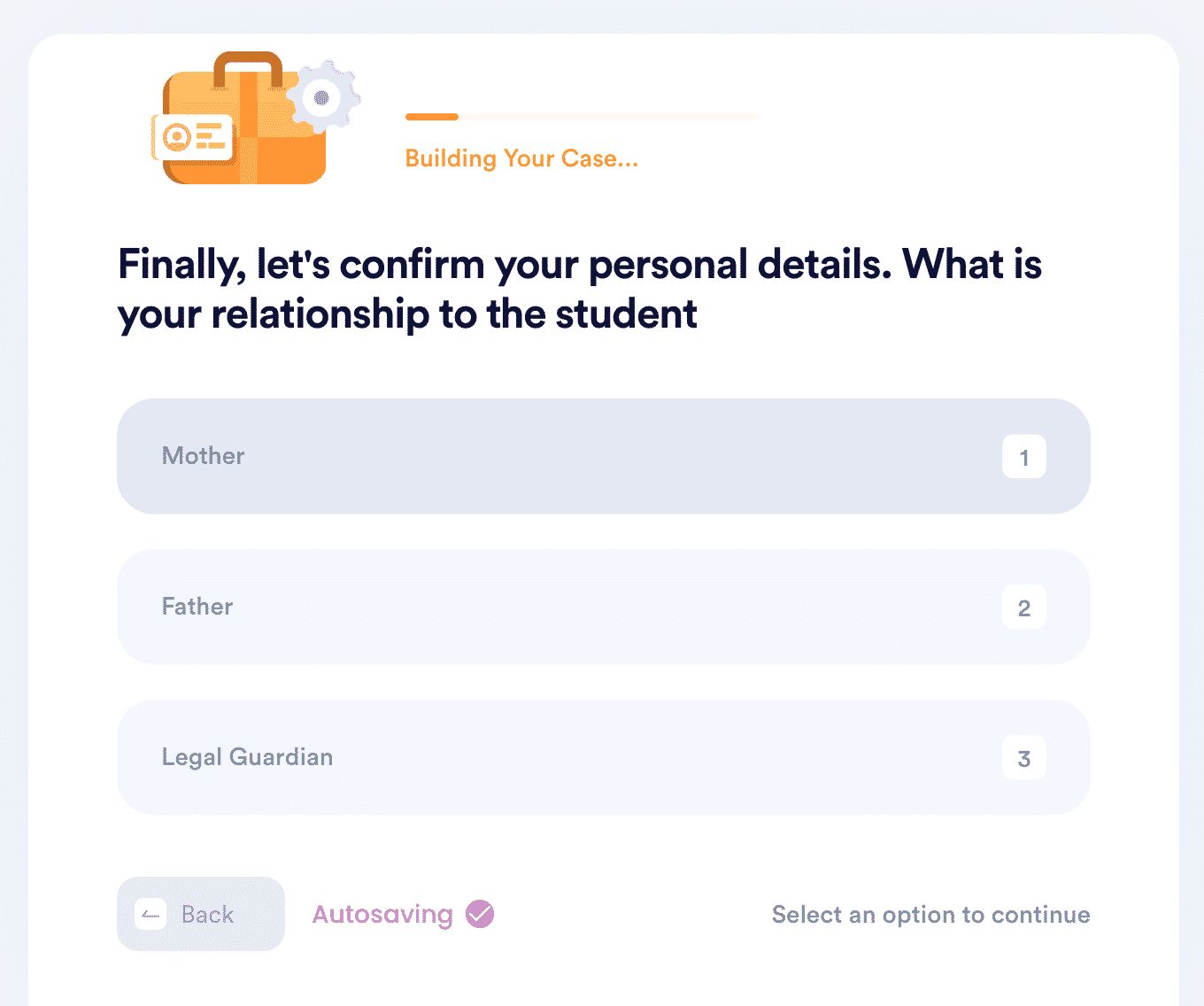 Don't Let Admin or Legal Issues Wear You Down—Hand Them Over to DoNotPay
Do you believe you may have some missing assets? Use DoNotPay's nifty product before the government claims them! Have you ever wanted to enter sweepstakes without purchasing anything? Our app will sign you up for them quickly! Trying to figure out how to reduce your property taxes or utility bills? DoNotPay can show you the way. Want to avoid getting charged for free trials that never fail to auto-renew into paid subscriptions? We'll help you cancel them before they expire.
Anything else you may need? Check out how our app can:
Check Out Our Other Robust Products
It doesn't stop there—DoNotPay can help you send a defamation demand letter, create passport photos, get gift card cash back, get any document notarized, request access to public records, claim insurance and warranty, request a college application fee waiver, appeal parking tickets, and much more.
Sign up now to get access to any of our products for one low monthly fee!