Learn All You Need To Know About MN Homeschooling Requirements From DoNotPay!
Deciding to homeschool your child is a big step and needs careful consideration to make sure everything is in place before you start.
Apart from considering the curriculum you're going to teach and the resources you'll need, you have to make sure you comply with all the legal requirements in your state.
In Minnesota, there are a few hurdles to jump over before you can begin homeschooling as an alternative to keeping your child in the public school system. DoNotPay has all the info you need on MN homeschooling requirements—we can make sure you get off to a flying start!
The Basics of Minnesota Homeschooling
Minnesota is not the easiest state to homeschool your child in, but the process is manageable if you prepare adequately.
If you are a parent with the intention of homeschooling your child, Minnesota regards you as automatically qualified to teach. You are allowed to engage somebody else as a homeschool teacher, but they need to:
Be a certified teacher in MN for the relevant grade and subject
Submit to supervision by a licensed MN
Pass a teacher competency exam
Have a bachelor's degree
Be an instructor at a recognized school
You will have to keep extensive records of your homeschooling activities, including:
Examples of all the teaching material you have used
Explanations of assessment methods
Attendance registers
Samples of the student's work
How Often Do You Have To Assess Your Child in MN?
You have to have your child assessed every year under the Minnesota homeschool laws, using a standard test recognized by the state education authorities.
The test has to be carried out at a time and place agreed upon between you and your school district superintendent, and your child's results will be carefully monitored to make sure they do not have any learning difficulties.
You can get around the annual testing requirement by having your homeschool accredited by a recognized accreditation agency, which can also help with your filing and reporting obligations.
What Curriculum Do I Have To Follow in Minnesota?
Minnesota stipulates that your child has to learn the following subjects:
Reading
Writing
Math
Science
History
Geography
Literature
Fine arts
Economics
Government and citizenship
Health and physical education
Within this framework, the state requirements for how much of each subject should be taught are:
School Level
Teaching Frequency
Elementary
All subjects should be taught each year
Middle
High
Each subject should be taught for at least one high school year
Much of the fine-tuning of your curriculum will be determined by the scope of the test your child will have to take at the end of the year—if your child performs below the 30th percentile in a subject, they risk being forced to take remedial lessons in that discipline to be able to progress.
How To Choose the Right Curriculum in Minnesota
The most important part of homeschooling your child is having a curriculum that is age-appropriate and compliant with the requirements of the annual standardized tests.
Your options for getting the right curriculum are:
Developing a Curriculum Yourself
If you are confident in your teaching ability and subject knowledge, you can create your own curriculum that ticks all the required boxes.
While you need to pay attention to the required subjects and the topics that could come up in the end-of-year assessment, developing your own curriculum means you can:
Work teaching around your—and your child's—schedule
Use varied teaching methods, including active learning and project-based education
Take full account of any special needs your child—or your family—may have
You will need to plan your curriculum carefully and make sure all your teaching material is in place as Minnesota has stringent reporting requirements on how your curriculum is set up.
Buying an Off-the-Shelf Package
Numerous organizations offer comprehensive curricula for every grade, and you can gain peace of mind by knowing that all the required subjects will be covered adequately.
Choosing a ready-made curriculum does limit you to a specific teaching approach, though, so your choice should be based on your:
Child's preferred learning style
Time availability
Pre-packaged curricula come at various price levels, and you may find that the most expensive option isn't necessarily the one your child will get the most benefit out of.
Do You Need To Notify Anyone That You Want To Homeschool in Minnesota?
If you have decided on homeschooling in Minnesota, you need to inform your school district by sending a letter of intent.
This must be done at least 15 days before you take your child out of school or by October 1 of each subsequent school year. You can start homeschooling at any time if you send your notification within the required timeframe.
Your letter of intent has to contain the following information:
The name, address, and date of birth of your child
The name of each proposed teacher and their qualifications, if someone else will be teaching your child
The standardized tests you will be using
You also need to submit immunization records at age seven and again in grade seven.
Getting your letter right is a make-or-break for ensuring that you can start homeschooling and meet the proposed requirements.
DoNotPay knows how important your letter of intent is, so we have developed a product that can and even deliver it automatically!
Start Your Minnesota Homeschool Perfectly With DoNotPay!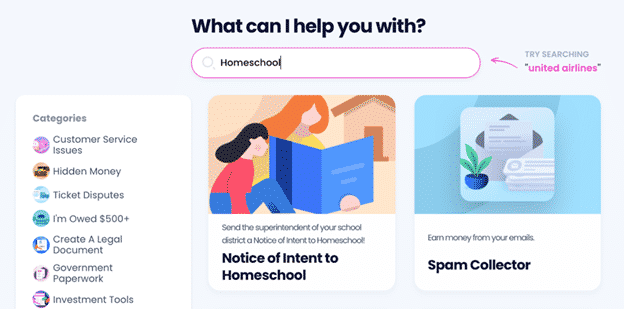 DoNotPay can help you get off on the right foot with your homeschooling in Minnesota!
Our Notice of Intent to Homeschool product creates exactly the letter you need to inform your school district that you want to homeschool your child—we will make sure all the details are correct and even deliver your letter automatically to the school superintendent.
Here's how to set your letter up:
in your web browser
Click on our Notice of Intent to Homeschool feature
Answer a few questions to give us the details we need
Your letter will be ready in no time, and you can print it out or choose to have it delivered automatically!
Notarization isn't a requirement in Minnesota, but getting that extra peace of mind is easy, too, with our online notarization service!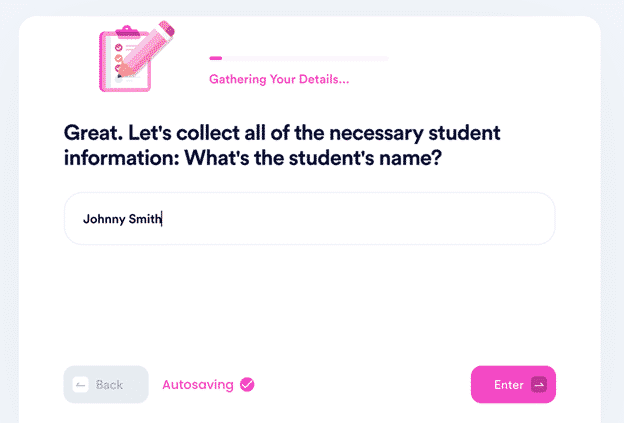 Don't Let Admin or Legal Issues Wear You Down—Hand Them Over to DoNotPay
Do you believe you may have some missing assets? Use DoNotPay's nifty product before the government claims them! Have you ever wanted to enter sweepstakes without purchasing anything? Our app will sign you up for them quickly! Trying to figure out how to reduce your property taxes or utility bills? DoNotPay can show you the way. Want to avoid getting charged for free trials that never fail to auto-renew into paid subscriptions? We'll help you cancel them before they expire.
Anything else you may need? Check out how our app can:
Check Out Our Other Robust Products
It doesn't stop there—DoNotPay can help you send a defamation demand letter, create passport photos, get gift card cash back, get any document notarized, request access to public records, claim insurance and warranty, request a college application fee waiver, appeal parking tickets, and much more.
Sign up now to get access to any of our products for one low monthly fee!