Handling Homeschooling—Special Needs Curriculum Tips To Help You Get Started
More and more parents decide to pull their children with special needs out of public or private school to homeschool due to one of the following reasons:
School system not meeting the needs of their children
Bullying
Homeschooling can be beneficial for special needs children because it allows parents to establish a supportive and inspirational learning environment at home.
To reach their full potential, kids with special needs often require one-on-one lessons and a customized homeschooling special needs curriculum.
Finding the right curriculum is one of the biggest challenges for homeschooling parents, and that's why DoNotPay has prepared this comprehensive guide.
How To Choose the Best Special Needs Homeschool
Choosing a curriculum can be a stressful experience for any family—you want to ensure that your child has access to the best educational materials available. As a parent of a special needs child, making this choice may be even more difficult. Fortunately, there are different types of curriculums available for students with various special needs, such as
Intellectual disabilities
Physical disabilities (for example, deafness, blindness, cerebral palsy, etc.)
ADHD
When assessing special needs curriculums for homeschooling, you should make sure they:
Fit the needs of your child
Are adaptable and can be used flexibly
Combine learning with fun
Develop the child's existing skills
Include multisensory materials
Keep in mind that students are not obligated to use curriculums designed for their age or grade level.
Besides buying a special needs curriculum, you can also:
Make some adjustments to a traditional curriculum—like using speech-to-text software and audiobooks. Note that the more serious your student's condition is, the more adjustments you'll need to make and the more money you'll need to spend
Create your own curriculum from scratch
What Are the Most Popular Homeschool Curriculums for Special Needs Students?
Take a look at the table below to check out some of the most popular curriculums for special needs students available in the U.S.:
Curriculum
Description
All About Reading
A complete program that teaches the following subjects:

Vocabulary
Phonics
Fluency
Decoding
Comprehension.

It offers multisensory instruction and scripted lessons

BookShark
A flexible literature-based, faith-neutral curriculum used by children with special needs
Master Books
This flexible, practical, and faith-building curriculum places emphasis on hands-on activities
Math-U-See
This is a multisensory math curriculum designed to help students learn math concepts at their own pace
Hadley School for the Blind
Being completely free of charge for eligible students, this accredited program offers over 90 distance education courses for blind students
Simply Classical Curriculum for Special Needs
A typical classical program that can be taught at a slower pace
Homeschooling a Special Needs Child
It is crucial to check out your state's homeschool laws before starting to homeschool your child.
Even though homeschooling is legal in all U.S. states, some of them have much more lenient laws than others.
While some states require you to teach specific subjects for a certain number of hours per year, others have a few, if any, requirements. In most cases, teaching your child with special educational needs at home is not subject to any additional restrictions—you'll need to follow the same guidelines as other parents who homeschool their children.
You don't need to have a degree in special education to be a homeschool teacher to a child with special needs, but many states require that you have a high school diploma or GED.
If you feel like you can't homeschool on your own, you are allowed to hire someone else to help you in most states.
When You Homeschool a Special Needs Child, Do You Need a Letter of Intent?
As soon as you decide on homeschooling your child—even if it happens in the middle of the school year—you'll need to submit a letter of intent to homeschool (in most states).
This document informs the school district superintendent that they are no longer responsible for providing education to your child and protects you from a truancy prosecution.
Take a look at the table below to find out whether submitting this document is mandatory in your state:
Learned that you do need to submit a notice of intent in your state? Sign up for our service and get your document in no time!
Use DoNotPay To Create a Letter of Intent To Homeschool
Drafting a letter of intent to homeschool is a tiring task that requires a lot of time and energy. Why waste hours of your time when we can do it in minutes!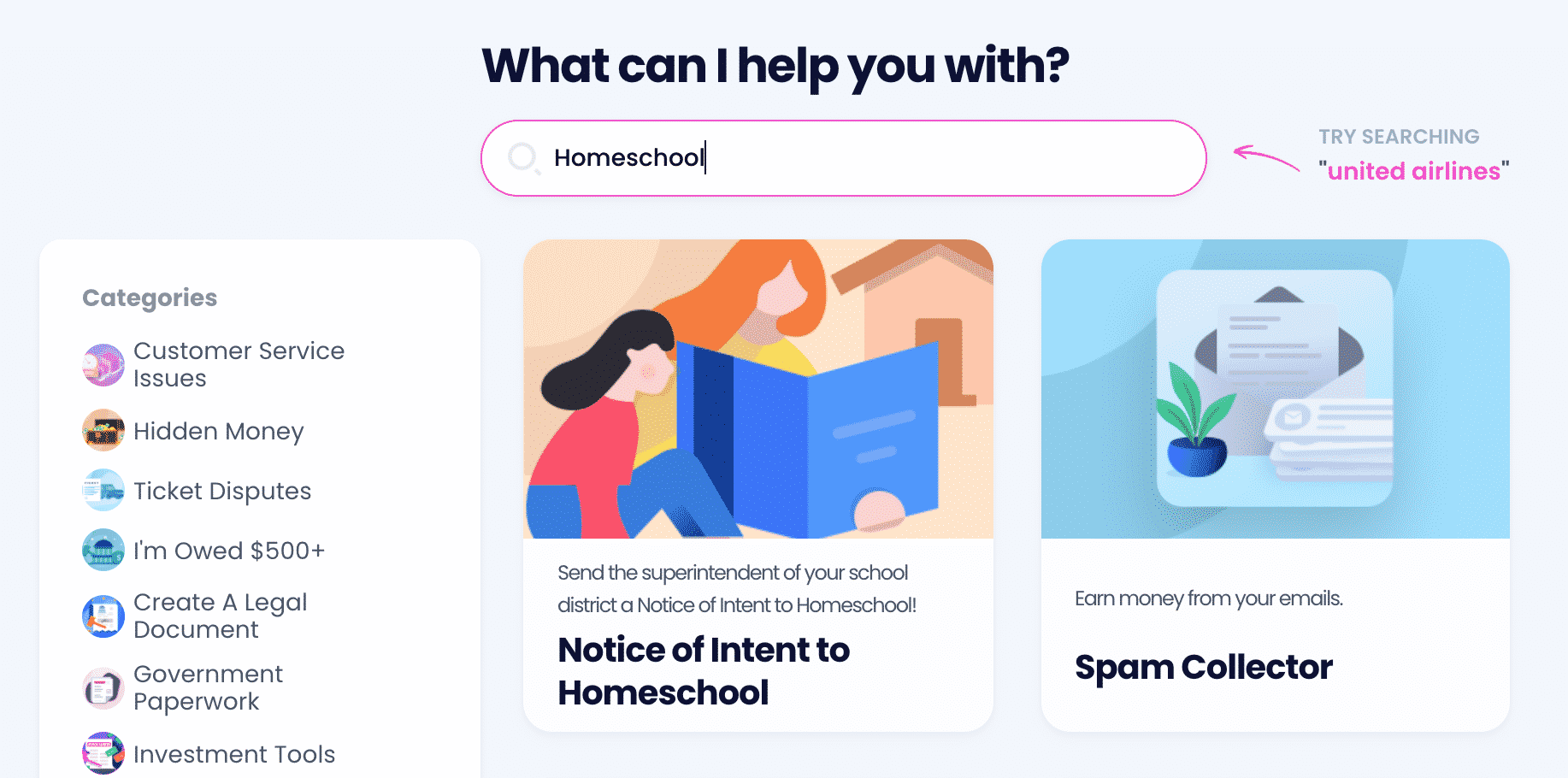 To initiate the process, follow these four simple steps:
Access your DoNotPay account from any web browser
Find the Notice of Intent to Homeschool feature
Answer a few questions from our chatbot
Hit Submit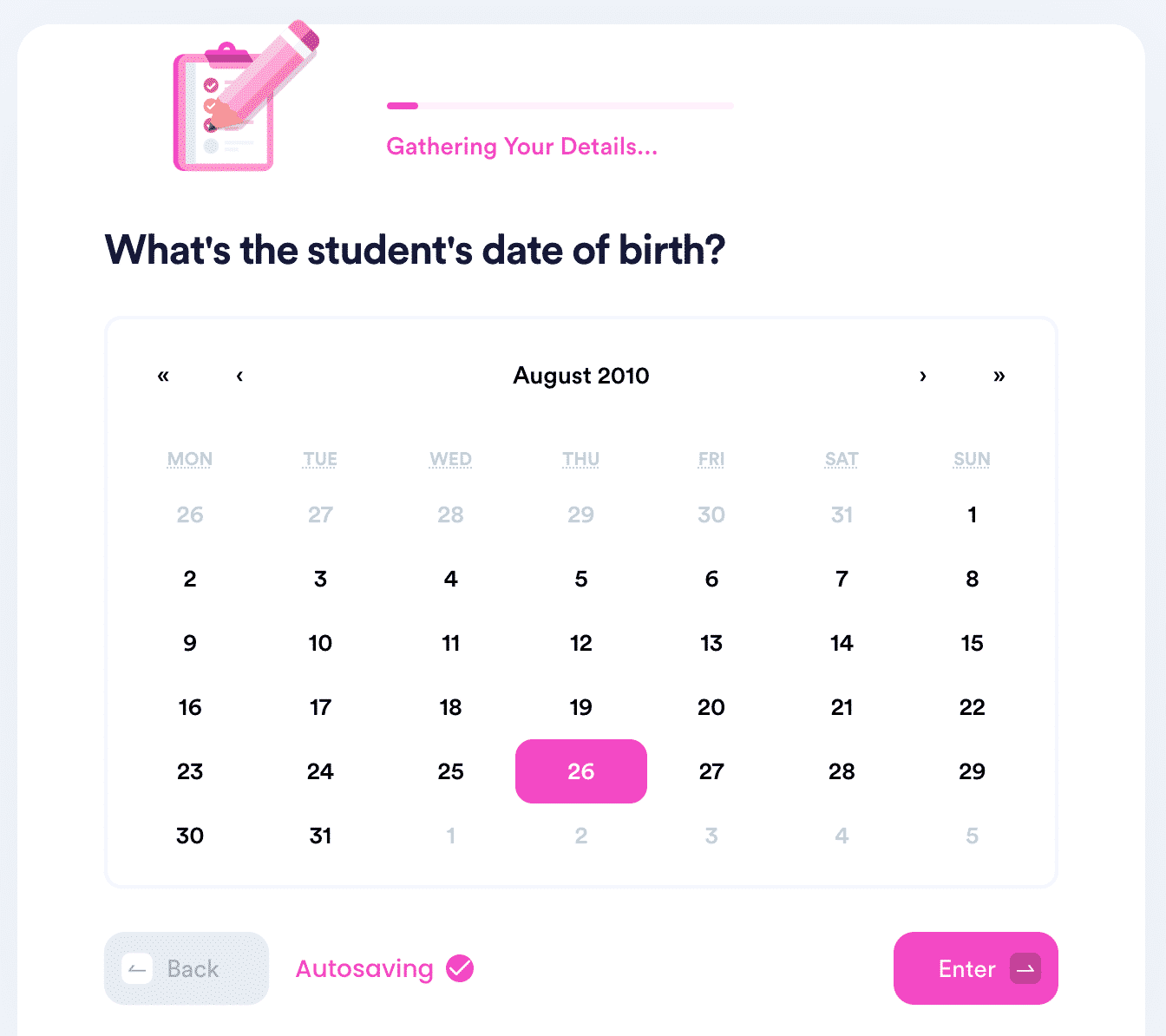 You even have the option to get the document notarized virtually with our help. We can send it to your school district on your behalf, or you can download it and send it yourself.
Resolve Any Other Issue You Have Swiftly With Our Assistance
The world's first robot lawyer is capable of tackling any legal or administrative task in your stead. We can draw up any legal document for you—including a power of attorney, child travel consent form, and divorce settlement agreement, to name just a few—help you sue any company or individual in small claims court, send a letter of warning to your noisy neighbors, help you reduce your property taxes and utility bills, and a lot more.
Sign up now if you want to stop email and text spam, claim any insurance or warranty, appeal parking tickets, schedule a DMV appointment in a flash, mail anything worry-free, find your missing assets, create passport photos, or contact embassies and consulates effortlessly.
Let DoNotPay Guide You Through Any Obstacle
Are you tired of corporations not taking their customers seriously? So are we, and that's why our nifty product will assist you in suing any company or individual in small claims court!
If you don't want to have any online service take advantage of you, you can sign up for any free trial completely risk-free with our virtual credit card's help, cancel any membership on time, and demand a refund or chargeback in a split second. DoNotPay can also draw up an airtight return request and send it to a company of your choice instantly.