Get the Best for Your Child With an Autism Homeschool Curriculum
Many parents feel that the best way to teach their autistic child is homeschooling.
The local public school system may not have the knowledge, experience, or resources to give children with autism the necessary care and teaching—which is why many parents opt for homeschooling an autistic child.
Specialist programs exist, and DoNotPay has the best advice for you to source an autism homeschool curriculum to help your child get the best education possible!
How Does Autism Affect Your Child's Learning?
Autistic children display various symptoms in the classroom that can only be addressed with care.
The most common manifestations of autism in the classroom include:
Exceptional skills at certain, limited subjects, such as math or music
Narrow focus and difficulty seeing the "big picture"
Issues with language and communication
Difficulty using body language and gestures, as well as a reluctance to make eye contact
Trouble paying attention or staying focused on things outside their interests
The result is that, under the wrong classroom care, autistic children can be withdrawn, difficult to engage with, or even disruptive toward other students.
Parents of autistic children often know best how to deal with these symptoms, which is why taking them out of school and homeschooling them has become a popular choice.
Homeschooling a Child With Autism
While traditional classroom teaching may lead to disruptive behavior in autistic children, homeschool teaching involves its own set of challenges.
You need to be prepared to:
Research the best teaching methods and curriculums for your child
Modify school hours to suit your child's attention span
Be flexible enough to change lesson plans, topics, and methods at short notice
Be honest in your assessment methods to monitor your child's progress
Depending on your child's interests and preferences, you may find you need to pay particular attention to:
Reading
Writing
Math
Reading
Autistic children often struggle with reading, finding it difficult to see meaning in groups of words.
Writing
Difficulties with coordination and struggles to express thoughts combine to make writing a challenge for many autistic children.
Math
Recent studies suggest that many autistic children are highly gifted at math but struggle to grasp the relevance of numbers to the rest of their lives.
Your homeschooling needs to take account of your child's strengths and weaknesses, attempting to create balance and comfort across the range of subjects.
How To Get the Right Homeschool Curriculum for Autistic Children
In picking any homeschool curriculum, you have to choose between:
You should consider the following points:
Curriculum Choice
Pros and Cons
Home-made
Designing your own curriculum can be the best way to guarantee that you:

Take account of your child's learning preferences
Spend the right amount of time on each subject
Find a mix of teaching approaches to keep your child's attention, such as:

It is a lot of work, though, involving:

Understanding your state's homeschool laws on the subjects you have to teach
Planning subjects, topics, and lessons effectively
Keeping records of teaching, achievements, and coursework
Preparing your child for standardized assessments, if they are required in your state

Off-the-shelf
Pre-designed curriculums are available for autistic children, but you risk not having enough flexibility to be able to accommodate your child's wishes.

Most specialized autistic curriculums provide some variation in teaching methods, but you may need to supplement these with your own input.

Bear in mind, specialized curriculums often come at a premium price, so you will have to budget for your choice of program
Are There Any Legal Requirements for Homeschooling Your Autistic Child?
Each state has its own requirements you have to fulfill to be allowed to start homeschooling your child.
The most important legislation usually concerns:
You can read up on each state's laws here:
While rules on qualifications, assessments, required subjects, and record-keeping vary greatly from state to state, most states require advance notification of your homeschooling plans in the form of a letter of intent.
This is where DoNotPay comes in—we can take this administrative burden away by !
DoNotPay Makes Homeschooling Your Child With Autism a Little Bit Easier!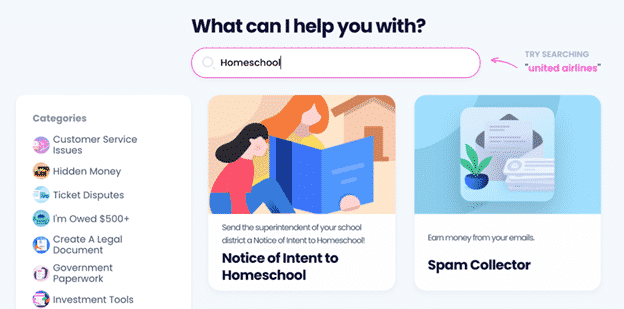 Homeschooling your autistic child will take up enough of your time and energy without you having to worry about admin tasks!
DoNotPay is here to help you get started on your homeschooling journey by generating the necessary letter of intent for your school district. We can even send it automatically in your stead!
Here's how to get your letter ready:
Click on our Notice of Intent to Homeschool feature
Fill out the brief questionnaire regarding your homeschool plan
Your letter will be ready in an instant, and you can either print it out or let us send it on your behalf.
If you need it notarized in your state, DoNotPay has that covered, too, with our online notarization service!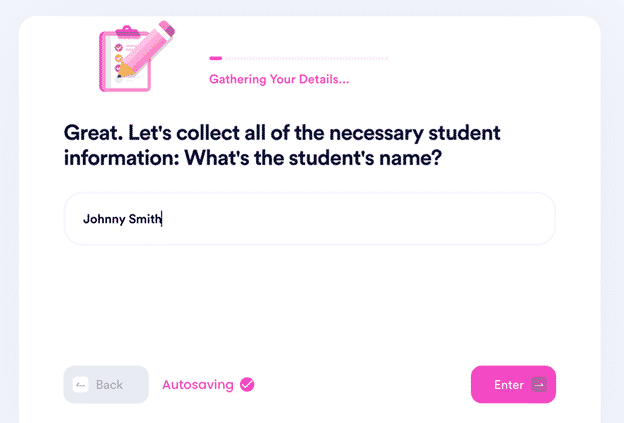 Don't Let Admin or Legal Issues Wear You Down—Hand Them Over to DoNotPay
Do you believe you may have some missing assets? Use DoNotPay's nifty product before the government claims them! Have you ever wanted to enter sweepstakes without purchasing anything? Our app will sign you up for them quickly! Trying to figure out how to reduce your property taxes or utility bills? DoNotPay can show you the way. Want to avoid getting charged for free trials that never fail to auto-renew into paid subscriptions? We'll help you cancel them before they expire.
Anything else you may need? Check out how our app can:
Check Out Our Other Robust Products
It doesn't stop there—DoNotPay can help you send a defamation demand letter, create passport photos, get gift card cash back, get any document notarized, request access to public records, claim insurance and warranty, request a college application fee waiver, appeal parking tickets, and much more.
Sign up now to get access to any of our products for one low monthly fee!