Homeschooling in CT Clarified by DoNotPay!
Choosing to homeschool your child is a decision that can be fraught with uncertainty.
As a parent, you naturally want the best for your child, but the thought of having the responsibility of teaching a school curriculum, monitoring progress, and fulfilling all the requirements can be off-putting.
Homeschooling is not difficult in Connecticut, and growing numbers of families are finding it rewarding and beneficial for students and parents alike.
DoNotPay has all the info you need on homeschooling in CT, from starting out, to curriculum choice, to assessment requirements!
Connecticut Homeschooling Laws Explained
All children aged between five and 18 have to attend school in Connecticut.
You can apply to exempt your child in the first and last grade, but you can replace public or private schooling with homeschooling at any time. Taking your child out of school is a simple process.
According to the homeschool laws, you are free to teach the child yourself, join a co-op, engage a certified teacher, or enroll your loved one in an online or virtual school. As a parent, you do not need teaching qualifications to homeschool.
What Reports and Assessments Are Required in a Connecticut Homeschool?
As a homeschool teacher, you need to keep records to prove that your student has been taught the required subjects.
Your school district may ask you to attend an annual portfolio review to check your lesson plans, hours taught, and topics covered.
The portfolio review is designed to check on your efforts as a teacher rather than your child's progress, so it is a good idea to keep track of:
Teaching objectives
Activities performed each week
Educational material used
Project documentation, such as photos, outing records, or write-ups of educational trips
Sample lesson plans
Any awards, certificates, or test results that your child has earned
The review does not track your child's academic progress, and Connecticut doesn't require homeschool students to take any standardized tests.
If you want to re-enroll your child in the public school system, though, the school you choose may want to administer a placement test to make sure your child is placed in the correct grade.
Is There a CT Homeschooling Curriculum That You Have To Follow?
Connecticut insists on you teaching the following subjects in elementary, middle, and high school:
Reading, writing, spelling, and grammar
Math
Geography
U.S. history
Citizenship
Science
Beyond these, you are free to add electives or extra subjects, and the choice of teaching method is yours.
To turn these subjects into a teaching plan for each grade, you have the choice of:
Designing Your Own Curriculum
Building your own teaching program is hard work, but it allows you to tailor-make your teaching for your child.
You can choose between teaching approaches and take the following into account:
How much time you have available
What extra subjects excite your child
How your child likes to learn
What amenities, teaching aids, and local experiential learning opportunities you have available
If you are happy with the workload involved in developing your own curriculum, this can be an immensely rewarding exercise for both you and your child.
Buying a Pre-Designed Program
Pre-packaged curriculums are easy to find and span the range of teaching methodologies and special needs, including:
Each curriculum comes at a price, and you are tied to the teaching approach your curriculum of choice uses, but an off-the-shelf curriculum takes a lot of the legwork out of homeschooling.
How Do You Get the Ball Rolling in CT?
Once you are settled on the idea of homeschooling, your next move is to tell your school district of your intention to homeschool.
This involves sending a letter of intent to your school superintendent containing:
Your child's name, address, and school grade
Both parents' contact details
A summary of your proposed curriculum
The letter has to be hand-delivered or sent by certified mail at least ten days before you remove your child from school, and it must be renewed each year.
This can be a difficult letter to get right, and any mistakes or omissions could result in your child being declared a truant once they leave school.
DoNotPay has a solution—we can and make sure it is sent automatically if you wish!
DoNotPay Removes the Barriers to Homeschooling in Connecticut!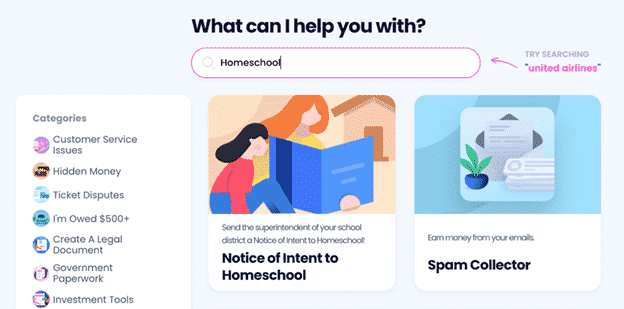 DoNotPay is here to smooth your homeschooling path in Connecticut!
Our Notice of Intent to Homeschool product creates the letter you need to tell your local school authorities of your homeschooling plans.
Here's what you need to do to get your letter created:
Click on our Notice of Intent to Homeschool feature
Answer our on-screen questionnaire regarding your homeschool plan
That's it—your letter will be ready in a flash for you to print and send or have delivered automatically by DoNotPay.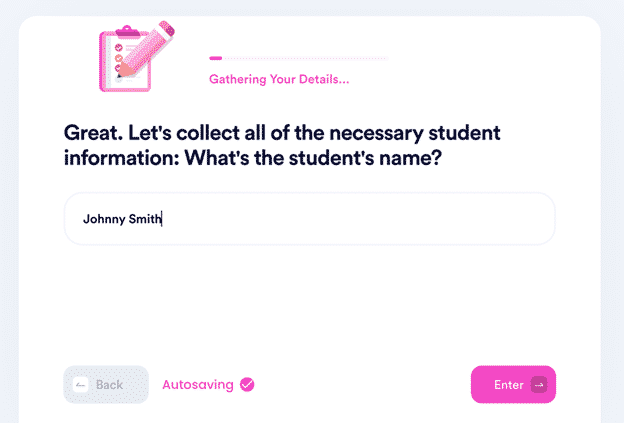 Don't Let Admin or Legal Issues Wear You Down—Hand Them Over to DoNotPay
Do you believe you may have some missing assets? Use DoNotPay's nifty product before the government claims them! Have you ever wanted to enter sweepstakes without purchasing anything? Our app will sign you up for them quickly! Trying to figure out how to reduce your property taxes or utility bills? DoNotPay can show you the way. Want to avoid getting charged for free trials that never fail to auto-renew into paid subscriptions? We'll help you cancel them before they expire.
Anything else you may need? Check out how our app can:
Check Out Our Other Robust Products
It doesn't stop there—DoNotPay can help you send a defamation demand letter, create passport photos, get gift card cash back, get any document notarized, request access to public records, claim insurance and warranty, request a college application fee waiver, appeal parking tickets, and much more.
Sign up now to get access to any of our products for one low monthly fee!