Virginia Homeschool Laws From A to Z
Home-based education is legal in all 50 states, but homeschooling laws differ throughout the U.S. Before you embark on the homeschool journey, you need to learn about the specific requirements in your state.
If you want to teach your child at home in the Mother of States, you can count on to break down Virginia homeschool laws. We can also help with the initial paperwork and send a notice of intent to homeschool to the superintendent of your school district.
What Are Your Options for Homeschooling in Virginia?
If you want to teach your child at home in Virginia, you have four options available. You can homeschool:
Under the home instruction
With a religious exemption
With a certified tutor
Under the private school option
Homeschooling Under the Home Instruction in Virginia
To homeschool under the home instruction in Virginia, you must:
Possess home instructor qualifications— You can enclose a high school diploma (or higher degree) or a current Virginia teacher's license
Provide an annual evaluation—You have to provide an evaluation showing your child's development and progress. This document must be submitted before August 1 in the form of:

Results of any nationally-normed standardized achievement test (ACT, SAT, or PSAT score)
An evaluation letter from a person licensed to teach in any state, or an individual with a master's degree or higher stating that your child is showing academic progress
A report card or transcript from a college or community college or home-education correspondence school
Homeschooling With a Religious Exemption in Virginia
Under Virginia law, any school board must excuse a child from school if the child and their parents have specific religious beliefs. To have your child homeschooled under this option, you need to complete these steps:
File a religious exemption application letter to your school board
Get a reply to your letter
Exempt any other children
If needed, you can reapply next year.
Homeschooling With a Certified Tutor in Virginia
Virginia law allows other people to homeschool your child if you don't feel competent to do so yourself or don't have time. Any individual holding a current Virginia teacher license has the right to ask the school superintendent to approve them as a tutor. When that person receives the approval, they can tutor any student (including their children).
Homeschooling Under a Private School Option in Virginia
According to Virginia law, private school students can attend classes without being physically present at school. To make this possible, the child needs to attend the school:
For the same number of hours per day and days per year as attending students
During the same period as other students
Other Virginia Homeschool Requirements You Should Know About
Additional rules apply if you decide to homeschool your child in Virginia. Check out the table below for more details:
| Virginia Homeschool Requirements | Details |
| --- | --- |
| Attendance age | Children between five and 18 need to attend school |
| Subjects required | There are no mandatory subjects you should teach your child |
| Curriculum | You get to choose the homeschool curriculum |
| Teacher qualifications | There aren't any unless you choose to homeschool with a certified tutor |
How To Start Homeschooling in VA—Notifying the Authorities
Virginia law requires parents to send a notice of intent to homeschool before they begin teaching their children at home. You must send this letter to the superintendent of your school district every year by August 15.
If you are not sure how to create this legal document or don't have time to do so, you can count on DoNotPay for help!
DoNotPay Creates a Letter of Intent To Homeschool in the Blink of an Eye
Writing the letter of intent can be a dull and time-consuming task, but DoNotPay can take over this chore! We create the notice of intent for you easily and without trouble. You only need to:
Select our Notice of Intent to Homeschool product
Answer a few questions about your home school district
Give us the essential info about you and your child
Once you complete the questionnaire, you can download the PDF and send it to the superintendent. If you prefer, DoNotPay can mail the letter in your stead. You can also have your letter of intent notarized if the local laws mandate this step!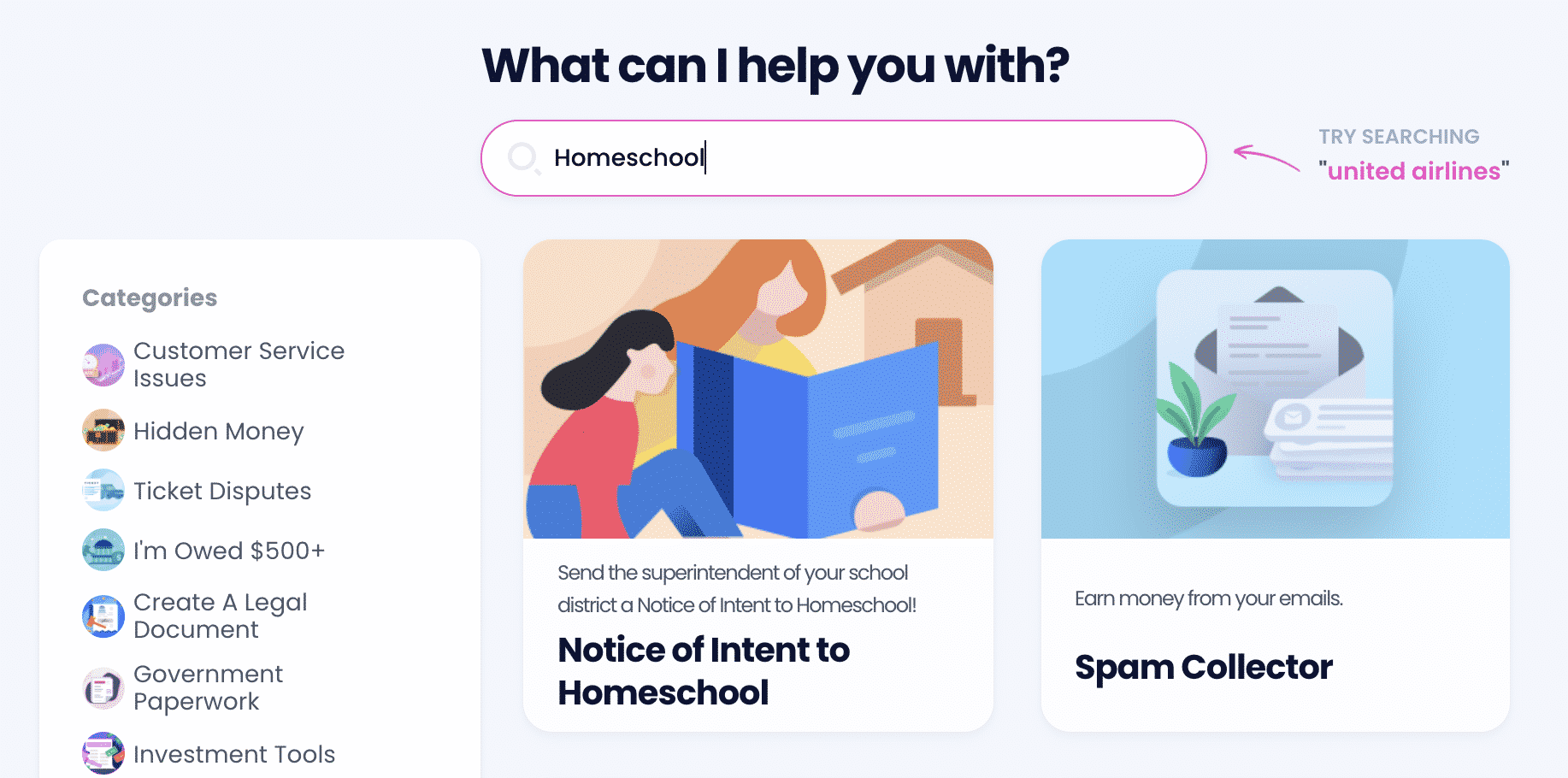 DoNotPay offers other homeschooling info you'll find helpful. Here are some burning questions we can answer:
Can DoNotPay Help Me With Any Other Admin or Legal Issue? You Bet It Can!
DoNotPay's robust products can assist you in fighting companies, individuals, and institutions that have wronged you in any way. Once you subscribe to our platform, we'll ensure that you never have to deal with any of the following again:
Our Product Range Offers So Much More
Subscribing to DoNotPay will bring you peace of mind as you won't have to go through tedious task completion on your own anymore. With our AI-powered app, you can get what's rightfully yours in the blink of an eye.
If you want to claim warranty or insurance, find your missing assets, get compensated for a canceled flight or a violent crime that you were a victim of, track your missing parcel, or draw up a child travel consent form, divorce settlement agreement, power of attorney, or any other legal document, you can count on us to lend you a helping hand.
Sign up today to get access to the entirety of our product range and forget about dealing with time-consuming and energy-draining chores!