Homeschooling in WV Can Be an Excellent Option for Your Family
Teaching your child at home can be a life-changing experience for the whole family. All you need is the right information about state laws to know how to get started, what is required, and how much it will cost.
If you're wondering what you should know about homeschooling in WV, this article outlines the regulations and offers a few practical tips for teaching at home in West Virginia.
How To Start Homeschooling in West Virginia
If you're thinking about homeschooling in WV, you have two options to kickstart it:
Get approval from a school board for homeschooling
Each option imposes different requirements for homeschool curriculum, qualifications, and recordkeeping.
Check out the table below for more details:
Get Approval From a School Board for Homeschooling
Submit a Notice of Intent to Homeschool

Present your chosen curriculum and instruction to your local school board for approval
Provide instruction for a minimum of 180 days every year
Homeschool your child in a location the school board approves
Provide:

Attendance records
Progress information

Use the assessment method the school board imposes

Keep in mind that:

The school board can reject your homeschooling request
Not a lot of families opt for this homeschooling option

Notify the superintendent of the school district of your intent to homeschool every year
Offer evidence that you—or someone else who'll homeschool your child—have at least a high school diploma
Present an outline of your annual plan of instruction
Provide evidence that your homeschooled student is receiving instruction—You need to do it by June 30 every year

Keep in mind that most homeschool parents in WV choose to send a notice of intent because this option:

Offers more flexibility
Has more lenient rules
WV Homeschool Recordkeeping
To fulfill WV homeschooling requirements, you must:
Keep copies of your child's education assessment for three years
Submit the results of the assessment for grades 3, 5, 8, and 11 to the superintendent of your county by June 30
You can create a homeschool portfolio to keep track of your child's progress. Here's what your portfolio should include:
Test results
Covered instruction
Samples of your kid's work
A list of covered homeschool subjects and topics
If your child is in high school, you might also want to create a homeschool transcript because it will be handy when the time comes for college.
How To Homeschool in WV—Start With a Letter of Intent
If you choose the second option according to WV homeschooling laws—i.e., filing a homeschool letter of intent—include the following details:
Your child's name, age, and address
A homeschool teacher credentials (a high school diploma is a minimum)
An outline of your instruction plan together with a statement confirming that your kid will study:

Reading
Language
Mathematics
Science
Social studies

Confirmation that your student will get an annual assessment in the form of a:

Nationally normed standardized achievement test
Standardized test provided in your local school system
Evaluation by a certified teacher
Keep in mind that you should:
Send the notice of intent to either the county's board of education or superintendent of education
Formally withdraw your child from their current school when you start homeschooling
With so many administrative tasks to handle, you may need some help at the beginning of your homeschool journey. Register for DoNotPay to generate a letter of intent in a matter of minutes!
Create a Reliable Notice of Intent To Homeschool With DoNotPay
If you're not familiar with state and local homeschool regulations, you should turn to DoNotPay.
We know what requirements you need to meet and will ensure your notice of intent ticks all necessary boxes.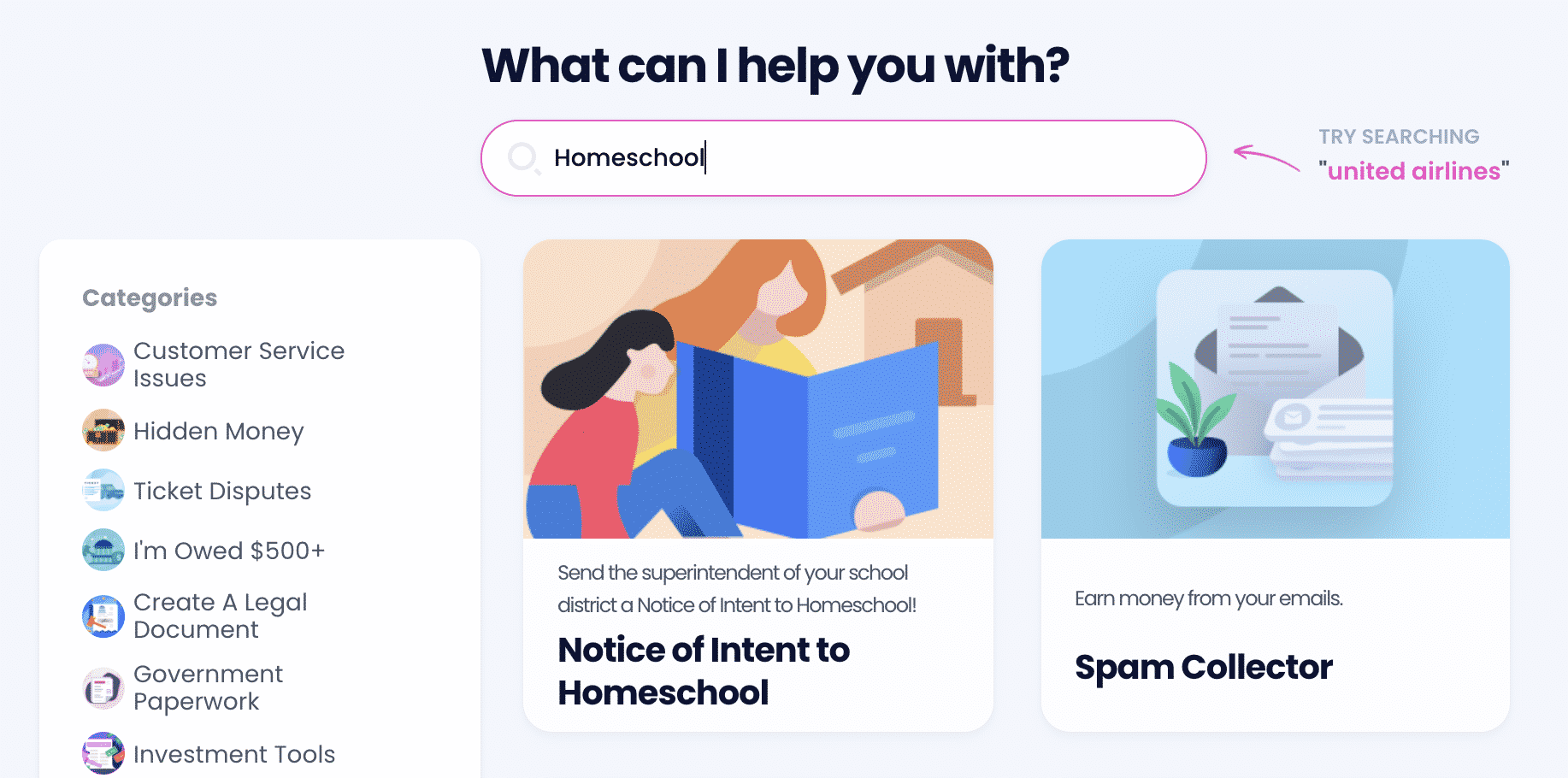 Your only task is to:
Choose the Notice of Intent to Homeschool product
Enter information about your child and yourself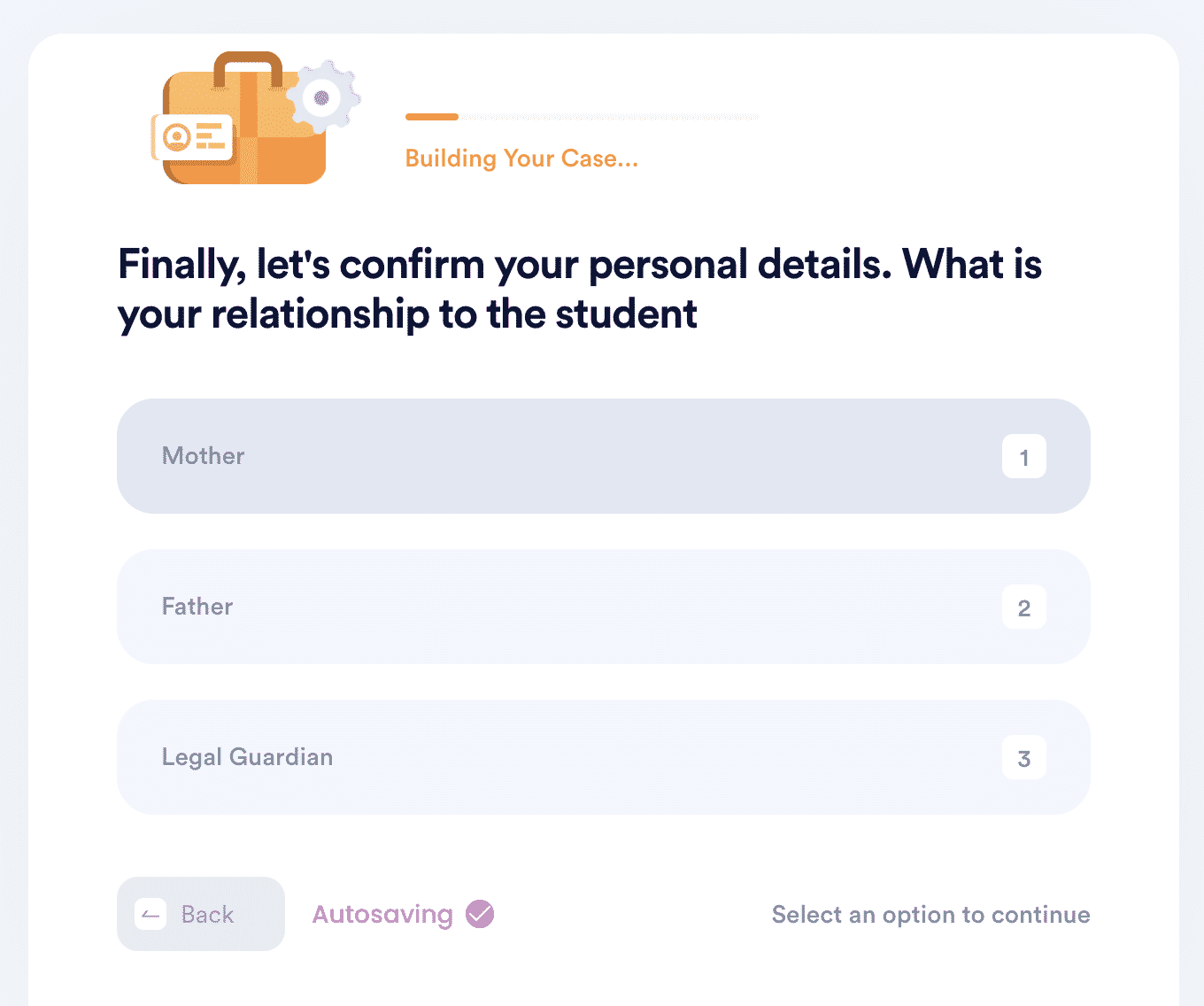 Besides providing a PDF version of the document, DoNotPay can also:
Help you have the notice of intent notarized online
Send your letter of intent to the appropriate institution on your behalf
Learn More About Homeschooling
Whatever the reason behind the decision to take your child out of traditional school, teaching at home can be highly beneficial and rewarding, but you should understand that the process is demanding and requires dedication.
Would you like to learn more about homeschooling before you decide? DoNotPay offers definitive answers to many burning questions about home-based education, including:
Can DoNotPay Help Me With Any Other Admin or Legal Issue? You Bet It Can!
DoNotPay's robust products can assist you in fighting companies, individuals, and institutions that have wronged you in any way. Once you subscribe to our platform, we'll ensure that you never have to deal with any of the following again:
Our Product Range Offers So Much More
Subscribing to DoNotPay will bring you peace of mind as you won't have to go through tedious task completion on your own anymore. With our AI-powered app, you can get what's rightfully yours in the blink of an eye.
If you want to claim warranty or insurance, find your missing assets, get compensated for a canceled flight or a violent crime that you were a victim of, track your missing parcel, or draw up a child travel consent form, divorce settlement agreement, power of attorney, or any other legal document, you can count on us to lend you a helping hand.
Sign up today to get access to the entirety of our product range and forget about dealing with time-consuming and energy-draining chores!