NC Homeschool Deets
If you're still unsure whether to homeschool your child, you should get the information on state laws to know how to get started and understand the basic rules of home-based education.
What NC homeschool requirements do you need to pay attention to? DoNotPay analyzes relevant aspects of the process and provides practical tips for dealing with the necessary paperwork smoothly.
How To Start Homeschooling in NC
You can start homeschooling in North Carolina as soon as your child turns seven. Aside from meeting this homeschooling requirement, you'll also need to take the following steps:
Submit a notice of intent to homeschool
Provide evidence that you—as a homeschool parent—have a high school diploma or equivalent
Name your school
Pick a homeschool curriculum
You should file your notice of intent with the North Carolina Division of Non-Public Education (NCDNPE).
NC Homeschool Laws
Although North Carolina is not on the list of the easiest states to homeschool in, the process won't be too demanding with the right info.
Here's a list you should follow:
Steps To Take
Details
Register to homeschool in NC
Once you've notified the NCDNPE of your intent to homeschool, take the following steps:

Keep attendance and immunization records of your homeschool student
Have your child take a standardized test every year
Keep the test results for at least one year
Teach for a minimum of nine months each school year (you should keep track of homeschool hours)

Keep the records
While you don't have to file the homeschooling records unless the NCDNPE requests them, you should maintain a homeschool portfolio including:

School report cards or assessments
Scores of standardized tests your child takes every year
High school transcript for your student when in grades 9–12

You should keep the above-listed information in case your child:

Returns to regular school
Applies for college after homeschooling
A Notice of Intent To Homeschool in NC
If you want to homeschool a child between seven and 16 years of age, you need to file a notice of intent by July 1, even if you are going to start educating at home in the middle of the year.
Your notice of intent needs to include the following information:
Your high school diploma or GED
Name and address of your homeschool
The administrator's name
Keep in mind that while you don't have to renew your intent to homeschool every year, you have to inform the NCDNPE if:
The homeschool address changes
You decide to close your homeschool, i.e., if you either:

Stop homeschooling your child
Move to another state
You should also be aware that in case your home school doesn't fulfill all legal requirements:
The NCDNPE will inform the superintendent of your school district
The superintendent will take further measures
to create a reliable notice of intent to homeschool and thus avoid potential problems and delays. Let us deal with the legal requirements so that you can focus on the most suitable curriculum and teaching methods!
DoNotPay Can Deliver a Watertight Notice of Intent To Homeschool in NC
We understand how important the letter of intent is in the homeschooling process. As our AI-powered app knows state laws, we can help you get a valid notice of intent to homeschool in a matter of minutes!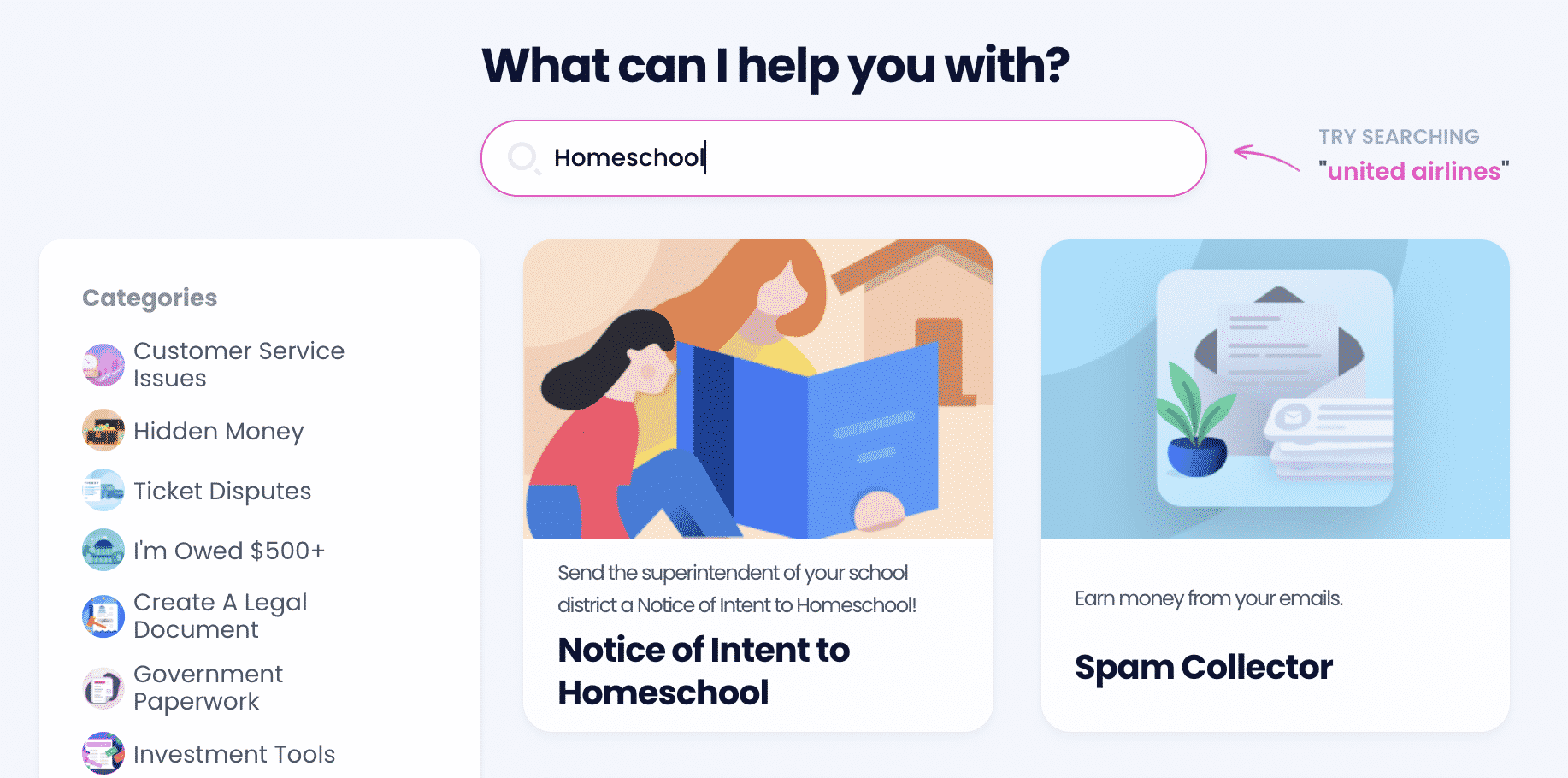 and take the following steps:
Access the Notice of Intent to Homeschool product
Provide data about your student, school district, and yourself
State if you'd like to:

Get the letter notarized
Have DoNotPay send the notice of intent on your behalf
Receive the letter in PDF format to file it yourself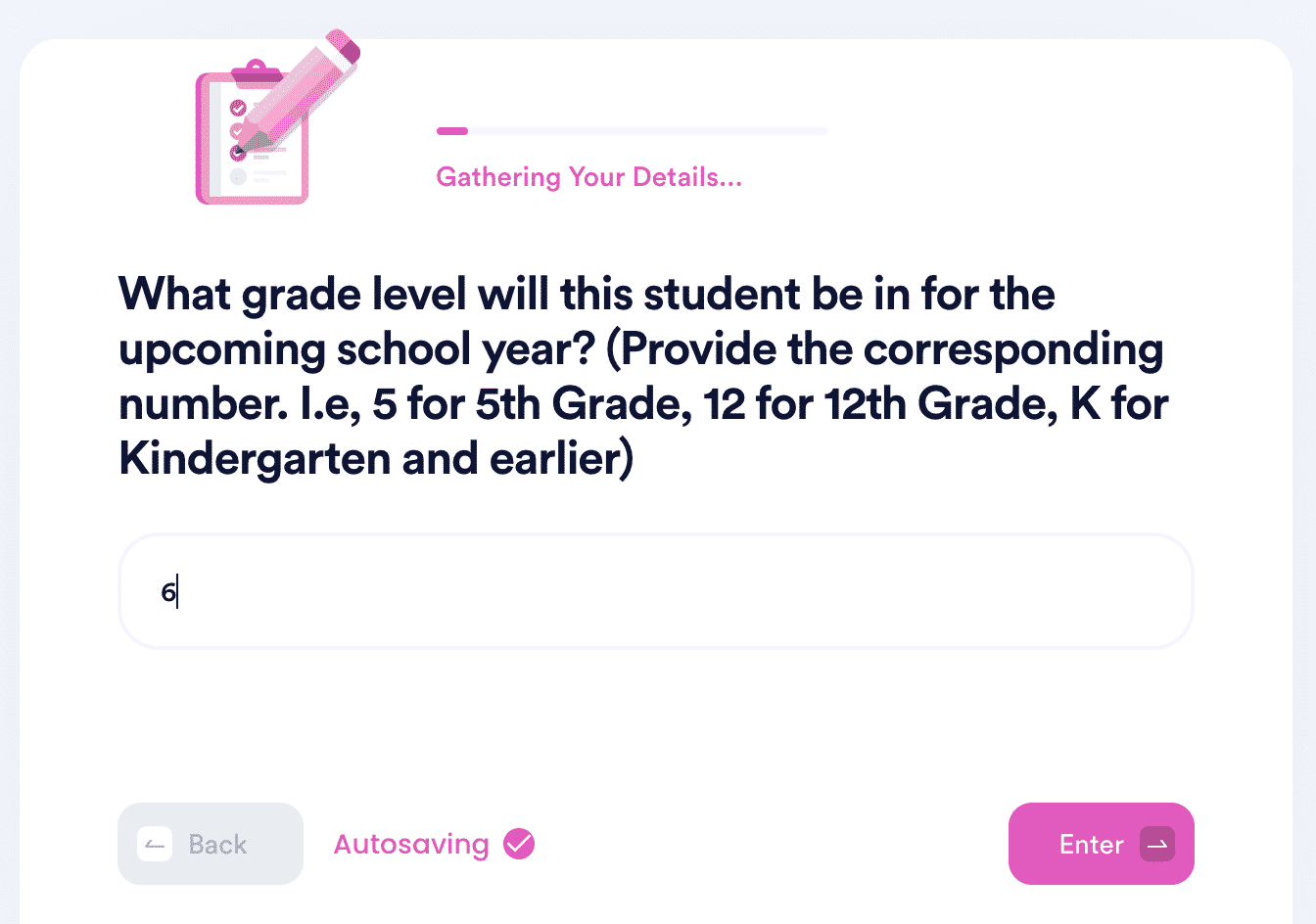 North Carolina Homeschool Requirements for Graduation
If you're not sure what graduation requirements you need to fulfill when homeschooling in NC, take a look at the following list:
Diploma—You choose when your kid has met graduation requirements to issue them a homeschool diploma
Testing—There are no graduation testing requirements for homeschool students
Transcripts—While you can create a transcript yourself, you should make sure to include all information you find relevant for your child's future path, i.e.:

College
Workplace
Military

GED and HiSET eligibility—If you'd like your child to earn a state-issued high school equivalency, they can take two nationally recognized assessments tests—GED or HiSET
Course credits—Since you're the one determining whether your child has met graduation requirements, you could assign credits to each course when creating transcripts
How To Keep Up To Date With NC Homeschooling Rules
If you'd like to get valid information on how to homeschool your kid, you could join an NC homeschool association or a co-op.
It's an excellent way to learn and share information on costs, available NC homeschool curricula, and the best resources to use for teaching.
If home-based education turns out to be too strenuous, these organizations and groups can help you find someone else to homeschool your kid because they offer support to homeschooling families. They also host and organize:
Conventions you should attend
Field trips, sports, and other extracurricular activities your child can take part in
Use DoNotPay's Website To Find Relevant Homeschooling Info
Do you want to get additional information on homeschooling? Turn to DoNotPay to find out:
There Is No Shortage of Tasks DoNotPay Helps You With
If you find finishing administrative tasks tedious, you can rely on our app to assist you through the entire process and make it a smooth-sailing experience. Check out the table below to find out what DoNotPay can help you do:
| Deal With Companies By | Get Rid of Pesky Spammers By | Get Help With Your Studies By |
| --- | --- | --- |
| | | |
Buried in Paperwork? Not for Long!
Is creating legal documents giving you a migraine? Not everyone is acquainted with the law and legal jargon, which is necessary when writing documents, such as:
Divorce settlement agreements

Powers of attorney
Luckily, DoNotPay can draft your legal documents in minutes! Why waste hours doing it yourself or hire a lawyer when you can have our app do it in no time?
Creating anonymous HR complaints and demand letters for your inconsiderate neighbors is also something our app does best!