DoNotPay Breaks Down Homeschooling in D.C. for You
Thinking of homeschooling your child? If you don't know where to start, look no further! DoNotPay's simple-to-follow guide will prepare you for homeschooling in D.C. and tell you all the key details you need!
In our other articles, you can find about what homeschooling costs to expect, who can homeschool your child, and when to take your kid out of the school. Read more and learn what the easiest states to homeschool in are, and find out the truth behind some of the most popular myths about homeschooling!
Requirements for Homeschooling in D.C.
There are only a few requirements for homeschooling in D.C., which makes it one of the easiest states to homeschool in. To comply with all the laws, you will need to:
Be qualified to homeschool
Teach your

student

regularly
Teach the required subjects
Maintain a portfolio
Being Qualified To Homeschool
To homeschool your kids in D.C., you will need to have a high school diploma or its equivalent. If you don't have the required qualifications, you can file a waiver with the Office of the State Superintendent of Education (OSSE). The waiver needs to contain evidence that you can provide your student with a thorough education.
To determine whether you are certified enough to homeschool, contact OSSE by sending them an email at OSSE.Homeschool@dc.gov.
Teaching Your Students Regularly
In D.C., you don't have to teach the same amount of hours as public or private schools, but you should provide instruction while schools are in session. This way, your child will receive thorough and regular education.
Teaching the Required Subjects
You must teach the following subjects:
Language arts
Mathematics
Science
Social studies
Art
Music
Health
Physical education
Maintaining a Portfolio
D.C. homeschool laws require you to maintain your child's portfolio of homeschooling material. It needs to contain evidence of the student's work, such as workbooks, assessments, and other materials that can prove they're engaged in various educational activities.
The portfolio has to be maintained for one year and should be reviewed when there's a reason that your child isn't receiving sufficient education.
The OSSE can review your child's portfolio twice a year at a time and place that's mutually agreeable for both sides. If they determine that the student isn't receiving regular education, your child must be enrolled in school within 45 days.
How To Start Homeschooling in D.C.
Once you meet all the requirements for homeschooling in D.C., you will need to withdraw your child from school and file a letter of intent to homeschool at least 15 business days before the first date of your instruction.
By submitting this notice, you will notify the OSSE and the superintendent of your local school district of your wish to homeschool your child. The letter needs to contain important information about your child, curriculum, etc.
For parents that wish to continue a homeschool program, they must complete a Notification of Homeschool Continuation by August 15.
Getting a Letter of Intent To Homeschool
If you want to obtain a letter of intent to homeschool, you can either hire a lawyer to draw one up for you or write one yourself. The first option is incredibly expensive, while the latter is time-consuming.
Need an affordable alternative that will enable you to obtain the notice in no time? ! We'll generate this important document for you easily, and we can even send it in your name.
How To Use DoNotPay and Obtain a Tip-Top Letter of Intent To Homeschool Easily
DoNotPay is your go-to solution if you need a letter of intent to homeschool your child! Our AI-powered app isn't expensive to use, and it'll require you to follow only a few easy steps.
Here's how it works:
Select our Letter of Intent to Homeschool tool
Answer our chatbot's questions about your homeschooling plans
Hit Submit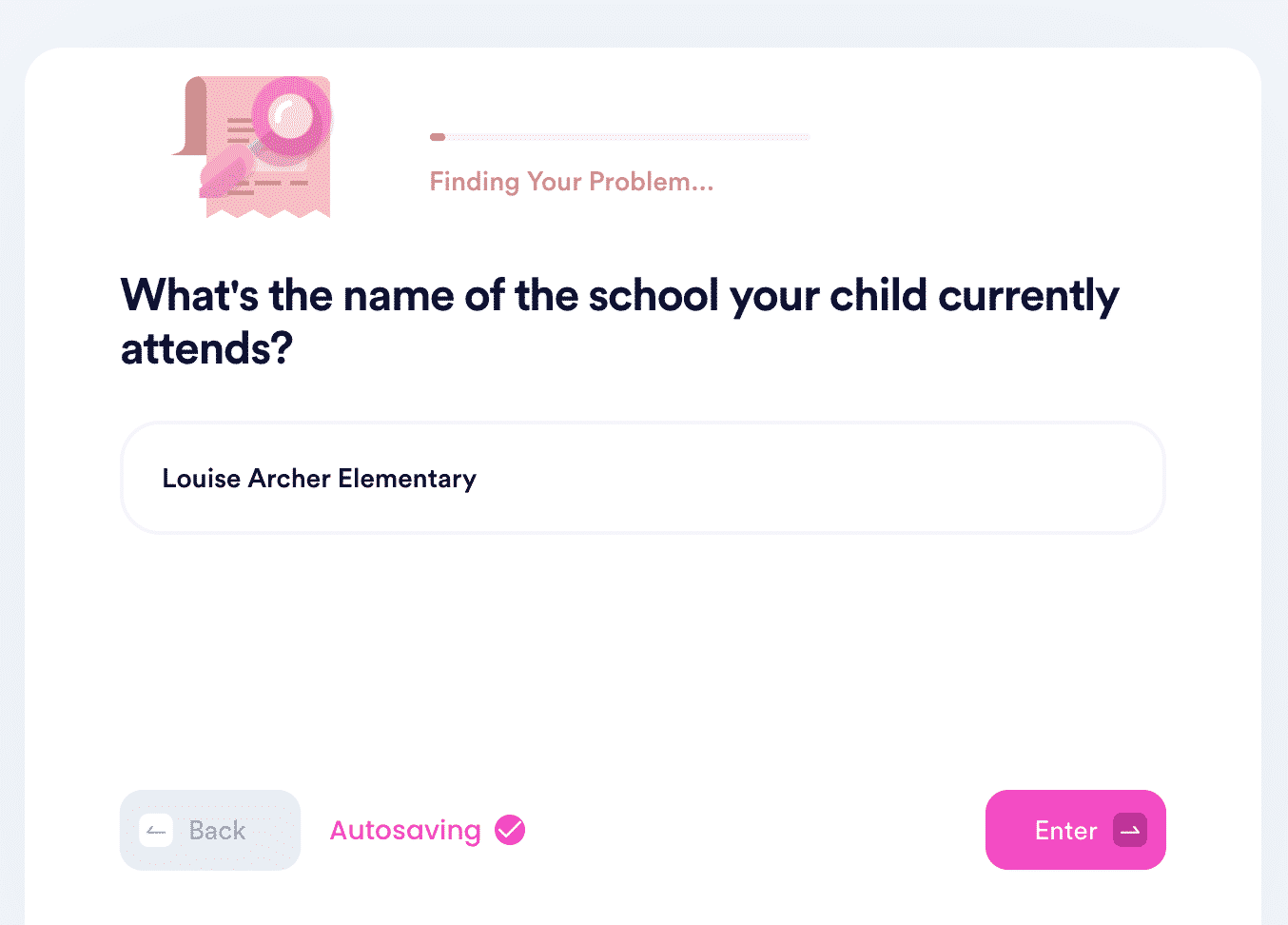 And you're done! Your letter will be ready in minutes, and you can then choose whether we forward it in your name or send it to you via email.
We can also help you with various informative articles about homeschooling, such as:
Are There Any Additional Resources for Homeschooling Parents?
Homeschooling parents in DC are eligible to use various additional resources. For more details, check out the table below:
| Resource | Explanation |
| --- | --- |
| Kids Ride Free Program | This program offers free transportation for homeschooled students. To be eligible for one, your child will need a valid ID and proof of residence in D.C. |
| D.C. Educator's Library Card | By owning this card, your child will enjoy various benefits, such as librarian support or extended borrowing times |
| Sports Participation | If you want your child to participate in various sporting activities, you should check out the D.C. State Athletic Association's website |
Discover DoNotPay's Solutions to Mundane Tasks
Our product range doesn't end there—we can also help you sue anyone in small claims court, cancel any subscription, start a free trial risk-free with our virtual credit card, get refunds and chargebacks, send anything through online fax, pay your utility bills, demand airline compensation, and deal with your annoying neighbors.
As soon as you sign up, we can also put an end to robocalls, copyright infringement, email and text spam, and stalkers and harassers. Our app's abilities don't stop there either—get perfect passport photos, free raffle tickets, compensation for victims of crime, or insurance or warranty quickly!
There's So Much More We Can Assist You With
Check out how else we can help—DoNotPay can:
Sign up now to take advantage of our nifty products!