Washington State Homeschool Laws From A to Z
Have you decided to homeschool your child, yet homeschooling laws and requirements seem complicated? If so, don't worry. DoNotPay is here to help you figure it out!
In this article, we explain the Washington State home school laws and help you start homeschooling, no matter if it's the beginning or middle of the year! To help you educate your child at home successfully, DoNotPay also offers nifty guides to gather info regarding different aspects of homeschooling, such as:
WA Homeschooling Laws
To start homeschooling your child in Washington State legally, you should meet the following requirements:
Washington State Homeschooling Requirements
Details
Qualifications to homeschool

Get the approval to become a homeschool teacher from a public school superintendent
Meet with a certified teacher once a week for at least one hour

Letter of intent to homeschool

Submit the letter of intent to homeschool to notify the school authorities each year by September 15. You can do that also within two weeks of the beginning of a public school semester, trimester, or quarter
Include the name, age, and grade of your child in the letter

Homeschool hours
Your child should have at least 1,000 homeschool hours (or 180 days) annually
Homeschool subjects
Teach these mandatory homeschool subjects:

Reading, writing, spelling, and language
Math and science
Social studies and health education
History
Art and music
Occupational education

Assessment records

Your child should take a standardized test approved by the state
You should have a certified teacher evaluate your child's academic progress
Other Washington State Homeschooling Requirements
Another requirement for homeschooling is to keep records, such as:
Immunization records
Assessment report or a student's test scores for each school year
Educational and instructional activities records
These records should be a part of your homeschool portfolio. Aside from that, your portfolio should include:
Curriculum you use
Student's work and completed assignments
Field trip records
Homeschool Diploma Requirements in WA
If your child or a homeschooled student wants to obtain a homeschool diploma, you will have to determine whether they fulfilled the graduation requirements. You can create high school transcripts and assign credits to individual courses your child completed.
Homeschool students aren't required to participate in a graduation test, but homeschoolers between 16 and 18 can take the GED test. Homeschooled students have to submit the notarized letter of eligibility to participate in the GED test.
Homeschool Curriculum in Washington State
Washington State allows you to choose the curriculum that fits your teaching skills and your child's needs. You will be able to combine different methods and select materials from various resources, such as:
Local public school resources
Online resources
Other homeschooling parents
Museums, libraries, and other educational institutions within your community
Washington State Homeschool Support Groups
If you're withdrawing your child from school, you might get overwhelmed with all of the requirements. That is why many parents in Washington State join homeschooling support groups and co-ops. This is a great way to learn more about homeschooling processes from someone with experience, get the support you need, and even make new friends.
Here are some of the homeschooling groups in WA:
How To Start Homeschooling in Washington State
Before you become a homeschool parent or teacher in WA, you will have to:
Meet the homeschooling qualifications
Calculate the cost of homeschooling in WA and find out whether it is possible to do it for free
Choose the curriculum that suits your child the best
Make a plan that meets requirements related to homeschool hours and subjects
Submit a letter of intent to homeschool to your school district
Submitting a letter of intent may require more time and energy than you expected. Instead of wasting hours figuring out how to formulate the letter, . Our app will draft the letter for you and help you lose all the unnecessary stress.
DoNotPay Can Help You Start Homeschooling in No Time
If you want to homeschool your child or have someone else with more experience do it instead of you, our app will be there to help you by providing a tailor-made letter of intent to homeschool.
When you , all you have to do is:
Select our Notice of Intent to Homeschool feature
Provide us with some relevant information about your school district and homeschooling plans
Hit Submit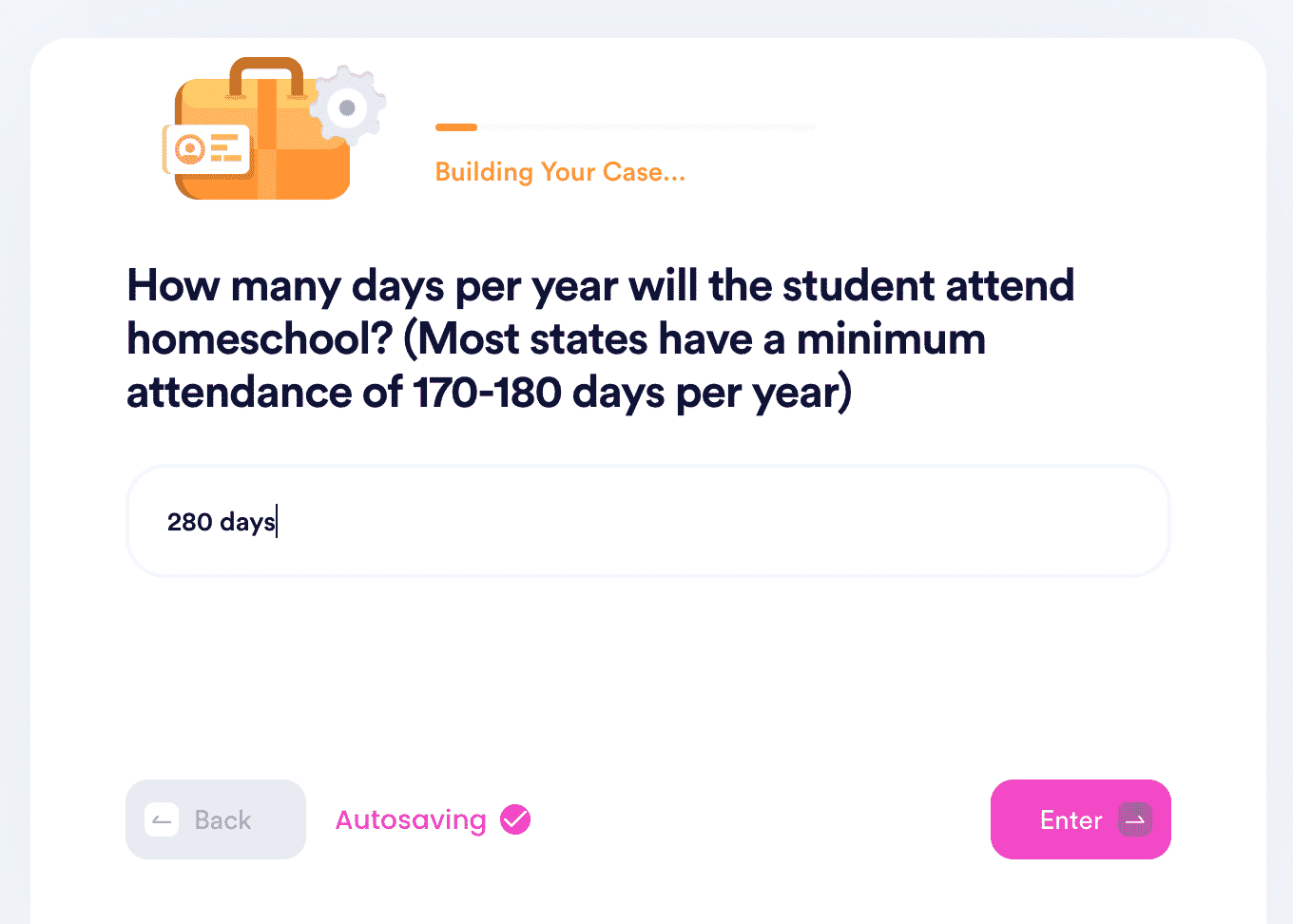 DoNotPay will generate the document within a couple of minutes, and you'll be able to choose whether you want to:
Receive your letter in PDF version via email
Let us send the letter on your behalf to the school superintendent
Discover DoNotPay's Solutions to Mundane Tasks
Our product range doesn't end there—we can also help you sue anyone in small claims court, cancel any subscription, start a free trial risk-free with our virtual credit card, get refunds and chargebacks, send anything through online fax, pay your utility bills, demand airline compensation, and deal with your annoying neighbors.
As soon as you sign up, we can also put an end to robocalls, copyright infringement, email and text spam, and stalkers and harassers. Our app's abilities don't stop there either—get perfect passport photos, free raffle tickets, compensation for victims of crime, or insurance or warranty quickly!
There's So Much More We Can Assist You With
Check out how else we can help—DoNotPay can:
Sign up now to take advantage of our nifty products!