An Extensive Guide to the Charlotte Mason Homeschool Curriculum
After deciding to homeschool your child, you must choose a suitable education method. It should fit your family schedule and your child's learning needs because an adequate plan is essential for successful home-based education.
We will explain everything about the Charlotte Mason homeschool curriculum, popular among parents throughout the U.S. DoNotPay can also assist with the initial paperwork, such as the notice of intent to homeschool.
Basic Info About the Charlotte Mason Learning Method
Charlotte Mason was a teacher and lecturer in Britain during the late 1800s. Her teaching method focused mainly on high-quality literature as she believed that education needs to involve the whole person, not only the mind. Her approach to teaching and learning proved to be highly beneficial for homeschooling families.
How the Charlotte Mason Learning Method Works
To successfully implement the Charlotte Mason method into your homeschooling routine, you will need to use:
Living books—Such books are the opposite of the traditional dull textbooks we are used to. Living books are written by an author with a passion for the subject in a spontaneous and engaging way
Narration—The child is supposed to retell a story they read or heard. When the student is young, this activity is done orally. When they get older, they should write their narrations
Nature study—The focus of this activity is observing our surroundings while on nature walks
Copywork—This is a handwriting exercise and requires children to transcribe a piece of literature
What You Should Know About the Charlotte Mason Homeschooling Curriculum
Since the Charlotte Mason method requires imagination in creating lessons, most curricula are only recommendations. Even specific curriculum packages will only include a lot of books with suggestions on how to use them.
Most homeschooling parents decide to mix the Charlotte Mason curriculum with other homeschooling programs. It allows the effective incorporation of core academic lessons and fine arts programs. If you opt to do the same, you'll provide your child with a unique and beneficial learning experience.
Benefits of Using the Charlotte Mason Learning Approach
The Charlotte Mason learning method is a perfect choice for homeschooling parents who lean towards a holistic approach to education. If done right, this learning method should equip your children with positive learning habits they can also implement in real life.
Here are some of the advantages of the Charlotte Mason method:
Making sure your children develop a love for literature and language arts
Helping children know how to express themselves properly thanks to narration exercises
Knowing that students will enjoy their lessons because they are short and engaging
Introducing children to the world of art and music from the earliest age
Teaching students to appreciate nature through interactive environment studies
Perfecting spelling and grammar via dictation exercises
How To Start Homeschooling
Whether you decide to use the Charlotte Mason method or any other learning approach, you must first check the local homeschooling laws. Some states allow significant freedom to homeschooling parents, while others are more restrictive. Check out our guides to all 50 states in the table below:
Most states require parents to send a letter of intent to homeschool to the superintendent of their school district. If you live in one such state, you can count on DoNotPay to help you create this legal document.
DoNotPay Is Here To Create a Notice of Intent To Homeschool for You
Creating a letter of intent to homeschool is a tedious task. To avoid dealing with it yourself, turn to DoNotPay. Our app will draft it in a matter of minutes and even send the letter on your behalf. If you want, you can download the document and submit it personally.
Here are the only steps to take:
Select our Notice of Intent to Homeschool product
Provide us with the info about your school district
Answer a few questions about you and your child
If you wish, you can also have the letter of intent notarized with DoNotPay's help!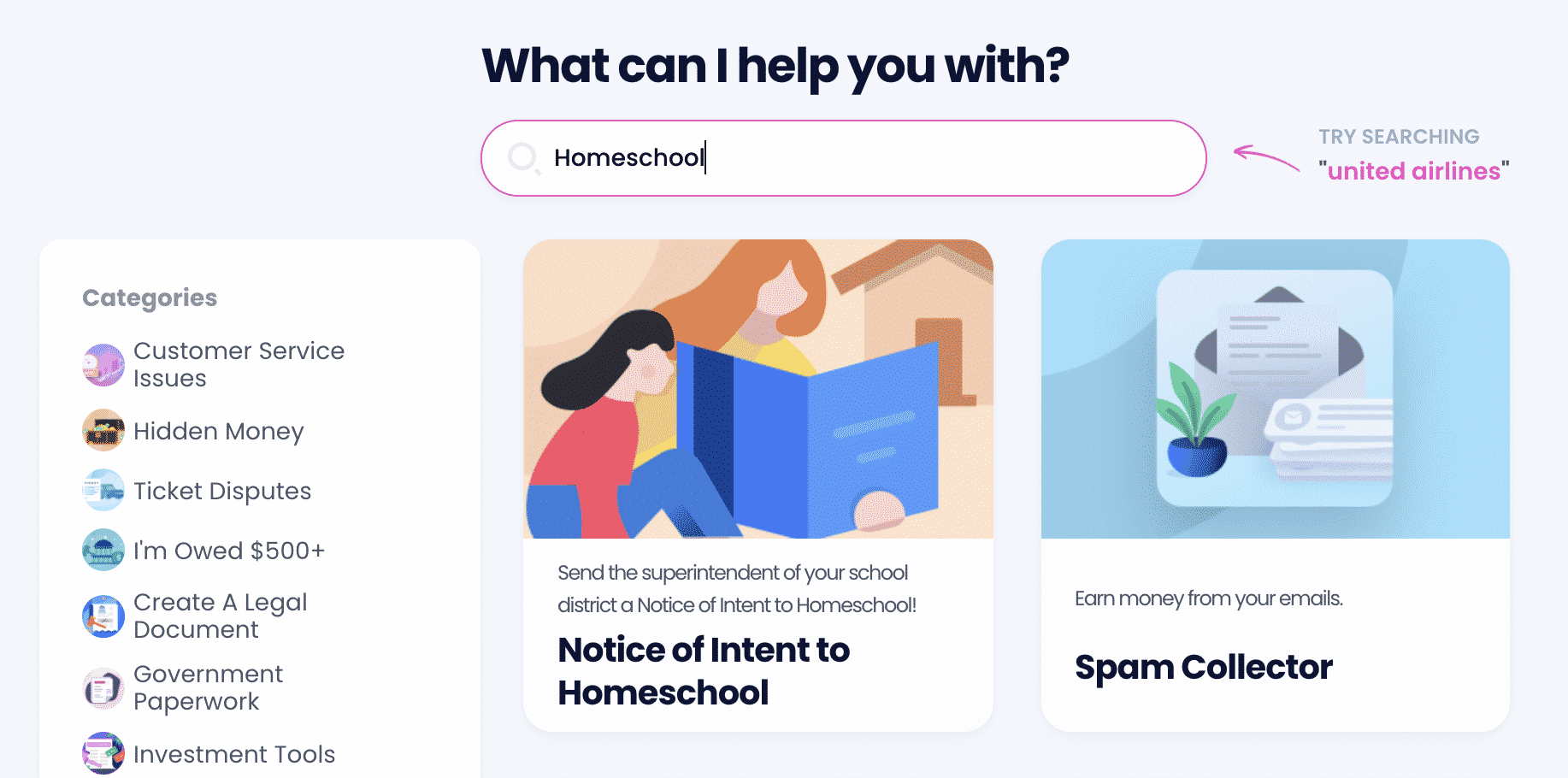 Practical Info About Homeschooling You Should Keep in Mind
Homeschooling is an exciting and rewarding journey, but it is not necessarily smooth. DoNotPay tackles the crucial curriculum issues:
| Other Curriculum Options | Curriculums Based on Student Grade |
| --- | --- |
| | |
We can also answer general homeschooling questions, including:
Can DoNotPay Help Me With Any Other Admin or Legal Issue? You Bet It Can!
DoNotPay's robust products can assist you in fighting companies, individuals, and institutions that have wronged you in any way. Once you subscribe to our platform, we'll ensure that you never have to deal with any of the following again:
Our Product Range Offers So Much More
Subscribing to DoNotPay will bring you peace of mind as you won't have to go through tedious task completion on your own anymore. With our AI-powered app, you can get what's rightfully yours in the blink of an eye.
If you want to claim warranty or insurance, find your missing assets, get compensated for a canceled flight or a violent crime that you were a victim of, track your missing parcel, or draw up a child travel consent form, divorce settlement agreement, power of attorney, or any other legal document, you can count on us to lend you a helping hand.
Sign up today to get access to the entirety of our product range and forget about dealing with time-consuming and energy-draining chores!