Online Notary Services From A to Z
Most people today turn to online notary services to get their documents notarized. As opposed to the current notarization process, online notarization is more convenient and efficient. If you'd like to learn how to notarize a document online, DoNotPay is here to explain the entire process.
Take care of the creation and notarization of affidavits, wills, real estate deeds, and many other legal documents with DoNotPay's assistance.
Online Notarization—A Convenient Alternative for Document Notarization
Online notary services—such as Notarize—are becoming more and more popular. Instead of wasting days to schedule an appointment and go to the notary's office, online notary services make the entire process quicker. Most online notary platforms require you to follow these steps:
Create an account and log in

Upload your document

Wait until you're connected with one of the notaries

Scan your ID so that the notary can verify your identity

Wait for the online notary public to verify the authenticity of your signature and mark the document with the electronic

notary signature

and online notary stamp
You can use most online notary platforms 24 hours a day, seven days a week. One of the drawbacks of online notary services is that you need to pay a not-so-affordable fee for every notarization. Another disadvantage is that most platforms can be complicated to use, which can be an issue if you're not tech-savvy.
DoNotPay Is the Best Online Notary Service
If you like the convenience of online notarization but dislike the cost of most platforms, DoNotPay has the best solution. Thanks to our notarization feature, you can have any contract notarized virtually in less than five minutes. Here are the steps you should follow:
Open

Click on our

Notarize Any Document

feature

Upload your contract

Provide your email address
DoNotPay will email you the link you should open to schedule an online appointment with a notary. The notary will witness your signature and verify its authenticity in a few minutes. You can use our Notarize Any Document to get your contracts notarized in any state in the U.S., including:
Learn How To Draw Up Various Legal Documents With DoNotPay
The Legal Documents feature is one of many DoNotPay services you can use to your advantage. With our help, you can draw up various legal documents and notarize them through the same app. To create a contract in less than two minutes, do the following:
Access

Type in the name of the agreement you need to create

Answer our questions

Download the document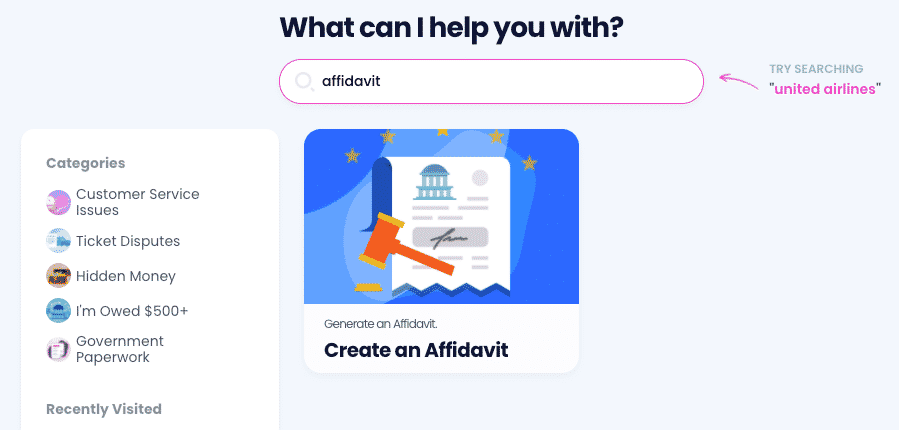 These are some of the contracts DoNotPay can help you write:
General Business Contract

Non-Compete Agreement

LLC Operating Rules Document

Quitclaim Deed

General Affidavit

Promissory Note

Non-Disclosure Agreement

Independent Contractor Agreement

Bill of Sale

Residential Lease Agreement

Intent To Purchase Real Estate

Estoppel Certificate

Prenuptial Agreement

Child Care Authorization Form

Parenting Plan (Child Custody)
How Does the Traditional Notarization Process Work?
Getting your contracts notarized in person can be bothersome and time-consuming, which is why people prefer online notarization. The traditional process includes the following steps:
Process
Description

Searching for the Notary

You can

find a notary public in your area

on Google or use one of the platforms dedicated to helping people locate the nearest notary

Scheduling an Appointment

Your documents won't be

notarized

if you just show up in the notary's office. Setting up an appointment is mandatory

Collecting the Documents

It's crucial that you bring all the necessary documents—if you forget something, the notary will reject notarizing your contract. You can ask the notary which documents are required in advance

Visiting the Notary's Office

Once you're sure you have the required documents, you can head over to the notary's office or any other place that offers notary services, such as:

Signing the Documents in the Notary's Presence

Acknowledgments

are the only documents that can be signed beforehand. When it comes to other contracts, the notary public needs to witness the signing

Paying Notary Service Fees

In most states, notaries can't charge more than what's the maximum fee determined by the state. The

notary prices

usually range from $0.25 to $20
Other Ways To Get Your Documents Notarized
If you're not able to go to the notary's office, you can schedule an appointment with a mobile notary public. He or she will come to your house to notarize the contracts. While this option can be convenient, you will need to pay additional fees for the notary's travel expenses.
More Benefits of DoNotPay
DoNotPay is a useful tool for handling many otherwise annoying life's trifles, including:
What Else Can Our Award-Winning App Do for You?
If you think that's impressive, wait until you've heard about other features we boast!
Our powerful app can draft paperwork for you, locate unclaimed funds under your name, cancel subscriptions, sue robocallers, and protect you from stalkers and harassers—all in one nifty browser app!
Our services have been recognized by the esteemed ABA Brown award, serving as a testament to our abilities to assist you with your small claims issues, free trial auto-renewals, college fee waivers, public records, copyright protection, and much more!