DoNotPay Helps You Decide Whether You Should Join the Montana Homeschool Association
If you want to homeschool your child, you're probably thinking of joining a Montana homeschool association. Don't know much about this organization? DoNotPay will introduce you to it and tell you every important detail! We'll also help you write a letter of intent to homeschool so that you can start homeschooling your child as fast as possible!
What Is a Homeschool Association?
A homeschool association is a state-wide or private organization that provides legal information and assistance to homeschooling parents. It organizes conventions and field trips and offers various opportunities to students.
The Montana Coalition of Home Educators (MCHE) is currently the only homeschool association in the state.
Montana Coalition of Home Educators
MCHE was founded in 1988 by many teachers, parents, support groups, and organizations across Montana. Their goal was to protect the freedom of homeschooling families and keep them informed of any changes in legislation. The organization offers information on homeschooling laws and helps parents get started by providing homeschooling resources.
How To Join the MCHE
There is no official paid membership for the MCHE, as people behind the organization know that homeschooling costs can pile up. Instead, families can make an annual donation, which will put them on the organization's email list.
Requirements for Joining the Montana Coalition of Home Educators
To join the Montana Coalition of Home Educators, you will have to meet the following homeschooling requirements:
Requirement
Details
Keep attendance and immunization records
You must make records of your child's attendance and disease immunizations available to the superintendent of your school district on request
Provide the required hours of instruction
Your child needs to receive at least 720 hours per school year until the third grade. From grade four to 12, they must receive a minimum of 1,080 hours of instruction
Teach the required subjects
The curriculum you choose for your child must include subjects required to be taught in Montana public schools. These subjects are:

English language arts
Mathematics
Science
Social studies
History
Arts
Career and technical education
Ethical behavior

Follow safety and health regulations
Your homeschool location needs to comply with your local health and safety regulations
Why Should You Join the Montana Homeschool Association?
Montana is one of the easiest states to homeschool in, as there are only a few requirements you need to meet to begin homeschooling. Joining the MCHE makes it even easier for you to teach your child at home. You will receive help along the way, and your child will meet new peers through various sports activities organized by the MCHE, such as:
Football
Basketball
Tennis
Soccer
Track and field
Softball
Wrestling
Swimming
Golf
Are There Co-Ops in Montana?
A homeschool co-op is a group of homeschooling families who work cooperatively toward achieving common goals. They can be organized around arts, activities, academics, and more. The main benefit of co-ops is that your child will be taught by someone else, which enriches their learning. In Montana, there are two co-op groups:
Gallatin Christian Homeschool Co-op—Students in this co-op meet once a week for classes where the parents have to teach a class of their choice. This group is the go-to choice for Christian families who want to socialize and make new friends
Helena Homeschool Enrichment Co-op—Alongside having classes that include art, music, and history, this co-op also organizes field trips and other activities during the summer
How To Start Homeschooling Your Child in Montana
To start homeschooling your child in Montana, you will have to withdraw them from a public or private school if they're attending one and file a letter of intent to homeschool. This letter notifies the school superintendent of your wish to homeschool your child.
If you want to get the letter, you'll either have to hire a lawyer to draw one up for you or write one yourself. Need an alternative? and get the letter of intent to homeschool in minutes!
DoNotPay Is Your Go-To Solution for Obtaining a Letter of Intent To Homeschool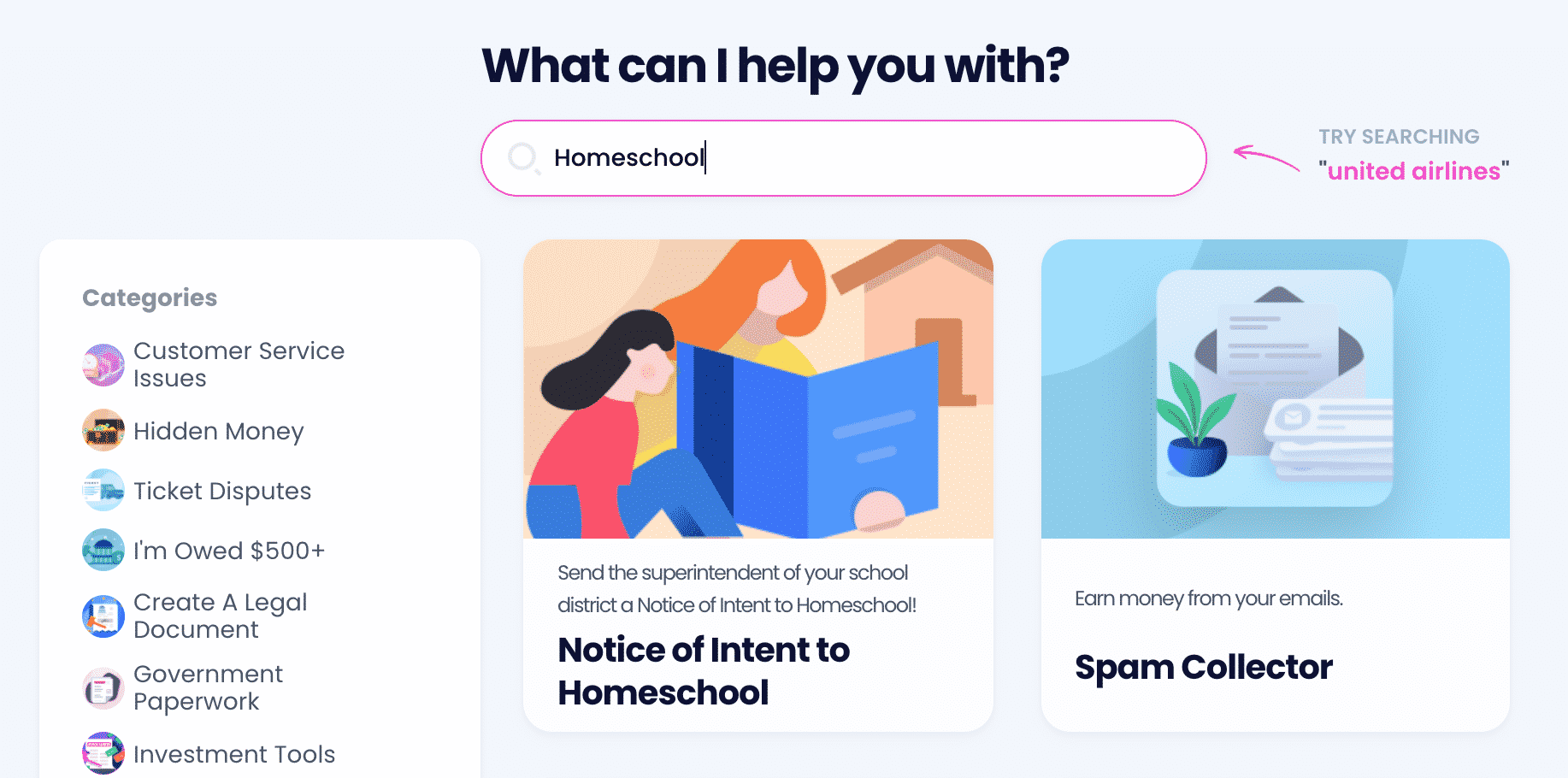 Homeschooling your child in Montana requires you to file a letter of intent. Obtaining this document doesn't have to be hard and expensive. If you , you'll get this letter tailored to your needs in no time! All you have to do is:
Select our Letter of Intent to Homeschool product
Give us information about your child and the homeschooling plan you intend to use
Hit Submit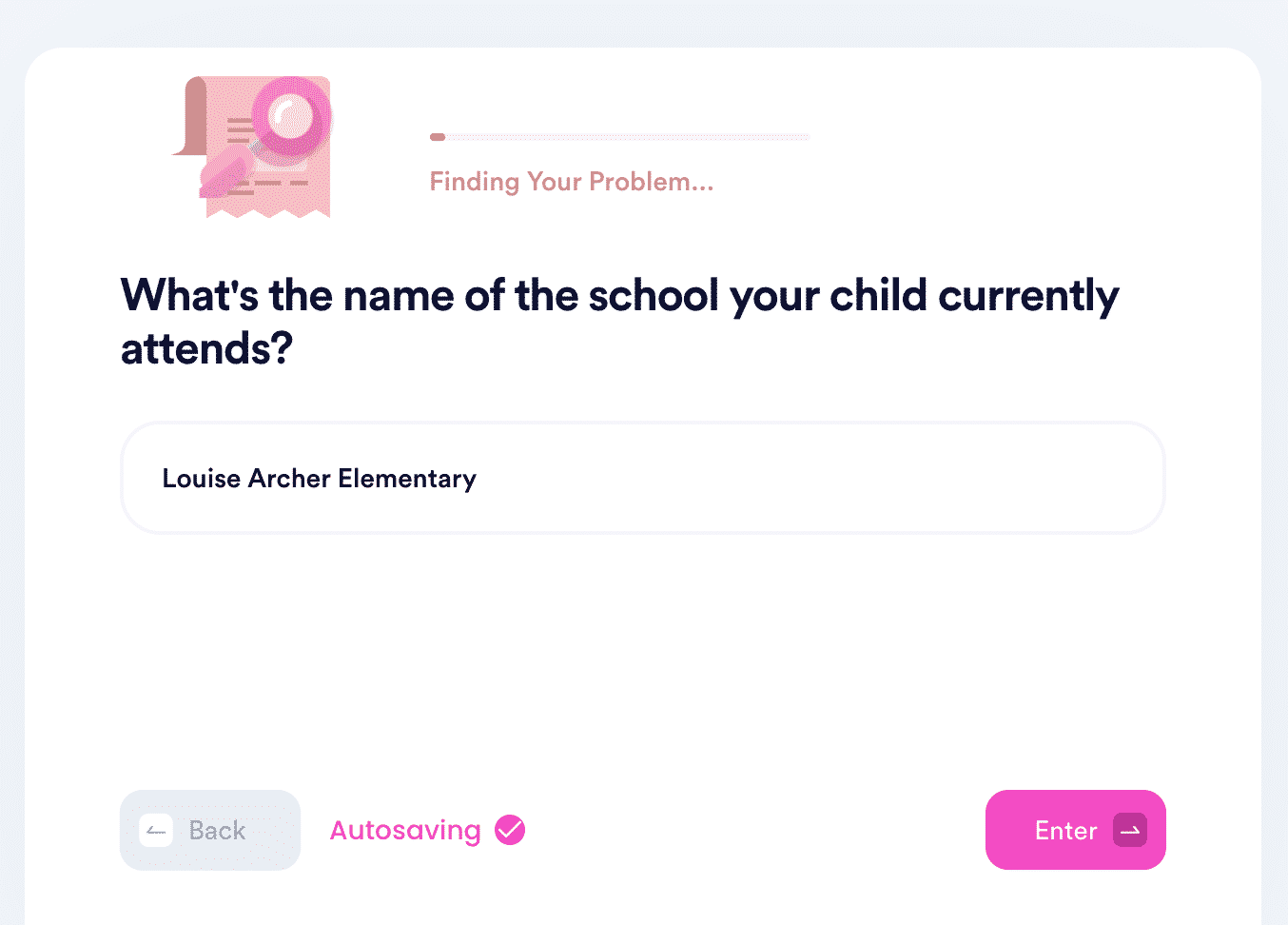 We will use the details you give us to generate the letter quickly. You can then choose whether you want DoNotPay to forward it in your name or send it to you in PDF form via email.
Should you homeschool your child, and can you start in the middle of the year? These are only some of the questions that DoNotPay can provide the answers to! Read some of our articles and find out:
Discover DoNotPay's Solutions to Mundane Tasks
Our product range doesn't end there—we can also help you sue anyone in small claims court, cancel any subscription, start a free trial risk-free with our virtual credit card, get refunds and chargebacks, send anything through online fax, pay your utility bills, demand airline compensation, and deal with your annoying neighbors.
As soon as you sign up, we can also put an end to robocalls, copyright infringement, email and text spam, and stalkers and harassers. Our app's abilities don't stop there either—get perfect passport photos, free raffle tickets, compensation for victims of crime, or insurance or warranty quickly!
There's So Much More We Can Assist You With
Check out how else we can help—DoNotPay can:
Sign up now to take advantage of our nifty products!