DoNotPay Breaks Down Homeschooling in Montana
Getting familiar with your state's laws is the first step you should take if you plan on homeschooling in Montana. The legal intricacies can be overwhelming and confusing if you don't know where to start.
Our guide will clear out any confusion you might have and tell you everything you need to know to homeschool your child. DoNotPay will generate a top-notch letter of intent and help you get started hassle-free! With our assistance, you can also learn why parents choose to homeschool.
Montana Homeschool Laws
To transition your child from school to homeschool successfully in Montana, you will need to meet the following requirements:
Requirement
Explanation
File a letter of intent to homeschool
You must notify the superintendent of schools in the county where you plan to homeschool your child. To do this, file a letter of intent between July 1 and June 30. Obtaining the letter is a piece of cake if you
Keep records
Keep and make the attendance and disease immunization records available to the county superintendent on request. Although not necessary, keeping homeschool portfolios and high school transcripts can be useful if your child plans on attending college
Provide the required number of homeschool hours
Your child must receive a minimum of 720 hours of instruction per school fiscal year from grades 1–3. In grades 4–12, they must receive at least 1,080 hours of instruction per school year
Teach the necessary subjects
The homeschool course you plan to teach your child must include the basic subjects taught in Montana public schools, such as:

English language arts
Career education
Social studies
Mathematics
Science
Health
Arts

Follow health and safety regulations
You must make sure that your homeschool location is compliant with the local health and safety regulations applicable to homes
Montana Homeschool Requirements—Child Age
If your child is seven years old or older before their first day of public school, they must attend school until:
Their 16th birthday
They complete their grade 8 schoolwork
After one of these two requirements is fulfilled, you can begin homeschooling them.
Is a Teacher Certification Required for Montana Homeschooling?
You aren't required to have any certifications to teach your child in Montana. Under the state's laws, as a homeschool teacher, you are responsible for the:
Educational philosophy of the homeschool
Selection of the curriculum, textbooks, and instructional materials
Time, place, and method of instruction
Evaluation of the home school instruction
Montana Homeschooling Laws—Graduation
Homeschooled students in Montana don't receive the same high school diploma as their peers attending public schools. Instead, they earn a Montana High School Equivalency Diploma after passing the HiSET exam. If your child wants to get higher education, they might have to take the PSAT and SAT exams.
Is There a Montana Home School Association?
A home school association is usually a private organization that provides legal information and paperwork regarding homeschooling in a specific state. They also
Organize annual conventions
Arrange state or regional field trips
Offer scholarship opportunities.
In Montana, there is only one homeschool association—Montana Coalition of Home Educators (MCHE). It offers guidance and support to families and advocacy regarding homeschooling rights. Being a member comes with various benefits, so be sure to visit the association's website and find out whether the membership is the right choice for you.
Montana Home School Co-Op Groups Explained
Homeschool classes and co-op groups are a great way to socialize your child and skill-share with other parents and teachers. They provide tons of educational opportunities for families, such as field trips, park days, and other special events. Having someone else teach your child is also an option if you join a co-op group. In Montana, you can join one of the following:
If you decide to teach your child yourself, you will have to file a letter of intent to homeschool. Getting this document was an expensive hassle before, but now, it's affordable and easy with DoNotPay's Letter of Intent to Homeschool product.
Get a Top-Notch Letter of Intent To Homeschool With DoNotPay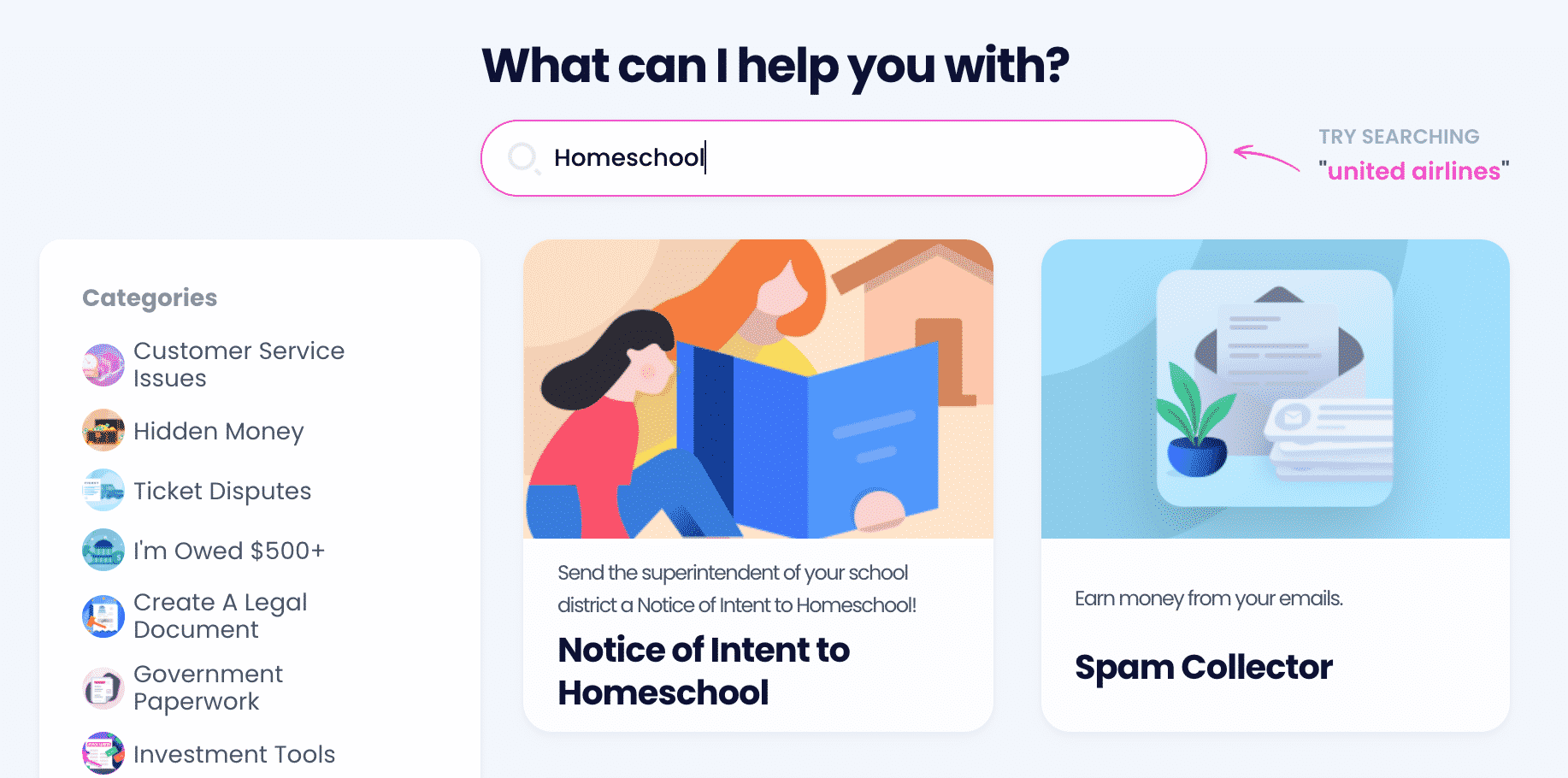 Getting a letter of intent to homeschool requires you to either write one yourself or hire a lawyer and spend a fortune on their sky-high fees. That's why DoNotPay has developed a solution that'll save your money and the trouble of composing the letter on your own. With our Notice of Intent to Homeschool product, you'll get the desired document in just a few clicks.
All you have to do is:
Locate our Notice of Intent to Homeschool product
Answer our chatbot's questions regarding your:

Yourself
Your child
The date you plan to begin homeschooling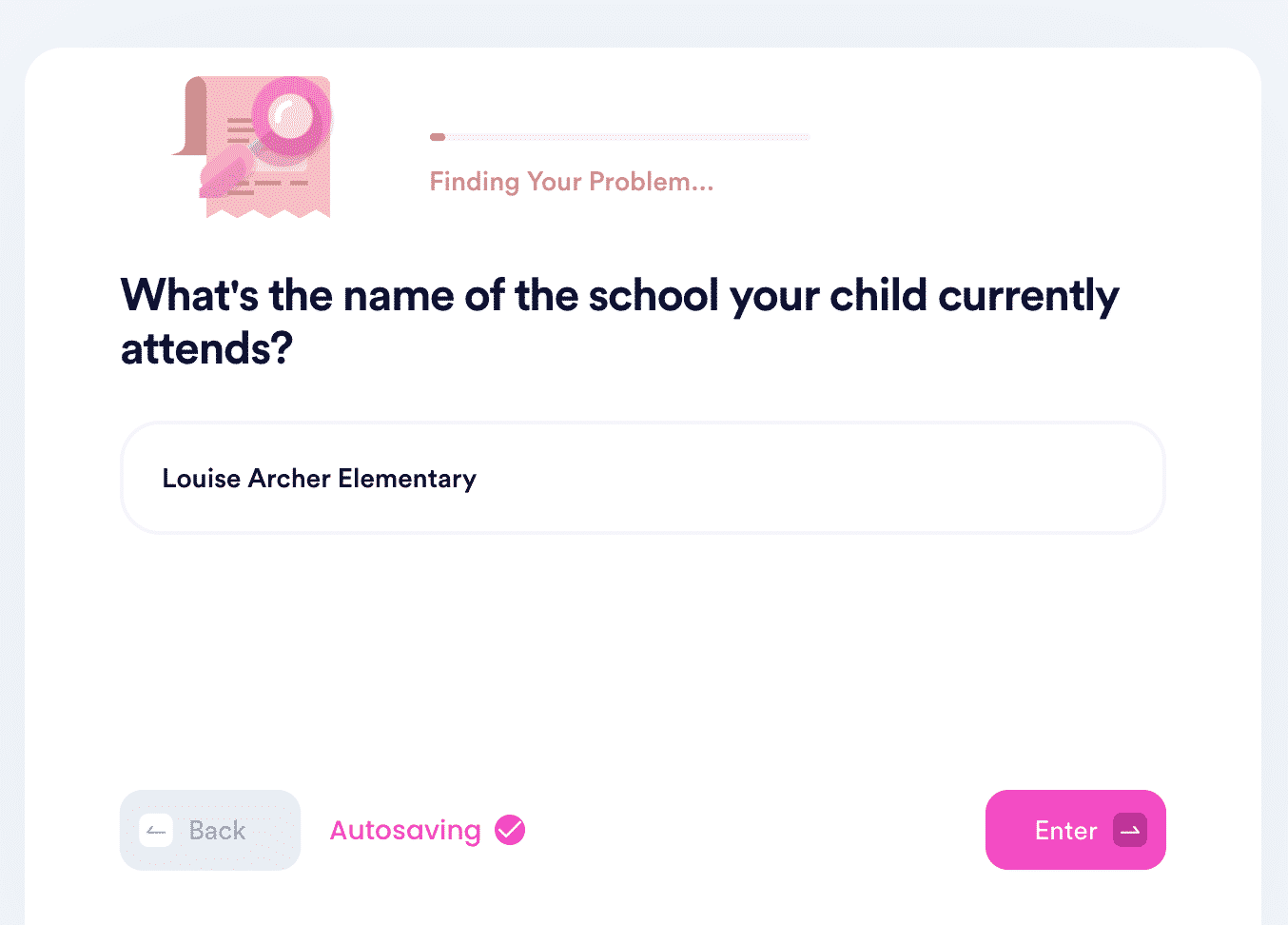 We will process your request quickly and generate the letter customized to your needs. You can then choose to have DoNotPay:
Send you the letter via email so you can file it
Forward the letter in your name
Help you have the letter notarized via a video call
DoNotPay can also answer all your homeschool-related questions, such as how much homeschooling costs, whether you can start homeschooling in the middle of the year, and what the easiest states for homeschooling are.
Use DoNotPay To Complete a Variety of Tasks at Any Time
Why waste time and money completing mundane tasks on your own when you can let DoNotPay assist you? Take a look at the table below to find out what our AI-powered app can do for you:
DoNotPay Can
Services
Protect your safety and privacy
Draft legal documents

Powers of attorney

Divorce settlement agreements

Many other legal documents

Help you get your money back
DoNotPay Has More in Store for You!
Since communication is key, you'll appreciate our feature that helps you get in touch with customer service reps quickly! We'll also show you how to send faxes online and have your documents notarized by an online notary with ease!
Going on vacation? Use DoNotPay to take a valid passport photo at home or get a tourist visa!