How To Compose a Top-Grade Illinois Homeschool Withdrawal Letter
Once you decide to remove your child from a public school in Illinois and start homeschooling, you may face various dilemmas. Do you need to send any notice to the school to notify the authorities about the withdrawal? If you do, what should the Illinois homeschool withdrawal letter look like? Should it be short and sweet or thorough and descriptive?
We created a comprehensive guide containing all the details about this homeschooling aspect. You can also learn how subscribing to DoNotPay helps you create a solid letter of intent to homeschool and begin teaching your kid at home in a flash!
Illinois Homeschool Rules and Requirements
Illinois is one of the U.S. states with the simplest homeschooling regulations. Its laws are flexible, and the homeschool requirements are simple to meet. Below is the table showing the essential criteria you should be aware of when considering this learning method:
Requirements
Details
Registration requirements
You don't need to register as a private school to homeschool your kids, but the chosen method will be treated like private school education
Minimum homeschool age
Six years old
Maximum homeschool age
17 years old
Teacher requirements
You can be a teacher to your kids even if you don't have any certificates, or you can hire someone else to do it if you are too busy
Assessment requirements
None
Homeschool hours
Not defined—The recommended number of hours of instruction is five per school day
Preferred instruction language
English
Curriculum criteria
None—Homeschooling parents are free to choose or create a curriculum based on students' wishes or affinities
Compulsory homeschool subjects

Math
Language arts
Fine arts
Social sciences
Physical development and health
Biological and physical sciences

Expenses
Vary
Do You Need a Withdrawal Letter To Homeschool in Illinois?
Even though the state laws don't require homeschooling parents to send a letter of withdrawal once they decide to homeschool their kids, it's more than desirable in some cases.
If you start teaching your kid at home from the first grade or at the beginning of a new school year, there's no need to submit the notice. Once your child stops attending school, the authorities will believe that the family has relocated, and no one will contact you regarding this matter.
The situation is different when you want to remove your child from school mid-year. In such a case, if the child stops attending classes without further explanations, you may run into some problems with the school district authorities. For this reason, it's advisable to submit a withdrawal letter anyway to be on the safe side.
A Complete Guide to Composing an Illinois Withdrawal Letter
Here are the segments of a rock-solid withdrawal letter structure:
Introductory part with the recipient info
Personalized greeting
Statement confirming that you want to withdraw the child from regular schooling
Legality affirmation showing the exact section of the Illinois state law you rely on
What Should Your Letter of Withdrawal Look Like?
The following scheme shows you what your Illinois withdrawal letter should look like:
[Full name of the principal or superintendent]
[Public school address]
[Letter submission date]
Dear [Title] [Principal's/Superintendent's surname]
We are writing this letter to inform you that as of [homeschool start date], we will withdraw our child, [full name of the student], from [name of the attended public institution]. [First name of the student] will be attending a private school/be educated in compliance with the rules in the Illinois School Code, Chapter 105, Section 26-01.
Please don't hesitate to contact us if you have any further queries.
Sincerely/Best regards,
[Signatures of both parents]
[Printed names of both parents]
Once your letter is ready, you can send it to the school by:
Bringing a copy of the document to the school
Sending the letter via mail
Faxing the notice to the official school fax number
What Can DoNotPay Do To Help You Get a Letter of Intent More Easily?
Another similar notice many states require is a letter of intent to homeschool. Composing such a document can be time-consuming, especially if you aren't familiar with the desired structure of the letter and appropriate terms. Instead of relying on online templates that are usually generic and incomplete, let DoNotPay do the grunt work and get your letter in a snap!
In just a few clicks on your part, we can:
Compile the necessary details about your child and the desired homeschool plan
Use the collected info to create a customized letter of intent
Generate a PDF version ready for download
Direct the notice to the chosen school district automatically
Have your document notarized if the local statute requires it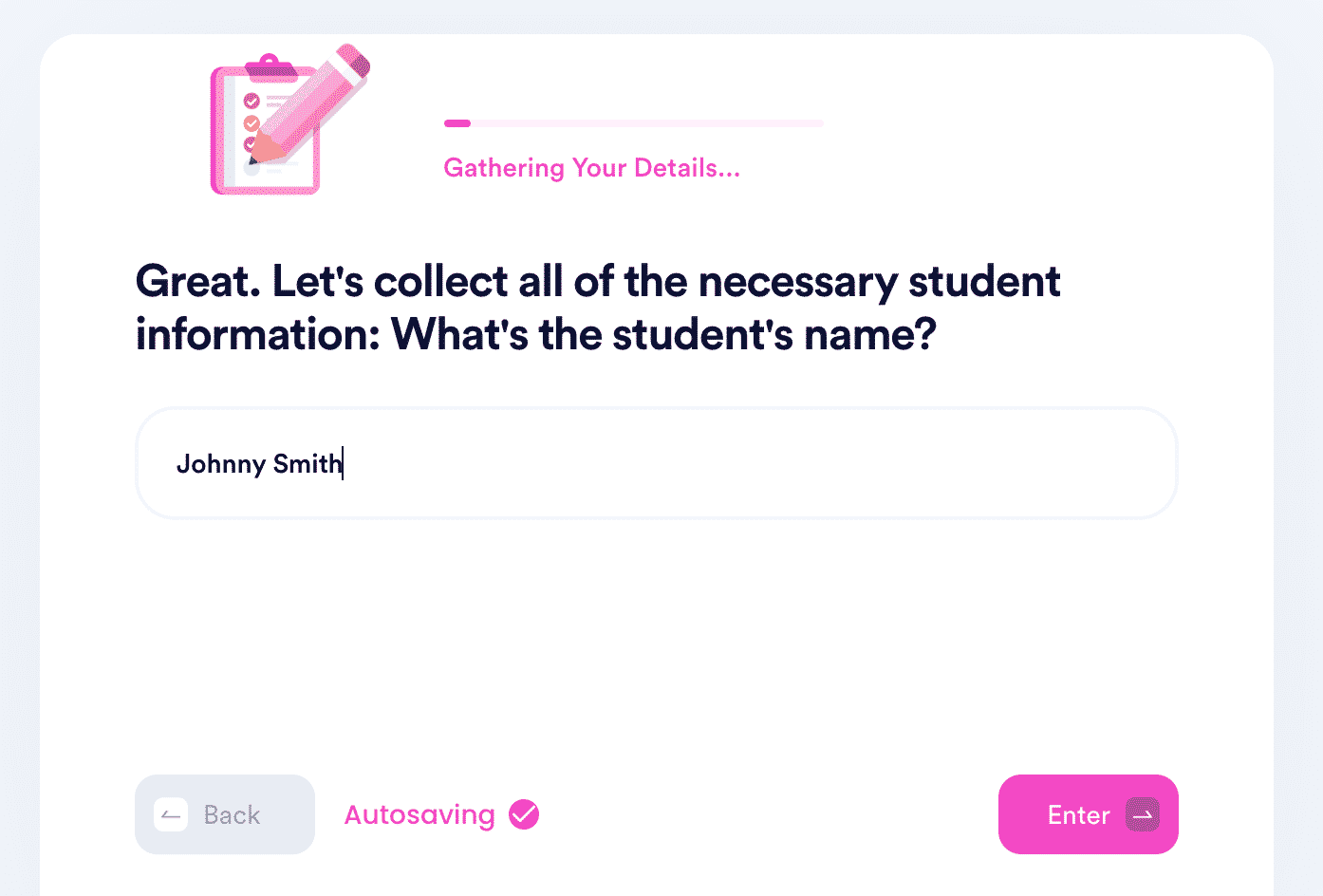 Here are the prompts you should follow to get your letter:
Access your DoNotPay account from any preferred web browser
Navigate to the Homeschool Notice of Intent section
Tell us what your school district is
Fill out a simple questionnaire provided by our chatbot
Your letter will be ready for download in a few moments!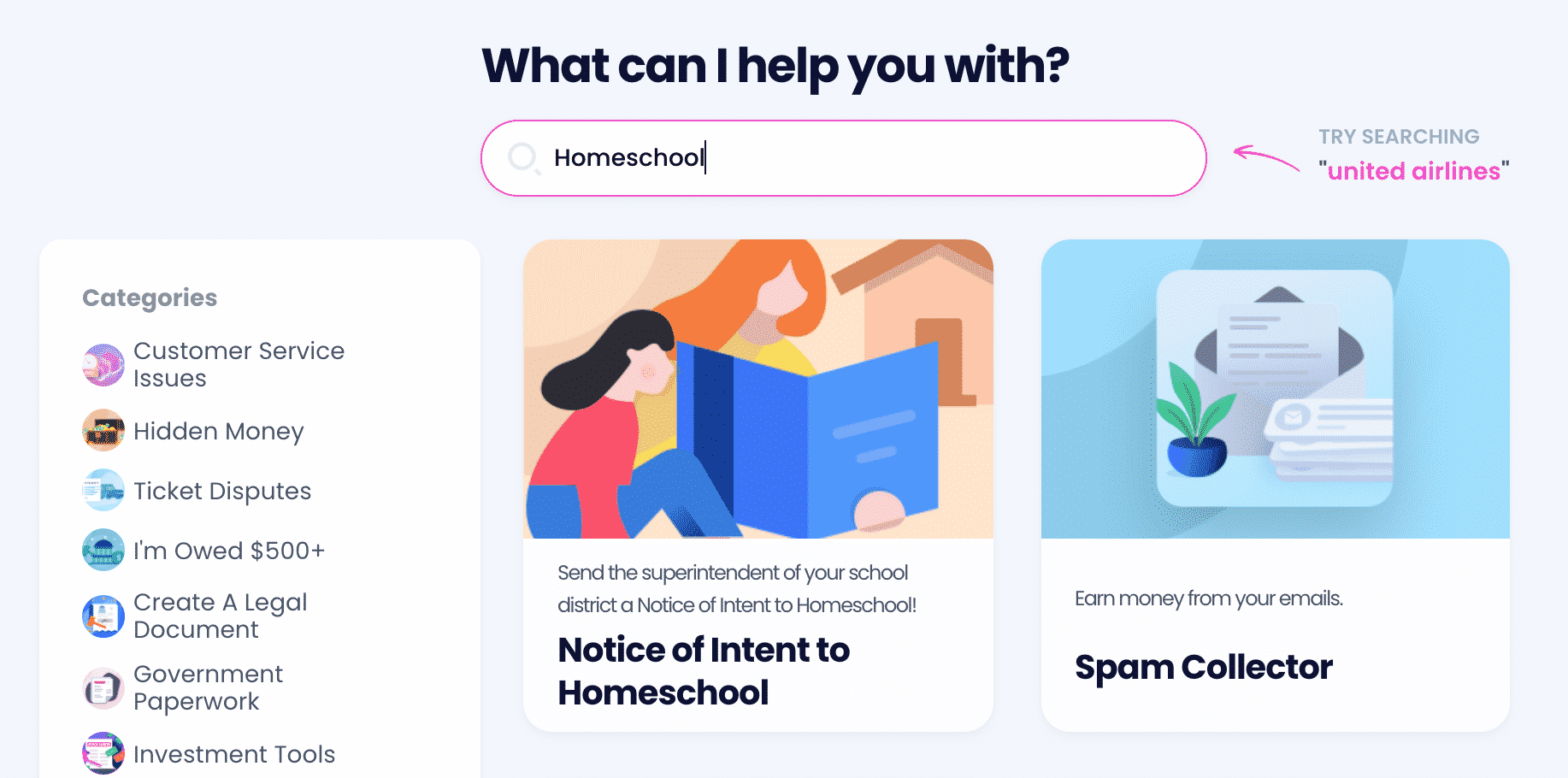 Don't Let Admin or Legal Issues Wear You Down—Hand Them Over to DoNotPay
Do you believe you may have some missing assets? Use DoNotPay's nifty product before the government claims them! Have you ever wanted to enter sweepstakes without purchasing anything? Our app will sign you up for them instantly! Trying to figure out how to reduce your property taxes or utility bills? DoNotPay can show you the way. Want to avoid getting charged for free trials that never fail to auto-renew into paid subscriptions? We'll help you cancel them before they expire.
Anything else you may need? Check out how our app can:
Check Out Our Other Robust Products
It doesn't stop there—DoNotPay can help you send a defamation demand letter, create passport photos, get gift card cash back, get any document notarized, request access to public records, claim insurance and warranty, request a college application fee waiver, appeal parking tickets, and much more.
Sign up now to get access to any of our products for one low monthly fee!