Looking for a Letter of Intent To Homeschool in Texas?
If you plan on homeschooling your child, you need to obtain a letter of intent to homeschool in Texas. Most parents don't know much about this crucial document, including how much it costs and where to get it.
DoNotPay has prepared a guide to tell you all about Texas homeschool laws and the way you can get the notice of intent hassle-free. We also offer articles to help you learn all about:
The decision to homeschool your child is a difficult one, but with DoNotPay by your side, you can get started worry-free.
What Is a Texas Letter of Intent To Homeschool?
In Texas, you need to submit a letter of intent to take your child out of school to homeschool. This document informs your school district or department that you want your child to be homeschooled instead of attending a private or public school. It's also known as:
Homeschool letter of intent
Declaration to homeschool
What Should a Letter of Intent To Homeschool Your Child Contain?
To be legally valid, a properly written letter of intent to homeschool is required to contain several elements. Check out the table below for more information:
Letter Element
Details
Student information
This section should contain the basic information about the student, including:
Parent details
Elementary information about the parents must be added as well, such as:

Name
Address
Contact info (e.g., telephone number or email address)

Curriculum
This element needs to list the subjects that the student will be taught
Homeschool teacher signature
Once the letter is filled out, the teacher must sign it and enter their contact information
Texas Homeschooling Laws
Before getting a letter of intent to homeschool in Texas, you must first get acquainted with the state's laws. The Golden State requires that the:
Instructions must be genuine
Curriculum needs to be in visual form (for example, books or video monitors)
Curriculum must cover the following subjects:

Reading
Spelling
Grammar
Mathematics
Good citizenship—This subject needs to cover U.S. and Texas history, government, the Pledge of Allegiance, and similar
If your child is already enrolled, you'll also need to withdraw them from public school.
As long as these requirements are met, your child can be taught in your or another family's home. In Texas, homeschools are not regulated and do not require teacher certification or third-party curriculum approval. They are exempt from compulsory attendance laws.
How To Get a Letter of Intent To Homeschool in Texas
You have several ways of obtaining a letter of intent to homeschool in Texas, including:
Writing one yourself—Writing the letter on your own is a popular option but not an easy one. Although it can save you a buck or two, this method is not advisable as it's time-consuming, especially if you're not familiarized with the procedure
Finding a template—Various websites offer free homeschool letter templates. You can visit one and download the template in no time, but keep in mind that it might not be compliant with Texas state laws
Hiring a lawyer—If you want to hire a professional to draw this document up for you, be prepared to spend big bucks as their service fees are sky-high
—If you decide to reach your child yourself, our AI-powered app offers the most affordable and efficient way of getting a letter of intent. We'll generate this important document and send it on your behalf in a matter of minutes
DoNotPay Is the Solution You Need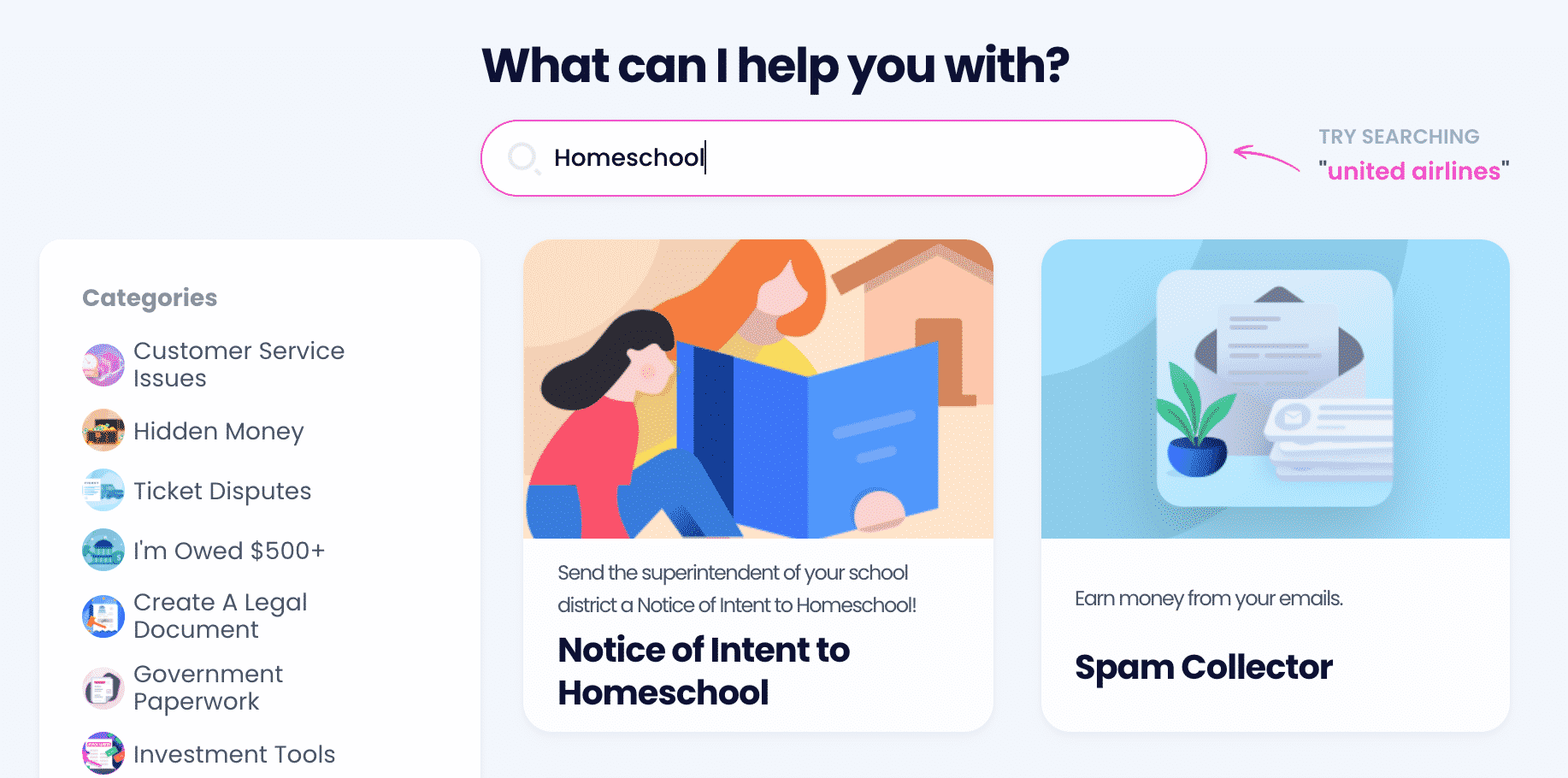 Getting a letter of intent to homeschool doesn't have to be time-consuming or expensive. DoNotPay saves your time and money with our Notice of Intent to Homeschool product. With it, you can get this document in no time and start teaching your child by following these steps:
Select our Notice of Intent to Homeschool product
Give us details regarding:

Your child
The date you plan to begin homeschooling
The details of your plan
Information about yourself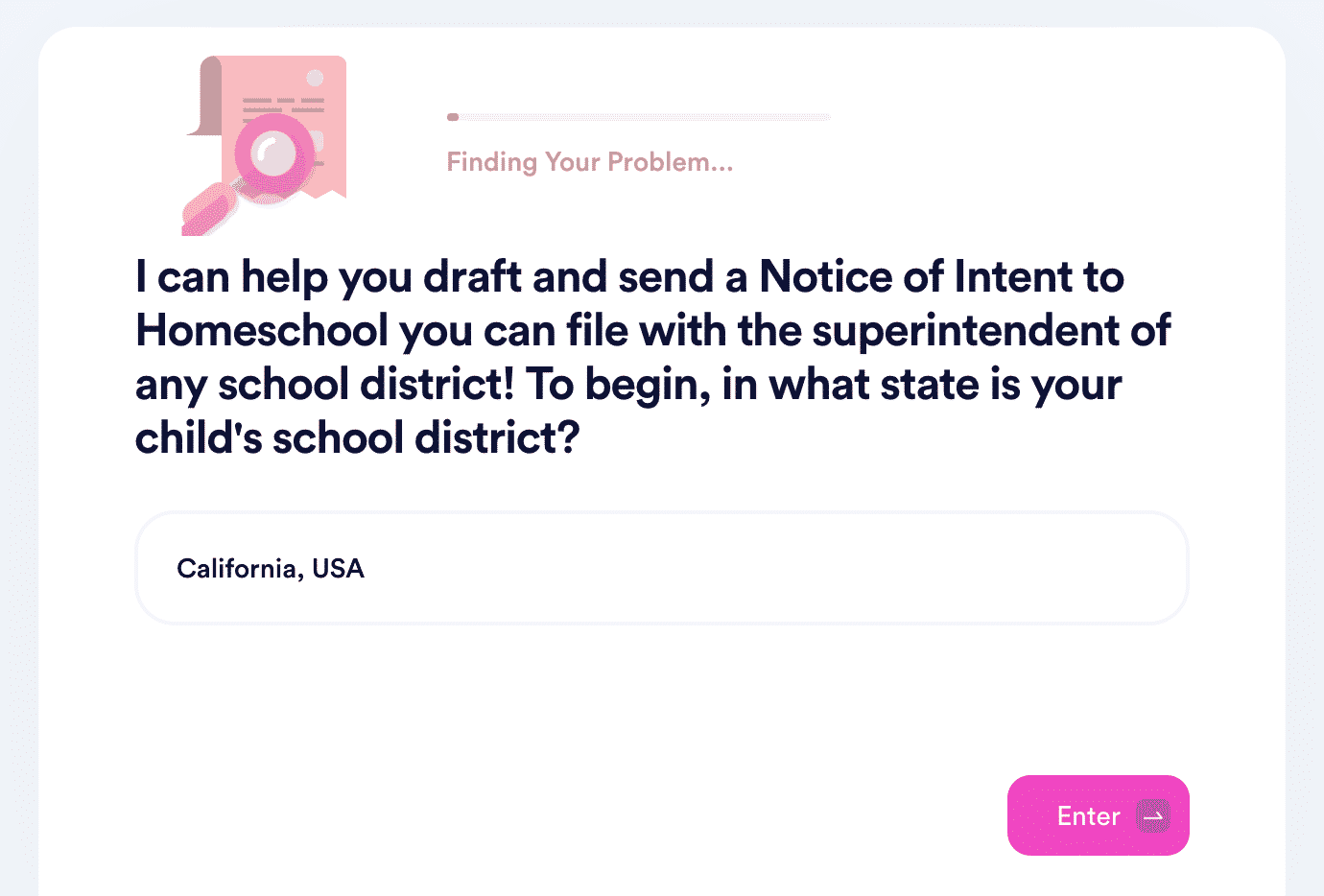 Once you submit your request, we will generate the letter for you in a jiffy. We can then send the letter to you in PDF form via email so you can print it and mail it by yourself. If you don't want to go through the hassle, DoNotPay will forward the letter to the superintendent of your school district for you.
Need to have your document notarized? We'll connect you with an online notary in a snap.
If you need any assistance regarding homeschooling, we'll help you figure out when you can start homeschooling, whether you should homeschool a child with anxiety, how you can create a curriculum, and whether homeschooling disadvantages students.
Learn How To Solve Legal Issues in Minutes!
Do you need to draft a legal document? Spending hundreds of dollars on lawyers is not the answer. We came up with a faster and more affordable solution. Not only can our app draft child consent forms, divorce settlement agreements, and powers of attorney for you, it can also provide legal assistance by helping you take anyone to small claims court!
Drafting numerous documents is not all DoNotPay does for you! Aside from drawing up contracts and agreements, we can also assist you in getting them notarized online from the comfort of your home or office!
Explore DoNotPay's Other Nifty Features
There is more assistance on the way! You can use DoNotPay's features to handle various tasks with ease, including:
We can also help you protect your safety. If you don't know how to deal with copyright infringement, stalking and harassment, work discrimination, sex offenses, and disputes with annoying neighbors, DoNotPay has got you covered.