All About the Georgia Homeschool Declaration of Intent
Have you decided to start homeschooling your child in Georgia? Note that one of the first steps in the homeschool transition is creating a declaration of intent.
This article will explain how to write, what to include in, and how to submit the Georgia homeschool declaration of intent. Whether you already have some experience as a homeschooling parent or this is your first time, !
What Is the GA Declaration of Intent To Homeschool?
In Georgia, the declaration of intent (DOI) is a document that allows you to register your child as a homeschool student. As a parent or a legal guardian of the child, you will have to submit the DOI to the Georgia Department of Education.
In case you've started homeschooling, you are required to send this document within 30 days of the beginning of homeschooling. You will have to send the declaration of intent for each year your child is homeschooled. The deadline for submitting your DOI is September 1.
Homeschooling Laws in Georgia
The state law in Georgia requires you to create and submit the declaration of intent to homeschool after you withdraw your child from school. Here are homeschooling requirements you'll have to meet according to the Georgia homeschooling law:
Category
Requirement
Requirements for parents
To teach your child, you will have to present at least a high school diploma or GED
Homeschool hours
You should provide at least 180 days of homeschooling per year. One school day should include at least 4.5 hours of lessons
Homeschool curriculum
You will have to prepare an educational program that includes the following subjects:

Math
Reading
Social studies
Science
Language arts

Progress reports
You should write annual progress reports and keep them for at least three years in your record
Testing
Your child must be tested every school year after the third grade
Homeschool diploma
As a parent, you decide whether your child meets the requirements to graduate or not
Georgia Homeschool Support Groups
If you don't have any experience in homeschooling and the requirements seem overwhelming, you can turn to your local homeschool support groups. This is a great way to learn more about homeschooling from other parents, get the latest updates, and even make friends.
Here are some of the homeschooling groups in Georgia:
What To Include in the Georgia Declaration of Intent To Homeschool
To write the declaration of intent properly, here is what you need to include in it:
Name and age of your homeschool student or students
Your home address or the location where the homeschooling will take place
Information about your school district
Homeschooling program for 12 months
Your signature
How To Submit a Declaration of Intent To Homeschool in Georgia
You can submit your declaration of intent to the Georgia Department of Education in several ways:
Complete an online form—Visit the GA Department of Education website and fill out the form online
Send DOI by mail—Print the form or write your letter of intent and send it to GeorgiaDept of Education, Home School Division, 205 Jesse Hill Jr Drive SE, Suite 2053 Twin Towers East, Atlanta, GA 30334
Fax your DOI—The fax number of the Department of Education is (770) 344-4623
Whether you'll be your child's homeschool teacher or you'll hire someone else, let DoNotPay draft a professional and personalized letter of intent and submit it on your behalf. No need to bother with the task yourself!
DoNotPay Helps You Get a Homeschool Declaration of Intent in a Jiffy
If you already feel like the process of transitioning from a public school to homeschool is taking too much of your energy, DoNotPay is here to give you a hand. You will not have to worry even if you want to start homeschooling your child in the middle of the school year. Our robot lawyer can help you draw up your letter in the blink of an eye.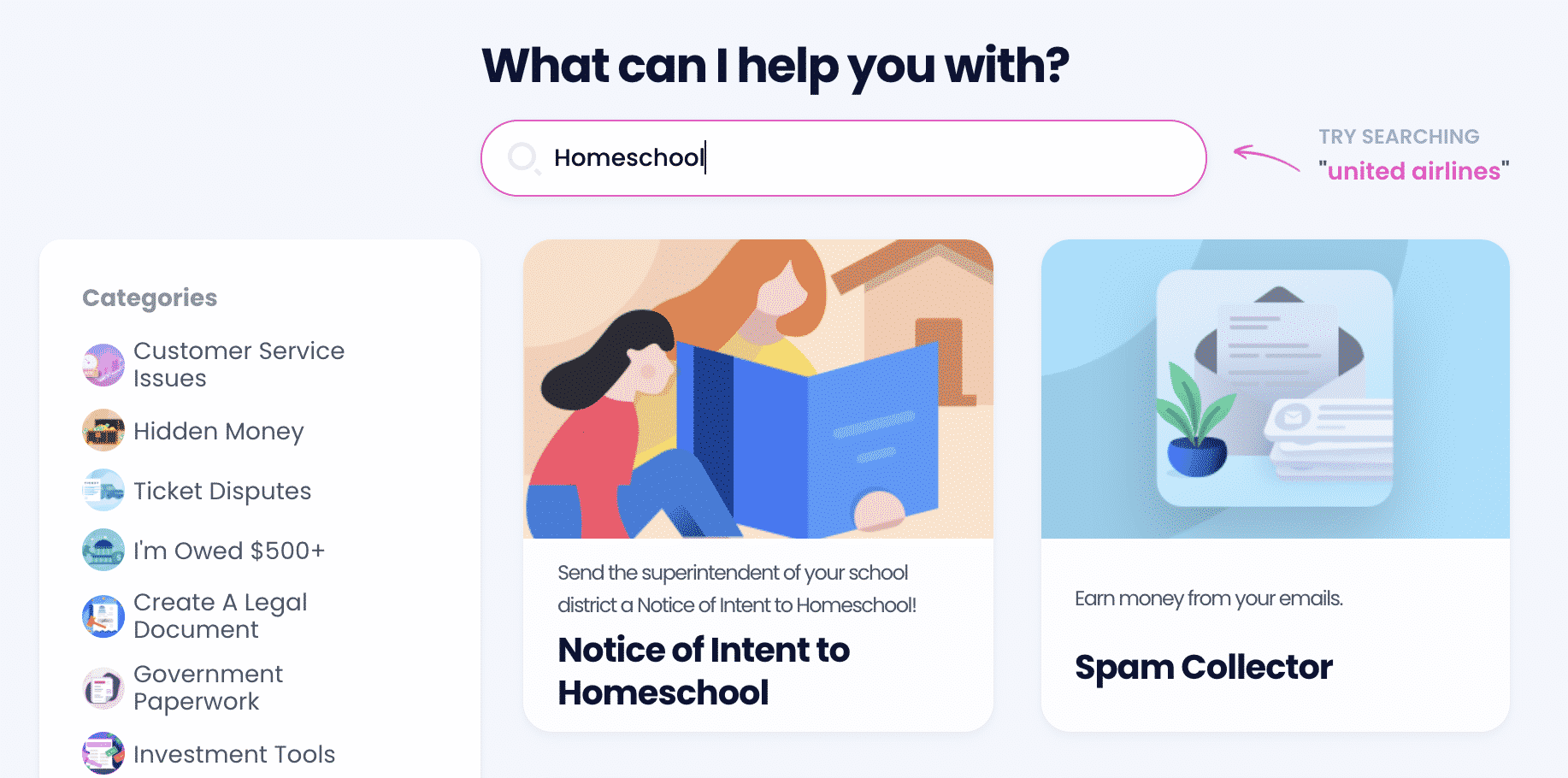 To make sure you'll submit your letter of intent on time, take the following steps:
Select the Notice of Intent to Homeschool product
Add information related to your school district
Type in details about your child and your homeschool plan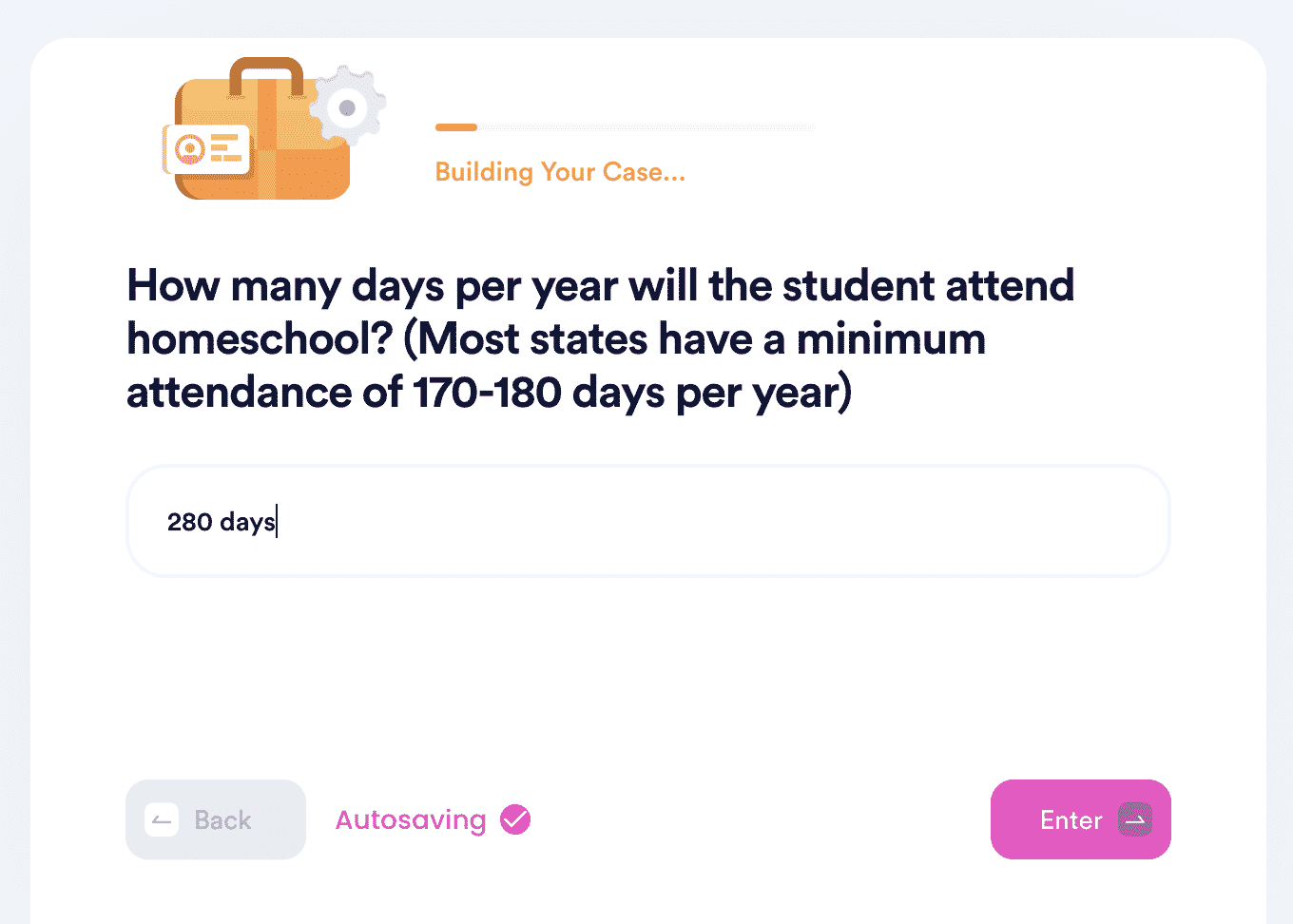 When you submit your request, DoNotPay will tailor the letter of intent according to the info you provided. You will also have the option to choose whether you'll:
Let our app send the letter on your behalf
Get a printable version of the letter that you can file yourself
Use DoNotPay To Learn More About Homeschooling
Our app can help you find answers to any of your burning questions about homeschooling. Here are some of our nifty guides:
Discover DoNotPay's Solutions to Mundane Tasks
Our product range doesn't end there—we can also help you sue anyone in small claims court, cancel any subscription, start a free trial risk-free with our virtual credit card, get refunds and chargebacks, send anything through online fax, pay your utility bills, demand airline compensation, and deal with your annoying neighbors.
As soon as you sign up, we can also put an end to robocalls, copyright infringement, email and text spam, and stalkers and harassers. Our app's abilities don't stop there either—get perfect passport photos, free raffle tickets, compensation for victims of crime, or insurance or warranty quickly!
There's So Much More We Can Assist You With
Check out how else we can help—DoNotPay can:
Sign up now to take advantage of our nifty products!