All About the Kentucky Homeschool Letter of Intent
If you decide to homeschool your child in the state of Kentucky, you'll need to get familiar with Kentucky homeschooling laws.
Kentucky is one of the states with the most lenient homeschool laws, but there are still some requirements you must meet to be able to provide home instruction. One of these requirements is submitting a Kentucky homeschool letter of intent to your school district.
Make sure to if you want to get a personalized homeschool letter of intent in minutes.
A Kentucky Homeschool Letter of Intent—What It Is, and How To Write It
The Kentucky homeschool letter of intent is a straightforward, formal letter stating that your child will be homeschooled. To start homeschooling, you must send this letter to your local school district within the first two weeks of the beginning of the school year. It should include the following information:
Name and age of a homeschooled student
Name of parents/teachers
Address of the homeschool
Signatures
If you begin homeschooling or relocate to another area in the middle of the school year, you can send the letter later in the year. Keep in mind that you are allowed to take your child out of public school to homeschool whenever you want.
Let DoNotPay Draft A Letter of Intent To Homeschool for You
Why bother and waste your time on drafting the Kentucky homeschool letter of intent on your own? Our app—the world's first robot lawyer—can do it for you in a couple of minutes.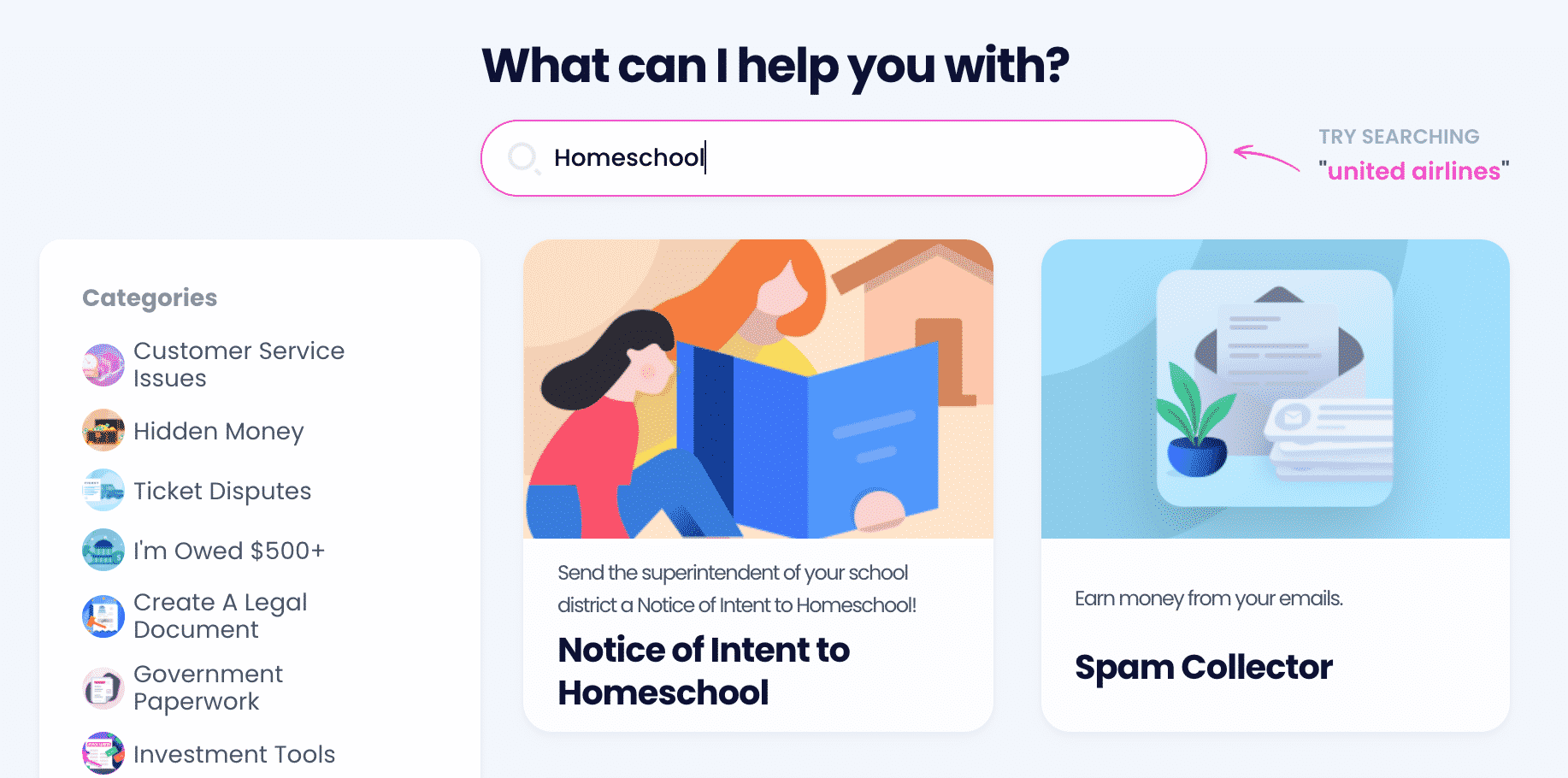 All you need to do is:
Look for the Notice of Intent to Homeschool product
Answer a few simple questions from our chatbot regarding:

Yourself and your child
Your school district

Click on the Submit button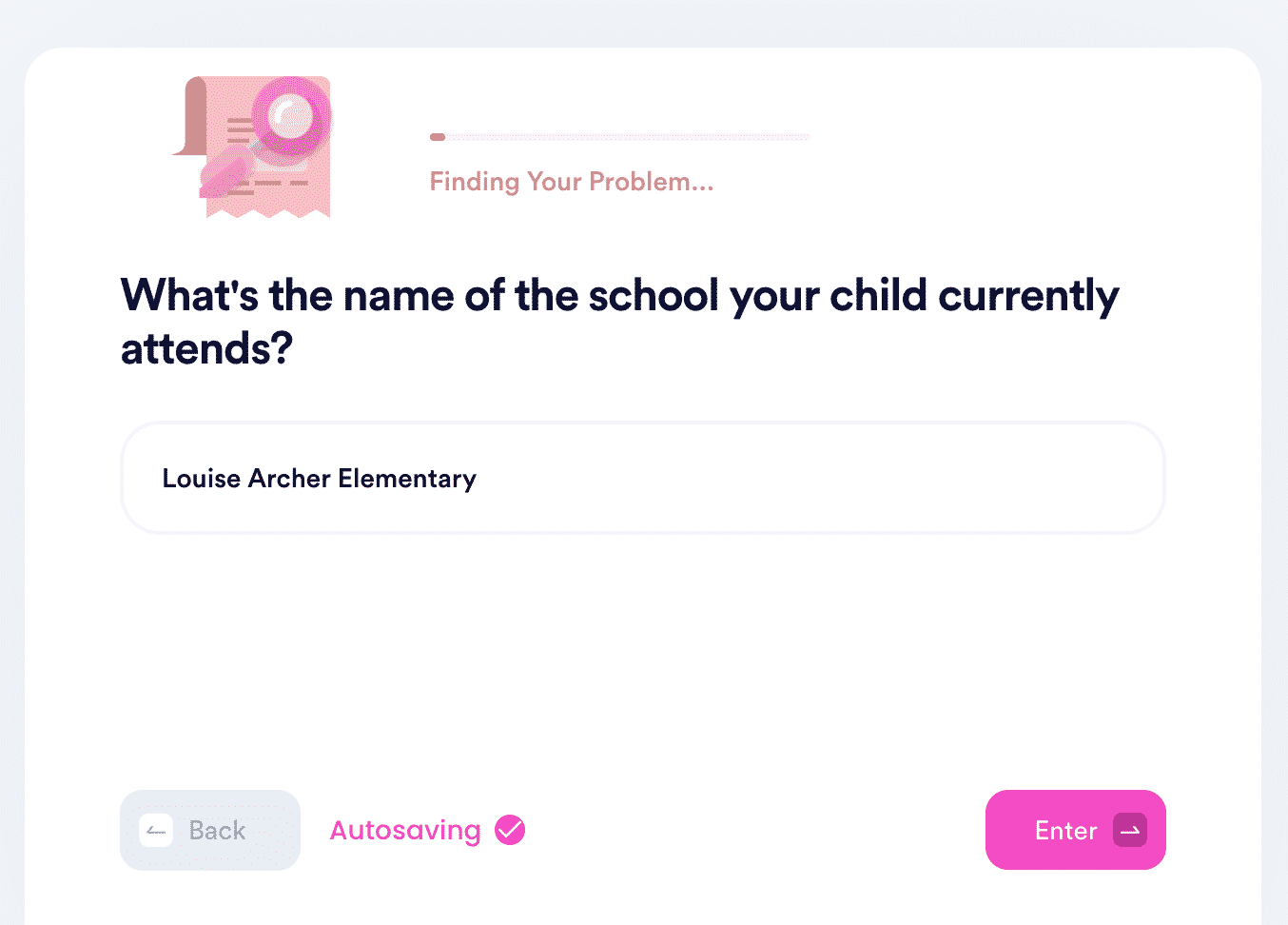 Once you've completed these four steps, we can send the generated letter directly to your school district. If you want to submit the letter by yourself, you can download it in PDF format. Don't forget you have the option to get the document notarized with our help.
Homeschooling Laws in Kentucky
Choosing to homeschool your child in Kentucky means you take complete responsibility for educating your child. A homeschooled student must receive at least 1,062 hours of instruction. This has to be done over at least 170 days.
Under state law, all children aged six to 18 must be enrolled in school. They can begin primary school at age five, but only if their fifth birthday is on or before August 1.
As a homeschooling parent, you need to keep attendance and scholarship records for your students. They can be kept in a notebook, on a computer, or in another manner.
The subjects you are required to teach according to the law are:
Reading
Writing
Spelling
Grammar
Mathematics
History
Civics
All these subjects should be taught in English. You don't need to be a certified teacher to be able to homeschool your child. You are even allowed to hire someone else to provide home education.
New To Homeschooling? Learn How To Start!
The most important steps you need to take as a homeschooling beginner are:
Steps
Explanation
Get in touch with parents who are already homeschooling
This is a great way to get answers to your questions and gain a better understanding of the pros and cons of homeschooling
Decide where you'll homeschool
You don't have to do all of your child's schooling at home. Consider other options, such as:

The library
Park
Field trip

Create your unique schedule
The beauty of homeschooling is its flexibility but try to stick to the schedule as much as you can to create a routine
Study your child's learning style to find the right teaching method
Some of the methods you can look into are:

Traditional
Classical
Waldorf

Find the right curriculum
You have unlimited options when it comes to curriculums—from textbook-based to completely online. Some may even provide lesson plans
How To Choose a Homeschool Curriculum for Your Child
In Kentucky, homeschool curriculum choice is up to the parent. They can even create their own curriculum. Before choosing or creating a homeschool curriculum, you should consider the following factors:
Subjects you want to teach
Subjects your child shows interest for
Schedules and homeschooling hours
Teaching method you prefer
Grade level
Make sure you try out the program before making the final decision. Many publishers offer free curriculum previews. If you can't get a preview, find reviews of the curriculum or ask other homeschooling parents for advice.
Some of the most popular curriculums in the U.S. are:
Resolve Any Other Issue You Have Swiftly With Our Assistance
The world's first robot lawyer is capable of tackling any legal or administrative task in your stead. We can draw up any legal document for you—including a power of attorney, child travel consent form, and divorce settlement agreement, to name just a few—help you sue any company or individual in small claims court, send a letter of warning to your noisy neighbors, help you reduce your property taxes and utility bills, and a lot more.
Sign up now if you want to stop email and text spam, claim any insurance or warranty, appeal parking tickets, schedule a DMV appointment in a flash, mail anything worry-free, find your missing assets, create passport photos, or contact embassies and consulates effortlessly.
Let DoNotPay Guide You Through Any Obstacle
Are you tired of corporations not taking their customers seriously? So are we, and that's why our nifty product will assist you in suing any company or individual in small claims court!
If you don't want to have any online service take advantage of you, you can sign up for any free trial completely risk-free with our virtual credit card's help, cancel any membership on time, and demand a refund or chargeback in a split second. DoNotPay can also draw up an airtight return request and send it to a company of your choice instantly.