Homeschooling Resources for Parents
Searching for legitimate homeschooling resources is one of the most important tasks for parents who wish to homeschool their children. When you start sorting through all the options, you may get overwhelmed.
Don't stress about it—DoNotPay created this practical guide to homeschooling resources for parents to help you get the best solution for you and your child and step into the homeschool adventure well-prepared!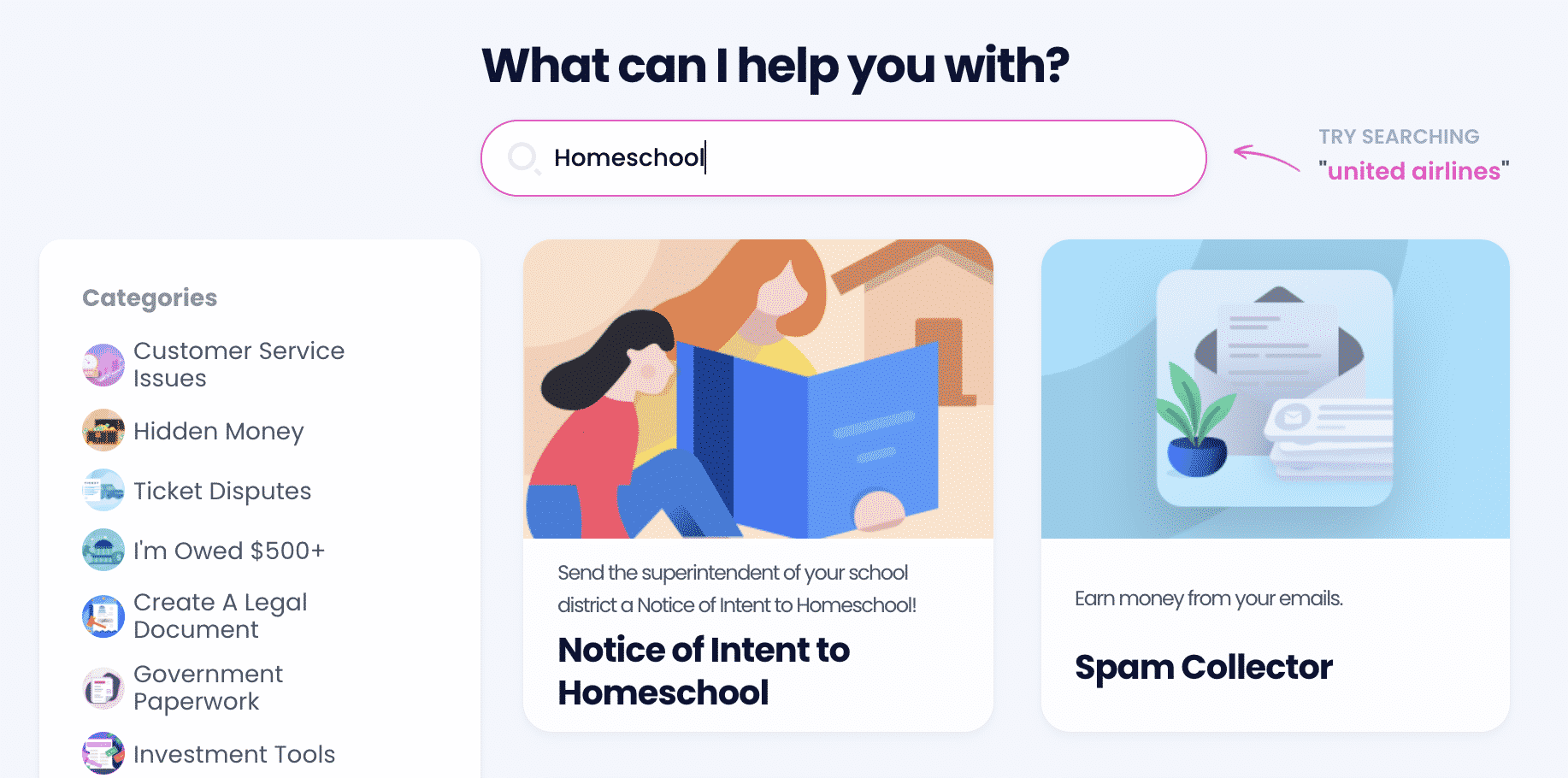 The Most Common Homeschool Resources for Parents
As you are preparing to homeschool your child or children, you're probably wondering where to find fresh teaching materials and get creative ideas. Here are some of the most common homeschooling resources:
Other homeschooling parents—Parents who educate their children at home often come together and create groups where they share their resources and experiences
School districts—Schools usually offer resources available for all homeschooling parents and teachers
Public schools—Some of them have specific programs that enroll homeschooled students by providing curriculums online and even financial help
Cover schools and umbrella academies—They are considered private schools, but they provide various sorts of support for homeschooling families
Community centers, libraries, museums, and other educational institutions
Online homeschool resources—You can find a myriad of resources online, but you need to make sure they come from reliable sources
What Are Some Online Homeschool Resources?
If you are looking for homeschool resources online, you can rely on public school programs and other homeschooling parents. While exploring resources online, you can also learn more about education in general and find the teaching style that will work for both you and your child.
Here are some of the most common types of online resources for homeschooling parents:
Online learning websites
Homeschooling blogs
Homeschooling social media pages
Websites for legal questions about homeschooling
Homeschool Curriculum Resources—How To Choose the Right Homeschooling Program for Your Child
Your homeschool curriculum can depend on the state law about homeschooling, but it can also be up to you entirely. If the state hasn't imposed any type of program that would determine your curriculum, you can make your curriculum choice according to these factors:
Grade and education level of your child
Special talents of your child
Your child's special needs
Teaching methods you will use
Subjects you will teach
Here are some of the best websites with resources to help you create a homeschool curriculum:
If you are worried about homeschooling costs, some of these websites offer curriculums completely free of charge. This is a great solution for homeschooling families who are struggling financially.
Can You Decide Which Subjects To Teach?
Choosing the subjects that will be the most beneficial for your child is the key to a good homeschooling program. If your state leaves this choice up to parents, you will be able to create a curriculum that will nurture your child's individuality and special talents and prepare them for the desired future career.
Note that you will still have to adjust the subjects and the number of homeschooling hours to your child's education level. This is especially important if you are switching to homeschooling in the middle of the school year. For some subjects, you may also need someone else's help.
Homeschooling Requirements in Different States in the U.S.
In some cases, homeschooling resources may depend on the requirements you need to meet to start educating your child at home. Every state has its own laws on how to homeschool and, while some of them are easy to follow, others might be quite demanding.
Here are the homeschooling laws for each U.S. state:
Let the Transition to Homeschooling Become Easy by Using DoNotPay
Before you start searching for homeschooling resources online, through umbrella school programs, or a school district, you should make a proper transition to homeschool. The first step in many states is sending a letter of intent to homeschool. You need to send it to your school district or the school your child has been attending. With DoNotPay, you'll create this letter and become your child's homeschool teacher in the blink of an eye!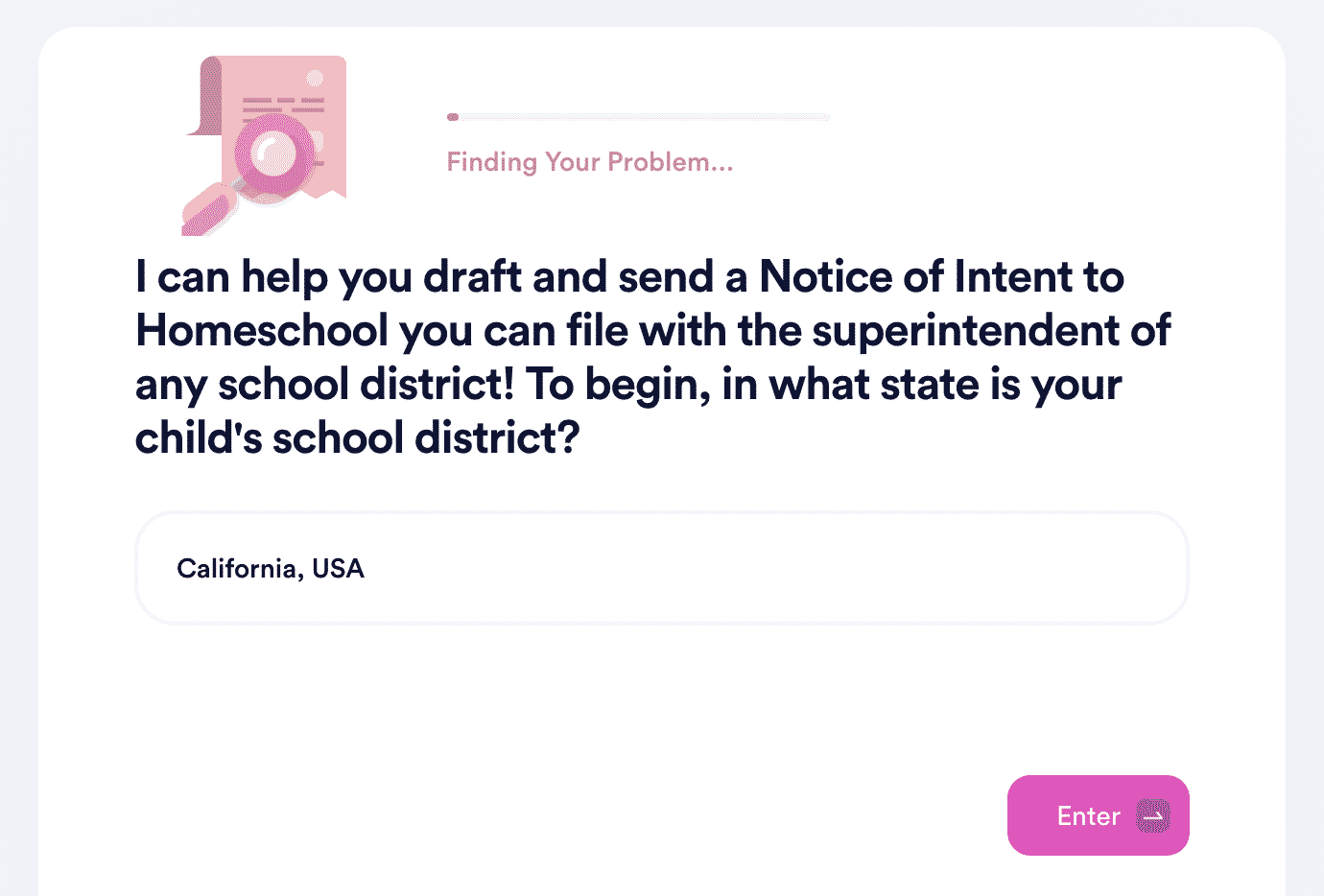 To get your letter of intent to homeschool, all you have to do is:
Find the Notice of Intent To Homeschool product
Answer questions to provide us some details, such as:
Info about your school district
Date you'll begin homeschooling
Details about you and your child
Hit the Sign and Submit button
Using the info you give us, we will draft a personalized letter fast and easy and send it to your child's school on your behalf. If you prefer, we can also create a printable version of the letter that you can mail or submit in person.
Some states require you to get this letter notarized. DoNotPay will help you with that, too! Our app can connect you with an online notary who will notarize your document via a video call.
Is Bureaucracy Getting on Your Nerves? We Have a Solution!
We all know that dealing with bureaucracy isn't pleasant, and it often leads to overwhelming frustration. The good news is that DoNotPay has found a workaround! You can now do the following by using our app:
Let DoNotPay Make Your Legal Troubles Disappear!
Drafting contracts and other legal documents isn't a task you should handle on your own. Don't want to spend a fortune on lawyers? That is why DoNotPay—the world's first robot lawyer—is here to take the lead and help you out! Check out the list below to see some of the legal documents that our app can draft for you:
We don't stop there! Cut through the red tape and let DoNotPay assist you in taking anyone to small claims court, getting your documents notarized, submitting anonymous HR complaints, or requesting crime victims' compensation.