How Do Homeschooled Students Get Into College? Find Out With DoNotPay
How do homeschooled students get into college? If you want to homeschool your child, you're probably wondering this. DoNotPay has prepared an article to answer your question and tell you whether the law is equal for both homeschoolers and their public school peers.
If you're at the beginning of your homeschool journey, we can also help you draw up a letter of intent to homeschool so that you can start teaching as soon as possible.
Do Colleges Accept Homeschooled Students?
A popular myth is that homeschoolers aren't accepted into colleges. The truth is that colleges don't differentiate between homeschooled and other students. In fact, homeschooled students are sought after by some Ivy League Universities because they do just as well, if not better than their peers from public schools. This is because homeschoolers are:
Motivated—Being taught the subjects they're interested in and the curriculum based on their strengths and interests makes them highly motivated learners
Social—Homeschoolers have more time to travel and participate in extracurricular activities, and they're often more active in community events
Hardworking—Some students start working early and get used to putting in a lot of effort and organizing their free time, work time, and homeschool hours
Homeschool Student College Admission
The application process for college is almost the same for homeschoolers and their peers from public schools. There are a few components that homeschooled students need to pay attention to, such as:
Personal essays
Letters of recommendation
Standardized test scores
School reports
Extracurricular activities
Personal Essays
Most colleges require you to write a personal essay. Homeschoolers should write essays on how homeschooling has benefitted them, where they have traveled, etc.
Letters of Recommendation
Colleges usually ask for a couple of letters of recommendation. They shouldn't be written by homeschooling parents but rather by:
Teachers from an institution other than the homeschool
Coaches
Mentors
Friends who have graduated from college
Transcripts
Homeschoolers don't need a GED or diploma as proof of high school graduation. What matters is that their curriculum was accredited and that they've met the state's homeschool requirements. Apart from that, their parent or homeschool teacher needs to make a transcript, which consists of the following elements:
Element
Details
Student information
This part needs to contain:

Student name
Date of birth
Address

General information
The following information needs to be stated here:

The name of the homeschool organization, its address, and phone number
The institution where homeschooling has taken place (if applicable)

Educational information
The educational information that needs to be stated is:

The high school course list organized by grades
GPA and explanation of the homeschool's grade scale system
Credits per course
Expected graduation date

Signatures
The parents and a school official, such as the superintendent of the homeschooler's school district, need to sign the document
Standardized Test Scores
Homeschoolers need to take SAT or ACT tests as they are mandatory for admission to most colleges. Standardized tests are used by the U.S. education system so all students, from the public, private, and homeschools, can be held to the same standard.
School Reports
Homeschooling parents need to list the grades their child has received in each class they've taken. The school report should contain:
Grades
GPA and grading scale explanation
AP classes and test scores (if any)
Extracurricular Activities
Homeschoolers should list any extracurricular activities they've taken part in on their application. This might be playing in a band, acting in theaters, playing sports, etc.
Should Your Child Be Homeschooled if They Plan To Attend College?
There's no definitive answer to this question, but you should keep in mind that the percentage of homeschoolers who attend college successfully is high. Homeschooling your child is also easier than ever across the States as you typically only need to withdraw your child from school and file a letter of intent to homeschool to get started. If you subscribe to DoNotPay, we will draw up a tailor-made letter and even forward it in your stead.
Need a Letter of Intent To Homeschool? DoNotPay Has the Perfect Tool for You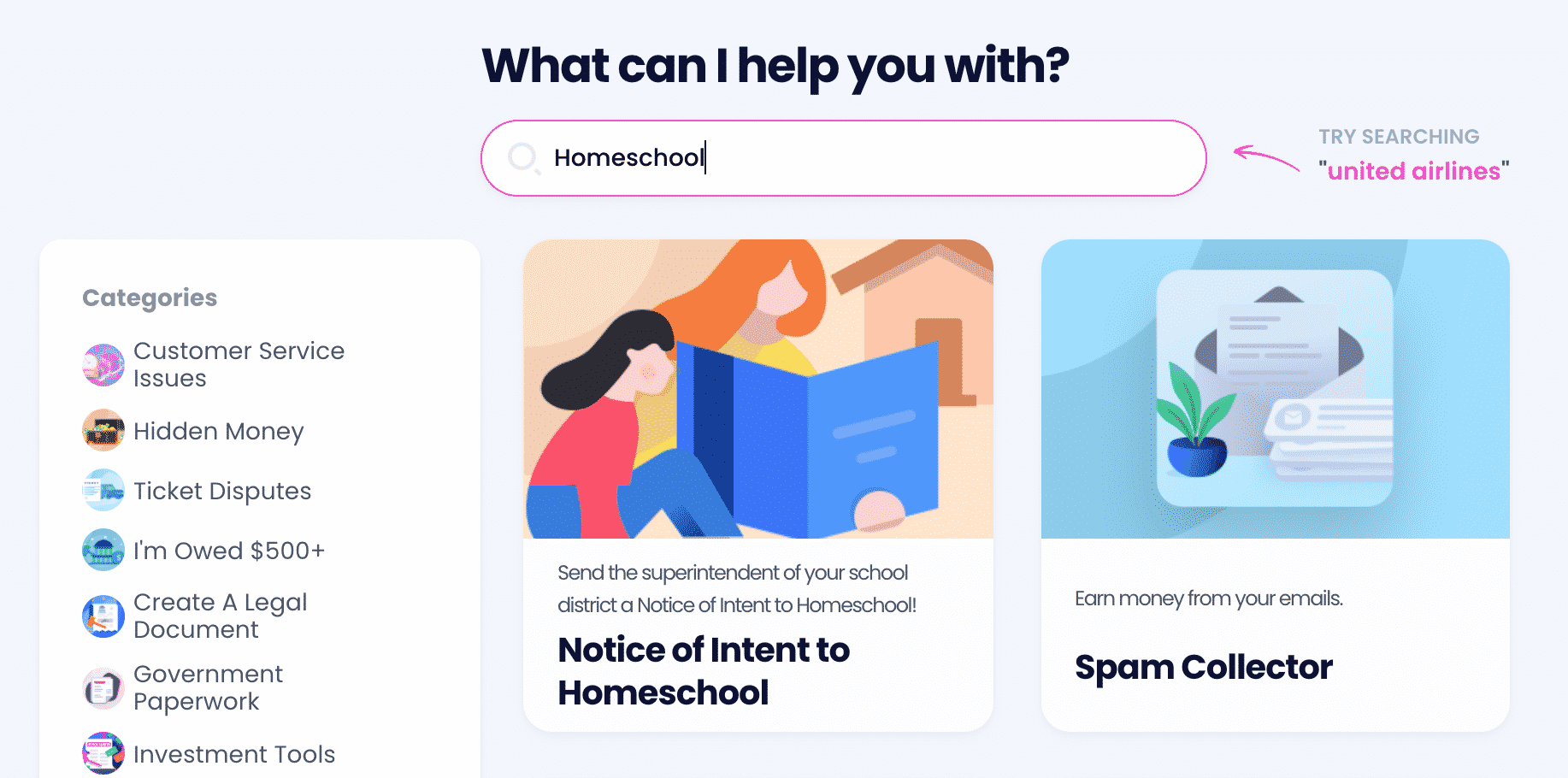 If you want to homeschool your child, you'll have to submit a letter of intent to notify your school district superintendent. Instead of hiring expensive lawyers or writing it on your own, use DoNotPay and get this important document affordably and easily!
Here's what you need to do:
Select our Letter of Intent to Homeschool tool
Give us details on your child, yourself, and the homeschool plan you wish to use
Tap on Submit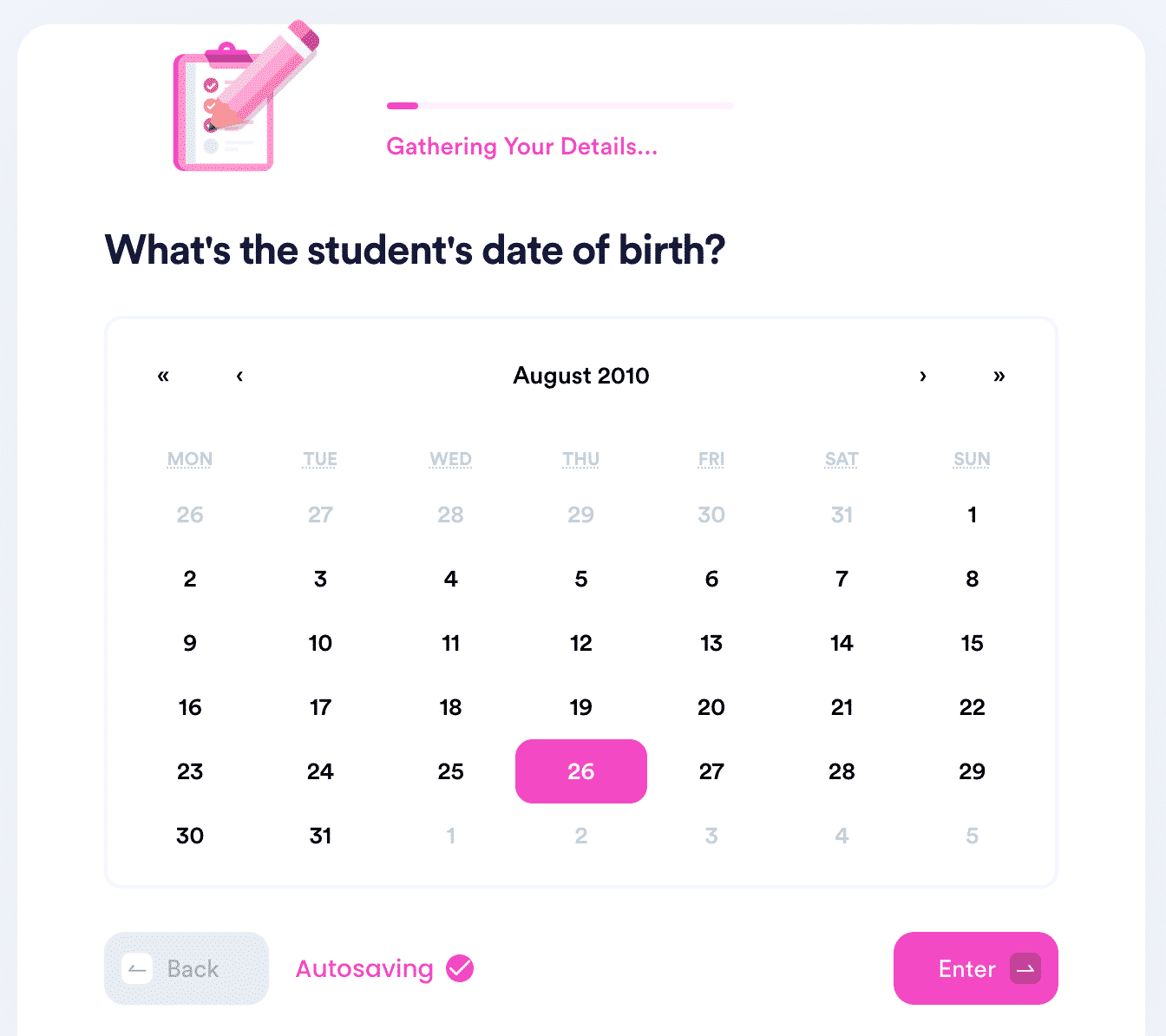 We'll generate the letter instantly and then either send it to you in PDF form via email or forward it in your name.
Want to learn how much homeschooling costs or who can homeschool your child? You can find the answers in our learning center. Other questions we can help you with are:
Discover DoNotPay's Solutions to Mundane Tasks
Our product range doesn't end there—we can also help you sue anyone in small claims court, cancel any subscription, start a free trial risk-free with our virtual credit card, get refunds and chargebacks, send anything through online fax, pay your utility bills, demand airline compensation, and deal with your annoying neighbors.
As soon as you sign up, we can also put an end to robocalls, copyright infringement, email and text spam, and stalkers and harassers. Our app's abilities don't stop there either—get perfect passport photos, free raffle tickets, compensation for victims of crime, or insurance or warranty instantly!
There's So Much More We Can Assist You With
Check out how else we can help—DoNotPay can:
Sign up now to take advantage of our nifty products!