How To Homeschool My Child for Free—DoNotPay Offers a Solution
'How to homeschool my child for free' is a question you're probably asking yourself if you're thinking about homeschooling. The cost of homeschooling depends mainly on the type of resources you'll use to homeschool your child.
This article will help you get started and provide you with various free resources to save you a buck or two. You'll learn how to homeschool your child for free and get an affordable letter of intent to homeschool easily.
How To Homeschool Your Child for Free
As there isn't a definitive answer to this question, we've prepared some resources you can use to lower the costs of your homeschooling journey, such as:
Finding free curriculums
Using online resources
Visiting the library
Going to free field trips
Relying on your community
Writing Your Own Curriculums
One of the highest costs of homeschooling is curriculums. On average, parents spend about $300 to $600 per year on books, textbooks, and other materials. That's why some of them choose to write their own curriculums. You don't need to have a certification or be an expert in the field to create one in states where the law allows it. Keep in mind that you will need to put aside a lot of time and effort.
If you're not feeling brave enough for this solution, you can always turn to the internet for help.
Finding Free Curriculums
Don't want to write curriculums yourself? There are numerous online resources you can use, including:
Resource
Explanation
Khan Academy
Khan Academy is one of the most popular resources among homeschool teachers. It can help you cover the following subjects:

Math
Science
Technology
Economics
Art
History
Test prep

Each topic has lectures in video form, which you can watch on YouTube. You can create a parent account or let your homeschooler use the site on their own

Easy Peasy All-in-One Homeschool
This curriculum was created by

homeschooling parents

, and it covers the basics, such as:

Keep in mind that this curriculum was made from a Christian worldview

Ambleside
This is a free, Christian-based curriculum in the style of Charlotte Mason. It provides parents with books for each level that cover:

History
Literature
Science
Geography

Newsela
Looking for an unorthodox curriculum? Newsela offers articles adjusted to five different maturity and reading levels for all ages that promote literacy using news articles and stories
Funbrain
Funbrain offers educational games, comics, books, and videos, which can help your child develop skills in:

Math
Reading
Literacy
Problem-solving
Using Online Resources
With some Googling, you can find various free resources, including:
Books—Sites such as Gutenberg offer a vast library of free books that can be downloaded on any device
Audiobooks—Various websites offer free audiobooks, which can be helpful to your homeschooler. LibriVox and Loyal Books are some of the most popular ones
Magazines—You can get free digital magazines on iTunes or find a free subscription and get monthly copies of helpful magazines
Visiting the Library
Don't have access to the internet, or you prefer finding materials in person? Visit your local library! Borrowing textbooks and learning materials are free, and the resources are limitless.
Going to Free Field Trips
You can take your child to field trips that don't require hefty upfront payment, such as museums, local churches, or various community events. You can also go on a virtual tour and visit:
How Else Can You Lower the Homeschooling Costs?
If you want to take your child out of school to homeschool, you will need to file a letter of intent to the superintendent of your school district. This document needs to contain:
You may consider hiring a lawyer to draw one up for you. This will cost you a fortune as their services are incredibly expensive.
To save yourself from unnecessary costs, you can and get this important document without breaking the bank. We'll generate it based on the details you give us and send it to you in a jiffy.
How To Use DoNotPay and Get an Affordable Letter of Intent To Homeschool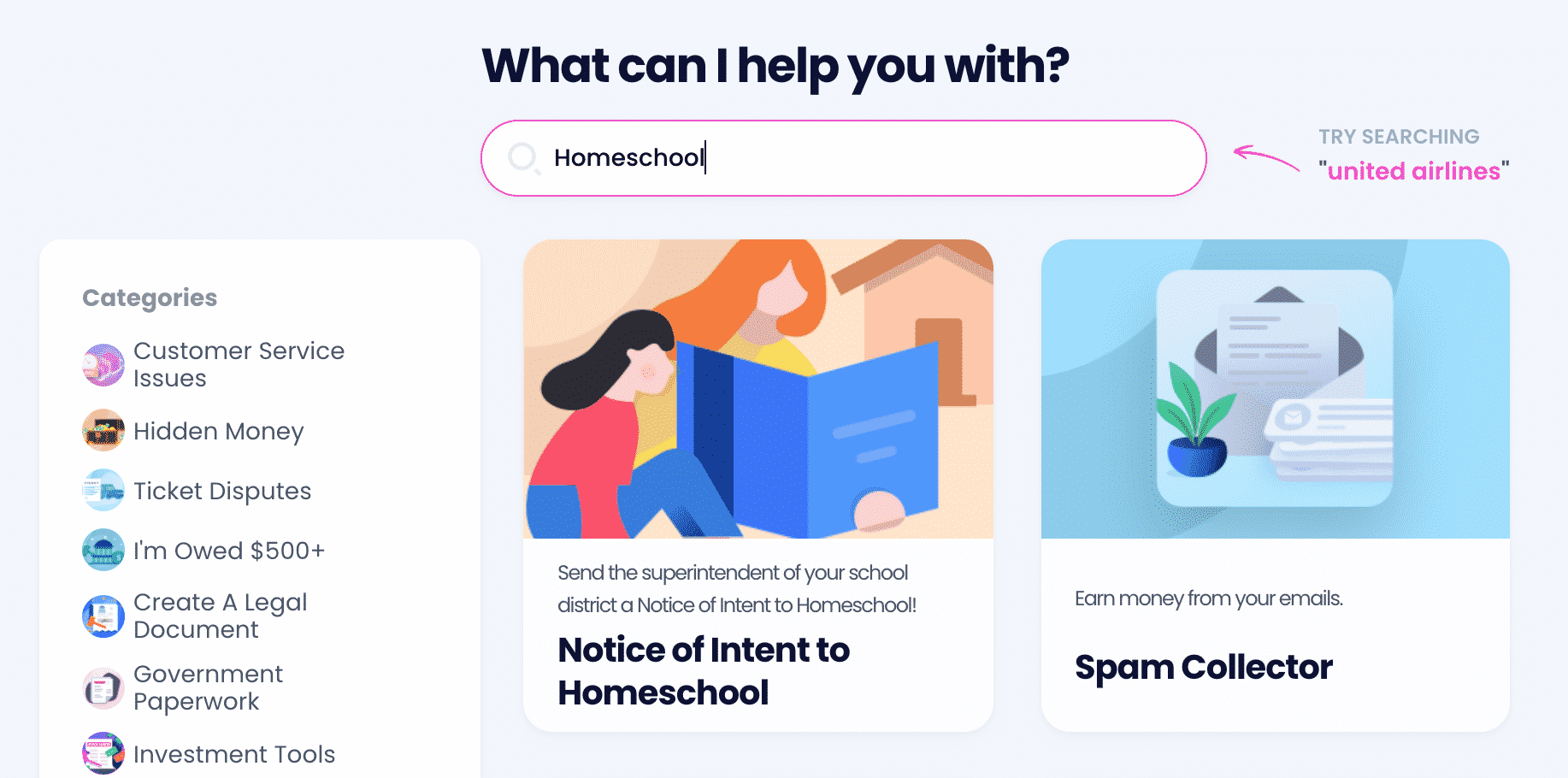 Want to teach your child at home without spending big bucks? and get a letter of intent to homeschool in a matter of minutes! We'll draw up this document for you, and all you have to do is:
Select our Letter of Intent to Homeschool product
Give us details about your school district, homeschooling plan, and child
Hit Submit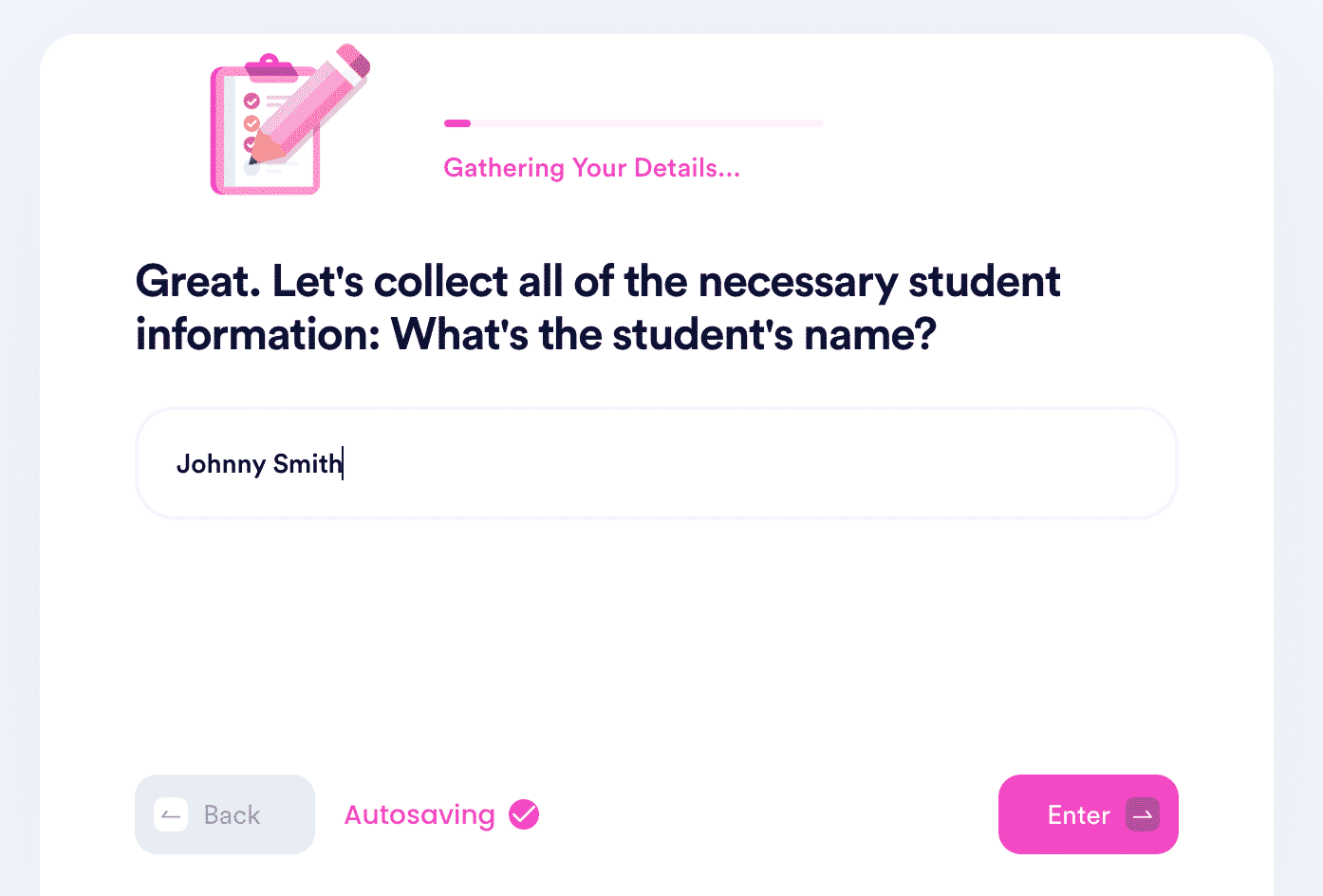 We will process your request quickly and generate a personalized letter. You can then choose whether you want us to:
Forward it to the desired address in your name
Send it to you via email in PDF form
Connect you with an online notary so that you can get the letter notarized with ease
Don't forget to check out DoNotPay's learning center and find the answers to some of the most popular homeschool-related questions, such as:
How many students are homeschooled in the United States

?
Discover DoNotPay's Solutions to Mundane Tasks
Our product range doesn't end there—we can also help you sue anyone in small claims court, cancel any subscription, start a free trial risk-free with our virtual credit card, get refunds and chargebacks, send anything through online fax, pay your utility bills, demand airline compensation, and deal with your annoying neighbors.
As soon as you sign up, we can also put an end to robocalls, copyright infringement, email and text spam, and stalkers and harassers. Our app's abilities don't stop there either—get perfect passport photos, free raffle tickets, compensation for victims of crime, or insurance or warranty quickly!
There's So Much More We Can Assist You With
Check out how else we can help—DoNotPay can:
Sign up now to take advantage of our nifty products!