Draft a Declaration of Intent To Homeschool in WA With DoNotPay
Are you planning to start homeschooling your child in Washington State? If this is the case, you should know that submitting a declaration of intent is one of the first steps you should take to be able to provide home instruction.
This quick guide will show you how to file a declaration of intent to homeschool in WA and provide some useful tips on homeschooling in the state of Washington. Whether you've homeschooled a child before or this is your first time, DoNotPay can help! and get a personalized letter of intent in a matter of minutes!
Declaration of Intent To Homeschool in WA—The Basics
A declaration of intent to homeschool is required by the law for homeschooled students between the ages of eight and 18 in Washington. Filing this document is necessary to let your school district superintendent know that you are planning to homeschool your child. Otherwise, your child will be considered a truant.
Declaration of intent in WA must be:
Filed each year
Submitted by September 15
Mailed to your local school district office
The initial declaration is filed after your child turns eight, regardless of the time of year. You are allowed to take your child out of public school to homeschool even in the middle of the school year.
Where Can I Find the Intent To Homeschool Form for Washington State?
You can download the declaration of intent to homeschool form from the Washington Homeschool Organization website. What you need to do is:
Go to their page
Hover your mouse cursor over the Get Started button in the upper right corner
Select the Declaration of Intent from the dropdown menu
Click on the Download the Form button
The information you need to enter in the form are:
Public school district name and address
Child's name and age
Parent/guardian signature, date, and address
Any information you supply that isn't already on the form is optional.
Keep in mind that a child under eight, including a child previously enrolled in school, doesn't have to be included in a Declaration of Intent. To withdraw a child under the age of eight from public school, you should submit this form.
Submit a Declaration of Intent To Homeschool in a Flash With DoNotPay
Drafting formal documents is a time-consuming task most people want to avoid. Don't waste your energy on it because our app can generate a personalized letter of intent to homeschool for you in no time!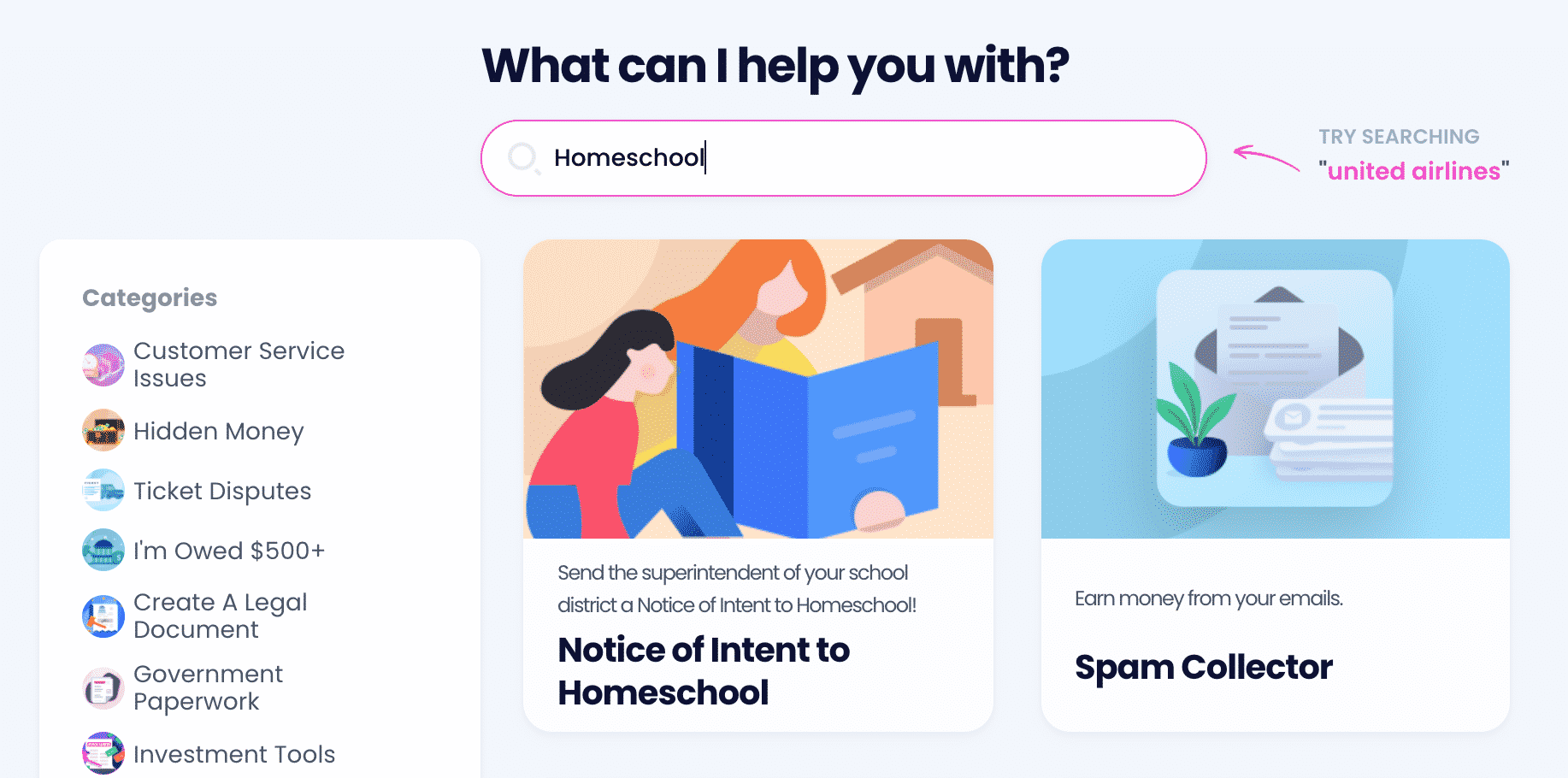 What you need to do is take the following steps:
Find the Notice of Intent to Homeschool product
Provide us with information about:

Yourself
The homeschooled student
Your school district
Start date of homeschooling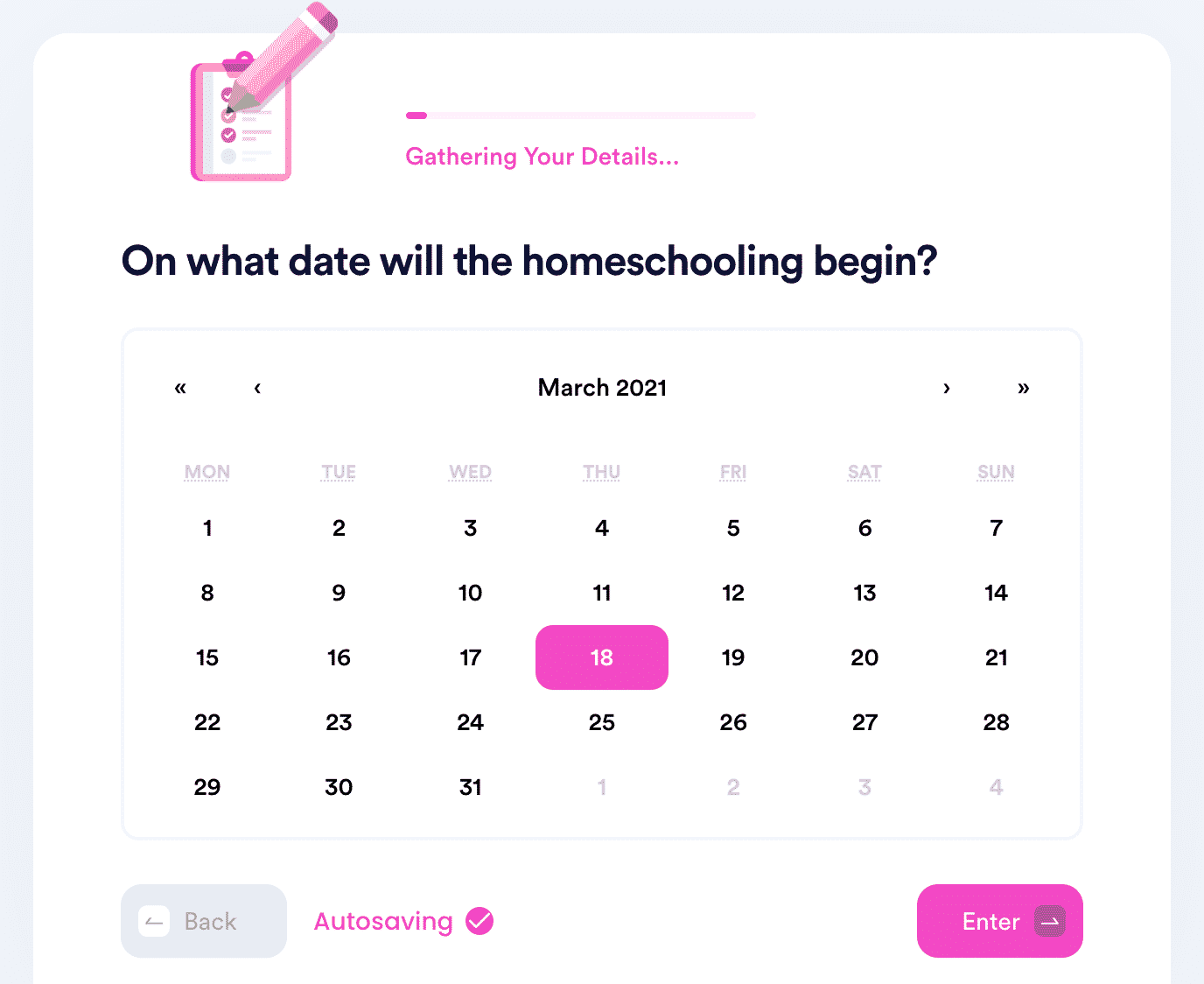 You can also get the document notarized virtually if needed. Once you've completed all the required steps, we will generate a personalized letter and send it to your school district superintendent. In case you want to submit the letter by yourself, you have the option to download the letter in PDF format.
Washington Homeschooling Laws
To be able to provide home instruction to your child in Washington, you must fulfill one of the following:
Attend a Parent Qualifying Course
Provide proof of earning 45 quarter units of college-level credit
Be deemed qualified enough to homeschool your child by the superintendent of your local school district
Subjects you are required to include in your curriculum are reading, writing, spelling, language, science, math, history, social studies, health, occupational education, and art and music appreciation. They don't have to be taught separately.
Homeschooled students must participate in annual testing, which can be carried out in two different ways shown in the table below:
| Testing | Details |
| --- | --- |
| Non-test assessments | Assessments of the student's academic progress written by a Washington State certified teacher |
| Standardized testing | Standardized achievement tests are approved by the State Board of Education. A certified individual administers them to the homeschooled student once a year. Test results are part of your private homeschool record |
Can I Hire Someone Else To Homeschool My Child?
Washington State homeschooling laws define "homeschooling" as parents teaching their own children. This means you can't hire another person to provide home instruction to your child full-time.
Best Tips for Homeschooling Beginners
It is important to get familiar with the homeschooling laws for your state, but that's not enough for a successful homeschooling journey. As a beginner, you need to be informed about all the different aspects of homeschooling. Invest your time into finding the right homeschool curriculum, choose a teaching method that will fit your student's needs, and set goals in advance. Some sources you may find useful are:
Homeschooling handbooks
YouTube channels dealing with the topic of homeschooling
Homeschoolers' groups on Facebook
Blogs written by homeschooling parents
Consider joining a homeschool support group or a co-op to connect with other homeschooling families in your area.
Remember that homeschooling is not cheap—it usually costs anywhere from $700 to $1,800 per child per school year.
Resolve Any Other Issue You Have Swiftly With Our Assistance
The world's first robot lawyer is capable of tackling any legal or administrative task in your stead. We can draw up any legal document for you—including a power of attorney, child travel consent form, and divorce settlement agreement, to name just a few—help you sue any company or individual in small claims court, send a letter of warning to your noisy neighbors, help you reduce your property taxes and utility bills, and a lot more.
Sign up now if you want to stop email and text spam, claim any insurance or warranty, appeal parking tickets, schedule a DMV appointment in a flash, mail anything worry-free, find your missing assets, create passport photos, or contact embassies and consulates effortlessly.
Let DoNotPay Guide You Through Any Obstacle
Are you tired of corporations not taking their customers seriously? So are we, and that's why our nifty product will assist you in suing any company or individual in small claims court!
If you don't want to have any online service take advantage of you, you can sign up for any free trial completely risk-free with our virtual credit card's help, cancel any membership on time, and demand a refund or chargeback in a split second. DoNotPay can also draw up an airtight return request and send it to a company of your choice instantly.