What Is the Arizona Homeschool Affidavit, and How Do You Complete It?
If you're currently in the beautiful Grand Canyon State wondering whether you should homeschool your kids, allow us to chime in. Our overview of the Arizona Homeschool Affidavit provides the necessary insight into the state-required document. We'll let you know why you need it, where you can get it, and how to fill it out in a few easy steps. , and never worry about paperwork again!
Arizona Homeschool Laws in Summary
Arizona recognizes homeschooling as a form of non-public education conducted by a parent, legal guardian, or a third party. The person in charge of homeschooling is required to teach the following subjects:
Grammar (reading, writing, spelling)
Science
Math
Social studies
Apart from the obligatory lessons, you're free to use any materials you wish. You can also base your curriculum on your religious beliefs (e.g., Christian), the child's learning disabilities (e.g., dyslexia), and other parameters.
The state law doesn't have any minimum requirement for the number of homeschooling hours per year. You also don't have to create a homeschool portfolio unless you need it for a personal record.
Your child won't have to take standardized tests since there are many alternative solutions for families who teach at home. You can inquire about evaluation methods with your homeschool co-op or homeschool organizations like Arizona Families for Home Education (AFHE).
If your child is already enrolled in a public or private school, you can still switch to homeschooling. Arizona homeschool laws don't impose any procedures—you can do it midway through the school year if you so wish. Make sure to let the principal and school administration know about your decision and file the proper paperwork.
How To Start Homeschooling—The Arizona Homeschool Affidavit
To get started with homeschooling, you need to compose a declaration of intent to homeschool, otherwise known as an affidavit.
You can download the form using:
The official AFHE website
The Arizona Department of Education web page
DoNotPay's Notice of Intent to Homeschool product
Following the Arizona state law, the document must be:
Sent to the County School Superintendent
Filed within 30 days after homeschool enrollment
The compulsory age for education in Arizona is from six to 16 years. If your child is older/ younger than the designated age, you don't have to fill in a homeschool affidavit.
You're free to homeschool your child before they turn six or even delay their education for a couple of years. If you want to postpone school, you still have to file an Arizona homeschool affidavit on your child's sixth birthday.
What To Include in a Homeschool Affidavit (AZ)
The Grand Canyon State makes homeschooling easy when it comes to filling out paperwork. You only need to provide rudimentary information about yourself and your child.
Here's what to include in a homeschool affidavit (AZ):
Type of Information
Yes/No
Homeschooled student information
Yes. You need to provide the following information when filling out an Arizona homeschool affidavit:

Name
Date of birth
Current place of residence

School district
Yes, since you'll be sending it to the local County School Superintendent
Parent/legal guardian information
Yes. You should include your current address and contact information (phone number) in the form
Curriculum details
No, you're not obligated to specify the details of the homeschool curriculum when completing the affidavit
Additional information
Arizona Families for Home Education (AFHE) advises parents not to include unnecessary information in the homeschool affidavit.

You don't have to provide a transcript, a list of homeschool costs, or the name of the homeschool teacher you hired. It's best to stick to the basic requirements (name, date of birth, address)
Parents who plan on homeschooling in Maricopa County (AZ) need to enclose proof of their child's identity when registering. The County School Superintendent accepts the following documents as verification:
A copy of the child's birth certificate that's been notarized by competent authorities
The child's baptismal certificate
A Social Security number application
Where To File Your Arizona Homeschool Affidavit
Once you fill out the homeschool affidavit (AZ), you need to forward it to the County School Superintendent. Depending on where you live, the procedure may differ.
If you want to start homeschooling in Maricopa County (AZ), for example, you need to follow these steps:
Complete the Arizona homeschool affidavit
Print out the document and have it notarized
Attach a copy of the birth certificate or other proof of identity
Mail the envelope to the district superintendent at 4041 N. Central Ave., Suite 1200, Phoenix, AZ 85012
In some counties, you can also make an appointment to deliver the declaration of intent in person.
DoNotPay Can Create a Homeschool Affidavit in a Few Clicks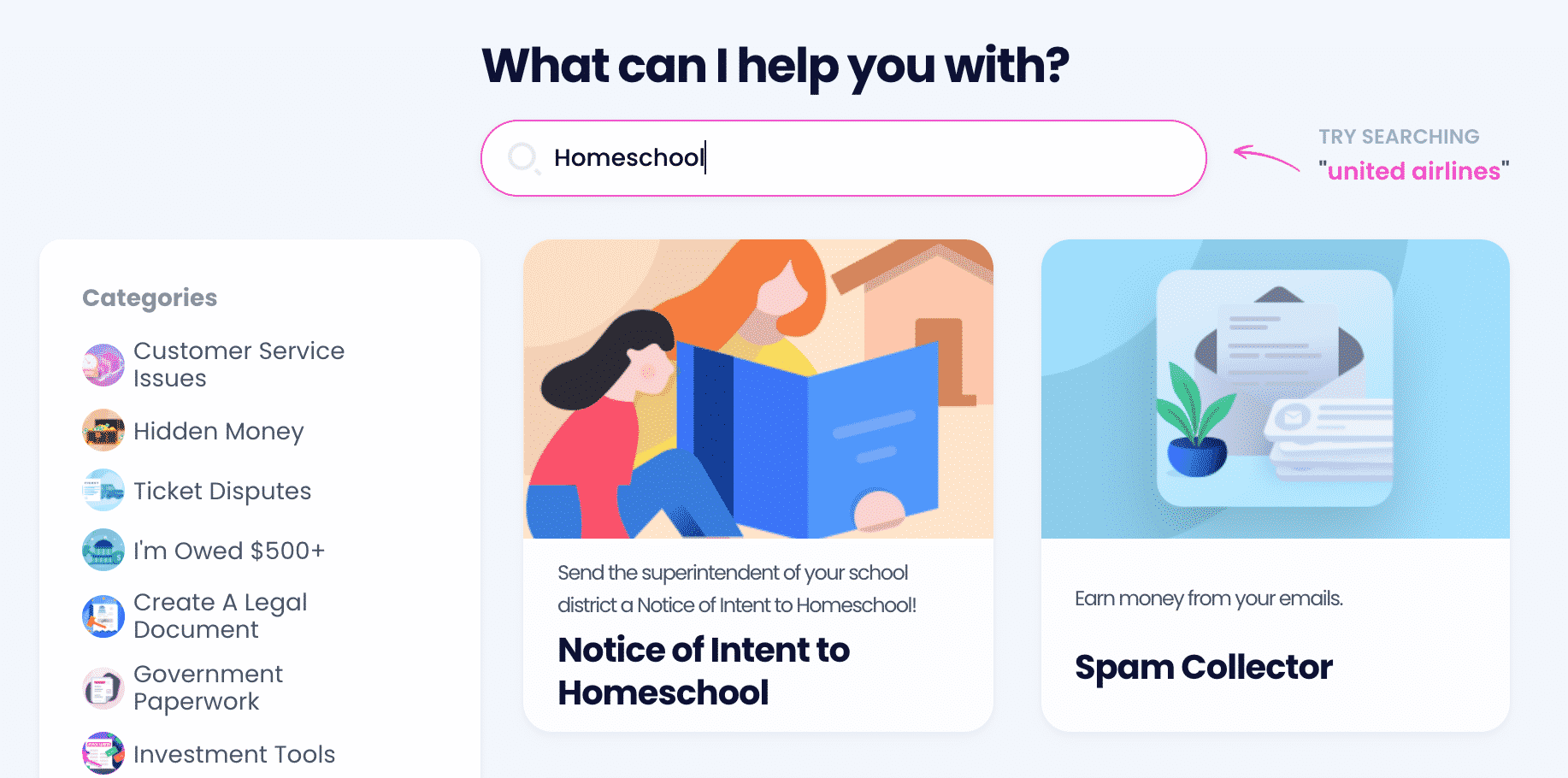 Why bother with going to the post office when you can complete the process from the comfort of your couch. DoNotPay's special Notice of Intent to Homeschool product can generate a letter of intent in a few clicks:
using your browser
Select the Notice of Intent to Homeschool feature
Enter your school district info
Answer the on-screen questions
Once you're done, our AI-operated app will forward the declaration of intent to the district superintendent.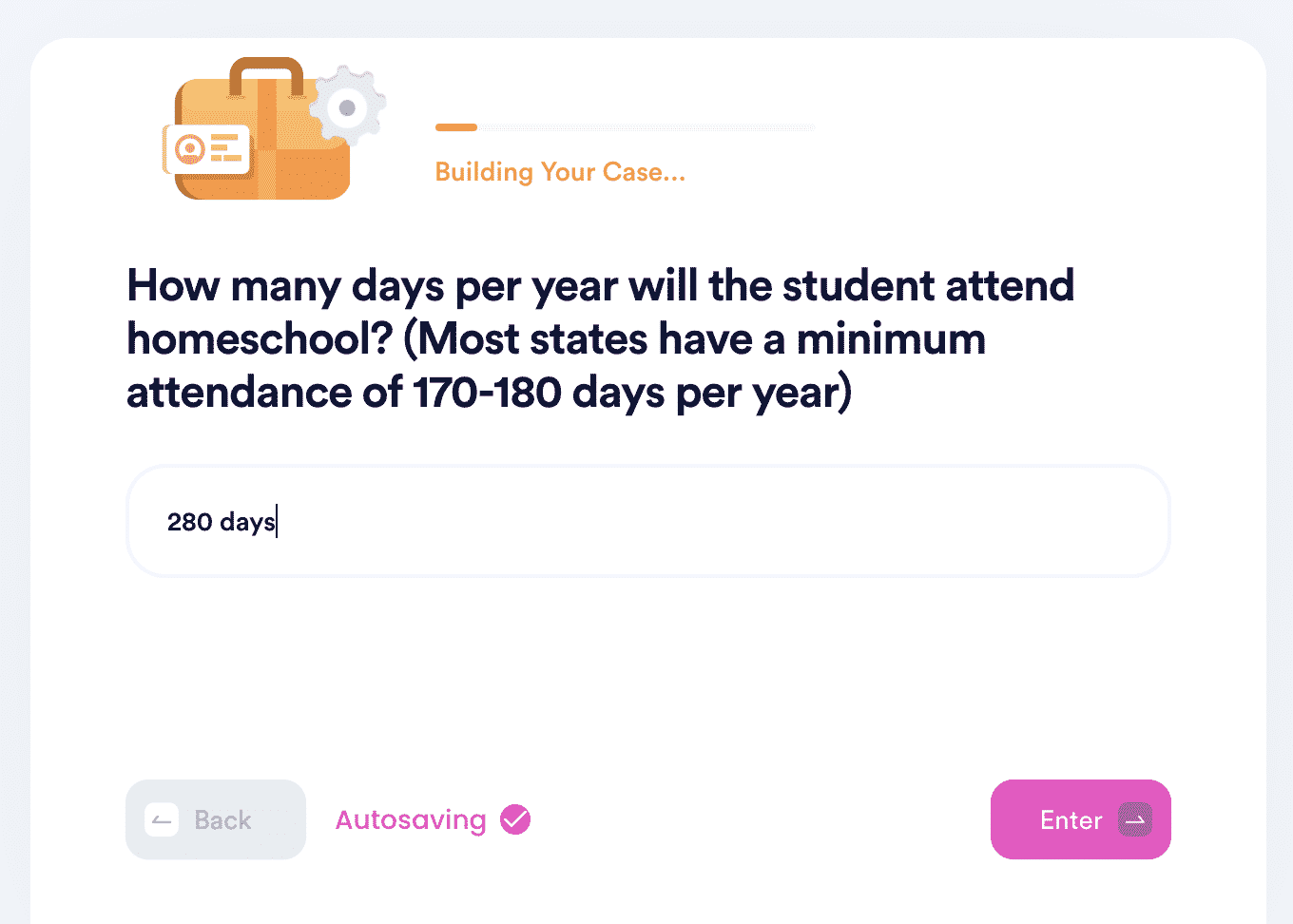 Don't Stop There—Check Out DoNotPay's Product Range
DoNotPay has many tricks up its sleeve—no matter the admin or legal issue at hand, our AI-enabled app can power through it in a split second. Look into our product range to find out how you can:
What Else Do You Need? DoNotPay Will Provide!
If you want to cancel a subscription before your free trial expires so that you don't get charged, you can count on our virtual credit card to do it in your stead! We can also make sure that you get what's rightfully yours—be it a refund, insurance, warranty, unclaimed money, flight refund, raffle ticket, or gift card cash back.
You no longer have to go through legal or administrative hurdles on your own—as soon as you sign up for DoNotPay, you'll get access to our app's assistance and will be able to use it to fight injustice.